It's snack time!! From the lovely folks at Eat.Feed.Love comes the May Taste Club Snack Box, ready with tasty munchies and supporting good causes. The folks at Eat. Feed. Love offer a variety of food boxes via the Taste Club. This is the Snack Box, which delivers tasty, artisan snacks to your door for $35/month – and you can save 50% on the first box of any Taste Club subscription with code HelloSubscription!
The box comes packed full of snack goodies, a mixture of sweet and salty snacks, so there should be something in there for every type of snacker. They include a handy, fold out guide that gives you the low-down on each snack.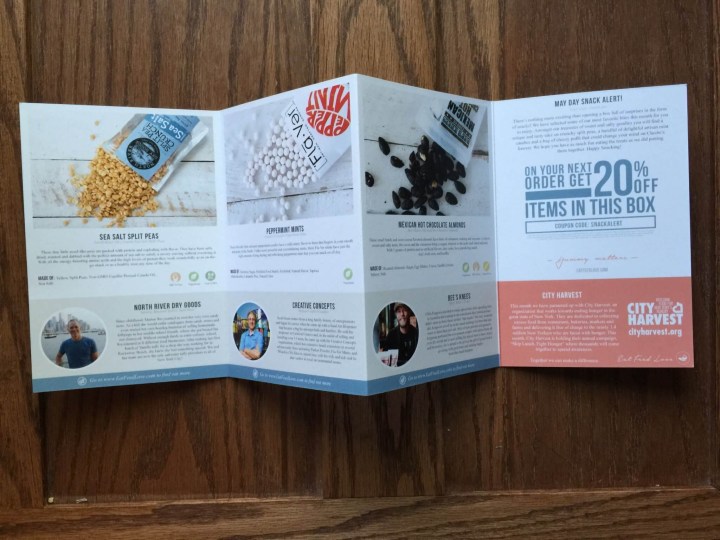 The May box included six different snack options, including Serious Cheesy Puffs, Mexican Hot Chocolate Almonds, Marshmallows, Split Pea Crunch, Tennessee Toffee, and Fla-ver mints.
The folks at Eat.Feed.Love. also work to give back, and a portion from each box gets donated to a different cause. This month, the letter explains that they are working with City Harvest, a group that helps work to feed people in need in New York City.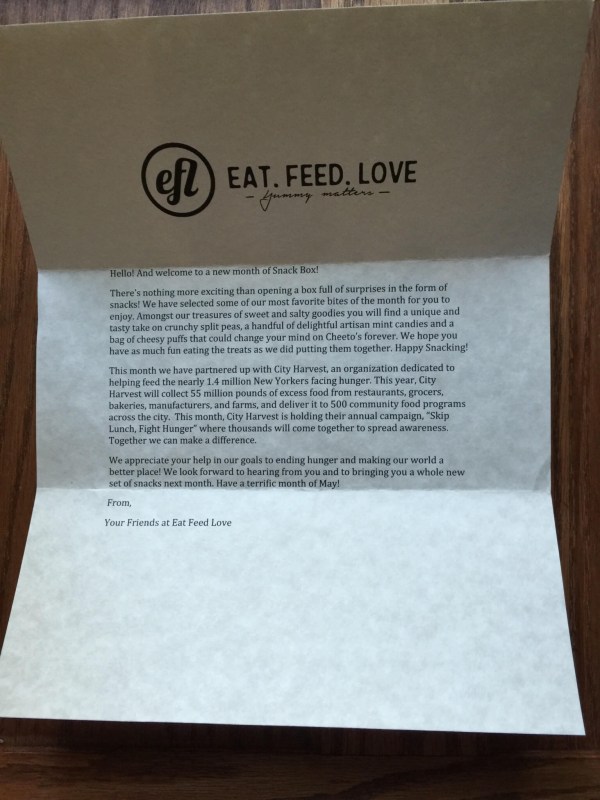 It's nice to know that Eat.Feed.Love. are giving back. Makes the snacks taste even better. So let's snack!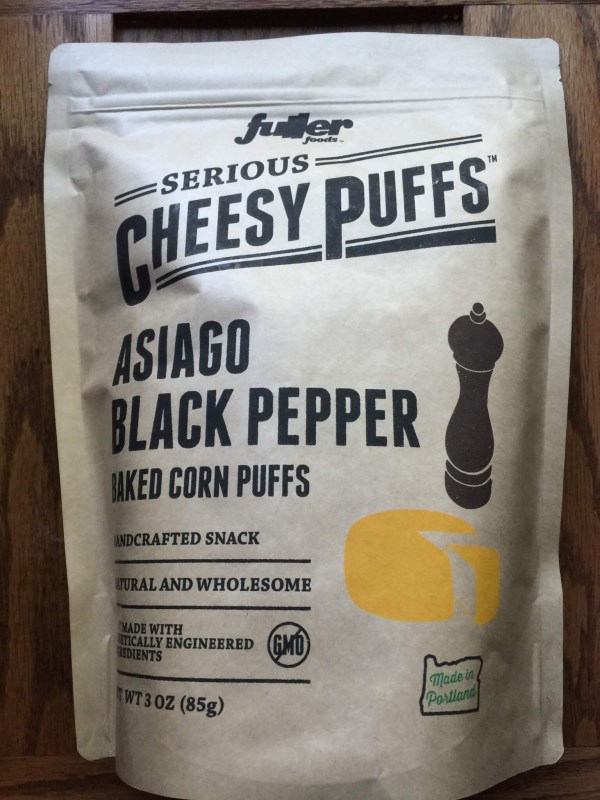 First up is the Fuller Foods "Serious Cheesy Puffs"  in the Asiago/Black Pepper flavor. These "Made in Portland" corn puffs are of the "poofy" variety, not the "crunchy" variety, so they are light and airy. But that doesn't mean they don't bring the flavor. The asiago flavor is there–but not over-powering, and you can definitely taste the black pepper.  I'm not a huge fan of the 'airy' style of the poofs, but the flavor is spot on. So I did enjoy these and would recommend trying them if you like cheesy/salty snacks.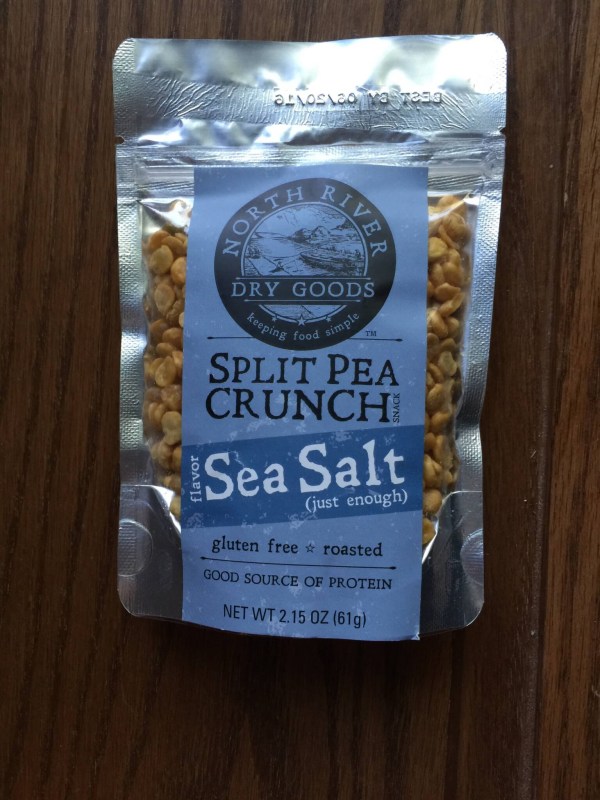 Next was the North River Dry Goods "Split Pea Crunch" (Sea Salt). Have you ever had a snack and thought, "Hmmm… that was just okay," but then look down to realize you'd just eaten nearly the whole bag? There you go. I've had dried peas before, but usually caked in wasabi, which is a very different experience. These are mild, so mild that I thought, at first, that they would be bland. They kind of taste like a cross between peanuts and parched corn (if you've never had parched corn, kinda like "Corn Nuts"). They are mild. And as the package claims, they are salted "just enough". But man, they bring the crunch! They are super, super crunchy and deceptively addictive. I was munching away at them, thinking, "Hey, these kind of grow on you" and I looked down and was almost finished. So, I would highly recommend these to any salty-snackers out there.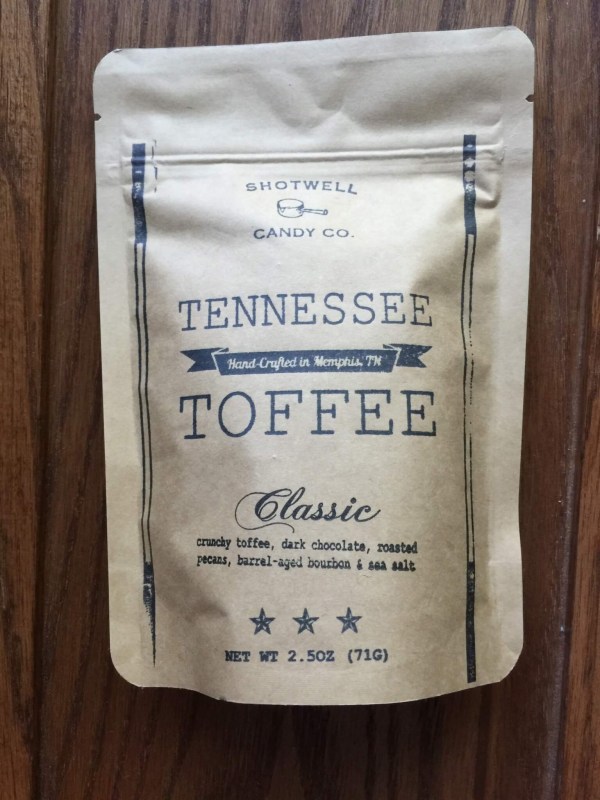 Now for some sweet snacks. First is the Shotwell Candy Co. "Tennessee Toffee". I have to be honest: I generally hate toffee. It's too hard, it sticks to your teeth. It's too much work for the flavor. But not this stuff!! First, it's not too hard–it is definitely crunchy, but it doesn't break your teeth, or stick to them. Score one for Tennessee Toffee. It's also not overly sweet. It has a deep, buttery caramel taste, with hints of chocolate and bourbon. I was was really pleasantly surprised with this toffee, and would actually say I'd have it again! I bet it would rule on ice cream.
This was a really good box for sweet treats. The Bee's Knees Food Co. "Mexican Hot Chocolate Almonds" was a really killer snack, too. First, they smell awesome. Like Christmas. They have a good cocoa flavor, with just a hint of cinnamon that sort of melts into nutty almonds, roasted to perfection. These were out of this world delicious. The almonds give you that super satisfying crunch, but it's the flavor that really puts these over the top. I'd say it's one of the best snacks in the box.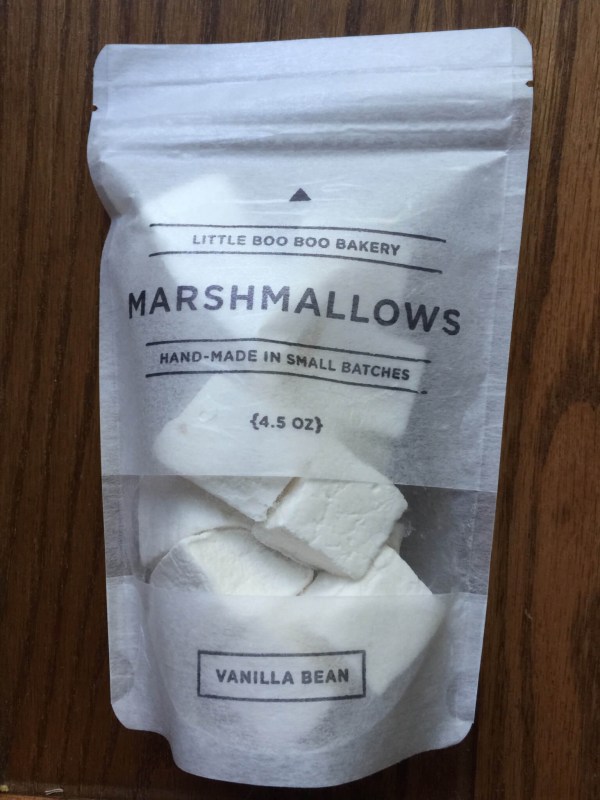 Okay, this is the box determined to make a liar of me when I say I don't usually like sweet snacks. Because the Little Boo Boo Bakery Marshmallows are fantastic. They are light, but not too light, and they have just a perfect consistency. Nothing like your store-bought marshmallows at all. These are like… pillows of awesome? They're smooth, almost… velvety. They have a really mellow vanilla flavor without being cloying at all. I loved, loved, loved these. They have other flavors, too, which I am going to try. So three for three on the sweet snacks in this box!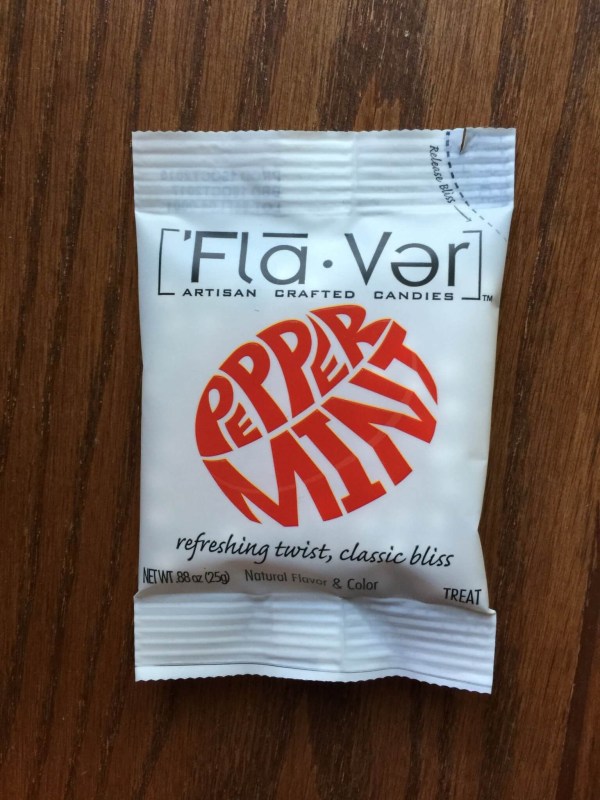 And now, last up are the "Fla-ver" Peppermints. These little mint pearls are, well, perfectly fine peppermints. Yep. Just plain, old, peppermints. You might pop two or three in your mouth to clear your palette or freshen your breath. I can't imagine people eat these as a snack, do they? There's nothing wrong with them, and they were perfectly fine little mints–nice flavor, and easy to chew. But I really am a bit baffled why they are in a snack box. Would I carry them around and offer a few to my wife after a dinner of cheese and onion enchiladas? Yes. Would I snack on them? Never. Oh, well.
Over all, this was a really outstanding snack box. The salty/crunchy snacks were great, and the sweet snacks this time around were outstanding. It's great to be able to try these different artisanal snacks and find ones that you really love. Having the folks at Eat.Feed.Love. do the screening and curating of a great box is fantastic, especially when they continue to deliver something for everyone, from the salty snacker to the sweet tooth. I would highly recommend this snack box.
What did you think of Taste Club's Snack Box this month? Save 50% on your first box! Use coupon code HelloSubscription. Good only on month to month plan – but valid on the Pantry Box, the Snack Box, and the Sampler Box!
Visit Taste Club: Snack Box to subscribe or find out more!
The Subscription
:
Taste Club: Snack Box
The Description
: Tasty artisan snacks, no cooking required, just un-pack and enjoy. From chocolate fudge to caramel corn. The connoisseur snacker's dream..
The Price
: $35.00 per month