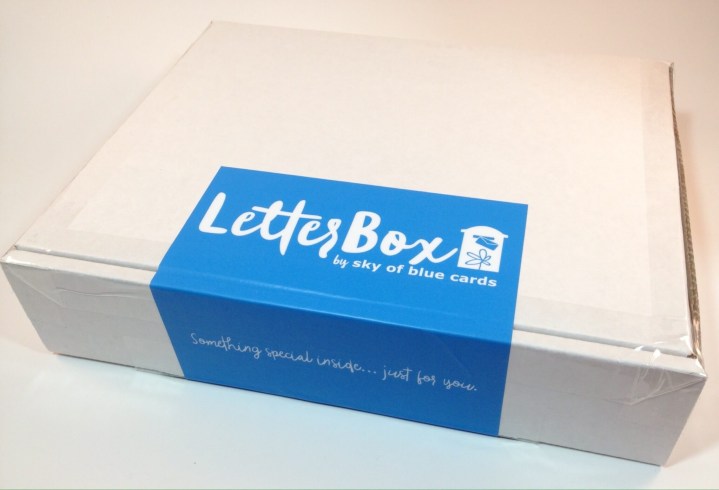 LetterBox by Sky of Blue Cards is a quarterly stationery subscription box that sends seasonal cards, custom postage stamps, and other items to deck out your desk (or in my case, dining table) and enhance your letter writing experience. Every box will include 5 letterpress cards, 5 custom designed postage stamps, and at least two lifestyle or letter-writing products such as pens, candles, or whatever else founder and designer Karla Ebrahimi discovers. The subscription is available in the following formats: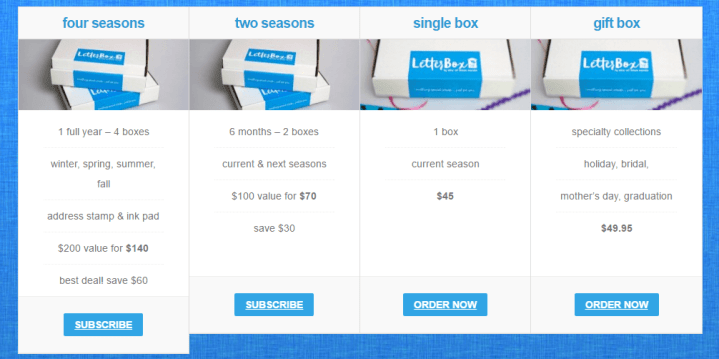 The boxes ship in March, June, September, and December so if you order, say, in May, then you will receive the Spring box, which I am reviewing in this post. Subscriptions renew at the end of the term and shipping is extra.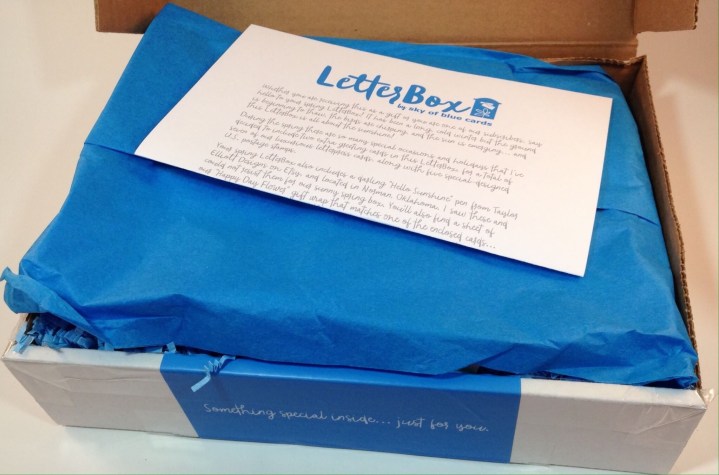 I was oohing and ahhing as I opened the box. There was a letter on top and pretty blue tissue paper underneath.
The letter welcomed me to the spring box and mentioned that there were two additional greeting cards this season due to all the extra celebrations taking place.
What a beautiful presentation! I think that the colors of this box are perfect for this time of year. I opened my box on a day with record rainfall so to see such a sunny, happy box really did brighten my day.

LetterBox US Postage Stamps ($2.35) These postage stamps were specially designed for this box. What a lovely touch this will add to my letters!
In the Clear Washi Tape #564 ($2.75) Can you believe this is the first washi tape I have ever owned? Washi tape is like a pretty patterned masking/clear tape hybrid that can be used for scrap-booking or other crafts. I used it to cover up my address on an item at the very bottom of this post!
Taylor Elliot Designs Hello Sunshine Pen ($5) This pen is yellow with gold accents. Writes smoothly without skipping and the bright color should make it easy to spot on my table. Black ink.
Vermont Wildflower Farm Random Acts Seed Packet (50 cents) Contains annual and perennial wildflower seeds. For all zones and regions. I think a nice random act would be to sprinkle these while out for a walk in an open area.
Arya Designs Clothespin Magnetic Clips ($4.49) It looks like someone knows how to use washi tape! These magnets have a pretty strong grip and would be great on a fridge or filing cabinet to hold letters, notes, or pictures.
There were a couple of Brach's Sugar-Free Lemon Drops in the box. I will admit that I didn't realize they were sugar-free at the time and I couldn't tell the difference!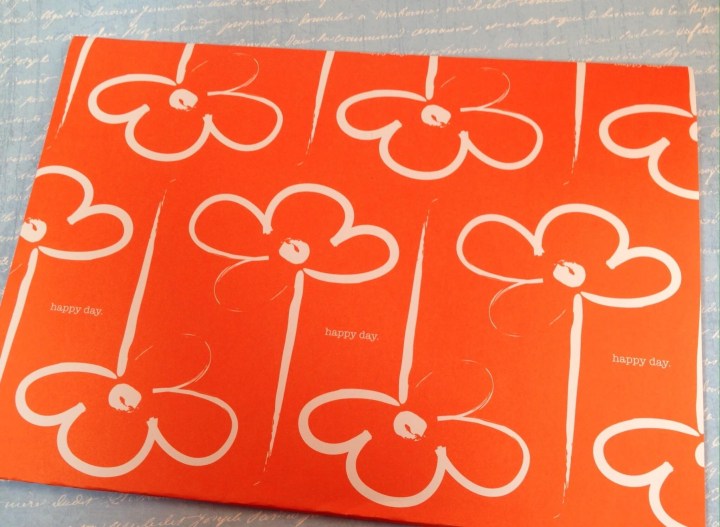 Happy Day Flower Gift Wrap ($3.00) This sheet measures 19″x 27″ and matches one of the cards below. The quality is very nice and not flimsy at all. This item and all of the cards included below are available at the Sky of Blue Cards website and in select stores. Some items may be exclusive to subscribers only.
Happy Day Card ($5) Blank inside. Perfect for joyous occasions.
Birdies Birthday Card ($5) Inside reads "…I overheard a little one say it was your birthday. Happy Birthday!".
Welcome Sunshine Face New Baby Card ($5) Inside reads "So happy you are here."
Bundt Cake Birthday Card ($5) Inside reads "Wishing you nothing bundt the very best birthday!".
Best. Dad. Ever. Father's Day Card ($5) Inside reads "Happy Father's Day!".
Carpe Diem Graduation Card ($5) Inside reads "Congratulations on your Graduation!"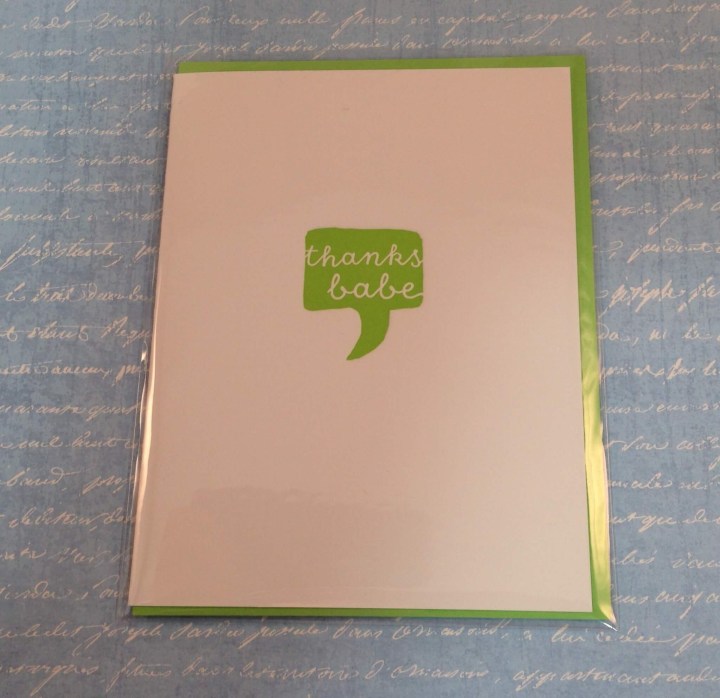 Thanks Babe Voice Bubble Card ($5) Blank inside.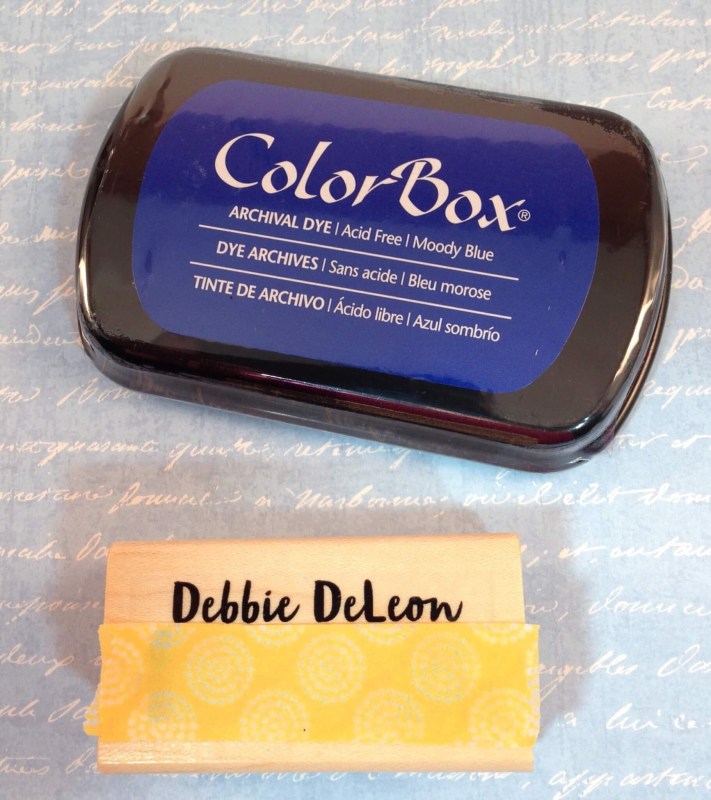 Custom Maple Block Address Stamp and ColorBox Archival/Acid Free Ink Pad ($24.99) These two items are included with a Four Seasons (annual) subscription box (no code needed!) or can be purchased separately. This adds a special touch to your envelopes. Ink color is blue.
Wow, what a wonderful stationary subscription box! The box value without the custom made stamp is $53.09 and all of the cards are high quality and included matching envelopes. The lifestyle items completed the theme of a happy, sunny box. I haven't sent many letters in recent years but I know my mom will appreciate receiving some beautiful notes from me in the mail!
I have two questions for you: What do you think about LetterBox by Sky of Blue Cards? How do you use washi tape?
Visit LetterBox by Sky of Blue Cards to subscribe or find out more! Get free shipping on your first box! Use coupon code LETTERBOXFREESHIP.
The Subscription
:
LetterBox by Sky of Blue Cards
The Description
: Each box will include 5 of our gorgeous and chic letterpress cards, 5 specially-designed postage stamps, as well as at least two luxe lifestyle items and letter-writing accoutrement. These items might include Karla's favorite soy travel candles, wine bottle tags, coasters, writing pens, relaxing herbal teas, or special Fleur de Sel caramels from Karla's favorite shop in San Francisco. Our hope is to outfit our subscribers' letter-writing desk with all the best stationery and accoutrement and offer them a beguiling experience… to sit down, relax, light a candle or have a cup of tea while they write some letters.
The Price
: $35.00 per quarter