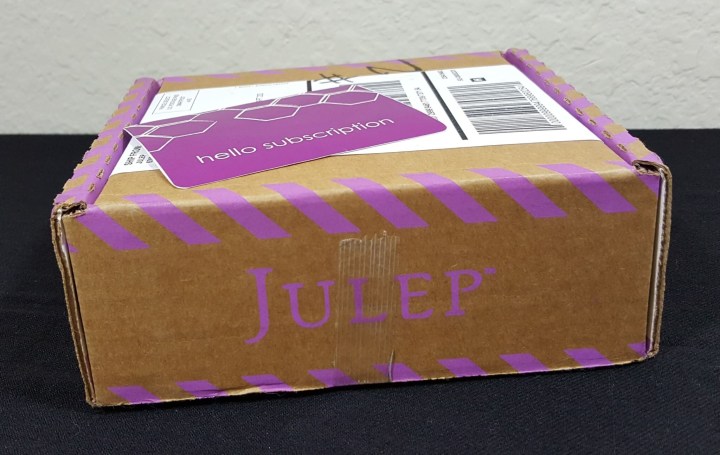 Julep Maven is Julep's monthly beauty subscription – nails and more!  This subscription is great because it's customizable – swap out products and colors from a set box and choose from Julep's best sellers, or choose a pre-curated box.
If you're not a subscriber, you can get this free welcome box with a prepaid subscription.  Get a savings of $5 per month if you prepay for 3 months!  Julep is skippable and giftable, so I'd recommend the longer term.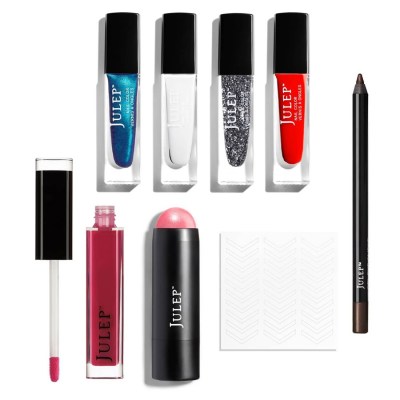 Just in time for Memorial Day and July 4th, Julep is offering its Star-Spangled beauty gift set as a FREE welcome gift for new subscribers!  Pay $24.99 for your first month (less per month for prepaid plans)  and get this set (a $122 value) as a free gift when you use coupon code FIREWORKS.  It features four patriotic nail polishes, a hot pink lip gloss, a peony pink blush stick, a bronze eyeliner, and white chevron nail decals.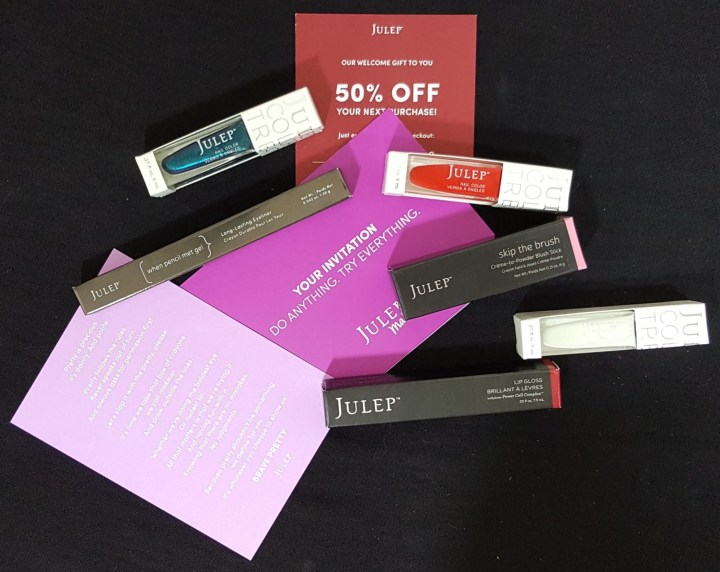 And here's my Star-Spangled beauty box.  Unfortunately, there was a bit of miscommunication causing me to not get one of the nail polishes or the nail decals.  This only happened to review boxes.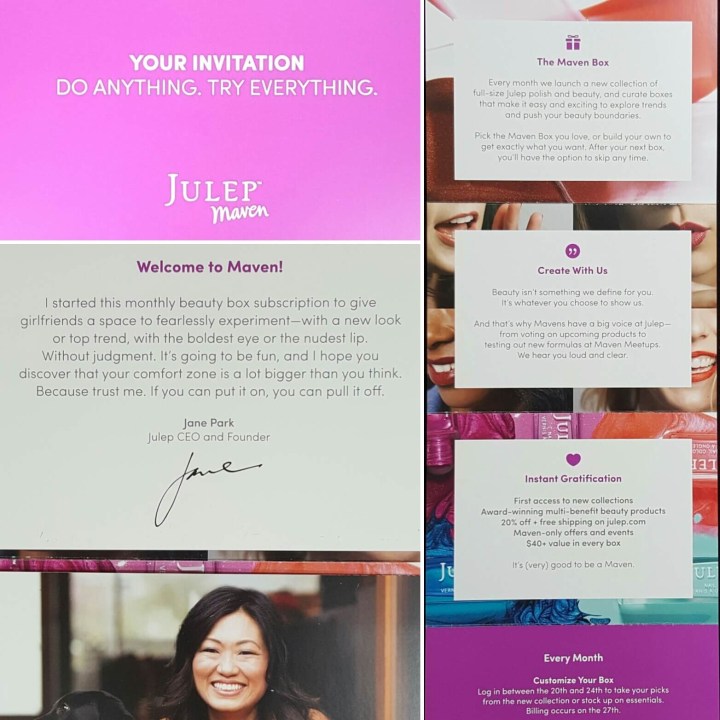 This fold-out welcome card introduces new subscribers to Julep's founder and CEO Jane Park, and it highlights the benefits of being a Julep Maven.  
There is also a card to new Mavens sharing Julep's philosophy and a note from Jane.
The nail polishes:  With this box, I realized that my fondness for Julep had crossed into another level.  I was able to identify the colors just by looking at a photo.  I verified my guesses when I finally got to open the box.  And here are the patriotically themed colors:
Myriam (Classic with a Twist):  Casino red crème.
Brigitte (Classic with a Twist):  Bright white crème.
Paulina (It Girl):  Peacock duochrome.
Kirby (Bombshell):  Silver jagged glitter top coat.  Not pictured above – this was the nail polish that did not make it into my box, but from the picture below, you can see how pretty it is.
Julep Lip Gloss – Lively:  Sheer Hot Pink Shimmer with Power Cell Complex.  A sheer, subtle gloss that makes lips look and feel amazing. Infused with Julep's ultra hydrating, age-defying Power Cell Complex.  I like this shade; it adds a nice shine with a hint of pink for a natural look.  Plus, it is not at all sticky.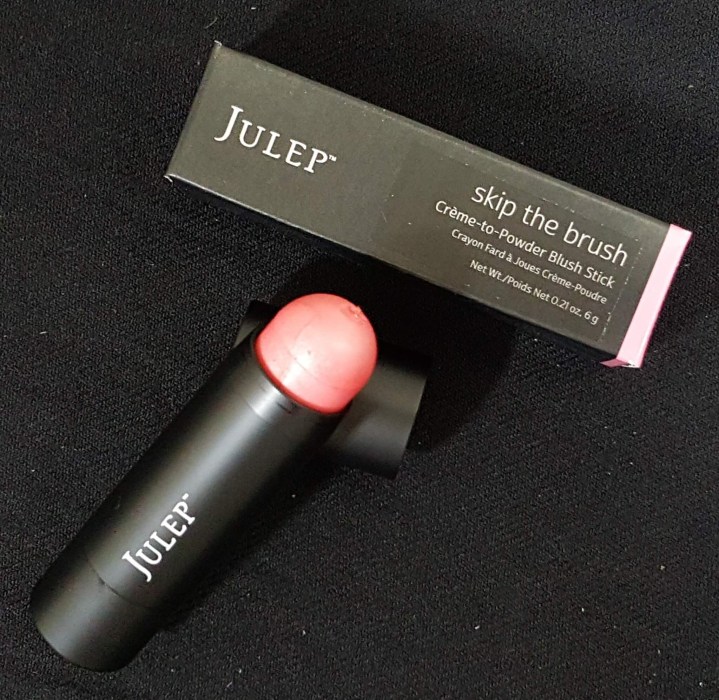 Skip the Brush – Peony Pink:  A one stick wonder made for luminous, dewy cheeks, but versatile on eyes and lips, too. This soft-focus powder has ultrafine color pearls that go on creamy then set to a long-lasting powder finish. Easy to apply, easy to blend (no brush needed!), easy to keep in your clutch for on-the-go beauty touch-ups.  At first, I thought this shade would be too pink for my skintone.  However, once I blended it out, it gave a sun-kissed glow to my cheeks.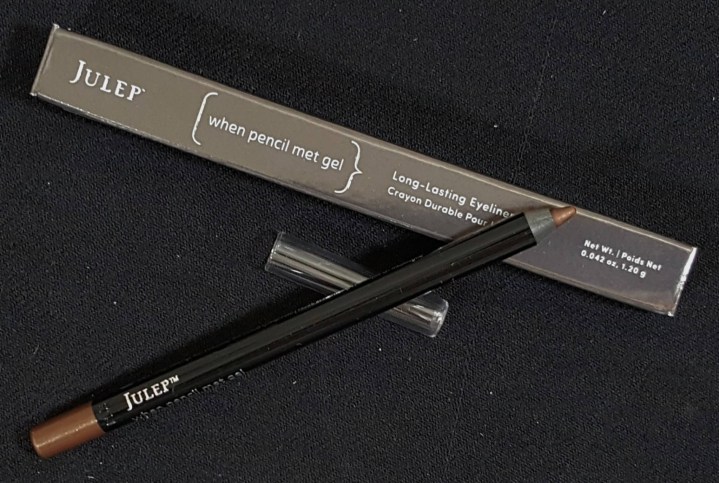 When Pencil Met Gel Eyeliner – Bronze Shimmer:  Clinically proven to last for 10+ hours, this easy-to-use eye pencil delivers the creamy formula & intense color payoff of a gel eyeliner. The waterproof formula glides on, sets in 30 seconds, and then stays put. Because eyeliner shouldn't stand in the way of adventures.  I love this liner.  The color is bit lighter than my normal brown; however, I like the way the shimmer catches the light, drawing attention to my eyes.
White Chevron Nail Decals:  Pictured above are Julep's turquoise mini chevron decals.  They are similar to the white ones that you will receive in your kit, just a bit smaller.  These chic little chevron nail decals work on bare or polished nails. Peel 'em off, stick 'em on, and seal with a top coat. Easiest nail art ever!  I've found that it helps to use a pair of tweezers to apply the decals on your nails.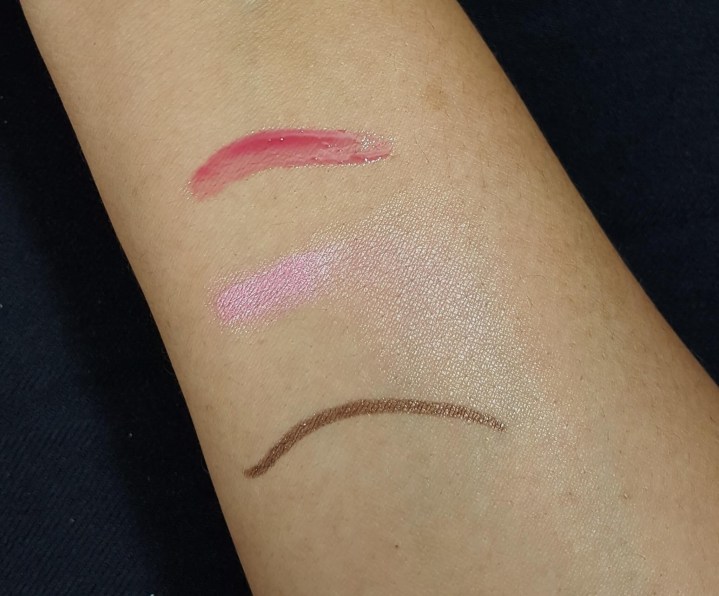 From top to bottom, here are swatches of the makeup items:  Lively lip gloss, Pink Peony blush stick (I blended the end of the swatch to show how the color looks on), and Bronze Shimmer gel eyeliner.
The retail value of this box is $122!  However, new subscribers get it FREE when they join Julep (and pay $24.99 for their first month).  Use coupon code FIREWORKS to get this offer.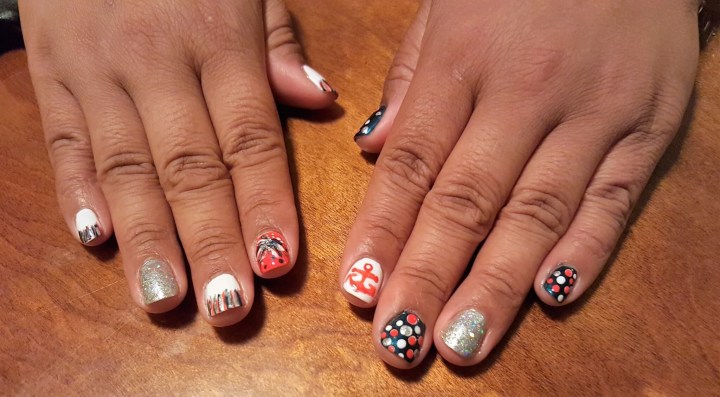 Feeling a bit patriotic, my sister and I decided to try some nail designs using the colors in the gift set.
Design 1
1.  Start by applying a base coat to your nails.  Try Julep's Oxygen Bonding Base Coat.
2.  For the first theme, J followed the base coat with a silver polish on my accent nail and Brigitte on the rest of my nails.  I can't believe I don't already have it, but Julep's Harley is a silver metallic chrome that you could use for this.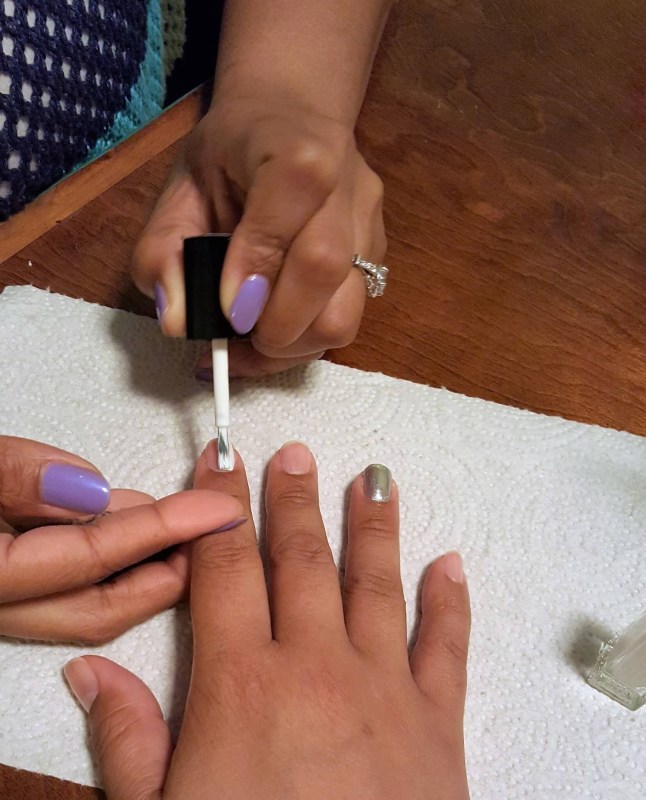 3.  Then J added a Kirby-esque glitter polish on top of the silver.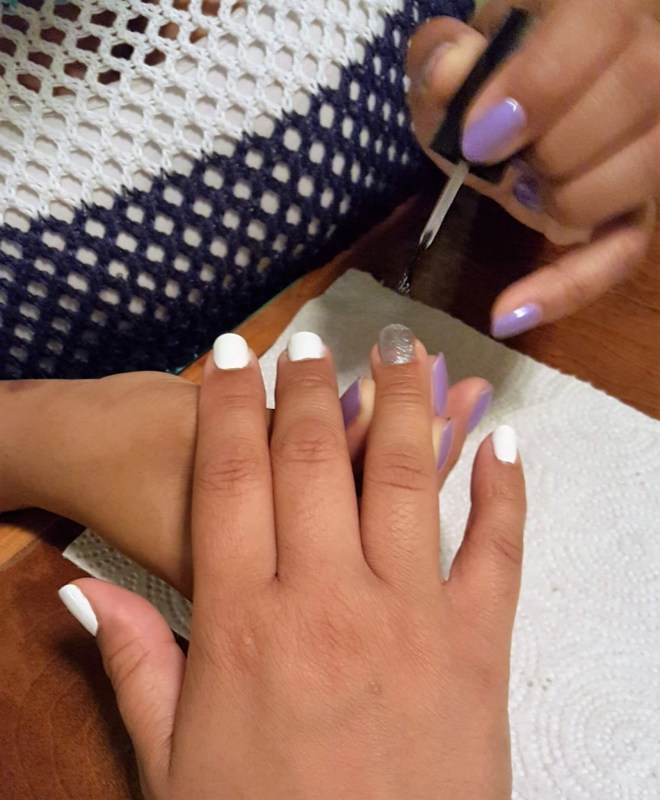 4.  Next she added Myriam on my index finger.  This didn't need the white undercoat, but it helped to brighten the red.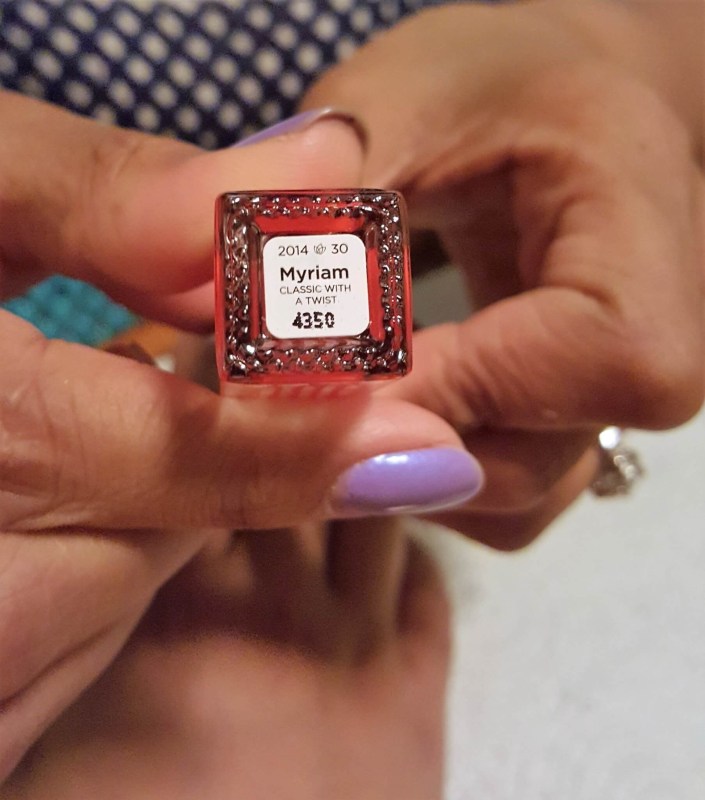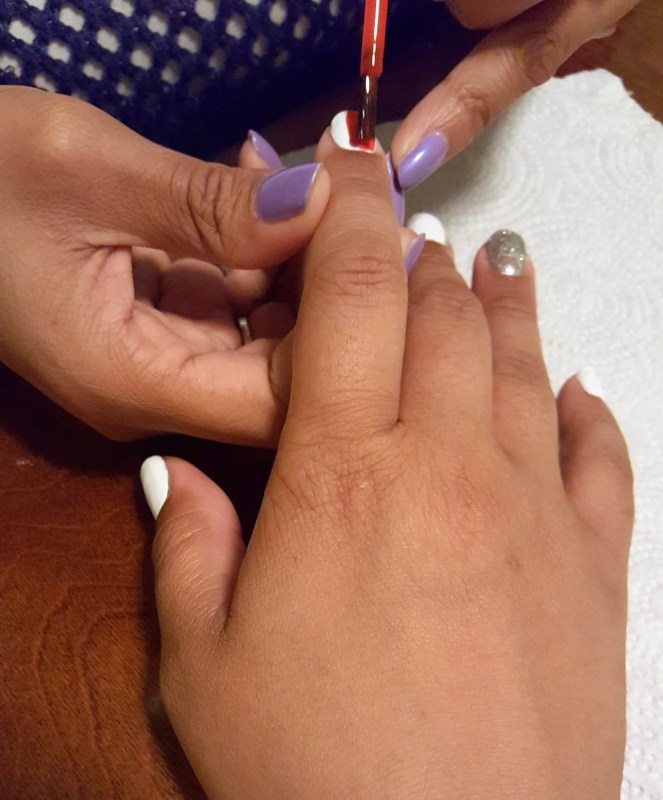 5.  Using a fine tip nail brush, lines were drawn on each of the white nails.  J started with Paulina, then repeated with Myriam and the silver (or Julep's Harley).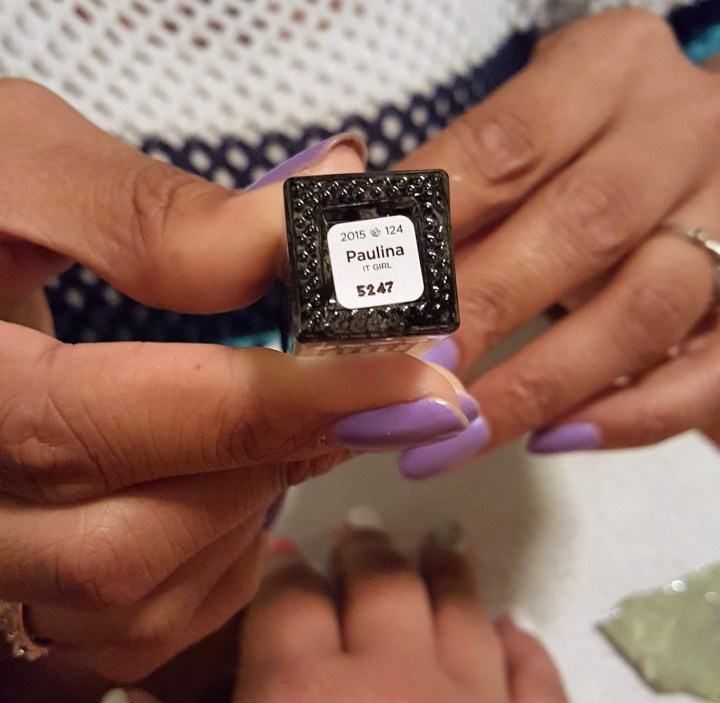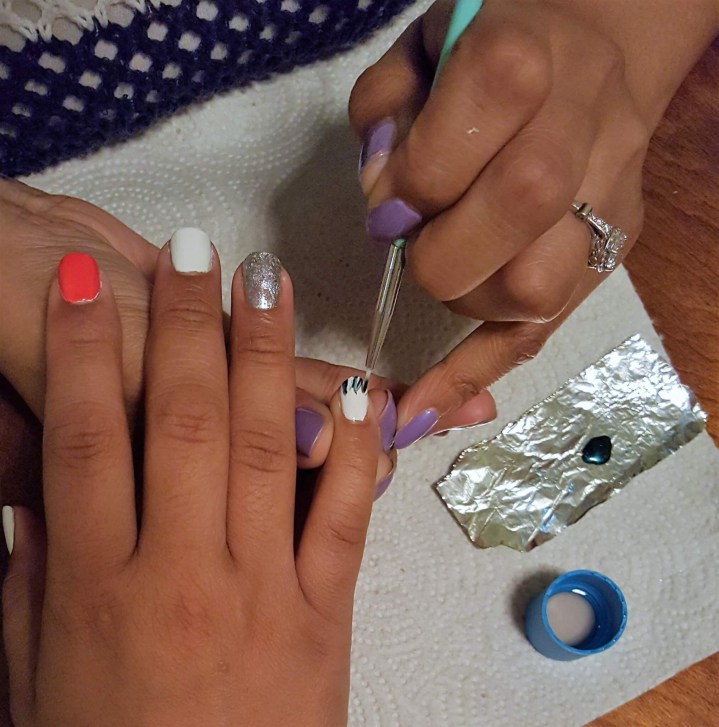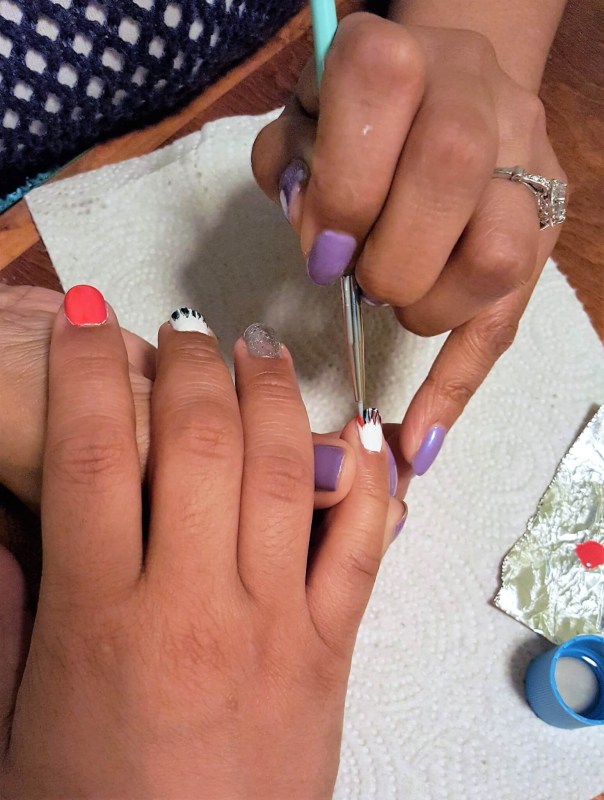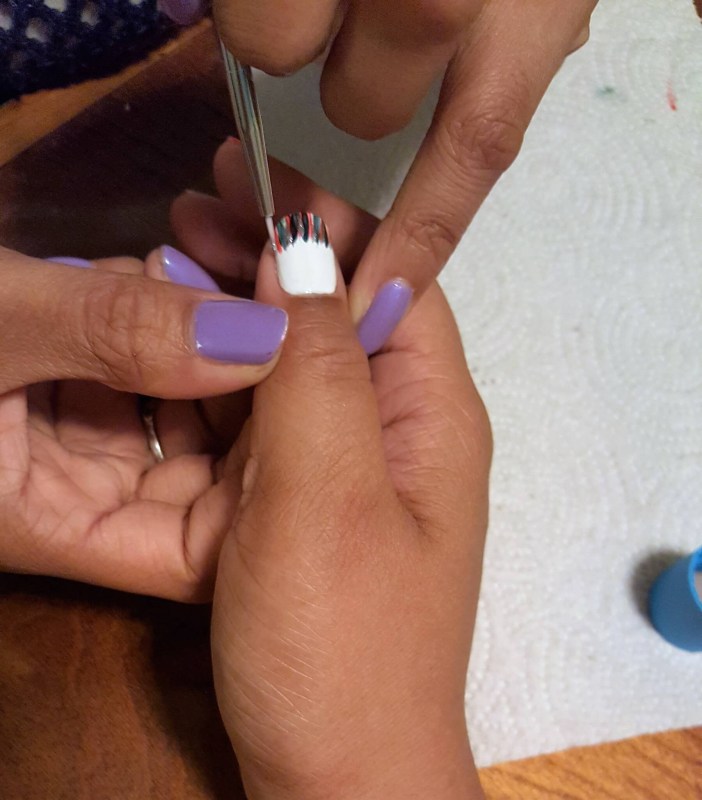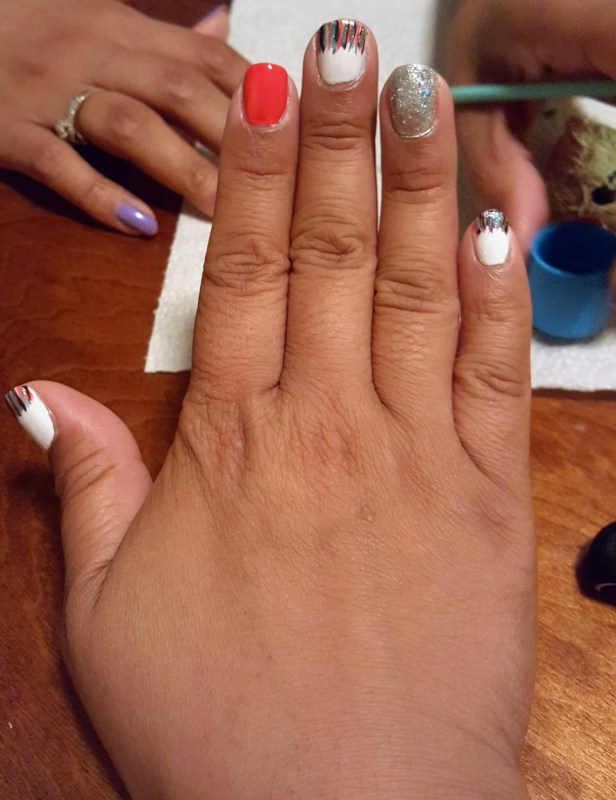 6.  After cleaning the nail brush, J started with Paulina and began to make curves on the red nail.  She followed that up with curves in Brigitte and the silver polish.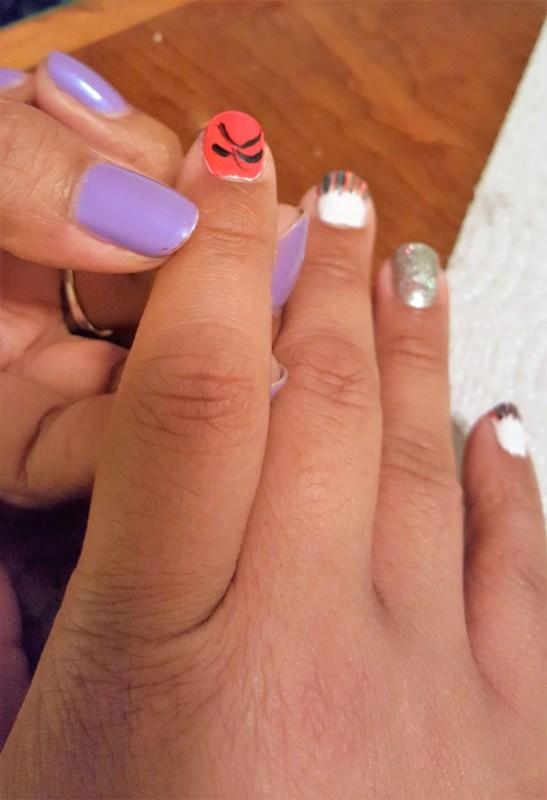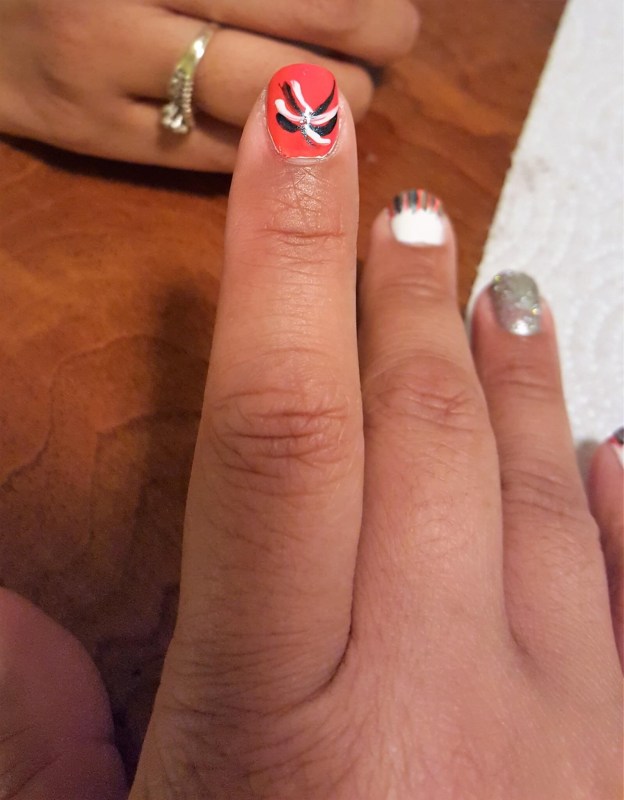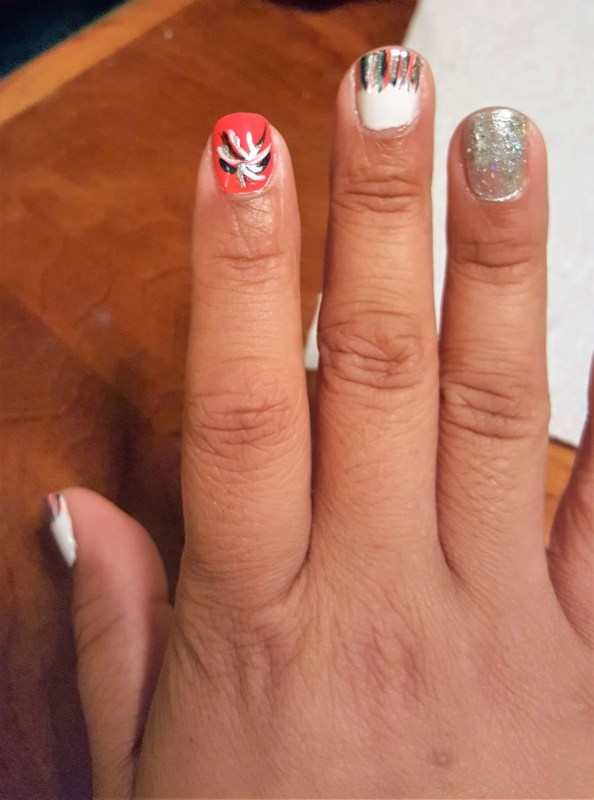 7.  To make the sparkles around the fireworks, J used the tip of the nail brush to make small dots around the curves.  She used Brigitte, Paulina, and the silver.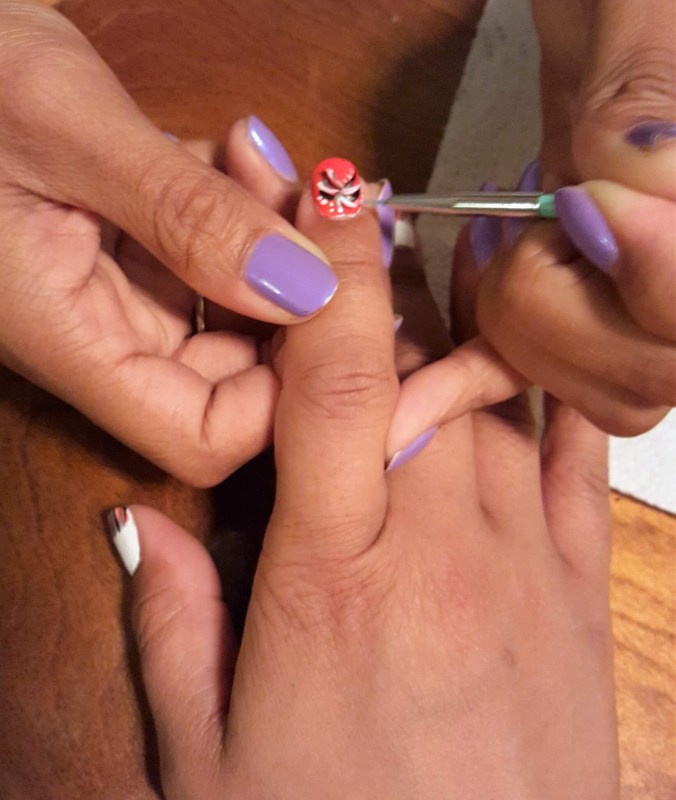 8.  To make the fireworks dazzle, she used the tip of the brush to pick up small amounts of glitter from the topcoat (use Julep's Kirby) and place them at different points on the design.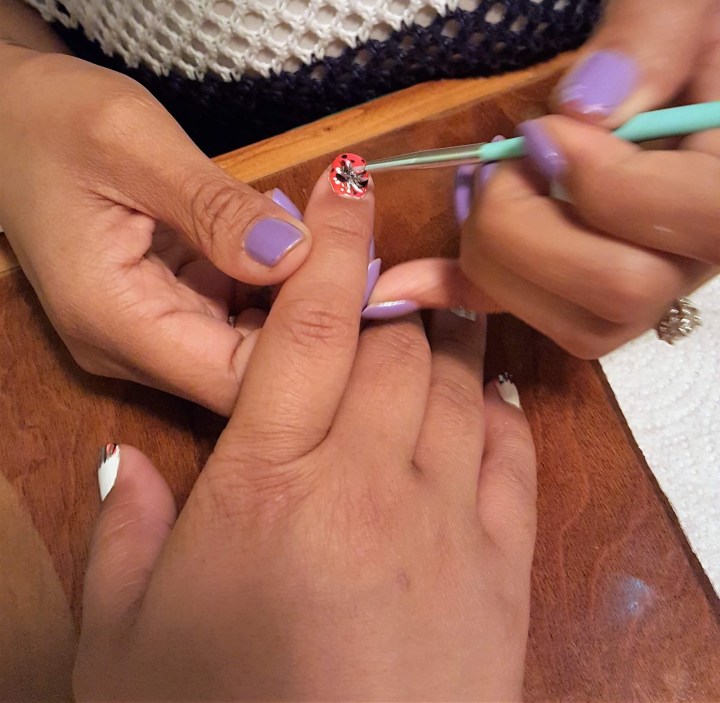 9.  Here's the finished design!  Don't forget to use a top coat to protect all that hard work.  I love Julep's Freedom Polymer Top Coat because it gives a gel-like finish.  Ignore the patches in my accent nail – the silver was not a Julep polish, and it shows.

Design 2
1.  Start by applying a base coat to your nails.
2.  For the this design, J followed the base coat with Paulina on every other nail.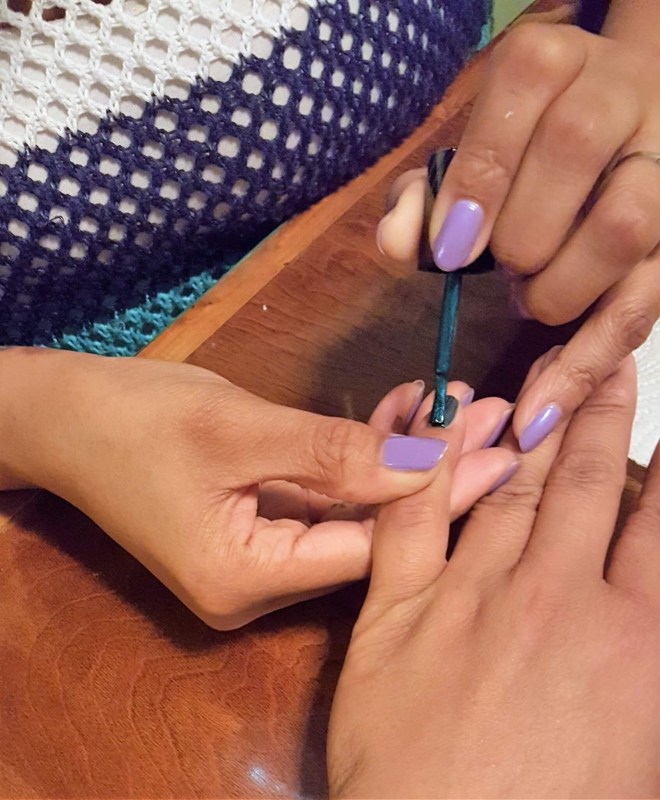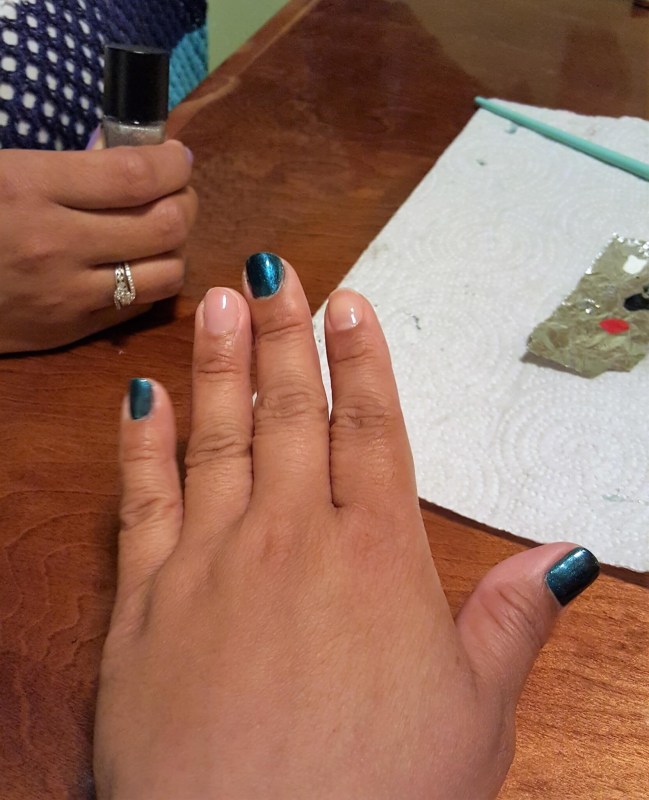 3.  J then used a silver polish on my accent nail (try Julep's Harley) and Brigitte on my index finger.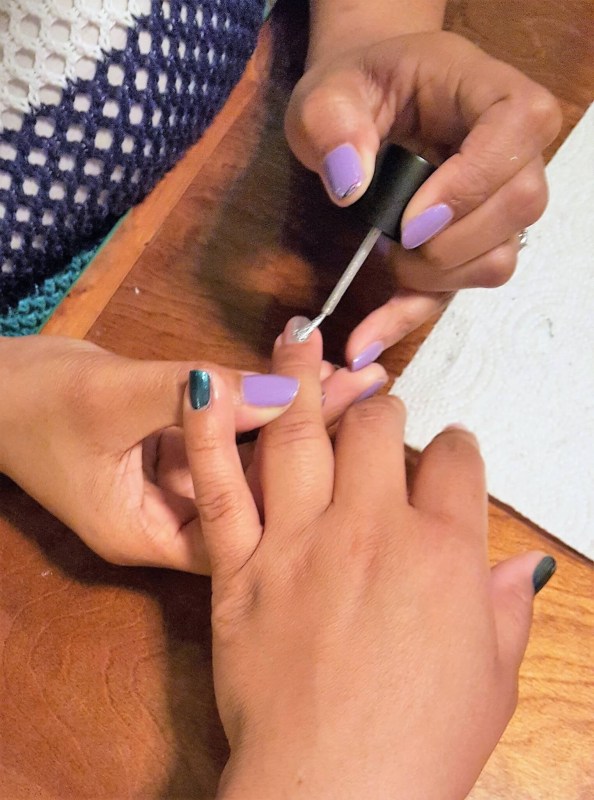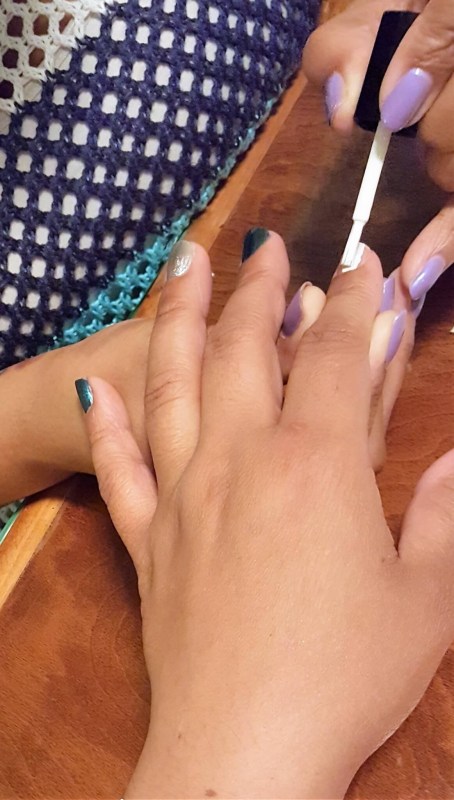 4.  Next, J used a dotting tool and Brigitte on each of the nails with the blue base to add a scattered dot effect.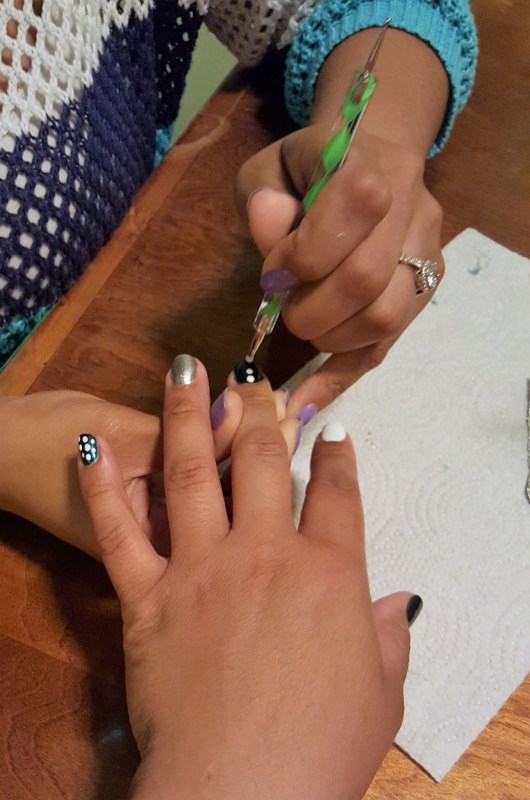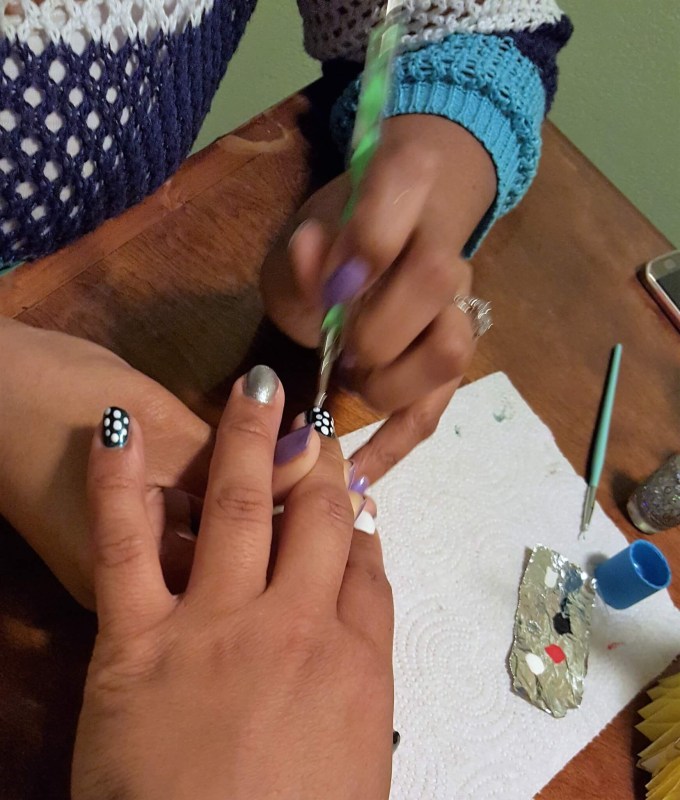 5.  She followed this up with a glitter topcoat over the silver polish (try Julep's Kirby).

6.  Using the smaller end of the dotting tool, J used Myriam and the silver polish to dot over some of the white dots.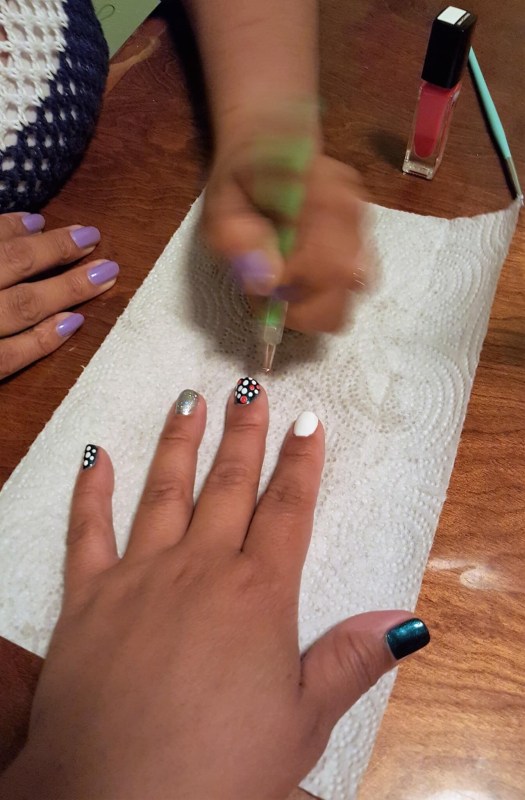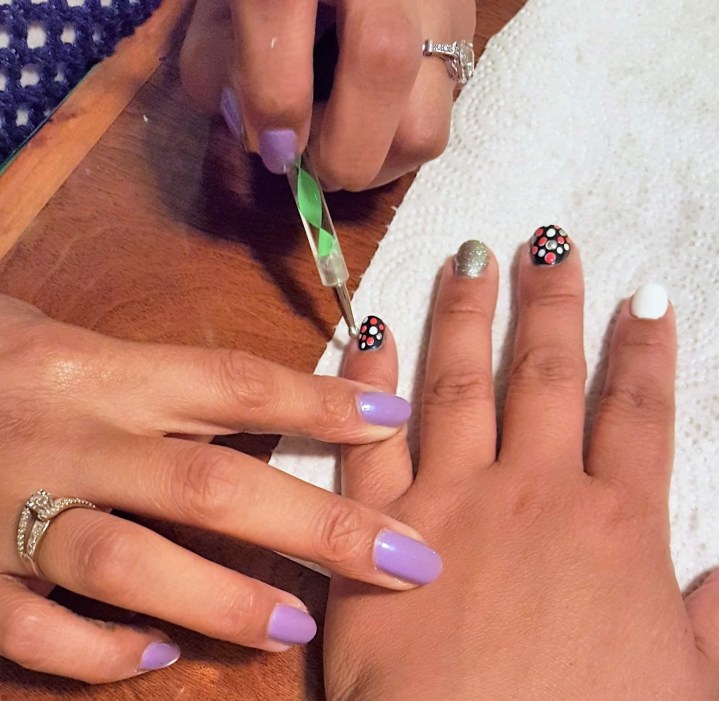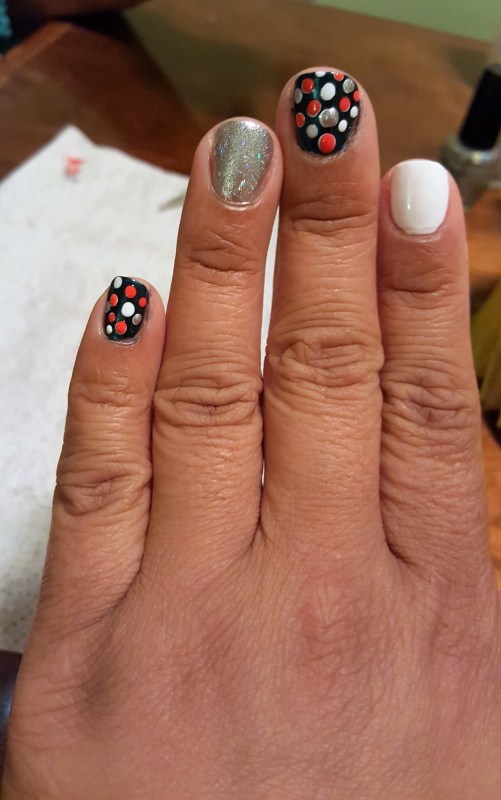 7.  Using Myriam, J added an anchor to my index finger.  She would have preferred a brush with a finer tip but worked with what she had.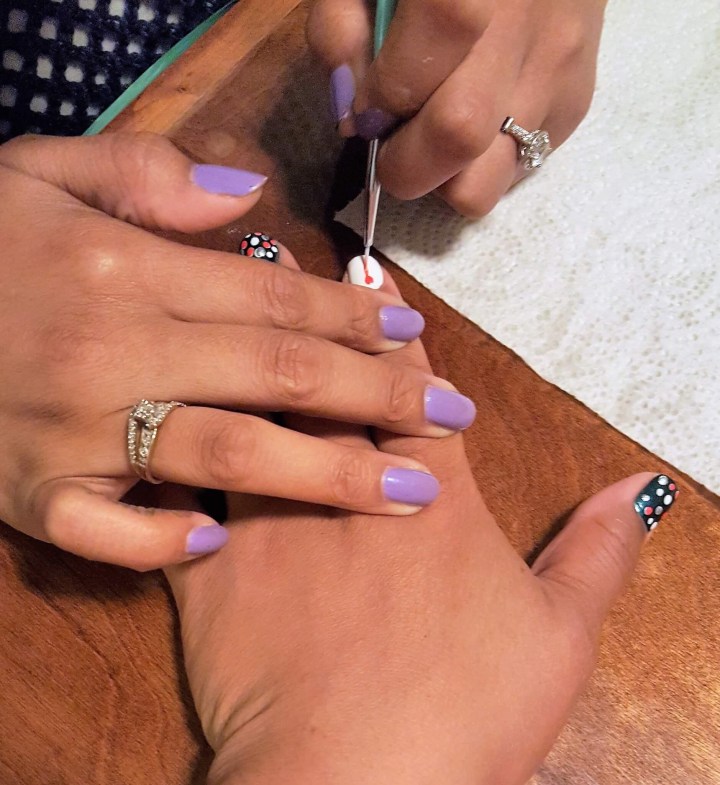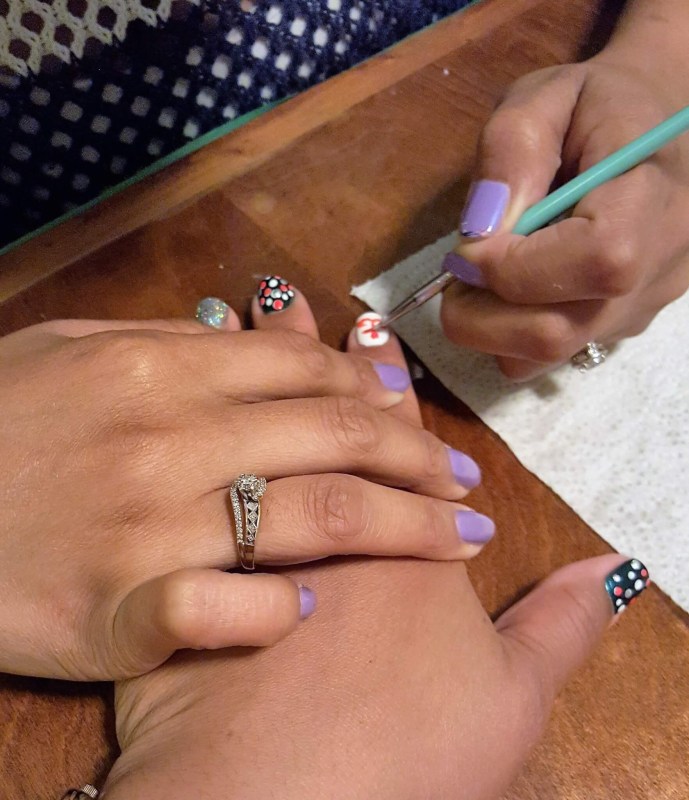 8.  J finshed off my nails with a top coat, and VOILA!
My sister and I had a ton of fun with this gift set.  Become a Julep Maven, and you can have as much fun as we did.  Share your thoughts on Julep or the Star-Spangled gift set by leaving a comment below.
All Julep Maven subscription plans automatically renew, and you may cancel anytime. Billing occurs on the 27th of each month. FYI, you have until midnight on the 18th to sign up and be able to get the next selection window. Once you join, you'll be able to customize your monthly Maven box with your favorite nail colors and beauty products from a brand new Julep collection (or wait for a surprise).
Visit Julep to subscribe or find out more!
The Subscription
:
Julep
The Description
: Nail polish box and a beauty box. Get either 3 polishes, 2 polishes and a beauty product, or 2 beauty products per month. All polishes are 5-free with no harmful toxins, never tested on animals. Polishes are nail strengthening and all named after cool women! Totally customizable! You can swap out products, select add-ons, or upgrade your box (or skip!).
The Price
: $24.99 per month