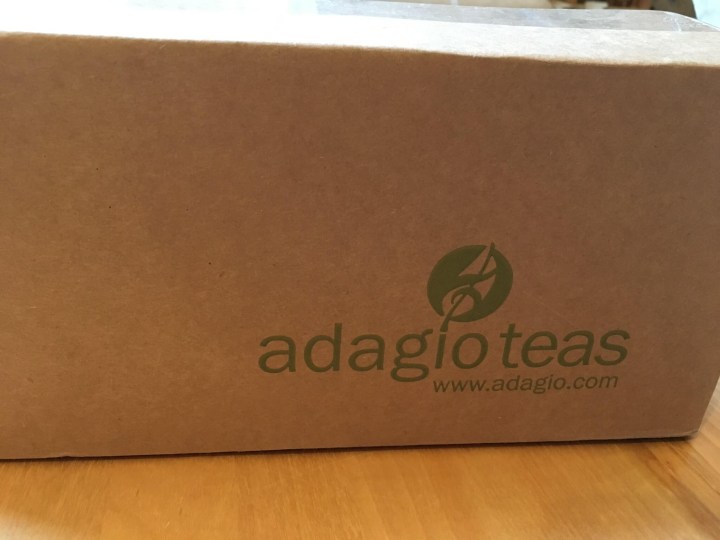 Adagio Teas Club is a bimonthly tea subscription service that sources its teas from the most delicious ingredients currently available. It allows you great flexibility in specifying what you would like for them to deliver: black, flavored, decaf, herbal or green/oolong teas. Once every two months, you will receive two bags of loose leaf teas that match the general type of tea that you select. I selected herbal teas.
My two teas arrived in a lovely box inside another box. Clearly the people behind Adagio Teas put some thought into presentation.
In addition to the box of teas itself, I was delighted to find cards encouraging me to share my experience with Adagio Teas and inviting me to treat my heart well by drinking tea.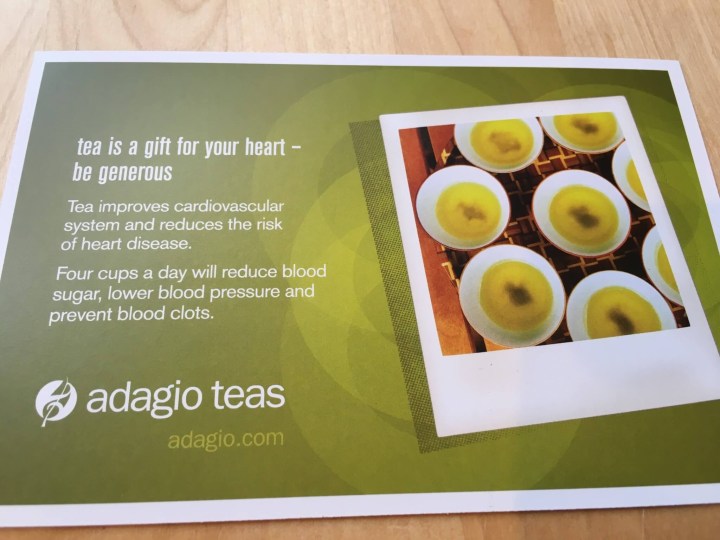 I was excited to try the two teas contained in this shipment: blood orange and rooibos. Each tea arrived in a 3 oz bag, each of which makes approximately 38 cups of tea. Since I drink roughly 4 cups of herbal tea each day, these two bags put together should last me about 19 days. If you take Adagio Tea's advice and drink four cups each day for cardiovascular health, you'll run out in about 19 days too!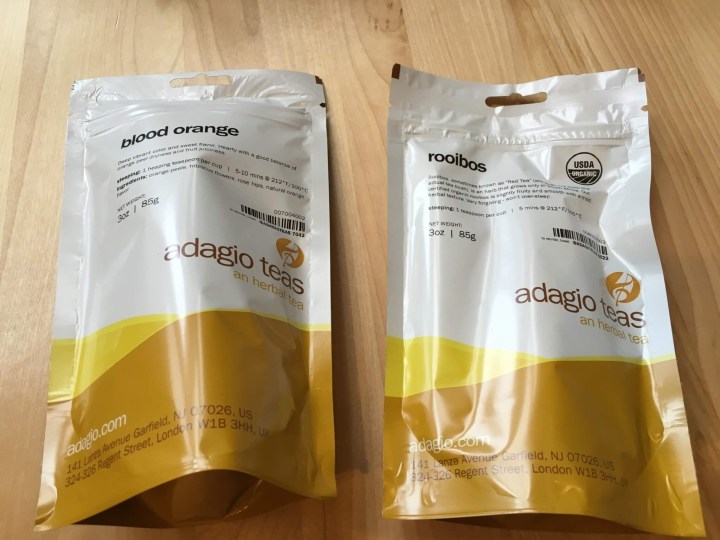 While the blood orange herbal blend is not organic, the rooibos is. Great!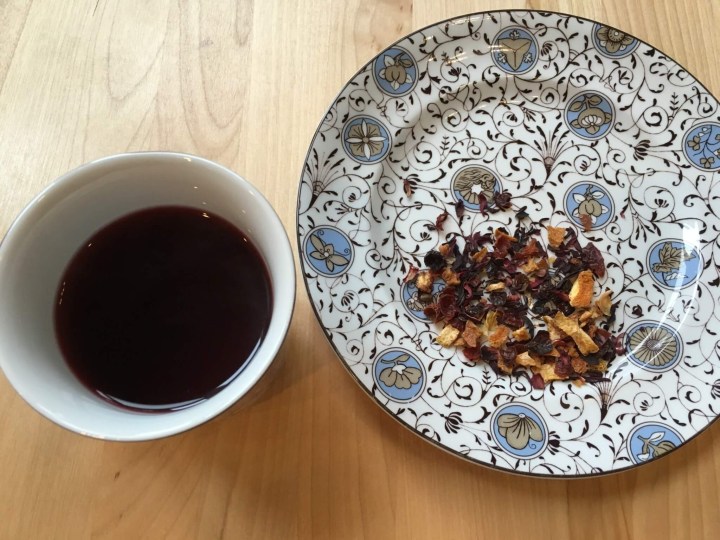 Adagio's blood orange tea ($8) was the first tea I wanted to eat right out of the bag. It smelled delicious. The blood orange peel paired with hibiscus and rose hips were especially inviting. I couldn't wait to try this! Lush, tart and fruity, I could have drunk this all day. I loved how the deep almost purple color in the full glass gave way to a gorgeous ruby red as I continued to drink the tea.
Adagio's Organic Rooibos ($7) was earthy, nutty and fruity at the same time. Delicious! I love rooibos, and I was delighted to try one of Adagio's organic offerings.
By prioritizing taste above all else, Adagio has produced wonderful teas that I would be happy to enjoy daily. I look forward to exploring more of their herbal offerings as the year progresses. Adagio Teas Club is one of the least expensive tea subscriptions – $59 for 6 months of herbal tea or $99 for the entire year (the black, decaf, and green tea subscriptions cost a tad bit more). Still, as others have noted, you'd do just as well ordering their teas directly from them. The monthly subscription cost is roughly equivalent to the cost of their teas plus shipping and handling.
Visit Adagio Teas to subscribe or find out more!
The Subscription
:
Adagio Teas
The Description
: Twelve months of healthy living through tea is surprisingly affordable. Fresh loose teas will arrive at your doorstep like clockwork, inviting you on a journey of discovery with each shipment.
The Price
: $59 per half-year