ToGoSpa Society is a monthly replenishment and surprise subscription by ToGoSpa.  With ToGoSpa Society you'll get either 6 ($25), 15 ($40), or 30 pairs ($64) of Eyes by ToGoSpa plus The Benefit, a monthly surprise from ToGoSpa or their selected brand. The Benefit is always valued at $20-$50 and is a high quality spa item.
ToGoSpa has a smaller Mini Box, which is great for those of us that don't have a chance to use our EYES every day.  This is everything in the April Mini Box, which includes 2 packs of EYES plus the benefit.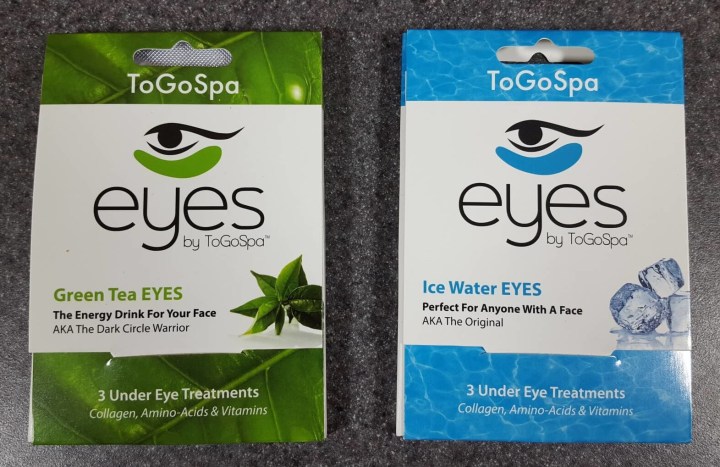 I received 2 different types of Eyes by ToGoSpa: one pack each of Green Tea and Ice Water.
These are super hydrating and are activated by your body temp! EYES are collagen gel pads with Hyaluronic Acid, Vitamins C & E, and nutrients. Each different type has a different composition to provide different benefits. Green Tea combats dark circles and the Ice Water helps to soothe puffy under eyes and provide maximum hydration.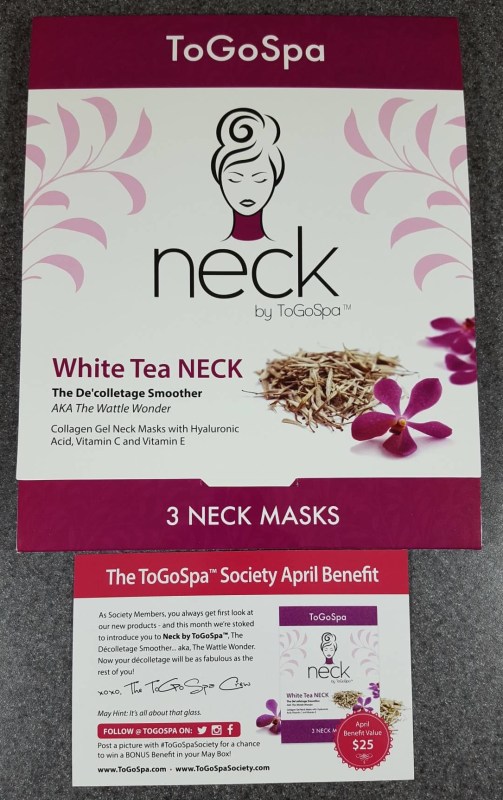 The benefit this month is a new product from ToGoSpa for the NECK and I received the White Tea NECK.  These are made to lift, tone, moisturize and promote elasticity in the neck area.  This looks really neat and says to add a little massage to the experience which I think sounds fantastic. I will have to get my hubby in on that one.
I'm really enjoying these boxes and the ToGoSpa eyes. I actually have my friends over for a girls weekend of crafting and I'm planning on us all getting a chance to use these one of the nights.  It will be so much fun and I can't wait for everyone to try them.
Visit ToGoSpa Society to find out more or to subscribe! Save 15%! Use coupon code hello15.
The Subscription
:
ToGoSpa Society
The Description
: The ToGoSpa Society membership offers huge discounts on Eyes and Face by ToGoSpa and in addition each month members receive The Benefit! The Benefit is a FULL size product we love and want to share free with our members.
The Price
: Mini: $25 for 6 EYES plus the benefit, Standard: $27.50 for 12 pair of EYES + The Benefit, Combo: $50 for 6 pair of EYES + 3 Face + The Benefit, High Society: $99 for 24 Eyes, 6 Face, and The Benefit