Mostess is a new bi-monthly box lovingly packed with curated entertaining items and ideas that are perfect for your next gathering (or as hostess gifts!). Usually I skip the ugly outside box photos – but this one is so gigantic it deserves one! (It's also an incredibly sturdy cardboard box that I refused to recycle, because it's very reusable!).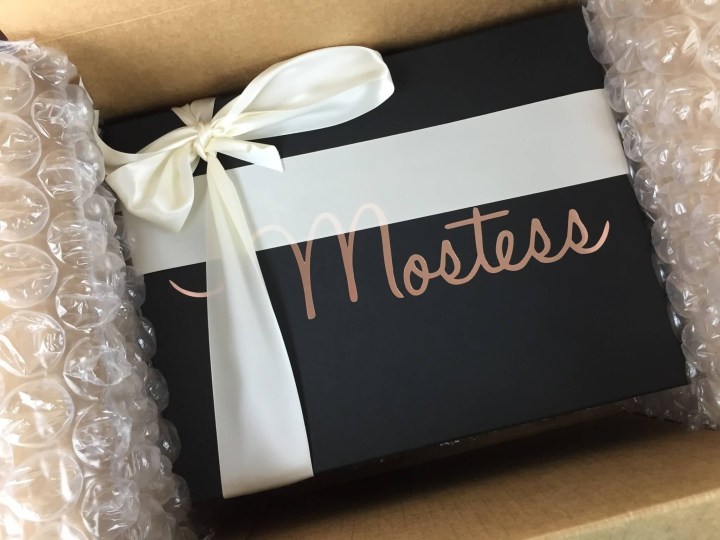 This box ships in a very large outer cardboard box and is completely covered with bubble wrap.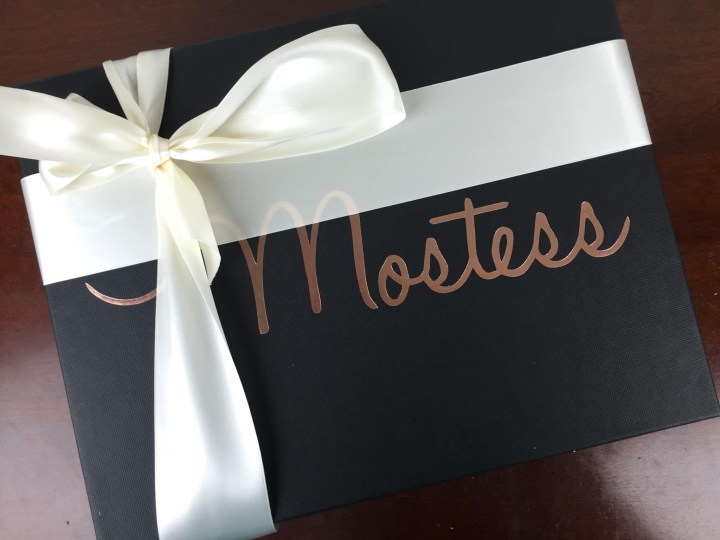 This is the best packaging I've ever seen on a subscription box. The quality of the ribbon and the sturdiness of the box is better than what I've been seeing on most special edition boxes and I was thrilled that not a single thing changed about the package – it's exquisite! I can't ever get enough rose gold!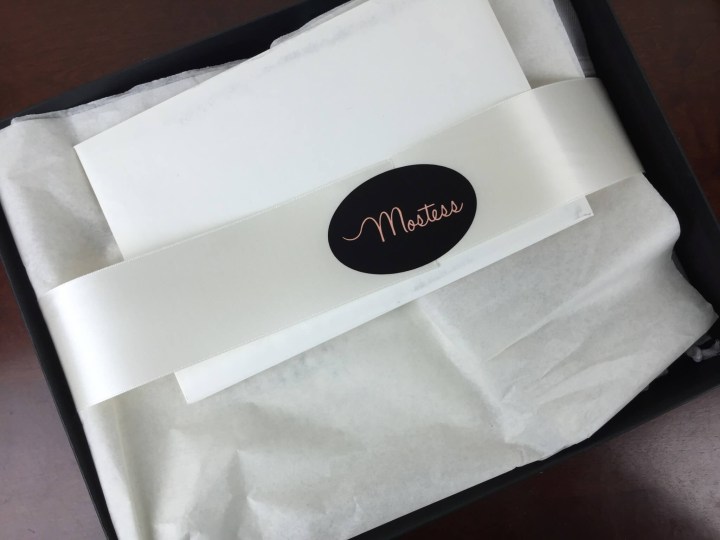 I wasn't disappointed when I popped off the top of the box, either!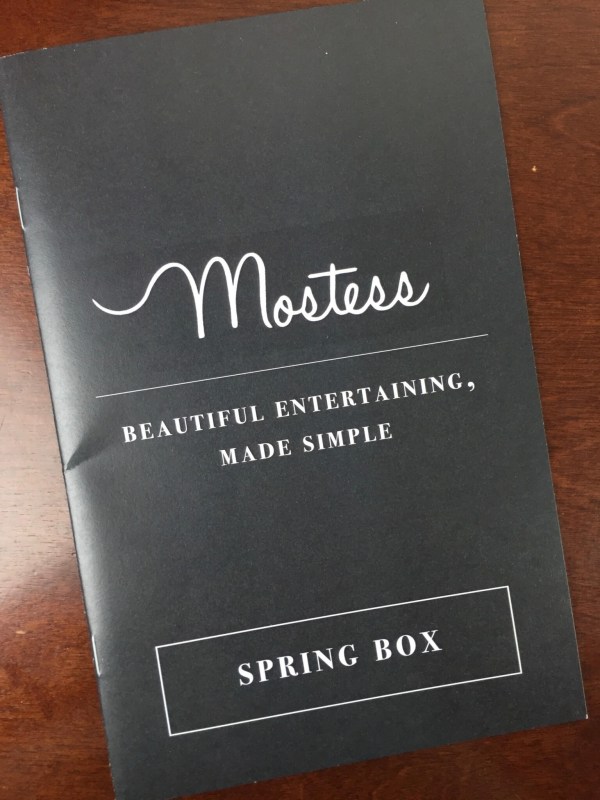 Inside the envelope was a sturdy bifold booklet printed on lightly textured heavy cardstock. The box shipped in April was the Spring Box.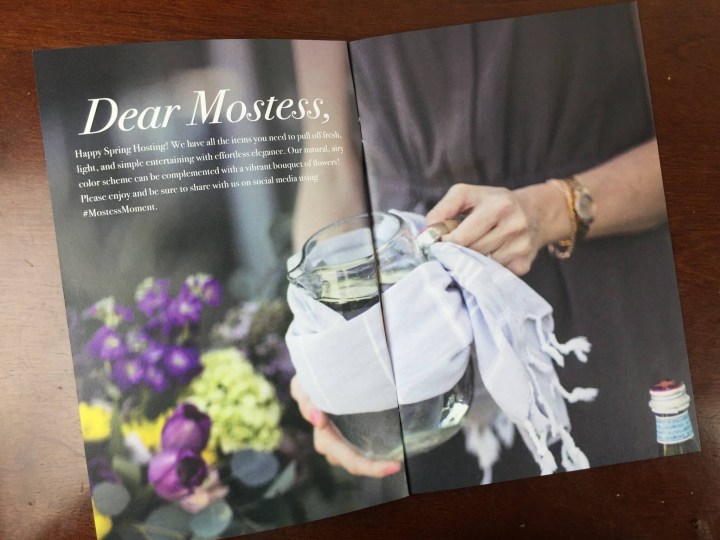 The quality of the information booklet matched the rest of the packaging. The booklet has been expanded from the first box and it's even more gorgeous and useful, including photos and ideas for every item – great inspiration for hosting your own spring event. I particularly loved the towel styling (above) – I would never think of that, but it's perfect and now I think I need my own glass water pitcher!
The booklet also includes information about the items in the Spring box, as well as table setting tips and alcoholic and non-alcoholic drink recipes! I just had my husband pick up some club soda for some wine spritzers for me so I'm excited to try these recipes out! There's also a QR code to scan to access to Spring Mostess playlist!
The box also included a duo-sided card with entertaining tips on one side and cheese serving ideas on the other.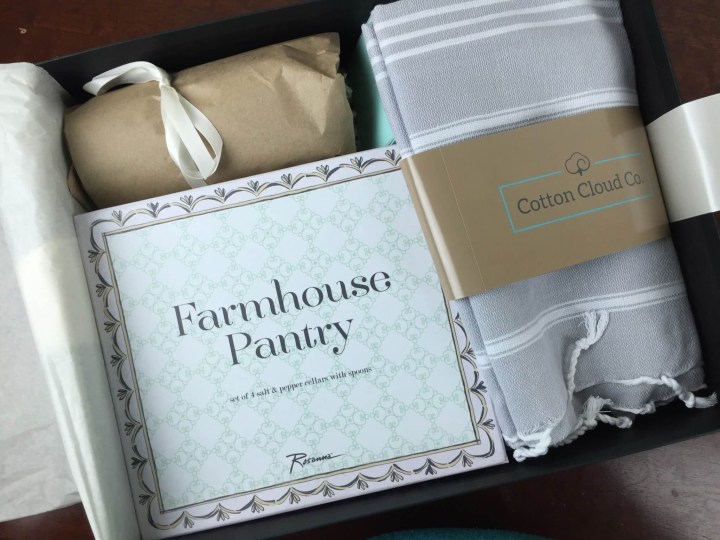 All the items were securely nestled inside. When I unpacked this box gorgeous scents kept on wafting up at me and I couldn't wait to find the source!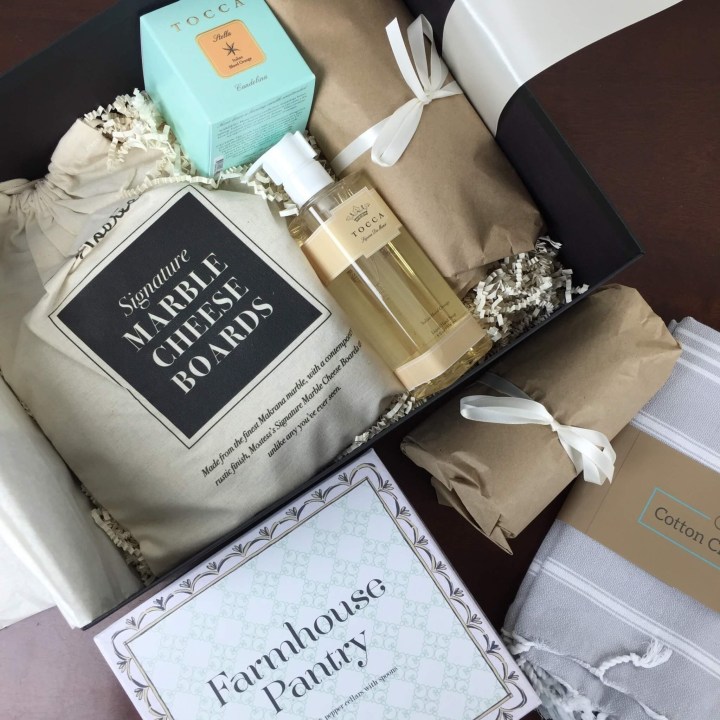 I love the packaging – everything that's breakable is wrapped in bubble wrapped then further neatly wrapped in kraft paper and tied with a bow.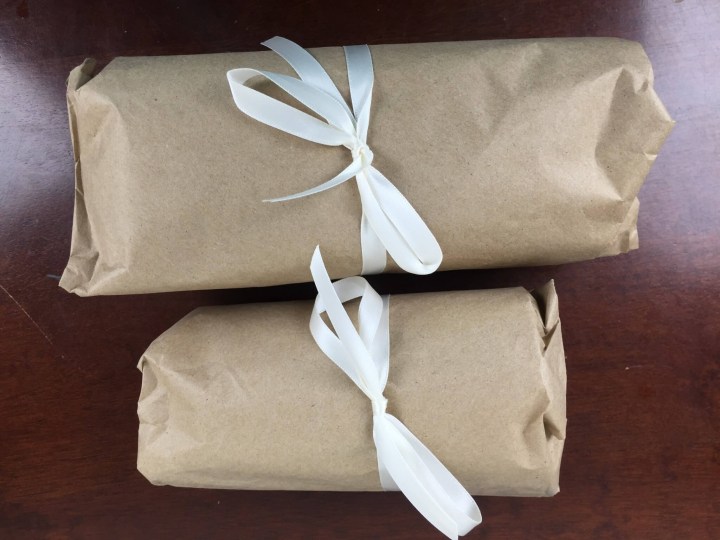 It's so darling!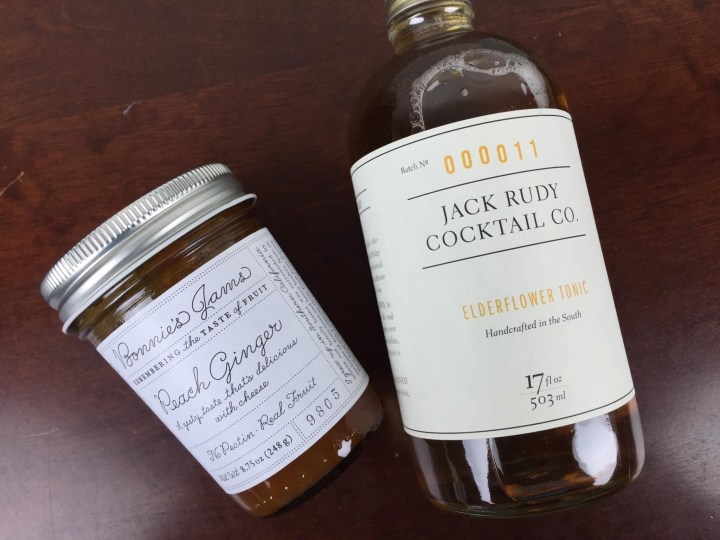 Bonnie's Jams Peach Ginger Jam ($10) I love Bonnie's Jams! This one melds sharp ginger with fresh peaches in the perfect proportions. I think I've used this particular flavor as a glaze before, but I think the ideas in the booklet for serving with cheese at a party are fantastic.
Jack Rudy Cocktail Co. Elderflower Tonic ($16) This tonic is designed to pair with gins (obviously, the classic!) but with a richer flavor also goes well with darker spirits like tequila, bourbon and rum.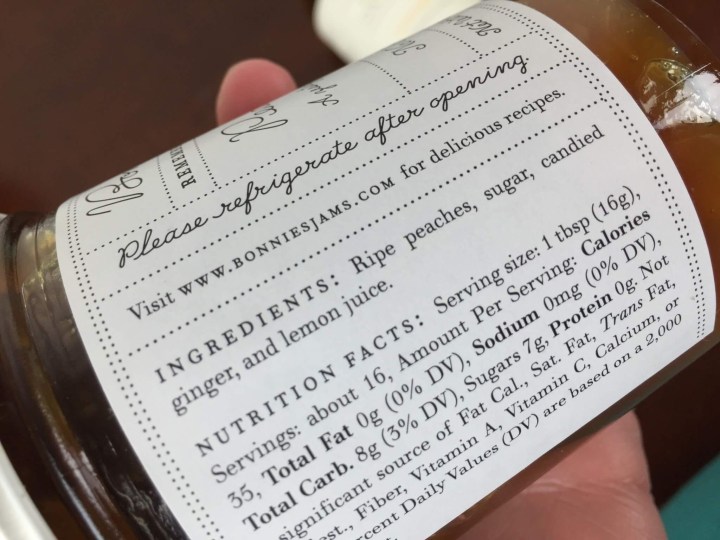 I love the simple ingredients in the jam – just peaches, sugar, ginger, and lemon juice.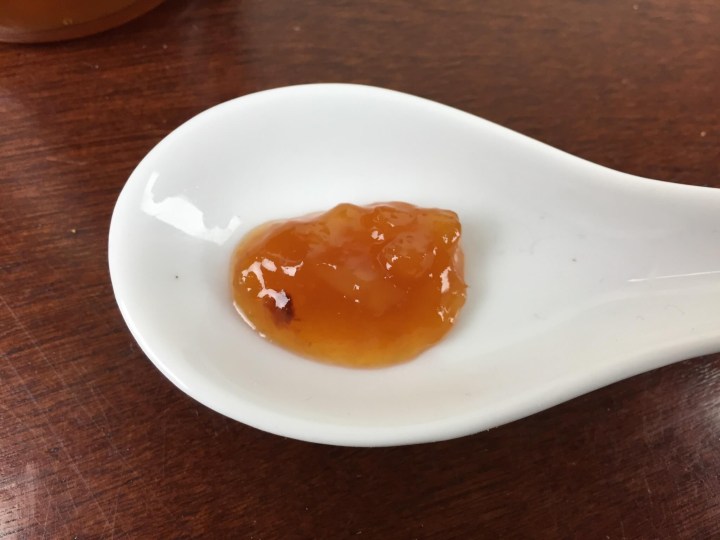 It was delicious and the color is amazing.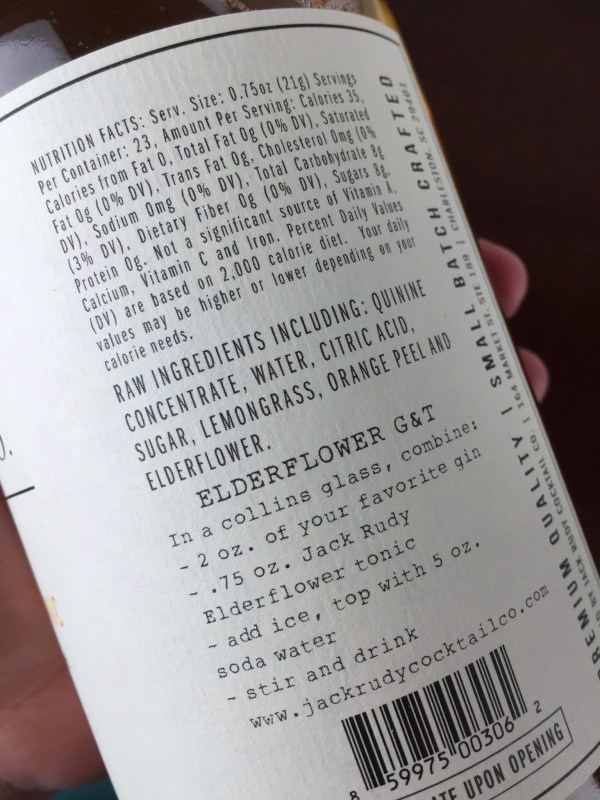 The tonic came with its own recipe – simple ingredients in here too (and the elderflowers are organic). This brand is carried over from the last month, which is actually pretty fabulous, because all your cocktail mixers and goodies can match. Jack Rudy cocktail goodies are an artisan version of classic cocktail toppers and splashers – everything is small batch, labeled, and the packaging is understated.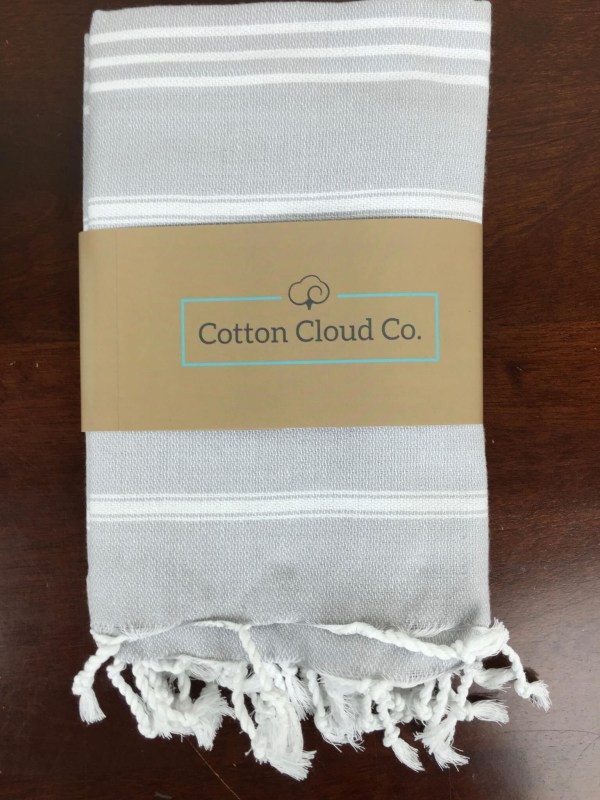 Cotton Cloud Co. Classic Hand Towel ($16 for 2 towels) I love all peshtemal (Turkish) towels! They're so absorbent and always keep their looks better than regular looped cotton towels.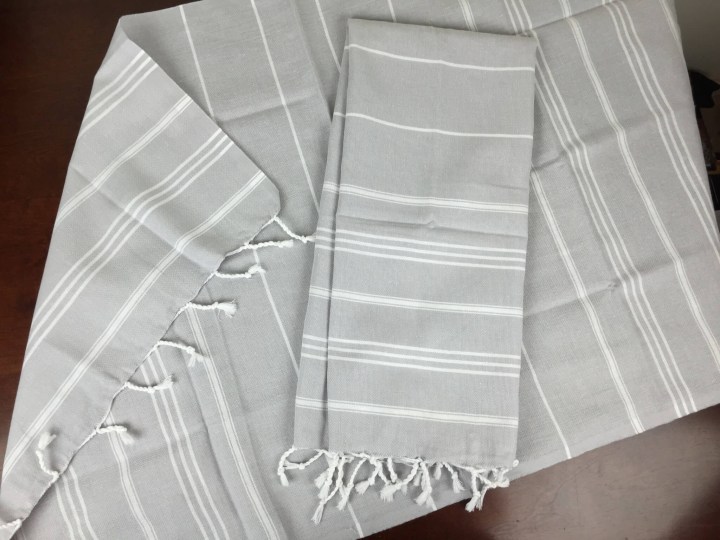 They are a generous size, not made with harmful dyes, and hand-loomed.  I'm delighted with them and they match my new kitchen perfectly (we're still working on it!).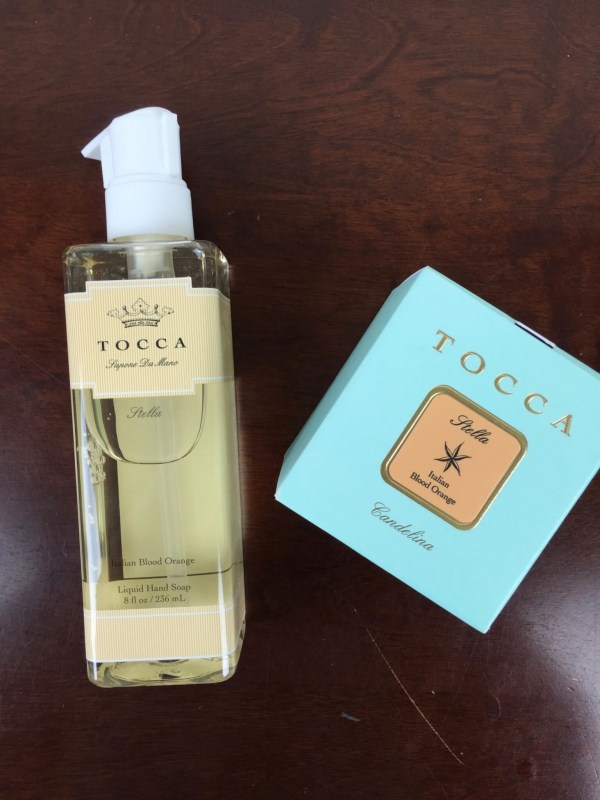 Tocca Stella Liquid Had Soap ($18)
Tocca Stella Candle ($38)
First of all, I love any product that Tocca has ever produced. Every single one of them is so lovely. I'm thrilled with the Italian blood orange scent – it's intoxicating! I think this set is perfect to keep in our powder room when we have guests over.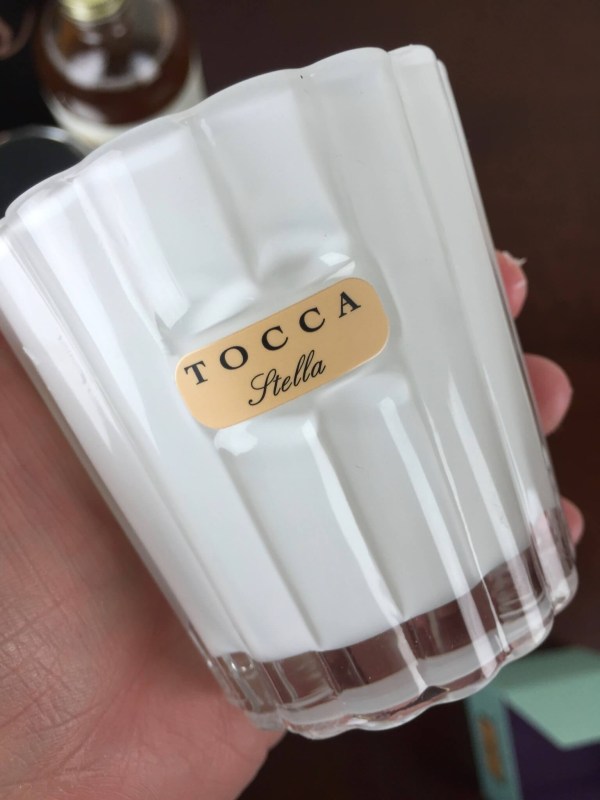 I love the reusable glass jar! It's so pretty. You can see by my hand that it's a pretty substantially sized candle, too!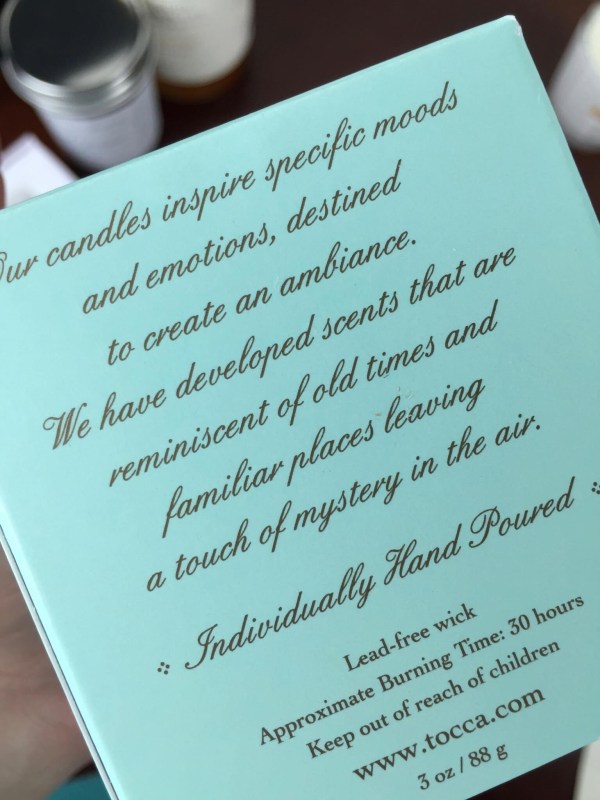 I agree 100% with this! Tocca does leave a touch of mystery and intrigue in the air!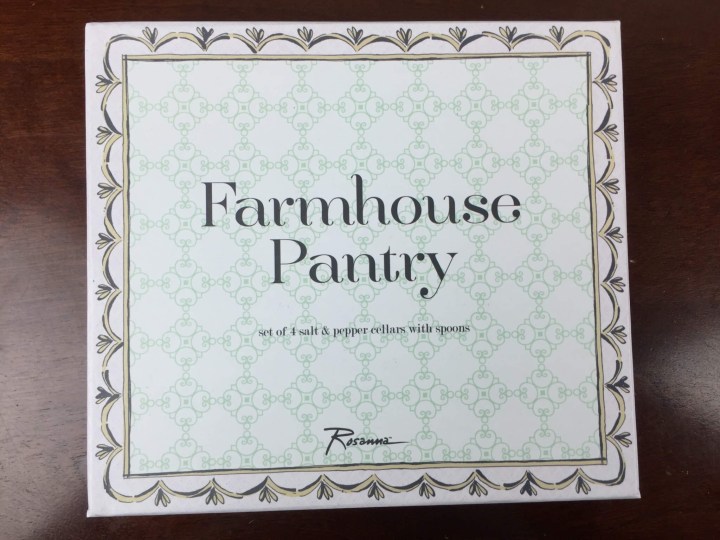 Like a special edition box, everything comes in beautiful and reusable packages. I wanted to point this out because when you're in every-day mode you might want to store these things. This box has a styrofoam interior so you can wash these all up and keep them safe for the next time.

Rossana Farmhouse Pantry Salt & Pepper Cellar Set ($22.12) These are so cute! You can use them for salt & pepper – but I think I'm much more likely to use them for serving jams, spreads, and other goodies to accompany our meals and parties!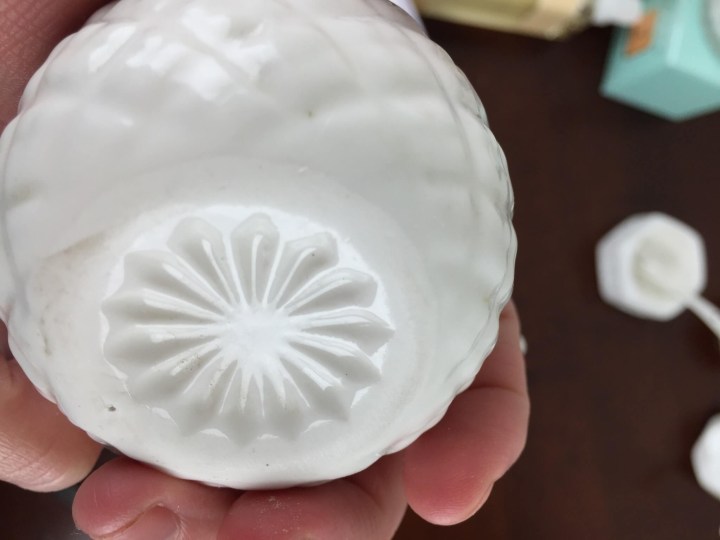 Even the bottom is cute (and I loved the pineapple design on this cellar!).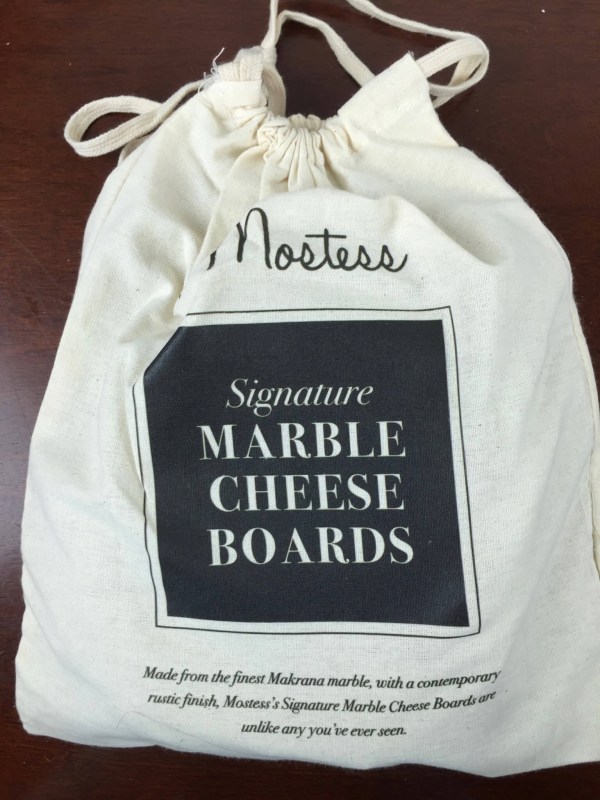 Mostess' Signature Marble Cheese Boards ($30 or $40?) Mostess says that these cheeseboards are imported from ethical sources in India. They come in their own cotton storage bag.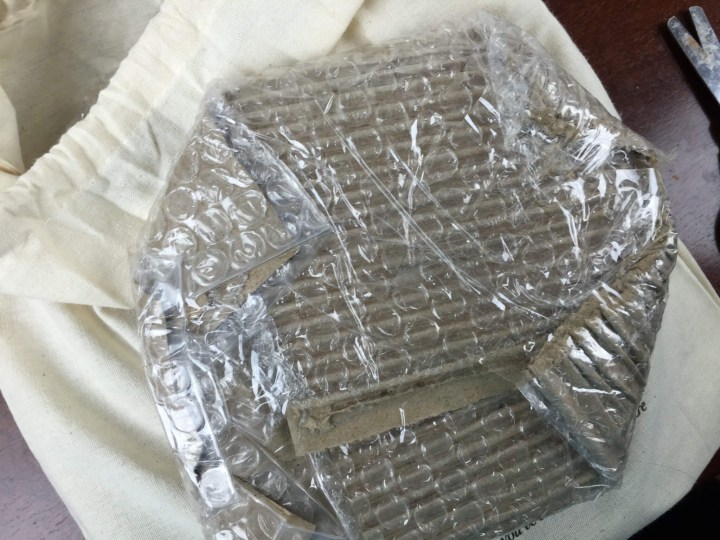 They are impeccably (individually) packaged!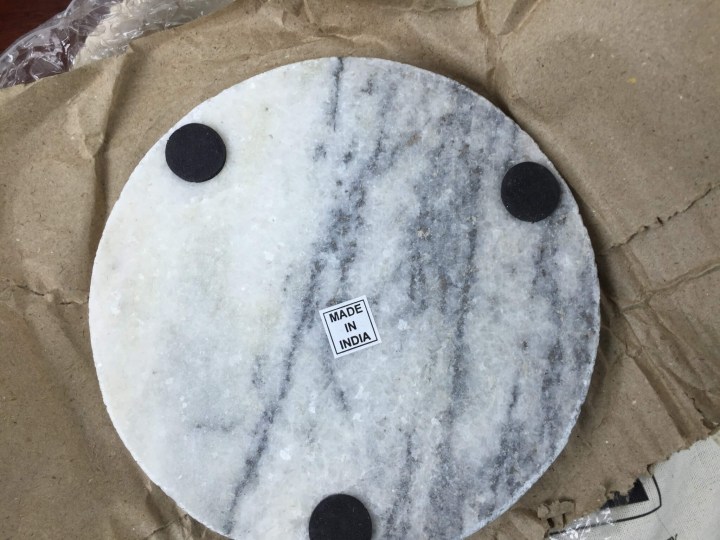 With foam feet on the bottom.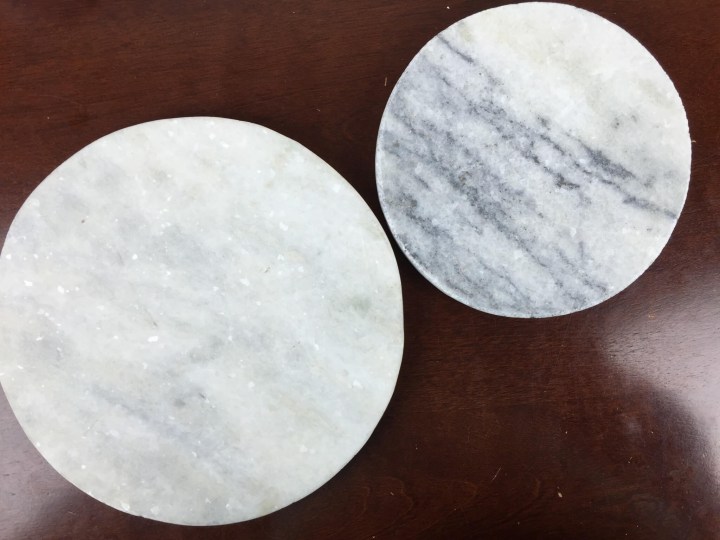 There are 2 sizes – 6″ and 8″ – and you can see the sparkle in them. These have a rustic (as opposed to polished) finish.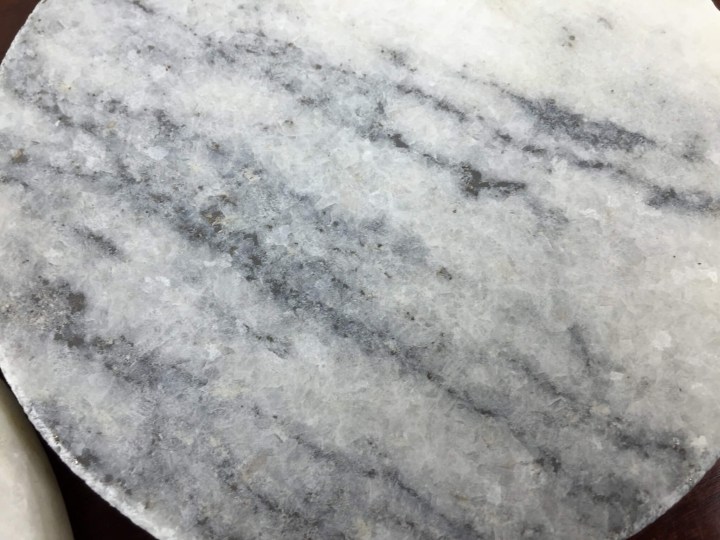 The natural marble is absolutely gorgeous. You can wipe them down or use soap and water.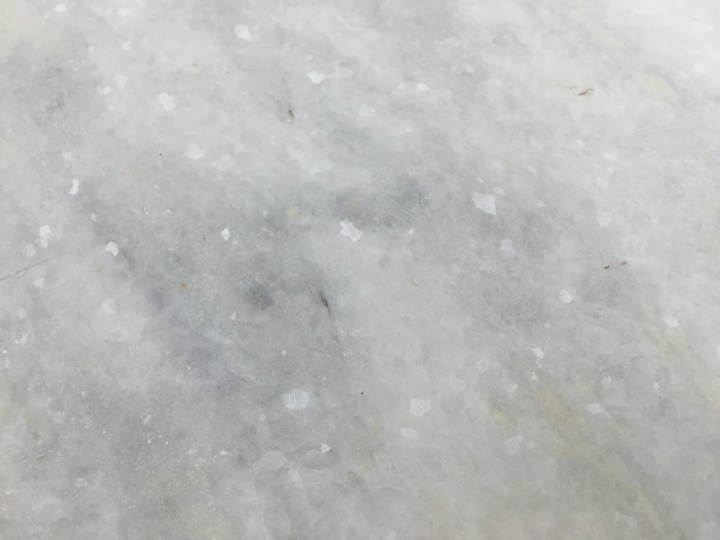 I'm delighted with these. We just had new counters installed that have sparklies in them, and this will match perfectly. It will match perfectly with just about anything though – it's marble. FYI – these are perfect for cheese because they're naturally cool.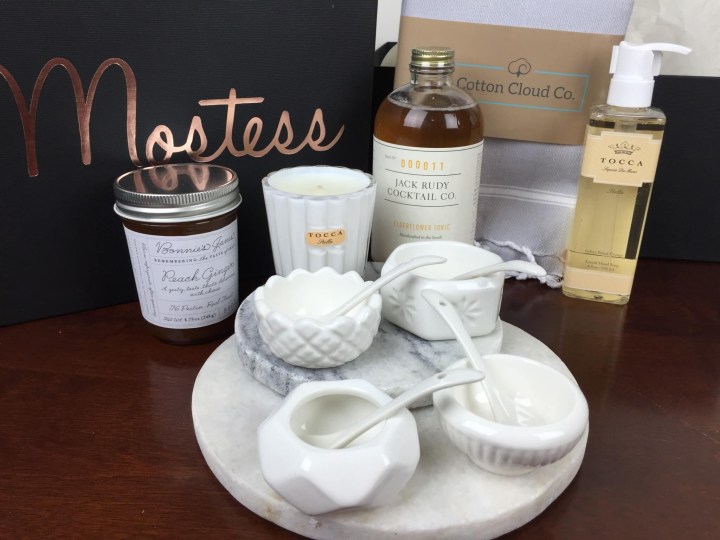 You wouldn't have to twist my arm in the slightest to get me to say that this is my current favorite box to open. Everything is perfectly coordinated – both in this box and matching previous boxes – and makes for an elegant home for entertaining or every day! I love the extra items too like the recipes, booklet, and playlist! I estimated the value at around $150. This is the perfect subscription for anyone who wants to open something really luxurious and get a little bit of food products, a little bit of cocktail products, things to create a beautiful atmosphere in your home, and top-notch servingware!
Save 20% off the Spring box – just use this link!
Visit Mostess to subscribe or find out more!
The Subscription
:
Mostess
The Description
: Mostess is a membership service that helps you host beautiful gatherings in your home by sending curated party items and ideas straight to your door.  Every other month Mostess sends a box directly to your doorstep. Each box contains 4-6 handpicked and perfectly coordinated items that you can use to host a gathering in your home. Items could include cocktail ingredients, decorative items, snacks, stationery, and more.
The Price
: $120.00 every other month