Espionage Cosmetics now has their own bi-monthly subscription box! If you've ever received nerdy, fandom-themed nail wraps in a LootCrate or any geeky box, chances are they're from Espionage. The BOOM!Box delivers a box of goodies for nerdy and geeky manicures, makeup, and other fun things every other month. I've been on pins and needles waiting for this box to arrive — Brandy has been teasing me about it since February and wouldn't tell me what it was!
Everything is printed with the logo and looks great!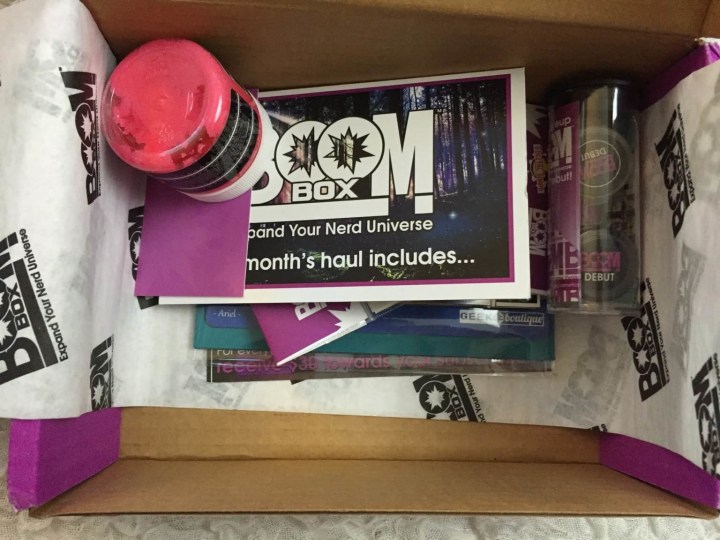 First look — there is a LOT of stuff in here!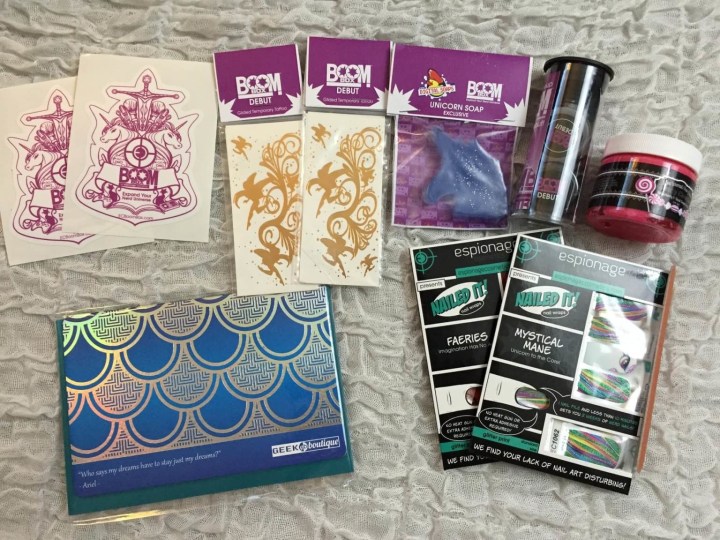 There's a definite fairy-tale/fantasy theme this month.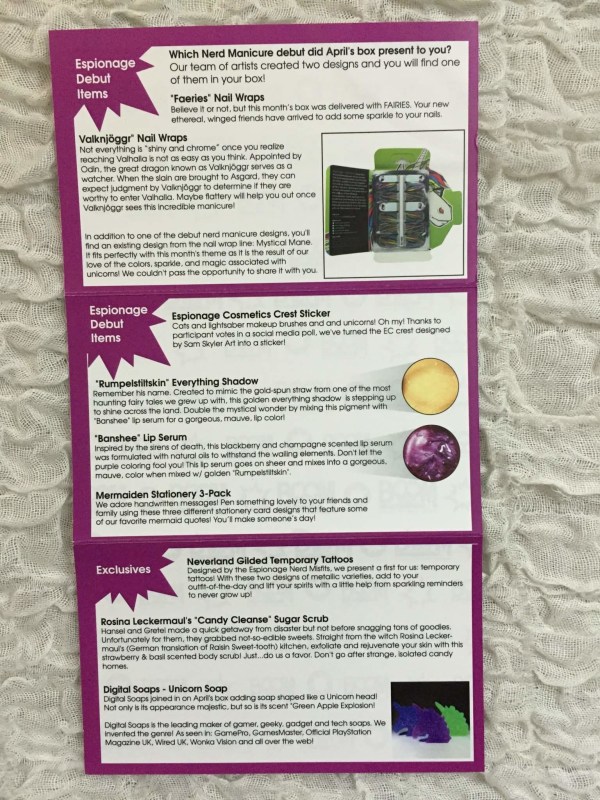 The information card outlines everything included in the box. Everyone received one of the limited edition/exclusive nail wrap designs as well as an existing unicorn design. I received the Faeries wraps!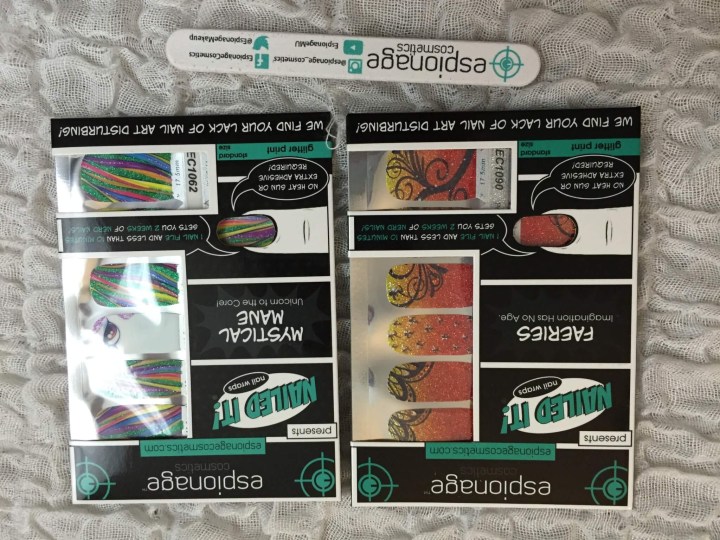 Faeries Nail Wraps ($10)
Mystical Mane Wraps ($10)
The nail wraps are sparkly, glittery, and very colourful! I have tiny, tiny nails so I'm a bit nervous to try these, but I need to get over my fear and see if I can rock these. (Maybe not for work, though.) They also include a branded nail file to help trim.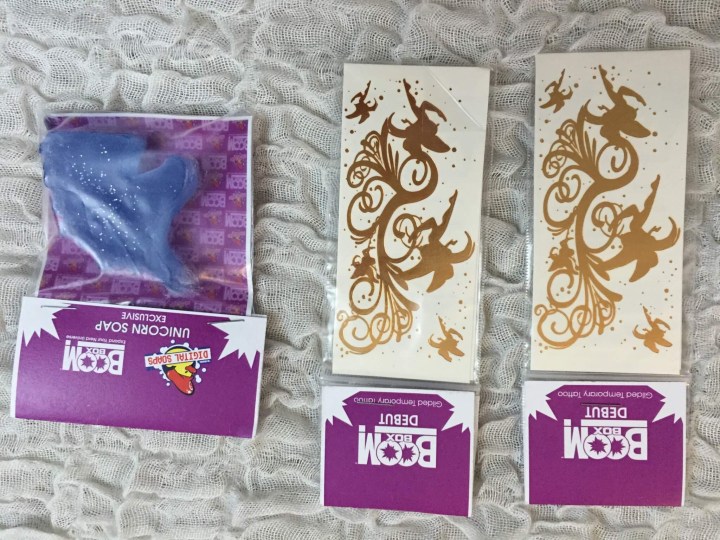 Faery Temporary Tattoos You're never too old for temporary tattoos in my opinion — and I'm too big of a wuss to get an ink one.
Unicorn Soap This sparkly soap is exclusive to the BOOM!Box and is made by Digital Soaps — I've tried a few of their products and they're all great and smell awesome. This one is a green apple scent.
Mermaiden Stationery ($10) This is a set of three notecards with envelopes. They feature metallic foiling and a different quote on each card!
Makeup Trio This little tube contained the Made to Mix lip serum in Banshee ($9), the everything eyeshadow in Rumplestilkskin ($7.50) and a small jar to mix up the two to make a shimmery version of the lipgloss.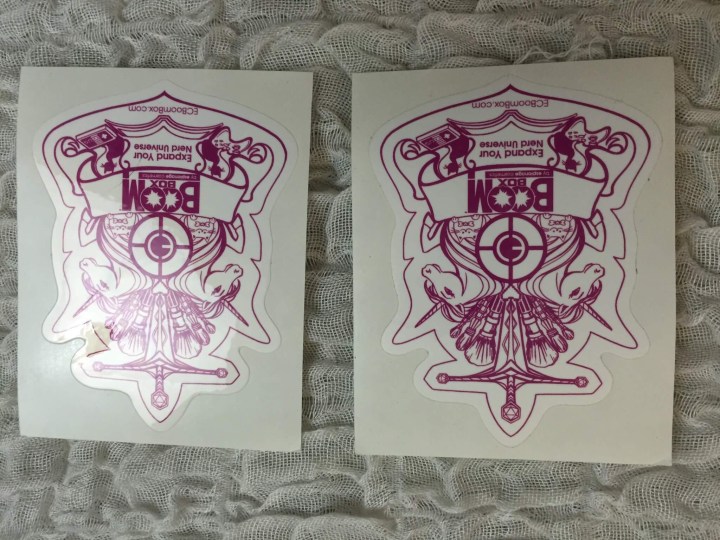 Espionage Crest Sticker ($3) I love the logo! I see unicorns and swords and makeup brushes, which is pretty accurate for this box!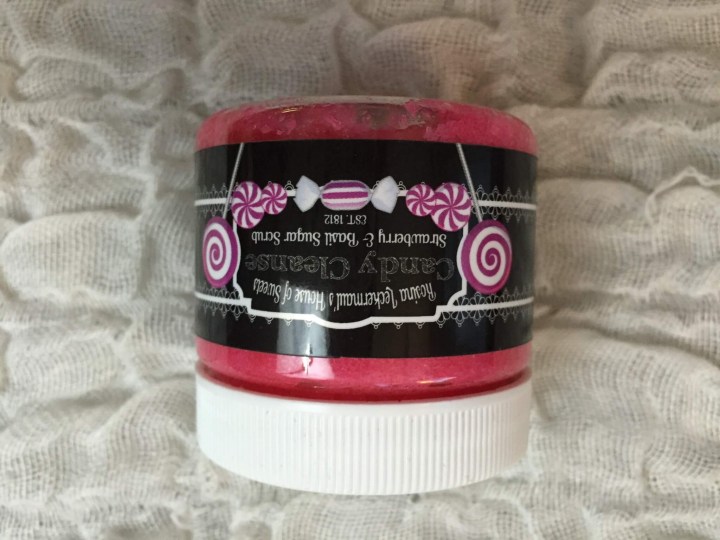 Strawberry & Basil Sugar Scrub This was made exclusively for BOOM!Box and it smells amazing. I love basil and it works so well with the strawberries. It's a great spring/summer scent!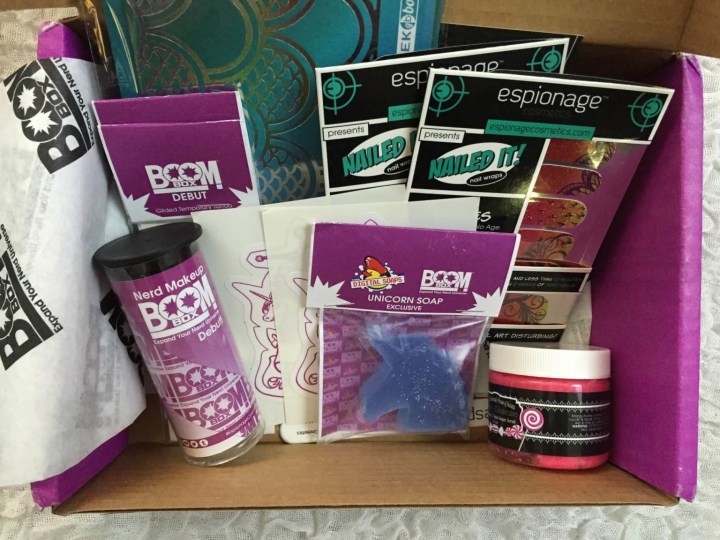 BOOM!Box was so much fun and I loved absolutely everything in it! I need to get a hang of these nail wraps because they're so pretty and funky. I love how there was a bit of everything in this box, and how cohesive the theme was. My only problem is that I have to wait two more months for the next one! FYI – this box has sold out in advance each time.
Visit BOOM!Box by Espionage Cosmetics to subscribe or find out more! Save $5 on your first box! Use coupon code  HELLO5BOOM.
The Subscription
:
BOOM!Box by Espionage Cosmetics
The Description
: There will be one BRAND NEW "Nailed It!" nail wrap design in each EC BOOM!box. Beyond that, everything else is a magical mystery! Scarves, beanies, makeup, jewelry, games, books, who knows! We're here to expand your nerd universe one delivery at a time!
The Price
: $36.25 every other month