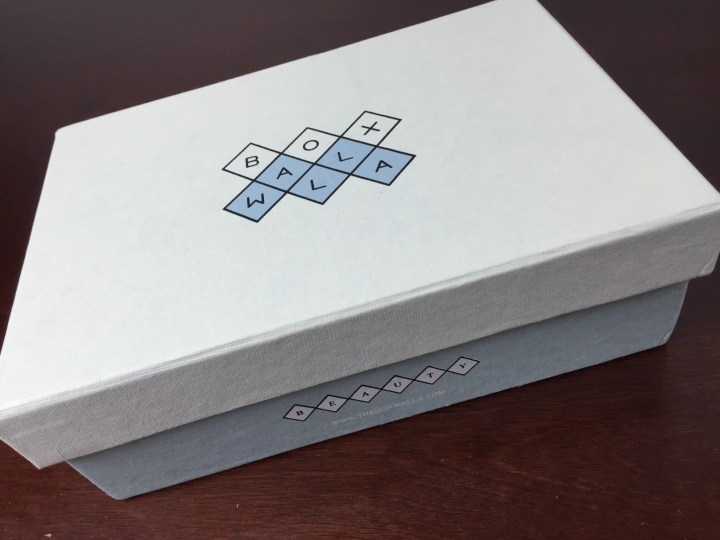 I was super excited to get my Bowalla Beauty Box this month! Subscribers received a color choice for April so I already knew one of the items and I was really anticipating it!
The Boxwalla Beauty Box contains non-toxic and cruelty-free products sourced from artisans in the US. Boxwalla is a bi-monthly subscription service that offers four themes – natural beauty, artisanal food, international film, or books! In Boxwalla you'll be able to discover great artisans and artists from across the globe.  After your first box you can switch themes, but of course you can subscribe to more than one box as well!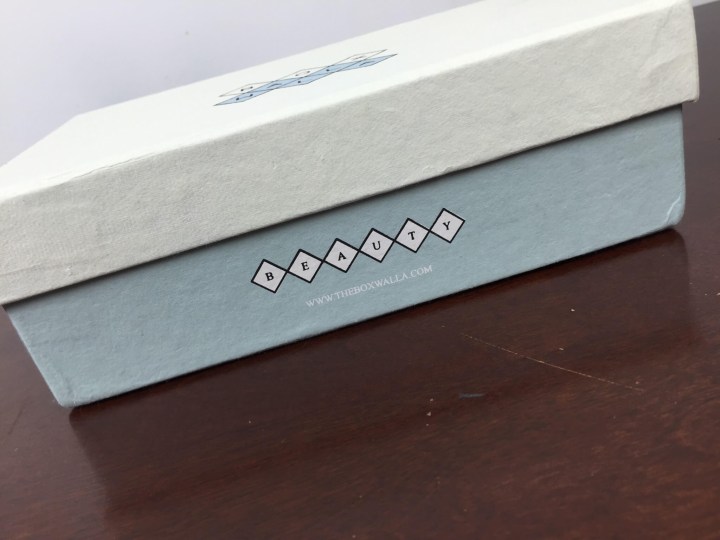 The packaging for this box is absolutely gorgeous. The box itself is sort of like a luxe cotton rag paper covered box handcrafted by artisans in Rajasthan, India (none of whom are children). The outside indicates which box you received. I love how the box itself supports socially and environmentally conscious goals.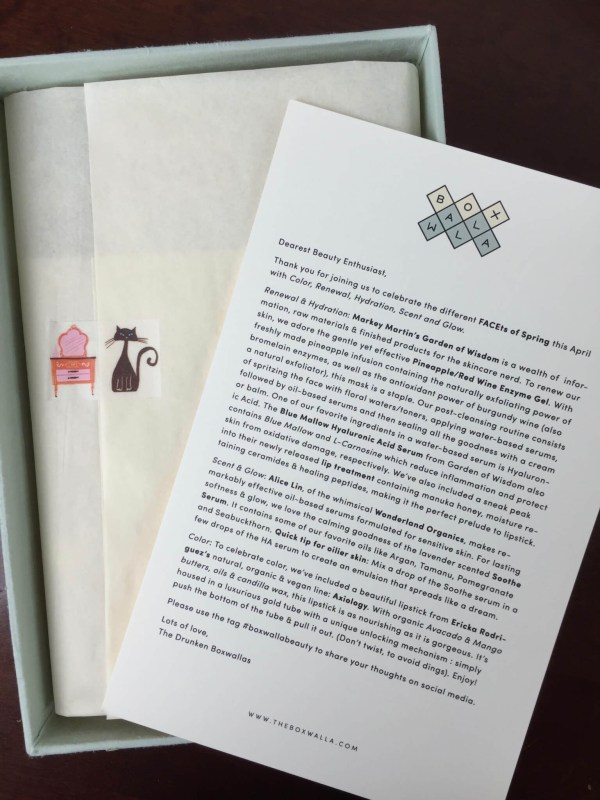 The information card is a letter from "The Drunken Boxwallas" detailing each of the products. The theme for this box is the FACEts of Spring. Boxwalla curated items focusing on color, renewal, hydration, scent, and glow. This is a great way to pull off a theme without being too cutesy.
All the items are properly secured inside the box.
Everything in the April Boxwalla Beauty Box!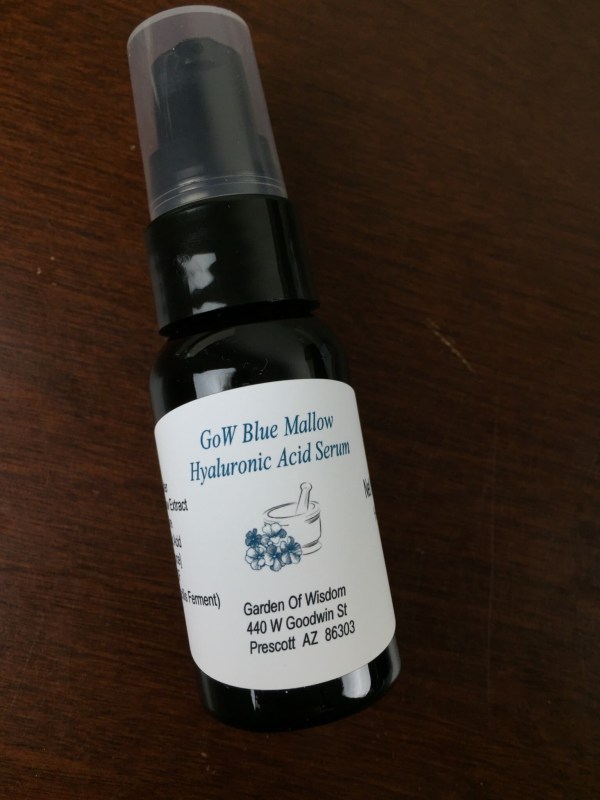 Garden of Wisdom Blue Mallow Hyaluronic Acid Serum ($13.70)   This serum combines hyaluronic acid (so it smells sort of like any other HA serum) with Blue Mallow and L-Carnosine. Blue Mallow soothes irritated and swollen skin and L-Carnosine has anti-aging properties. These are great natural additions to an HA serum, which is always part of my routine.
And the ingredients!
There are several Garden Of Wisdom products in the box this month. They promote a "natural, gentle approach encouraging skin balance and stability" and are a well-known indie natural brand with a serious cult following!
In speaking with the Boxwalla curators I found out that some of the products had been specially formulated for the box. Leucidal (Lactobacillus ferment) is the preservative in this formula – GOW will generally reformulate its products to accommodate customer preference although I'm not sure in which quantities, so it's great to have this as a pre-curated item.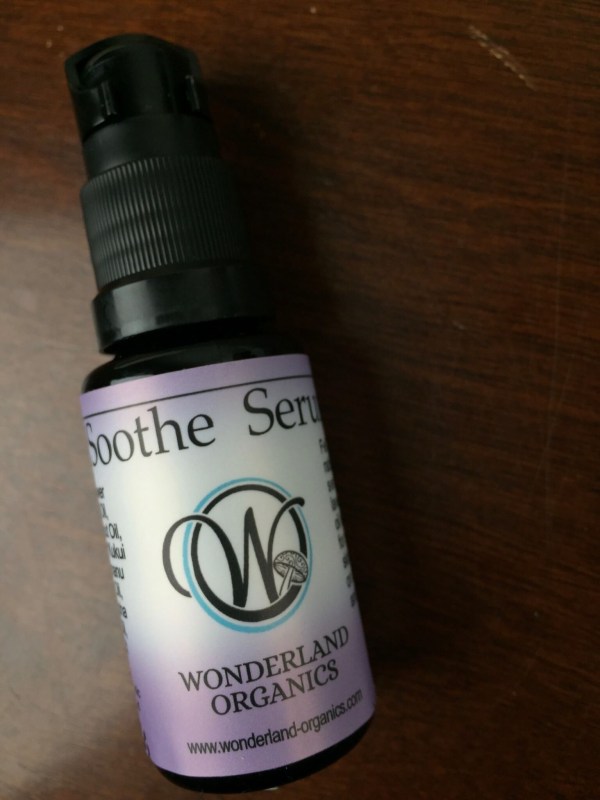 Wonderland Organics Soothe Serum ($39.99) I love facial oils and this one is great – it includes organic seabuckthorn (which should help with age spots because of Vitamin C) and is scented with lavender.
The oils in the serum include pomegranate, kukui, argan, tamanu, and apricot kernel oil.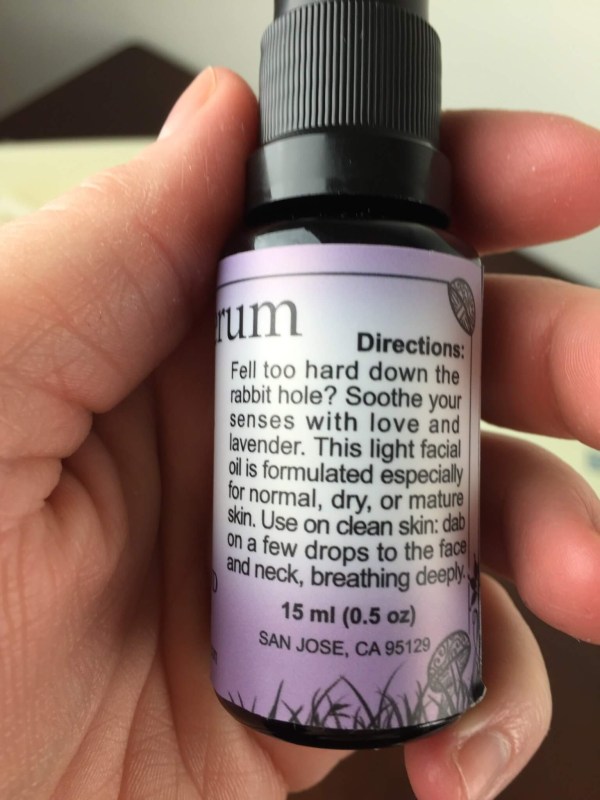 I loved the tip on the card to mix some with the HA serum if your skin isn't as dry (mine is, so I will use this straight up).
Garden of Wisdom Pineapple/Red Wine Enzyme Gel ($3.50) I absolutely loved this exfoliating gel! It uses naturally exfoliating pineapple enzymes with burgundy wine (another exfoliant). I just left it on my skin before showering and washed it right off – my skin did feel smother! And the scent was super yum!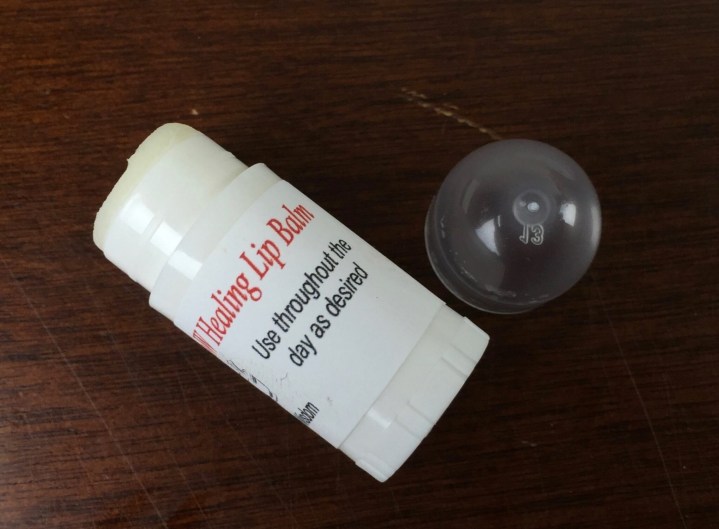 Garden of Wisdom Healing Lip Balm ($12.35) This one was a really great balm! I don't really care for oily and hard lip balms, but this was opposite of that – perhaps due to the coconut cream in the ingredients, which I thought was genius.

This was another product formulated with a different preservative – it uses Leucidal instead of Optiphen. Despite its tiny size, this is a full-size product. I'm going to use every bit of it and see if the special ingredients make a difference. I'm already a ceramides addict/convert for the rest of my skin.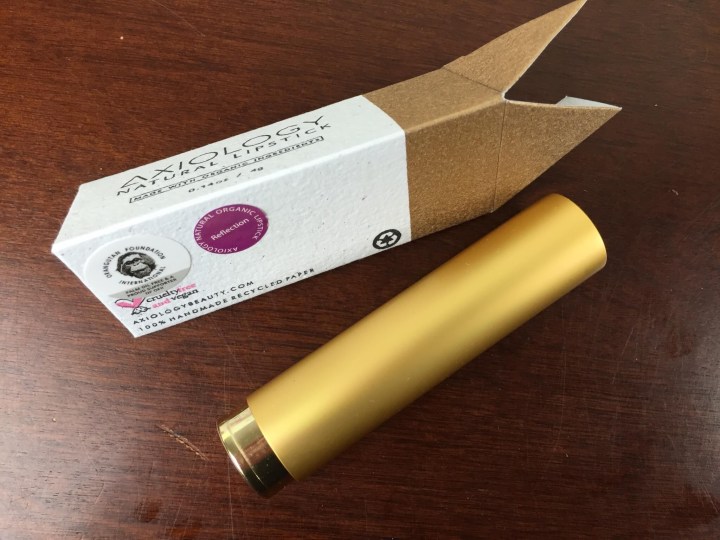 Axiology Natural Organic Lipstick Reflection ($28) and this is the item with the subscriber choice! Subscribers could choose between Noble, Attitude, Elusive and Reflection. (See all the colors here.)
I think the branding/packaging is super fun and modern.
Reflection is a whimsical magenta that rolls on as a gloss and deepens with each application. Softer and warmer on the lips than presented in the photo, this color plays beautifully with a natural look, or can be amped-up with dramatic eye-makeup. Wear this shade to celebrate your inner daydreamer—or your eccentric party-girl persona.
One of my biggest subscription box discoveries: I look great in purple lipstick! I was a bit surprised how purple this was – it looks like this brand's color Desire. But it didn't matter to me because either would look great.
I love it, and it looks great on! I especially liked the buildable glossy application – I have a few matte and full-coverage lipsticks in purple shades and I loved having one with a lighter touch, especially one that was so soothing to my lips – it's full or organic healthy oils.
This was another fabulous box from Boxwalla, although I do somewhat wish that it had one more makeup product, but this box is focused more on skin and body than on cosmetics! I love how this box keeps on introducing me to new indie and artisan-crafted green beauty brands! The total value was about $98 – a really substantial value for a natural beauty subscription box.
Visit Boxwalla Beauty to subscribe or find out more!
The Subscription
:
Boxwalla Beauty
The Description
: Green beauty products often get the bad rap of being boring and ineffective. The Beauty Box aims to challenge that notion by being your partner-in-crime as you discover the most luxurious and effective products to nourish your skin and body. The products chosen have been carefully crafted by artisans from all over the U.S.A. Our artisans use the finest, most potent ingredients that are always cruelty-free.
The Price
: $49.99 every other month