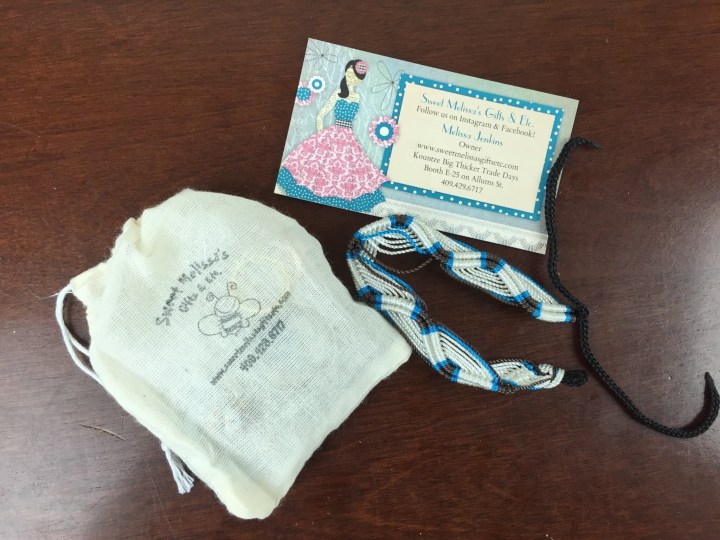 Buzz Bag by Sweet Melissa's Gifts & Etc
is a subscription filled with fandom jewelries and gifts. The cost for each mystery bag is only $15 per month (you must buy each month individually).  Each bag you'll receive follows a certain theme every month, which is announced before you can buy. It is the perfect geek box for those who are fans of Game of Thrones, Harry Potter, Lord of the Rings, Star Wars, Legend of Zelda, The Hunger Games, Doctor Who, Percy Jackson and much more!
Everything in this box plus…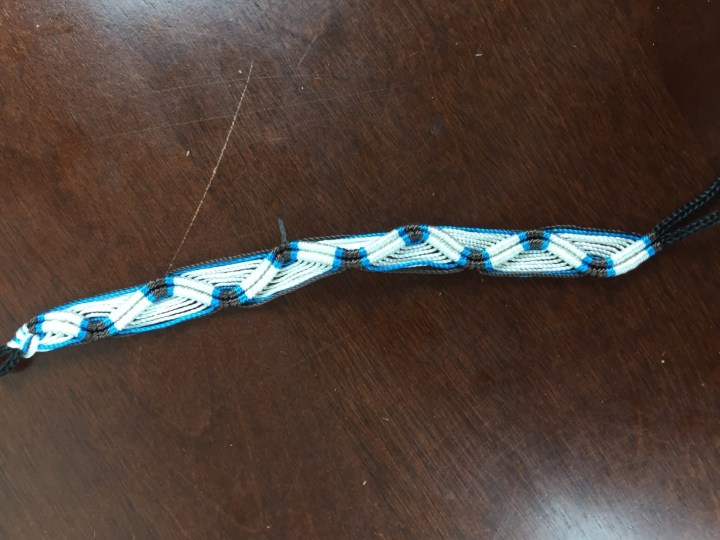 …this woven bracelet! It's a Game of Thrones-themed April box!  The bracelet looks to be inspired by Daenerys.  Though not Targaryen colors, it echoes the blue of the gown she donned after transitioning from widowed Khaleesi to liberator queen, and the weave looks like something from the wilder regions of Essos.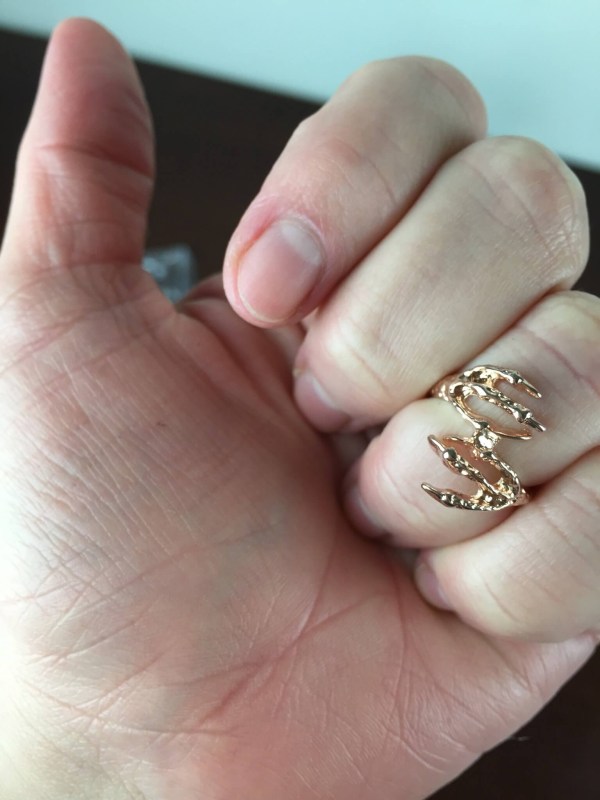 This cool offset ring has a lovely rose gold tone.  I think it is a set of dragon claws.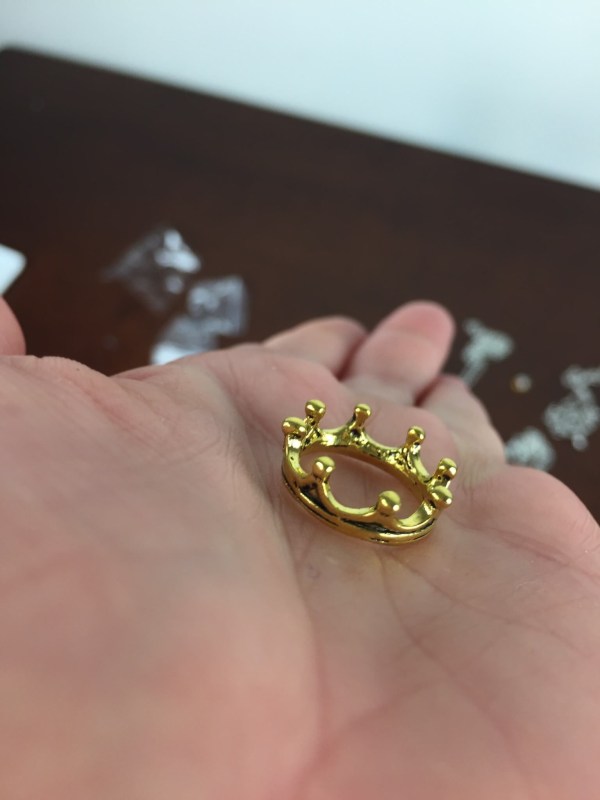 A crown ring in regular gold tone with black coloration in the depressed areas.  I don't think this crown is associated with any particular king, but it looked very familiar.  I think I figured out why — it looks like a high-speed camera shot of a drop falling into liquid.
Both pieces are visually striking and conjure the feel of the series. However – they were quite small! This might be a good subscription for a fan with small fingers.
The three pendants are unmistakably GOT pieces.  Clockwise from left:  A silver tone and black stained compass with the sigils of the four main houses, a domed glass piece with a partial Westeros map showing through, and a full silver and red stained Targaryen sigil.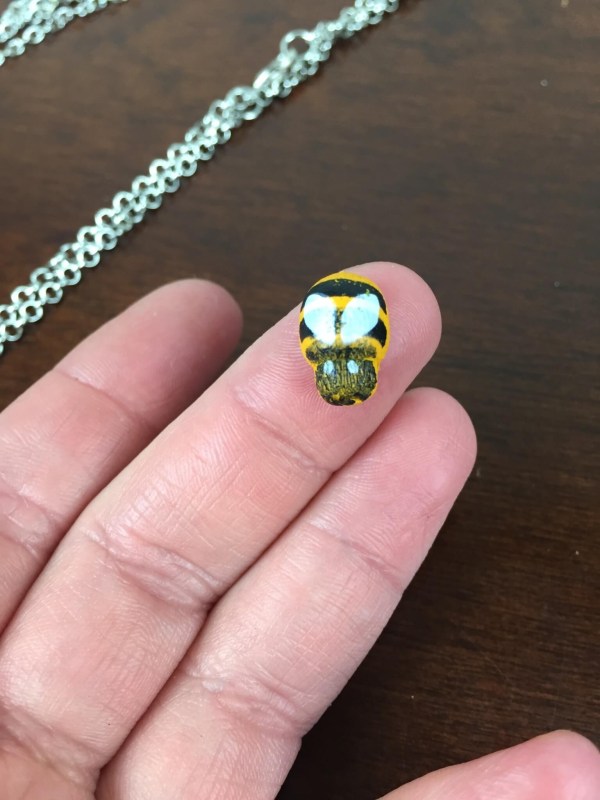 Plus we received this cool little bead bee.  Most of the paint is on the underside and visible through the body.  I took forever trying to figure out which house this was associated with.  I thought it might be a riff on house Tyrell; there is also a historical minor house that takes its name from bees, but it has hives as its sigil.  Then it it occurred to me that this was a Buzz Bag signature item, not a sigil.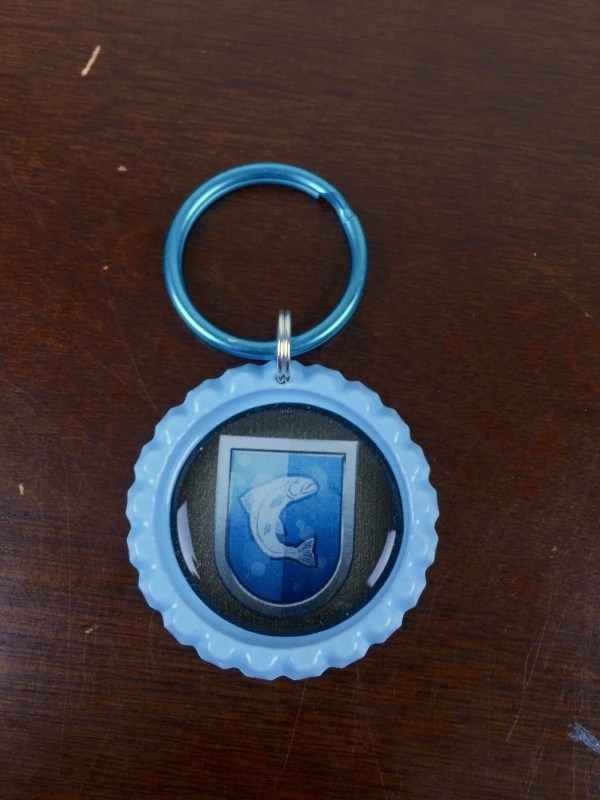 This key fob has a nice Tully sigil that shows through a domed bead of glass.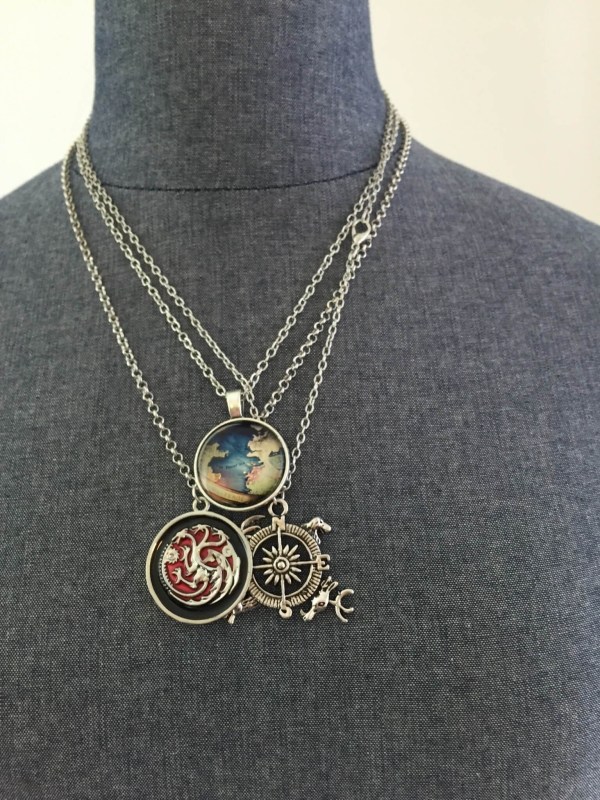 All of the pendants were a comfortable length, laying above the chest.  The size is perfect — they are large enough to discern from a short distance, yet well shy of Flava-Flav territory.  The chain also has an elegant heft that fits well with the GOT aesthetic.
They really nailed the theme, both with the pieces explicitly displaying GOT imagery, as well as the rings and bracelet that evoke the feel of the series.  I liked the way they effectively melded sufficient geekery with beauty and wearability.  The pendants, in particular, are instantly recognizable by fans of the series — but they were pleasing to the uninformed eye as well. The rings didn't work for me but there was so much other stuff to enjoy that it didn't matter to me – plus they make nice adornments around my Thrones Funkos!!!
Upcoming Buzz Bag Themes:

2016

July – Sherlock

August – Harley Quinn/The Joker

September – Zelda/Pokémon

October – Vampires (Twilight, True Blood, Vampire Diaries, Underworld, Shadowhunters, etc.)

November – Fantastic Beast (The movie we've all been waiting for! This bag will include items from Harry Potter as well as magical animal themed items)
December – Nightmare Before Christmas (Tim Burton themed jewelry included)

2017

January – Post Apocalyptic (Resident Evil/Mad Max)
The upcoming themes are all released in advance, which is great. I have the April bag to open (Alice in Wonderland) and the June bag is WOW themed!
Visit Buzz Bag – Sweet Melissa's Gifts & ETC. to subscribe or find out more
!
The Subscription
:
Buzz Bag – Sweet Melissa's Gifts & ETC.
The Description
: A mystery bag filled with fandom jewelry & gifts, just for you! Buzz Bags are filled with items from your favorite sources of entertainment, including Game of Thrones, Harry Potter, Lord of the Rings, Star Wars, Legend of Zelda, The Hunger Games, Doctor Who, Percy Jackson and much more! We focus on giving fans high-quality, fun items that celebrate fandom. Each bag is tied together with a theme and is announced prior to your purchase.
The Price
: $15.00 per month