Box War is a monthly subscription box that pits you head-to-head against other subscribers in a battle for a fabulous prize and bragging rights.  Each box contains supplies to be used as the sole resources for completing the month's challenge.  You submit photos for a chance to win — past prizes have included a $100 gift card!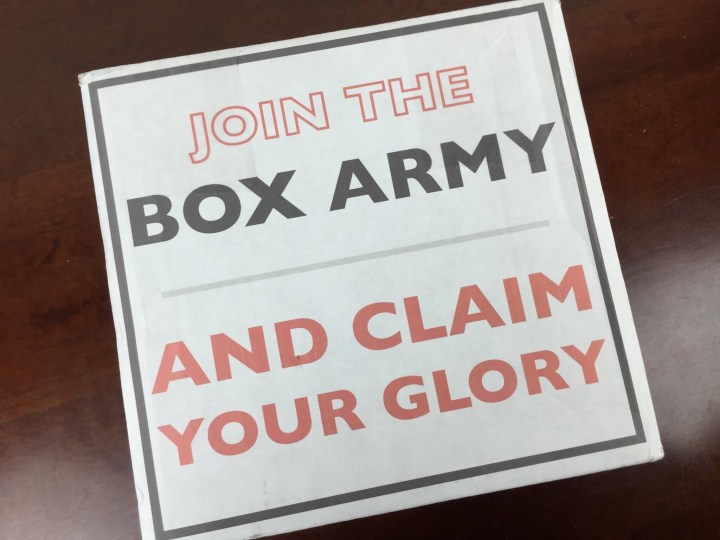 The box can be as simple, or as challenging, as you want to make it — but if you want to stand a chance at winning, you'd better bring it!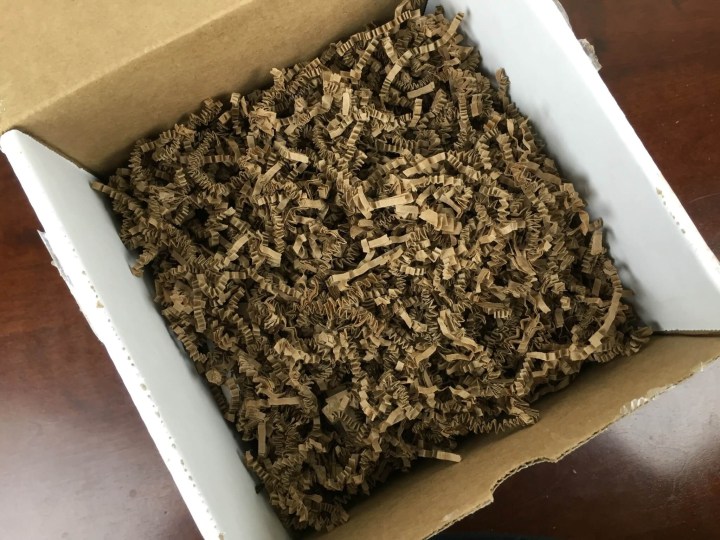 None of the supplies were particularly fragile, but they nonetheless arrived in a mountain of squiggles.  We debated whether the squiggles could be used as a material, deciding that their omission from the enumeration of "supplies" probably meant that would be stretching the rules.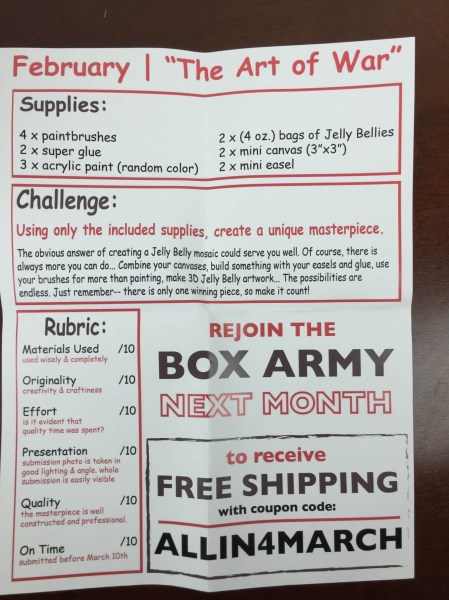 This month's challenge was entitled "The Art of War," and we were tasked with creating some work of art out of the provided supplies.  You can do pretty much anything, so long as you stick to the provided supplies only.  A judging rubric is provided — a lot of credit seems to be given to process elements — I think half the points should probably be awarded solely on coolness.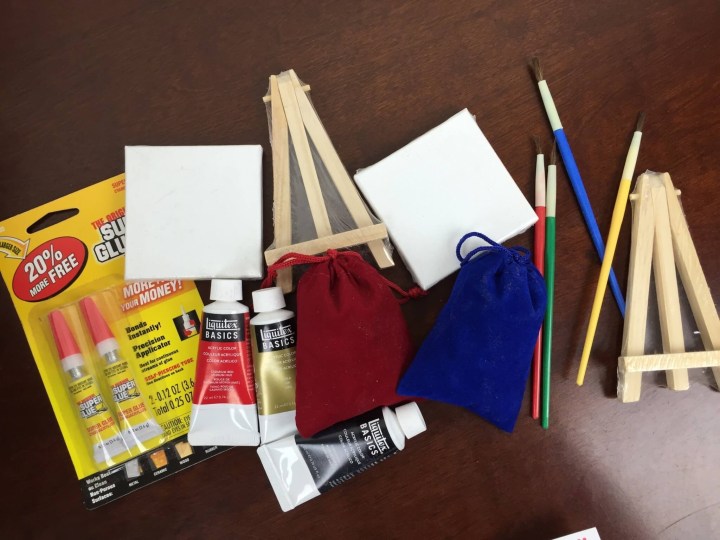 Everything in the box.  The materials can be used for their obvious, generally-accepted purpose, but they can be put to use in unconventional ways, as well.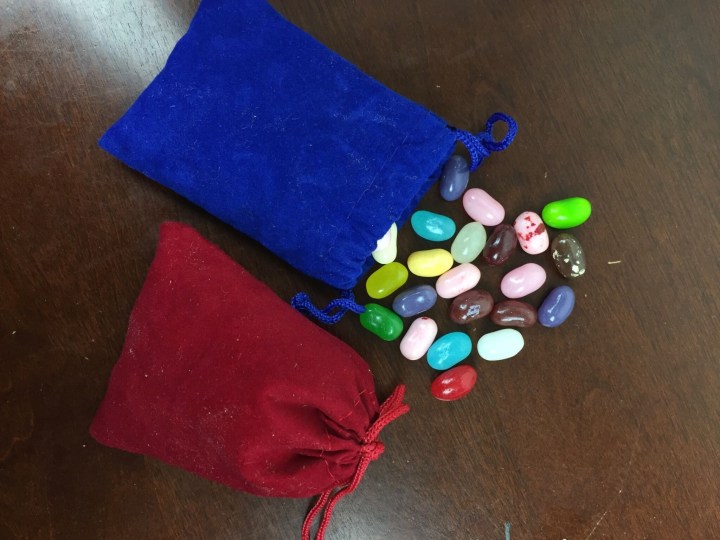 The Two bags were stuffed full of Jelly Belly jelly beans.  There were many of these, but their size made it a little tough to conceive a mural that would fit on the provided canvases.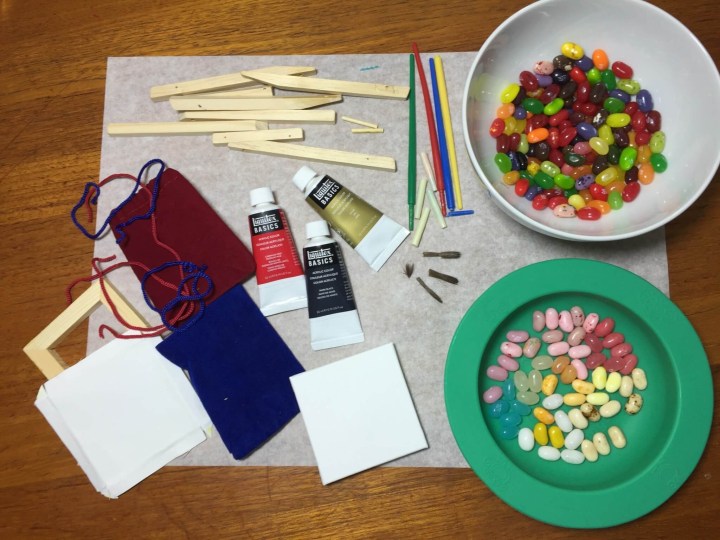 Here is my pile of materials — I found the bags containing the jelly beans to be the most useful of all the provided materials.  There was not enough canvas to get much use of the paint in a traditional manner, and I simply didn't have the patience to spread the paint out, dry it, and use the dried substance as sculpting medium.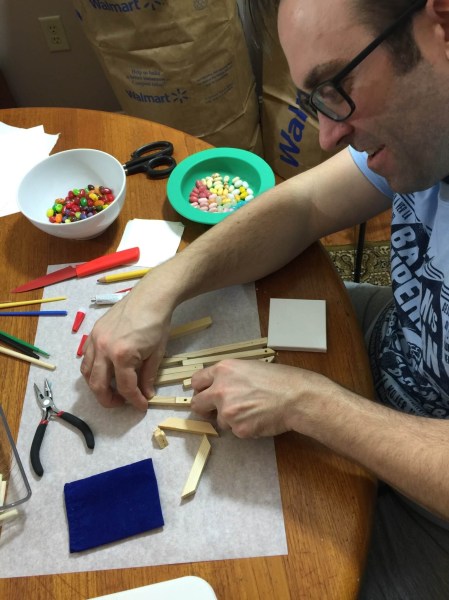 I opted for deconstructing on of the canvases, easels, bags, and brushes to maximize my non-paint, non-jelly bean materials.  I was glad I did, too — jelly beans are difficult to work with, and they are not intended for use with super glue.  In fact, superglue was not very much fun to work with at all — it is tough to get the watery liquid to bond well with wood, candy, and velvet, yet it bonds instantly to skin!  I was glad I had some acetone in the house!
My finished masterpiece.  I had three paint brush handles and a ton of jelly beans left over, but I used pretty much everything else provided.  Aside from a couple hours of on and off brainstorming, I spent the better part of a day working on this, since there was drying time involved, too.  The Box War site posts winners, so subscribers get to see how the pros among them fare.
This was a fun box, as it provides a challenge and definitely harnesses your creativity.  It is best-suited for those with a good amount of time to dedicate to their project, as the materials have the potential to be a bit fussy, and it may take quite a bit of time to achieve a professional-looking result.
Visit Box War to subscribe or find out more! Save 10%! Use coupon code  BOXARMY16. Or, get free shipping with ALLIN4MARCH
The Subscription
:
Box War
The Description
: Every month's box includes a supply drop and video debriefing of what your mission includes. After the month is done, a judges panel will choose the winner out of all the Box-Warriors. The spoils will only continue to grow as the Box-War grows!
The Price
: $19.00 per month