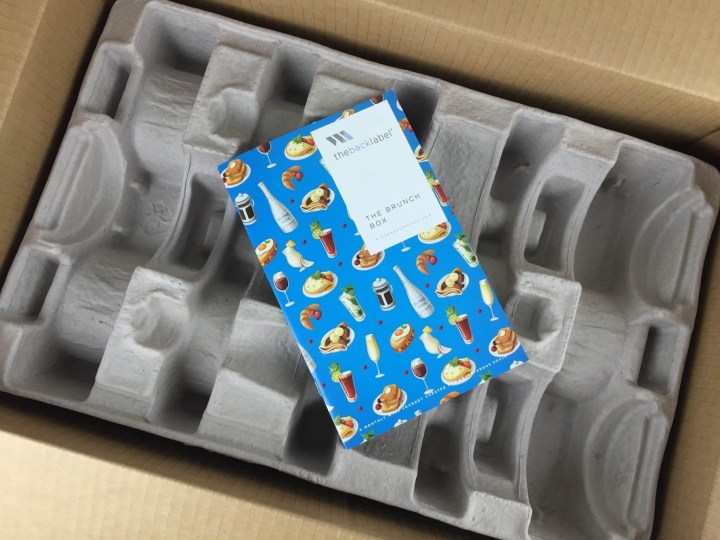 The February Wine Awesomeness was devoted to our favorite meals – only the most indulgent and the best wines to go with! Wine Awesomeness is a wine club that's  like a subscription box  – the wines are really well curated around a cool theme. We had been subscribing to the 3 bottle box but we upgraded to the six bottle box. . Every month you'll get themed, wine-fueled adventure complete with 3 (or 6!) excellent wines and "The Back Label" mini-mag! You can choose reds, whites, or mixed. One of the things that we like about this subscription is that they include rosé in with the whites.
You'll get 3 (or 6, depending on your choice) wines every month or every quarter, depending on how often you'd like to receive it. The 3 bottle box costs $45, and the 6 bottle box is $75. 
The six bottle box doesn't ship in the rad Wine Awesomeness boxes. Guess that's where the savings are! When you get a 3 bottle box this is what the box looks like – it's really neat!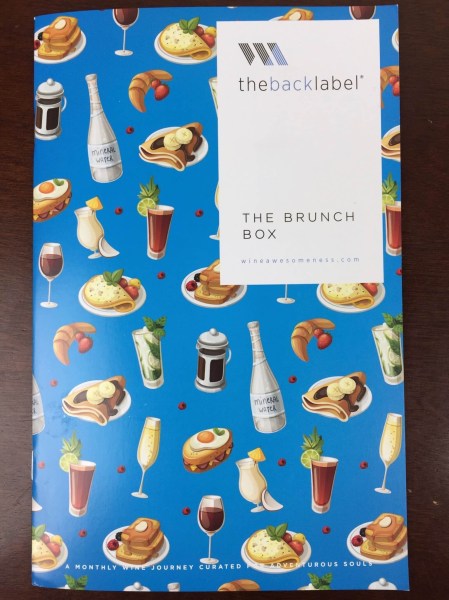 The February Wine Awesomeness theme was The Brunch Box. Every month you don't just get 3 "really good" bottles of wine, you got 3 really good bottles curated around a specific theme along with an introduction to the theme, very readable educational materials about all the grapes in this region or the theme, and page by page introductions to each wine.
This is such a great, accessible mini-mag. This is my favorite wine subscription because of the theme and the magazine (and the great wine!). The Wine Editor's letter was about the brunch's grand origin story.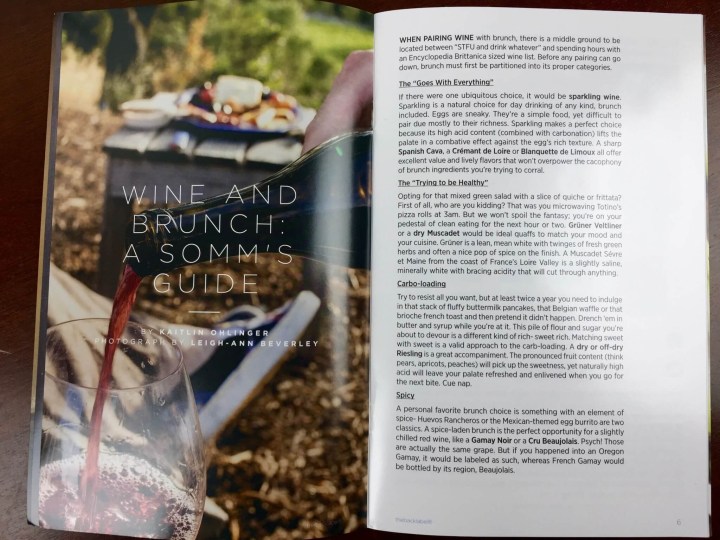 There are stories and other features in the magazine as well. This lists the best general type of wine to go with the general brunch categories of trying to be healthy, carbs all the time, spicy, and then a universal pick.
Each wine information page includes the following:
Wine Name
Grape
Location
What you should do while drinking this wine (many tongue in cheek)
What to eat with the wine
What to listen to while you drink the wine
A cool chart showing a visual on the Acid, Body, Tannin, and Fruit of the wine (this is new!)
Wine Bouquet
Tasting Notes
Description
The recipes appear facing the wines, which you can make to eat with, or use to guide your selections. We usually pick whatever is closest to what we're already eating!
Not only was this super informational, it helps you learn about wine in a really low key way.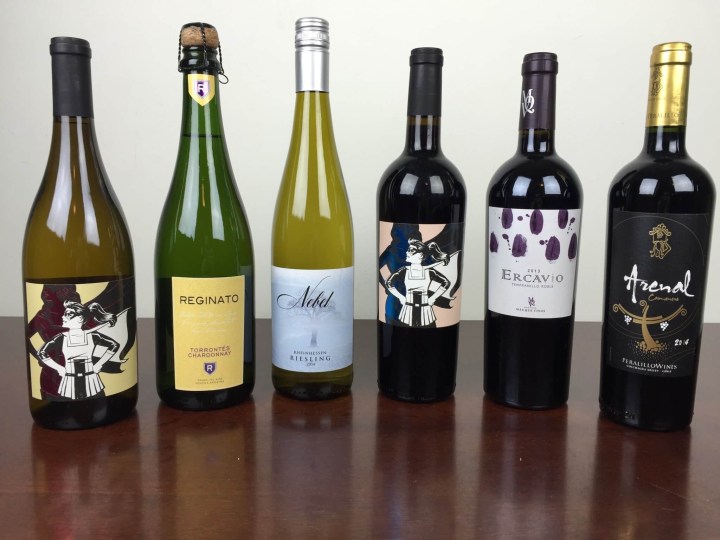 Oh look, it's all the wines that come in my 6-bottle box!
February Wine Awesomeness: Whites
Iconic SK Chardonnay 2014. LOVE this for brunch because it's not really sweet. I don't usually go for the breakfast bevs because there's just too much sweet. This is perfect paired with some sort of typical breakfasty confection.
Reginato Torrontes-Chardonnay Brut NV. Fizzy, Dry, perfect. A little tropical. Paired with eggs and spinach, I'd never eat it with that. This is more of a par-tay drink for me!
Nebel Rheinhessen Riesling 2014. The riesling is the perfect with anything grape for me – fruity, acidic, and light. The suggestion was for chorizo chilaquiles!
February Wine Awesomeness: Reds

Iconic SK Cabernet Sauvignon 2014. Paired with an onions and sauce burger. Not my typical brunch choice, but perfect for meat. I love that they sent a matching set from the same winery.
Mas Que Vinos Ercavio Tempranillo Roble 2013. The advice was pastrami and potato waffles. Having neither I drank it with bacon and breakfast-looking stuff, and it was excellent!
Peralillo Arenal Camenère 2014. This one was paired with corned beef hash and I could so see it with a pile of carbs, eggs, and spicy stuff!
I thought this month was playful, fun, and unique. While we're not really downing 6 bottles of booze for breakfasts this month, I loved the idea! The only downside to this month is that it's much harder to use the recipes as a general guide to see what you should drink your wine with. However, that really didn't diminish my enjoyment of the wines!
Visit Wine Awesomeness to find out more or to subscribe. You can get your first month (3 bottles) free, just pay $22.50 shipping and handling – click here to activate the offer – no code necessary!
The Subscription
:
Wine Awesomeness
The Description
: Get 3 or 6 bottles of red, white, or mixed, curated monthly. WA membership comes with tasting notes, recipes, and music suggestions. Awesomeness!
The Price
: $45 per month
The Coupon
: Get $10 off your first club 6-pack box!
Use this link
and coupon code
YAY10
to get the deal.
Ships to
: All states except Alaska, Hawaii, South Dakota, and Utah. Yep, this wine club ships to Pennsylvania.