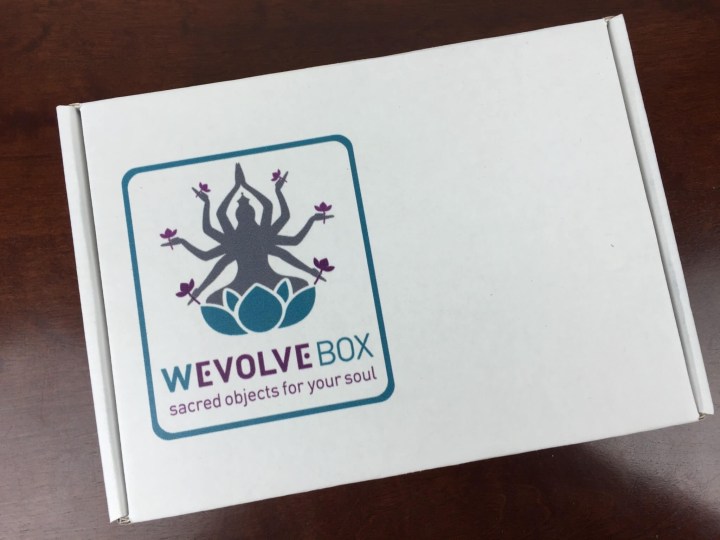 WEvolve Box is a bi-monthly subscription box of spiritual sacred objects from mystical cultures around the world. Items include meditation tools, figurines, chakra cleansing and activating items, crystals, and more, all to help you deepen your spiritual practice.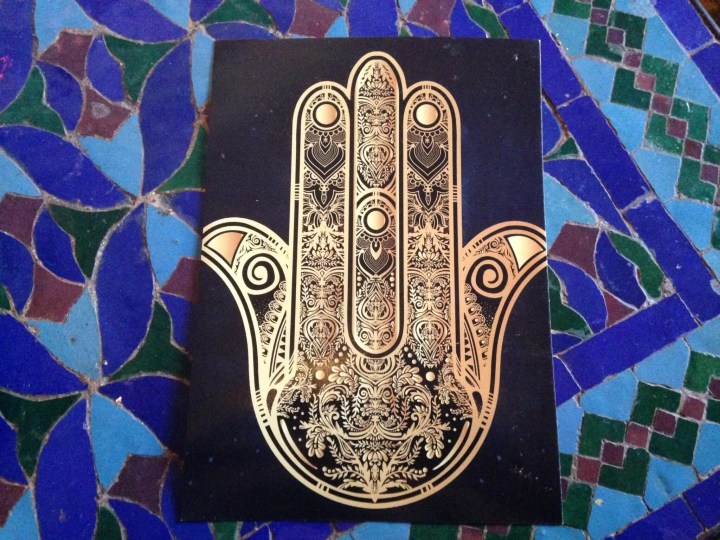 Very cool information card, that I will keep!
All the items in the box.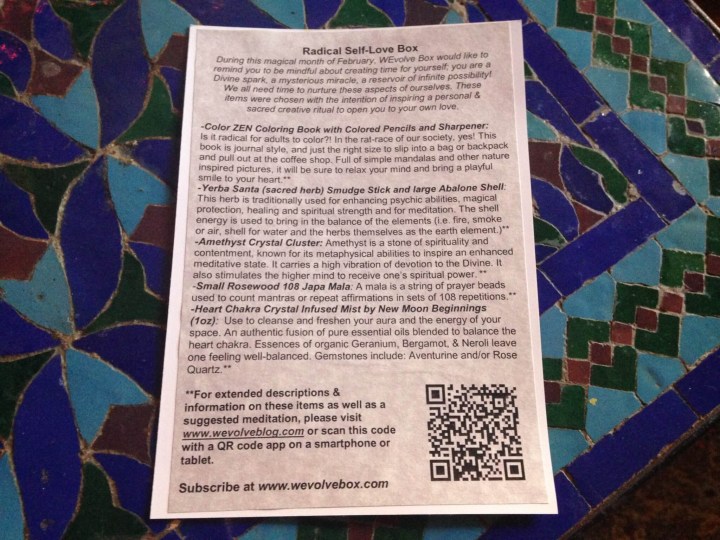 Each box is accompanied with a meditation along with information that describes each item, the spiritual significance of each item, and ideas and suggestions on how to incorporate them into your spiritual practice. This is the Radical Self-Love Box, designed to remind us to be mindful that we are each a reservoir of infinite possibilities – each of us is a Divine spark.  The items in this box were selected with the intention of inspiring a personal and sacred creative ritual to open is to our own love.
Amethyst Crystal Cluster:
Amethyst is a stone of spirituality and contentment, known for its metaphysical abilities to inspire an enhanced meditative state.  It carries a high vibration of devotion to the Divine.  It also stimulates the higher mind to receive one's spiritual power.
This is a perfect stone to assist you in your meditation.  It can act as a talisman to help you come outside of the ego space and to connect to the Divine.  Once in that space, there are endless possibilities.
Yerba Santa Smudge Stick and large Abalone Shell:  The Yerba Santa is a sacred herb traditionally used for enhancing psychic abilities, magical protection, healing and spiritual strength and for meditation.  The shell energy brings in the balance of the elements (i.e., fire, smoke or air, water from the shell).  I love the Abalone Shells, and this smaller one is the perfect size.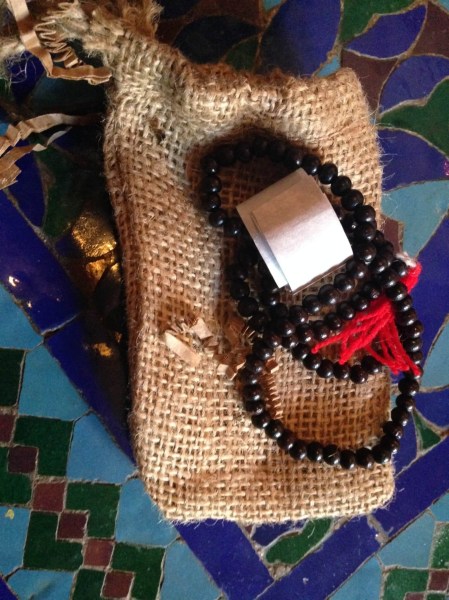 Small Rosewood 108 Japa Mala: This beautiful mala is a perfect travel size and comes with 5 meditations or mantras to repeat.  Basically, there are 108 beads and you keep track of how many repeating the mantras until you get to the last bead (similar to Rosary Beads).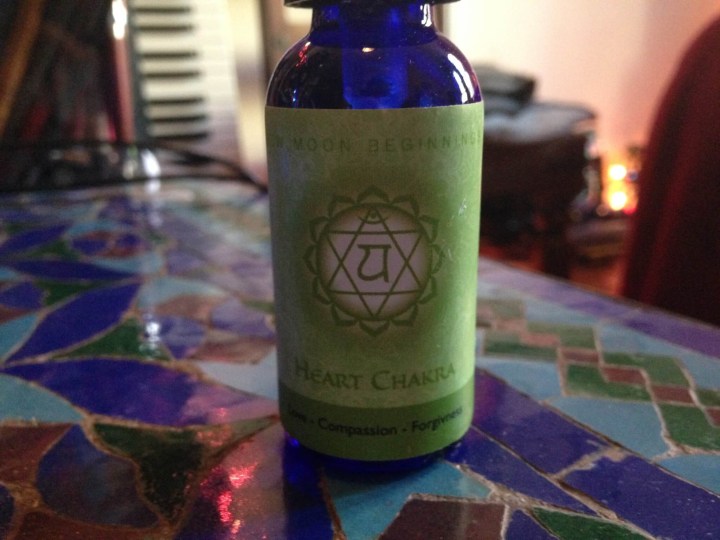 Heart Chakra Crystal Infused Mist by New Moon Beginnings (1oz): I love this!  This potion is a combination of organic essential oils blended to balance the heart chakra.  It includes Geranium, Bergamot and Neroli.  It's perfect to anoint yourself before meditation or any time you feel your heart chakra may be imbalanced.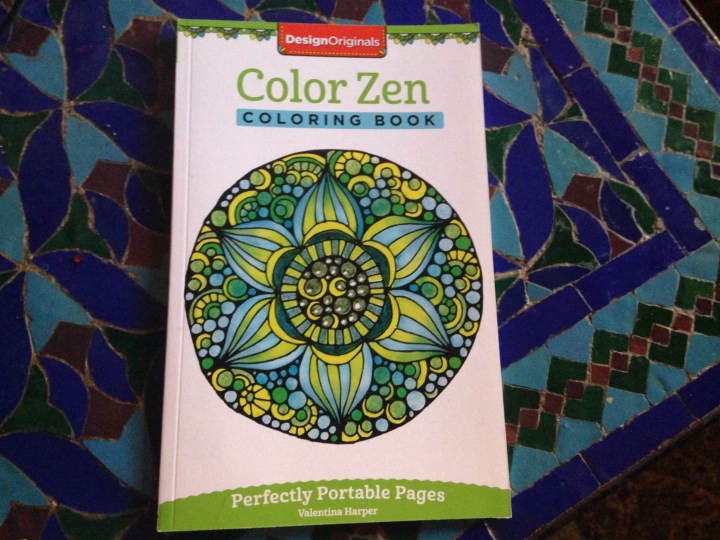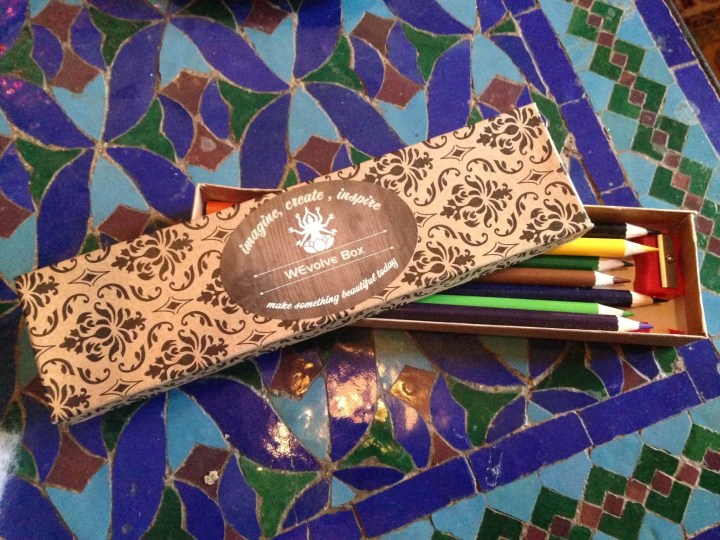 Color ZEN Coloring Book with Colored Pencils and Sharpener:  This is a perfect little coloring book to bring with you wherever you go.  I love coloring and the box of pencils is lovely and has a decent amount of colors to start you off.  This is another great addition to this month's box.  Coloring is another one of those paths that help to let go of the mind chatter.  When I get stressed out, this is a great activity to help bring you back to the now.
I really enjoyed this box.  It is such a well curated and well thought-out box.  Each carefully selected and wrapped item contributes to the overall monthly theme of Radical Self Love (some more obvious than others).  You can check out all of the additional information on the WEvolve Box site that went along with the information on the card (hit subscribe now, then find the blog to see it).
Visit WEvolve Box to subscribe or find out more! Save 10% on your first box! Use coupon code HELLOSOUL.
The Subscription
:
WEvolve Box
The Description
: WEvolve Box is a bi-monthly subscription box divinely designed to inspire awareness and remind you of your infinite nature. Every-other month you will receive 4-7 mystical and sacred objects to encourage mindfulness and a deeper connection with the Divine. Items include
Meditation
tools, chimes, prayer beads & singing bowls, Symbols, talismans, & oracles, Natural body products, figures of Goddesses, Buddhas and other Divine beings, Crystals with properties for healing and manifestation, Adornment for your body temple, Incense, sage, resins.
The Price
: $49.95 every other month