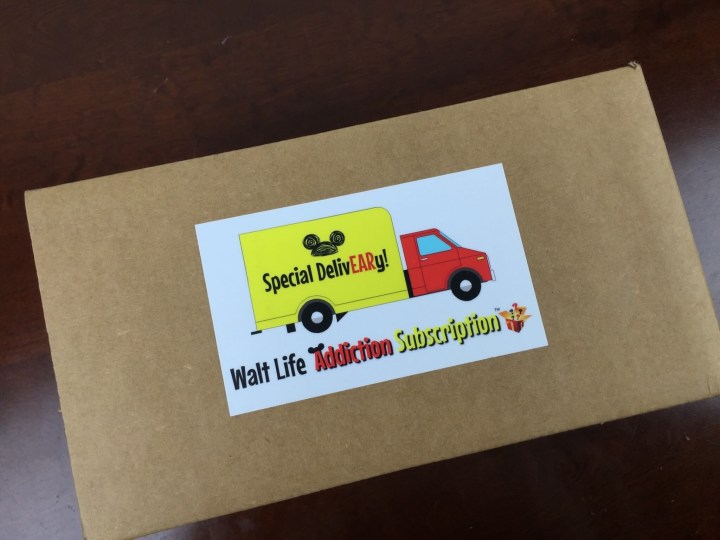 Walt Life Addiction Subscription is a monthly Disney-themed subscription box. Every month you'll receive 3-4 pieces of authentic Disney Parks merchandise. While boxes aren't themed to allow for the best variety of merchandise, the October and December boxes will have the appropriate holiday themes!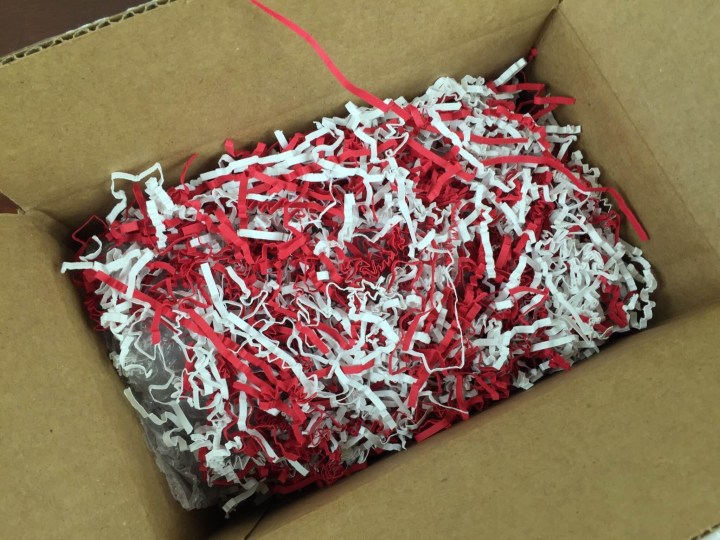 Even though they swear up and down they don't have themes, they always have one. I was excited to see the red and white squiggles for Valentine's Day! This box arrived about a week ago in plenty of time.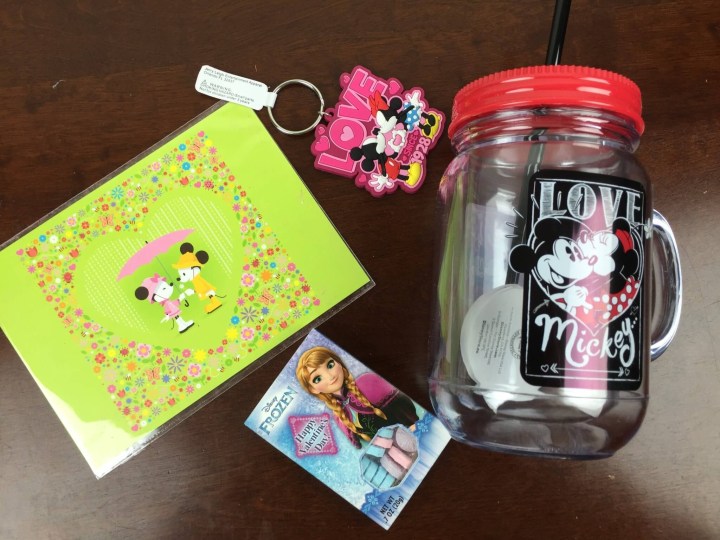 Everything in the box!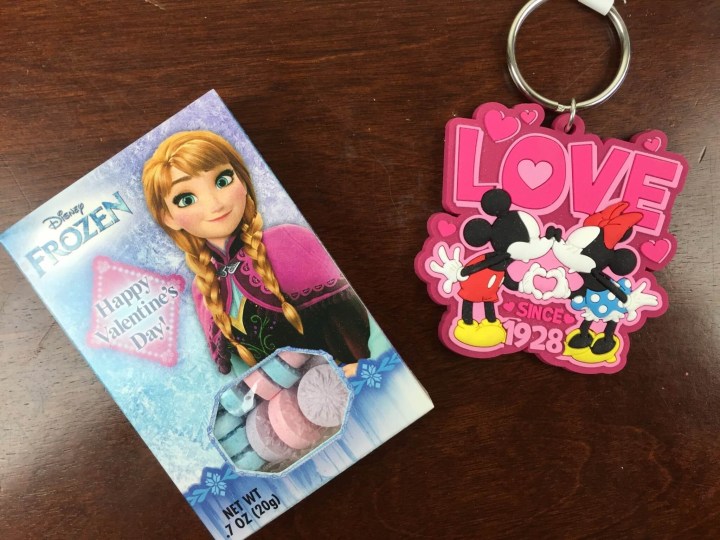 Disney FROZEN Valentine's Day Candies: I am not sure if these were sour or sweet (or both!) – I saved them for my 7 year old daughter for Valentine's Day. Actually I saved everything in the box for my kids. They will be so excited!
Minnie & Mickey Love Keychain: A cute vinyl keychain. I love how M&M went all pinterest with their pose and formed a heart with their  hands.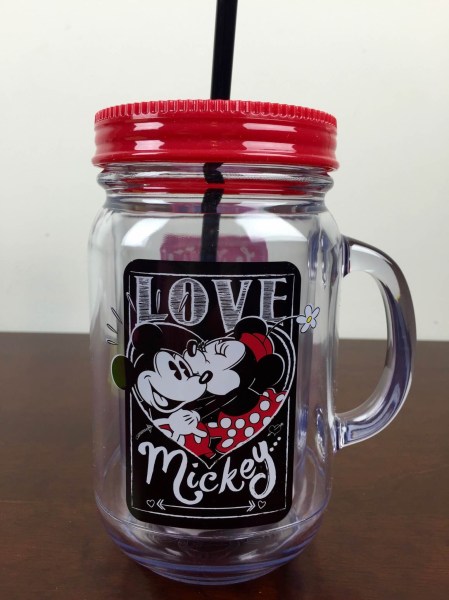 Mickey Love Tumbler: You may have seen in some random photos my tumbler cup that's very similar (I know for sure it's in the Tinker Crate review). Well my baby boy loves Mickey and he's obsessed with my cup. This is his Valentine's Day present! I will probably swap them out because I love it, it's such a great cup, but he'll be excited about it for sure.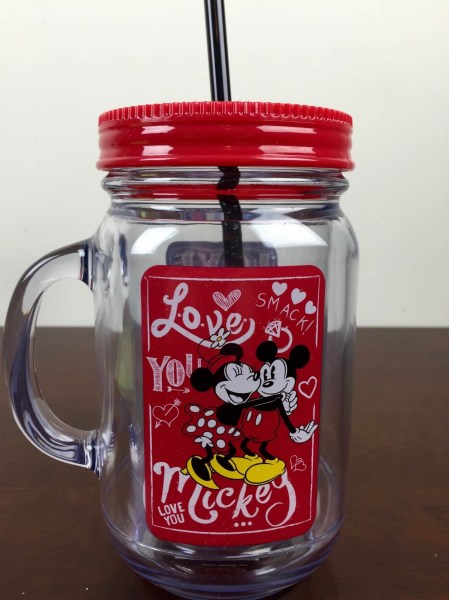 This is a Disney Store product and since I have basically the exact same thing already I'll tell you that it works great to keep your drinks cold. And I love the jelly jar form combined with the I Love Mickey collection designs.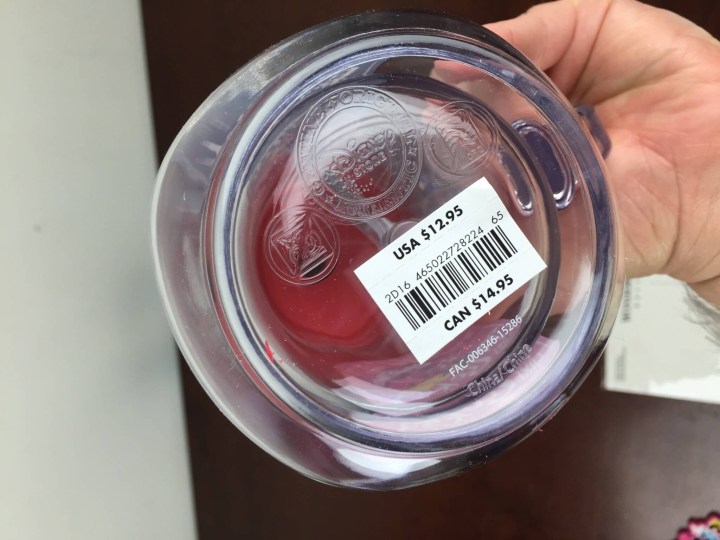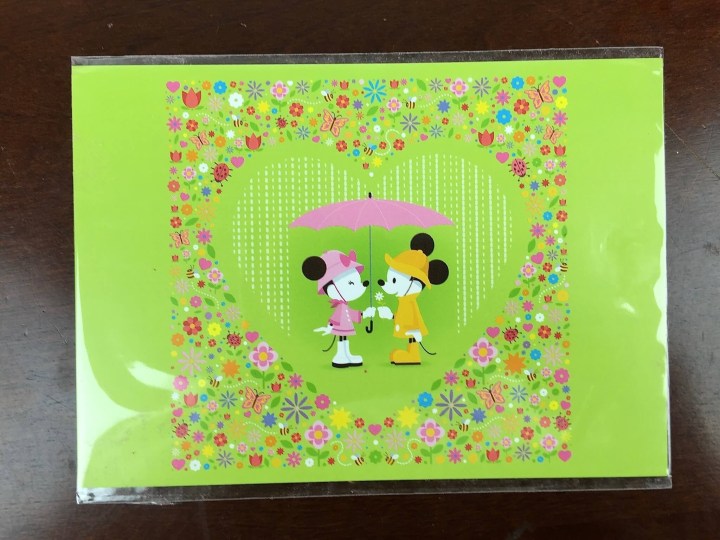 I was excited by this postcard, which features "Spring Has Sprung" by Jerrod Maruyama. It's from the WonderGround Gallery which you can find in Disney Springs (formerly Downtown Disney). Every time I go in there I want to buy all the things. This came sleeved in a plastic bag, which protects it from squiggle lint and bumping around – I think it's perfect for framing.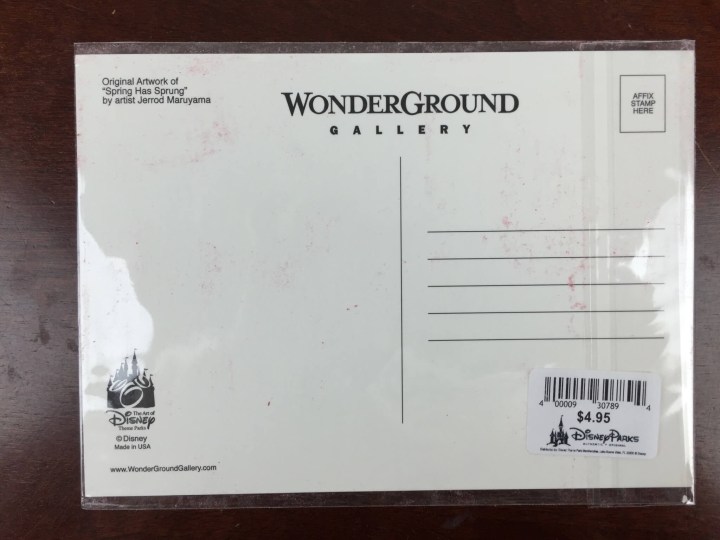 Another super solid month from this subscription and I *loved* everything.  The total value of the box was about $27. This box includes shipping in the price and for a Disney box, I think it's a decent deal for anyone who wants a monthly Disney surprise (or to gift a surprise!).  There's a 15% discount on 3 month subscriptions (no codes required) and that's what I recommend if you'd like to subscribe – I switched my subscription to that right from my account and have had wonderful customer service interactions with the owners. 
See our note about the value of Disney-themed boxes specifically – it perfectly acceptable for a Disney themed box to have a lower value than the cost and nobody should expect to receive tons of retail value in this type of box because the items cannot generally be sourced as a discount. You are really paying for the items, the service, and the shipping.
Visit Walt Life Addiction Subscription to subscribe or find out more! No coupon codes, but you can save 15% with a 3 month subscription!
The Subscription
:
Walt Life Addiction Subscription
The Description
: A monthly box of hand picked goodies from the most magical place on earth, Walt Disney World! It's like a trip down Main Street in a box!
The Price
: $34.95 per month