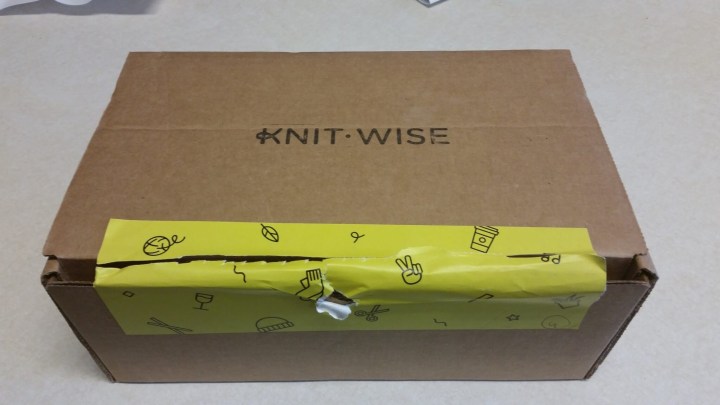 Knit-Wise is a monthly box that arrives with everything you need to create a hand knit project, so you can spend more on the fun part.  According to the site, you will build new skills, save time and money, and learn at your leisure.  There are multiple levels of subscription — both skill level (beginniner, intermediate, and advanced) and number of months (month-by-month, 3-month, and 6-month). I ordered the advanced box!
I love a good knitting project – let's see what's in the box!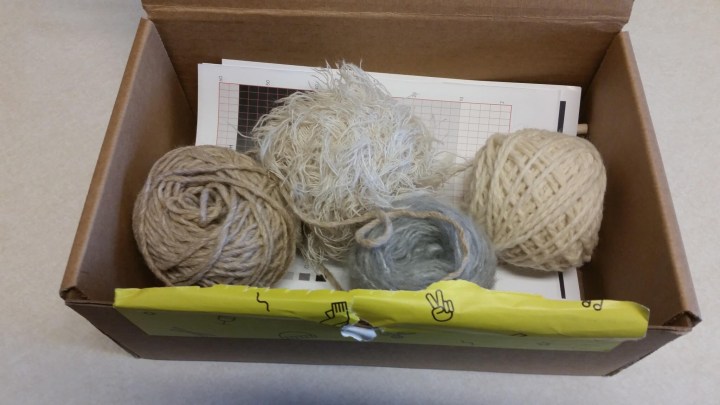 On opening the boxes, I see some fun looking yarn.  I've never really knitted with different textured yarn before, so this could be fun.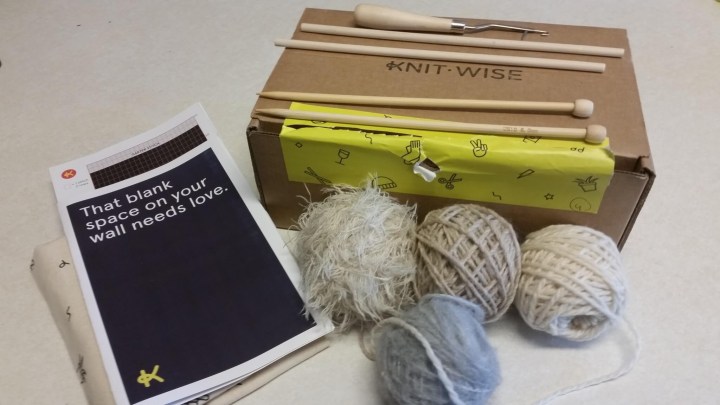 What's in the box?  There is yarn, knitting needles, a latch hook, dowel rods for the project, instructions, and a muslin tote bag to carry the project around while working on it.  The site promises that every box will include step-by-step instructions, yarn to complete the project, knitting needles, and any special project needs.  The only supply I needed that wasn't in the box was scissors.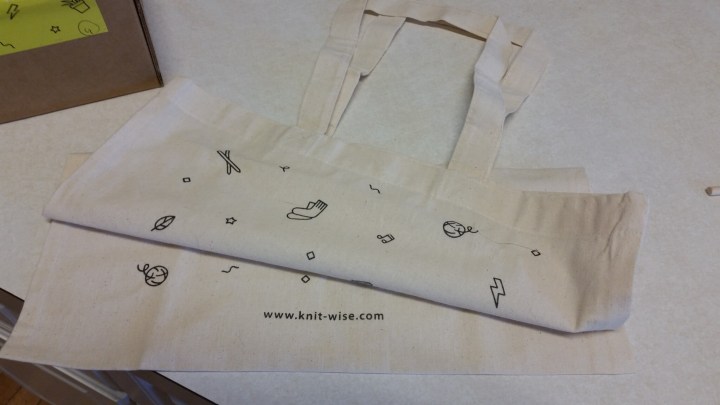 The first box in your subscription comes with a Knit-Wise Bag!  I like the bag – a lot.  I had gotten other bags in knitting subscription boxes that were small and flimsy.  This one is nice thick muslin, has a cute design on it, and best of all, has handles!  As the site says, you can knit on the subway, knit on your lunch break, or knit with friends — having a nice bag to carry your project while you're working on it is a super nice touch.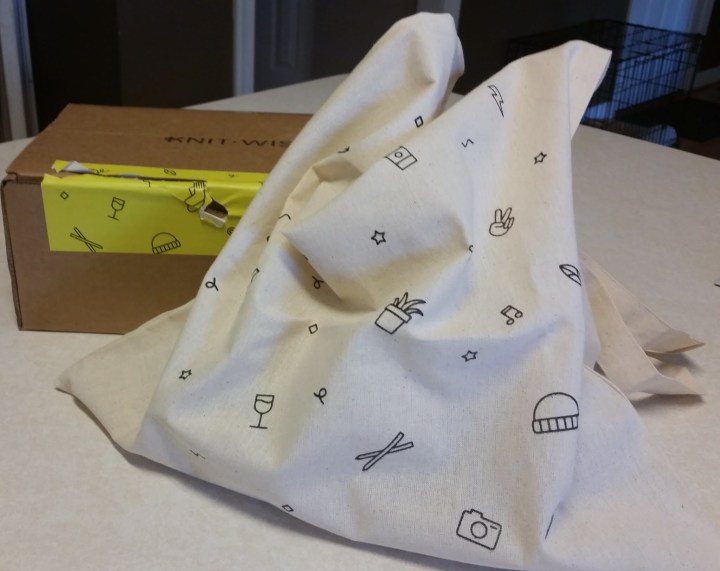 Not only is the bag nice, but it is also roomy – here is the bag holding everything from the box…and there's plenty of room left over.  Since finishing the project, I've already repurposed this bag to carry another knitting project I'm working on.
Instructions:  The project in this box was Knit Wall Art – a little wall hanging.  The focus of the project was learning intarsia (using different yarns in one line), as well as knitting from and designing on a graph.  The step-by-step instructions were clear, and any term that may be new was highlighted in pink ink…indicating that video instructions were available from the website.  I liked this a lot and was able to find everything I needed, between the print instructions and the video instructions.
The kit included one ready-made pattern for one wall hanging and then encouraged me to design my own pattern for a second wall hanging.  The box included enough yarn and supplies to make two wall hangings.

Yarn:  This project included four balls of yarn.  The yarn seemed to be a nice quality; they felt very natural and I liked the neutral colors, although the resulting wall hanging may have benefited from a little more contrast in color.  Like I mentioned, I have not worked with differently textured yarn before, so this was a fun project for me.  (After doing so, I'm not a big fan of working with yarn that has hair, like that ball on the top left, but it was fun to try!)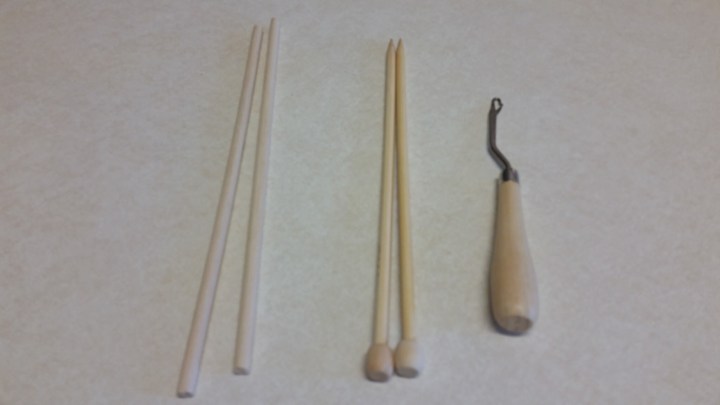 Other Supplies:  Also included in the box were knitting needles — I'm starting to love bamboo needles now, a latch hook to make fringe, and dowel rods for hanging the wall hangings.
Finished Project:  Here is the wall hanging I made from the ready-made pattern (although I altered it very slightly because I didn't like working with the hairy yarn).  The final project is about 12″ long (including the fringe) and 6″ wide – so a small decoration.  This isn't really my style of decor and I do think it would benefit from a little more contrast in yarn color, but the different stitches did create an interesting texture visual (such as the contrast between garter stitch, seed stitch, and checker stitch).  This style of wall-hanging is all over instagram and definitely an "in" style.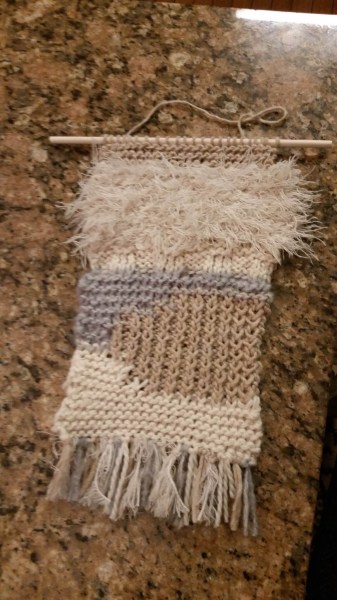 Bottom line:  Although the finished project really wasn't my style, I did like the project and the box.  I enjoyed working with the different yarns and I did learn about intarsia (using two different colors of yarn in one line).  I have the "advanced" box – but nothing was terribly complicated.  I think this project could be enjoyed by most knitters who have a basic grasp of the different stitches.  I know that Knit-Wise has done coasters and wall hangings – I think it will be exciting to see what Knit-Wise picks next!
Visit Knit-Wise to subscribe or find out more!
The Subscription
:
Knit-Wise
The Description
: Knit-Wise delivers everything you need to create a hand knit project- no experience necessary. Each box contains yarn, instructions, and all of the tools needed to complete a different project once a month, ranging from home items to accessories.
The Price
: $29.00 per month