I have been a huge fan of the Honest Company for the last four years and have really enjoyed discovering all of the new products they've been coming out with lately! In this month's Essentials Bundle, I decided to order a mix of new products, baby gear and some of my favorite household products.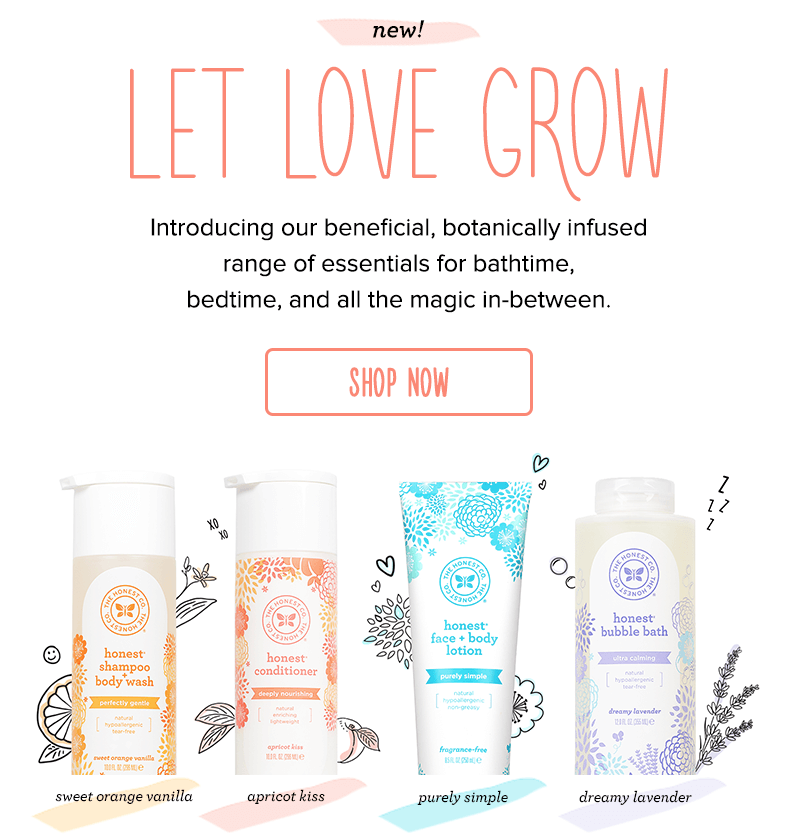 Honest Company just launched a new line of shampoo + body wash, conditioner, face + body lotion, and bubble bath. I can't wait to try the new scents!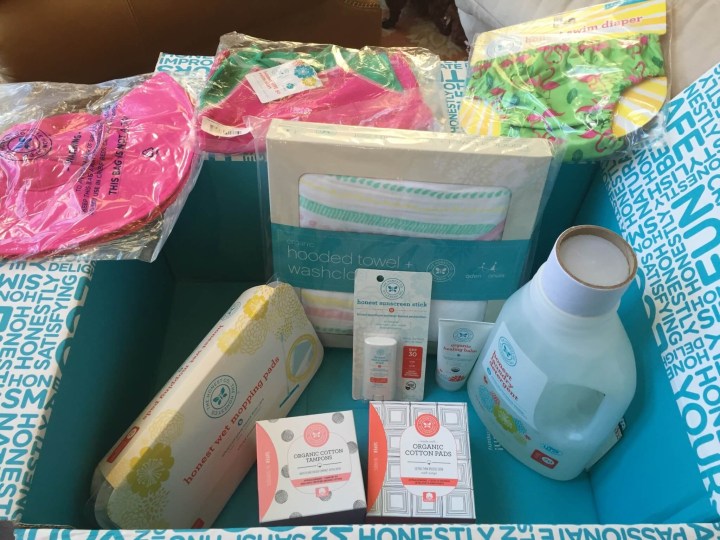 Included in this month's box were the following items: ultra thin organic cotton pads, super ($5.95); organic cotton applicator tampons, super ($6.95); organic hooded towel and washcloth set, pastel tribal ($54.95); swim trio, flamingo ($44.95); sunscreen stick ($9.95); wet mopping pads ($8.95); laundry detergent ($12.95) and healing balm ($12.95). For subscribers, the tampons, sunscreen, wet mopping pads, laundry detergent and healing balm would form the basis for the bundle. The pads, towel set and swim trio would all be added to the basic bundle at a discount of 25% off of the published prices.
Even though I have subscribed to the Honest company for years, I had not tried their personal care line before and was excited to try their ultra thin organic pads. Luckily, I was able to use them right away!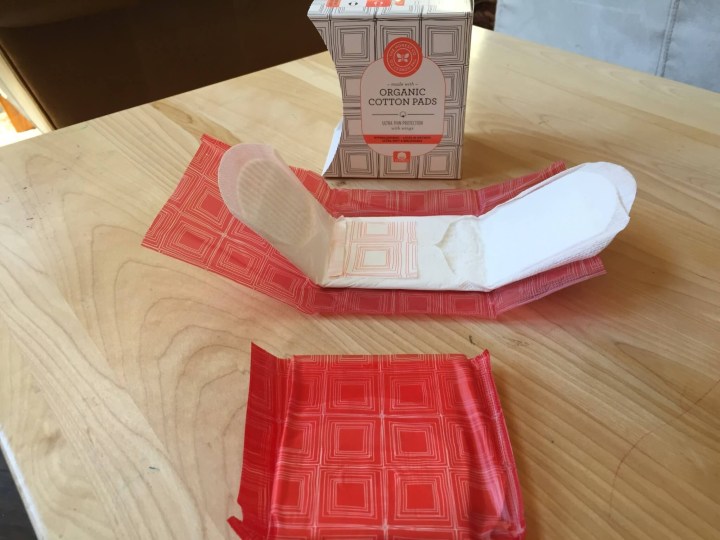 The pads arrived in adorable packaging that made using them an enjoyable breeze. Like Always pads, the outer wrapper is connected to the pad itself. I think this is very convenient. To use them, just separate the pad from the wrapper, place in your panties, remove paper connecting wings, fold wings around panties and you're done. The pads themselves were the softest I have ever felt, and they provided ample protection even on a very heavy day. I'm happy to report that they are so great that I'm changing pads effective immediately! Thanks, Honest Company!
Unfortunately, I had less success with the super absorbency organic cotton tampons with applicators.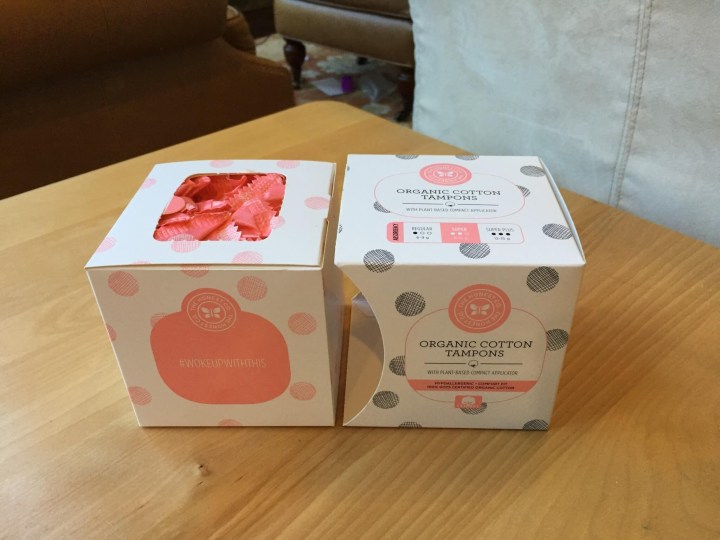 While these too came in adorable, thoughtful packaging (I loved how easy it was to remove the tampons from the box), the applicators did not function well, which left me frustrated. These were the first tampons I have ever used that would not release from their applicators. After the first failure, I consulted the box, which said that directions were enclosed. After finding no directions anywhere, I tried again with the same outcome. After that, I tried to remove a third tampon from the applicator. After some pulling, I was able to do so and was then able to insert the tampon. Since the Honest Company sells 16 of these in a box for $6.95 and 20 tampons without applicators in a box for $5.95, if you're interested in using Honest Company tampons, you should clearly opt for the tampons without applicators. Once in, though, the tampon was comfortable and effective, and I love that it was produced with organic cotton, a naturally absorbent, breathable material.
I was delighted to see that the Honest Company carries their swim trios year round. We've been having unseasonably warm weather this winter, and I've wanted to take a dip with my daughter in our pool, but I didn't have anything for her to wear. Since most stores don't carry swim suits in January, I didn't know what I was going to do. Then I remembered that the Honest Company carries super cute SPF 50 swim clothing for babies. Theirs are my favorite brand of swim diaper: their thin design and drawstring waist made them the most comfortable swim diapers my son wore when he was younger. Having the swim trio added to my bundle and delivered to my home was so convenient, and I love that we can now really take advantage of the weather!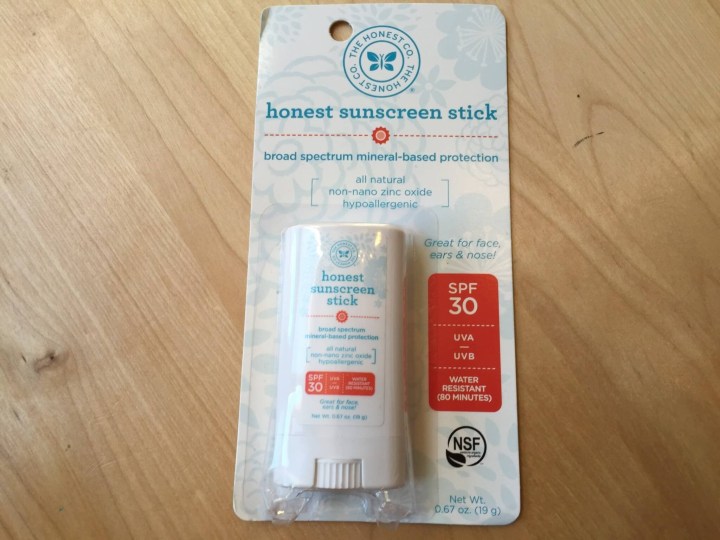 No day poolside would be complete without sunscreen. This stick is water resistant for 80 minutes and comes in a convenient stick form. I love that I can just place the stick in my purse, forget it's there and have it on hand for all of my family's adventures.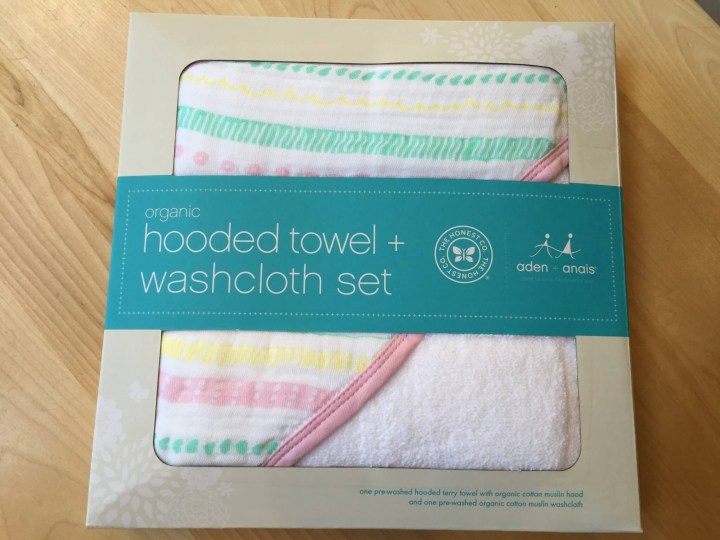 I was pleased to discover that this hooded organic towel and washcloth set is very large.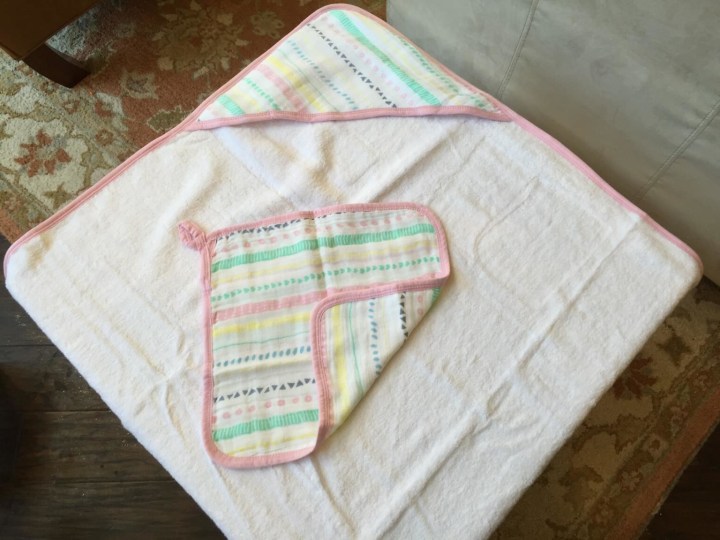 It's the perfect size for an active toddler. It's so large and soft that I'm planning to get more of them. I love the pastel tribal print too!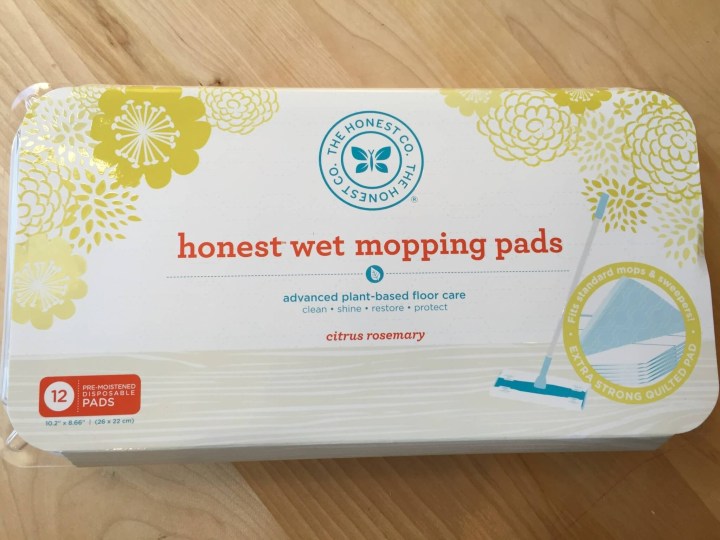 I was excited to try the Honest Company's newer wet mopping pads. Sometimes I just let my bundle reship every 4 weeks, missing out on all of the new products they produce. Not this time, though! These wet mopping pads are fantastic. They had a pleasant citrus rosemary scent and easily cleaned all of my very dirty floors. They are compatible with most standard sized swiffer-type floor mops.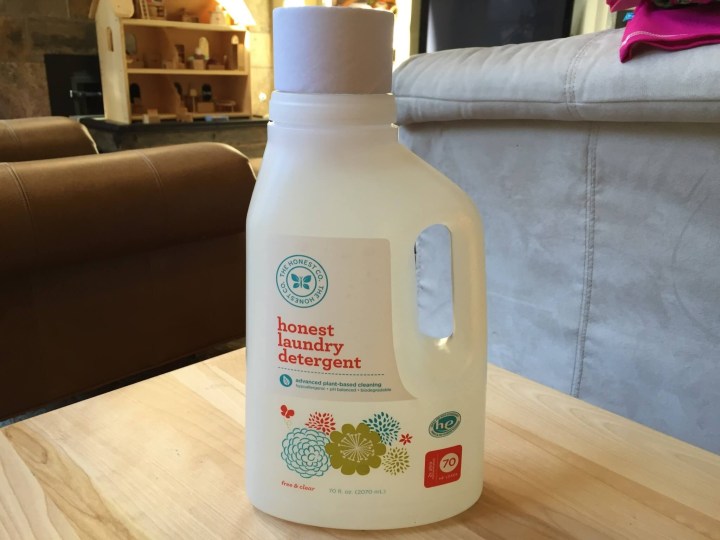 The Honest Company's laundry detergent is one of my tried and true staples. We have used it for years. My kids have extremely sensitive skin, and we have never had a problem with this detergent. I've even shipped this to myself on vacations to prevent the inevitable rashes that occur when my kids' clothes get washed in All Free and Clear, even after a second rinse. Since Target has started carrying the Honest Company products though, these days, I can usually pick up a bottle when I'm out of town.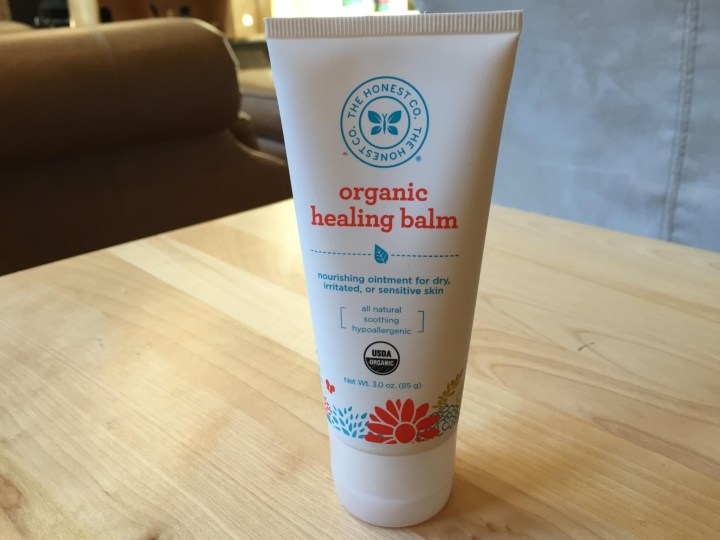 Finally, we picked up an extra tube of Healing Balm. When my son was a baby, we used this as his diaper cream. Nowadays, I use it as a hand salve in the winter and after rock climbing.
Remember that you can add most of the "gear" and extra items onto your bundles for a 25% savings! Be sure to see our past Honest Company reviews for more looks at the products, including the Honest Gear.
Visit Honest Company to subscribe or find out more! Take $10 off your first $25 order. Use coupon code GET10. Works on bundles!
The Subscription
:
Honest Company
The Description
: High-end non-toxic monthly diapers and wipes, essentials (household items and body care) and wellness (prenatal, baby, toddler, and kids vitamins)
subscriptions.New
: Infant Formula & Feminine Care!
The Price
: $35.00 per month