Foodstirs is a new monthly baking subscription box created by Sarah Michelle Gellar. Every month you'll receive family-oriented baking kits made with premium and real ingredients, free of preservatives, artificial dyes and flavors. The mixes use organic and non-GMO ingredients when available.  You can also choose to subscribe monthly to their sugar cookie, brownie, or vanilla cupcake mix. You can choose to get the monthly kit or start your subscription with one of the kits in the store.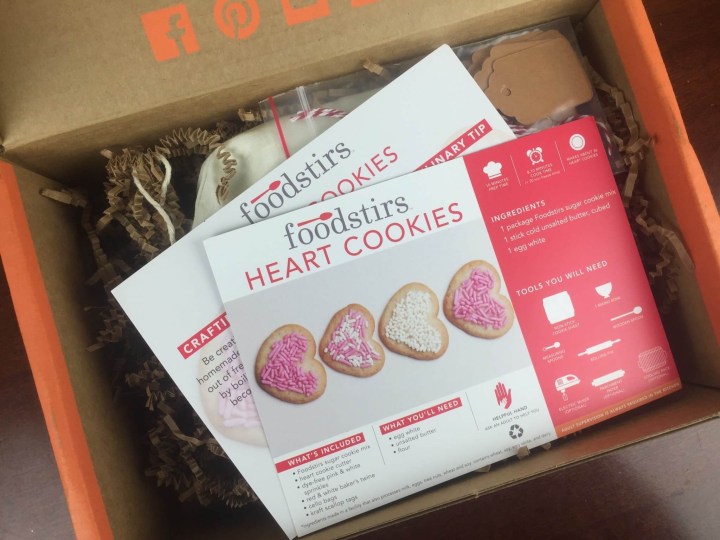 The theme for January was Heart Cookies. We like that this subscription comes in plenty of time to make a seasonal treat before the holiday.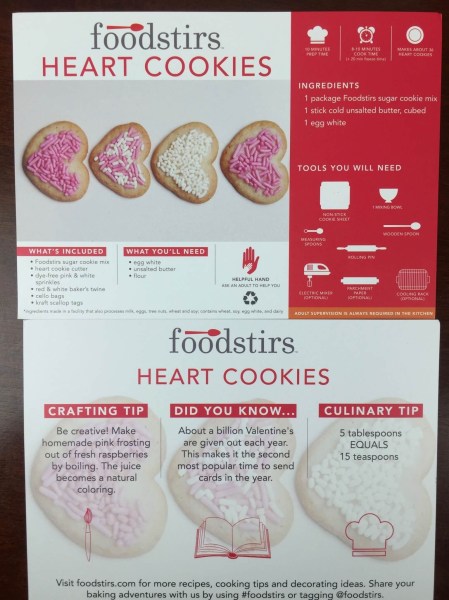 The box includes a card letting you know the ingredients needed, tools, baking time, quantity, etc. I liked that it broke down the ingredients you need twice (the second time being what you need at home). The box also includes a crafting tip, a fact, and a culinary tip. Since they told us the teaspoon – tablespoon conversion I think I'm good. That was incredibly lame. (p.s. that's 1/4c plus a tablespoon)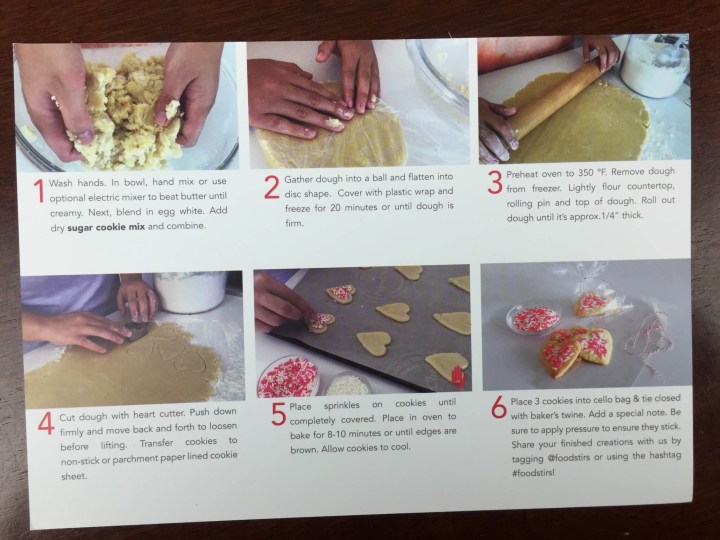 The instructions. They are step by step with a photo for each step.
The ingredients list (hint, the list is very short – you can click on the photo to see it up close). The sprinkles are colored with beet juice.
Extras like cookie cutters come outside the bag.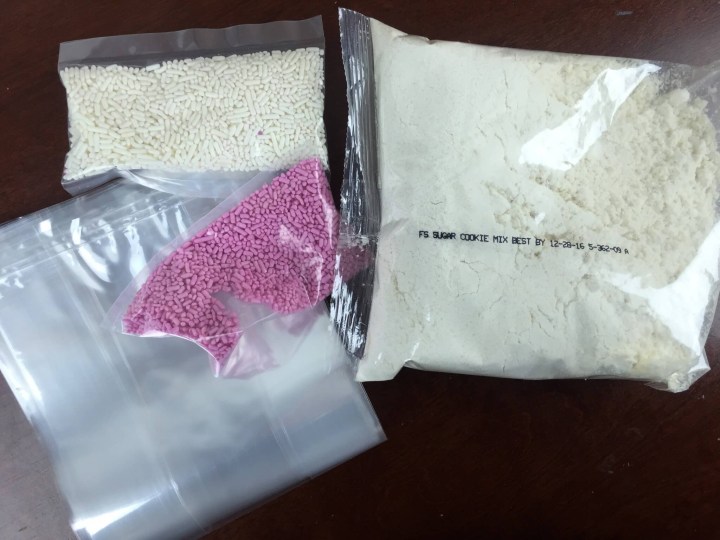 The box included sprinkles, cellophane bags and gift tags, and a heart cookie cutter. The cookie cutters in this box aren't particularly high quality (they're pretty cheap, but at least this one wasn't rusting this time). The main ingredient is their sugar cookie mix ($7.95).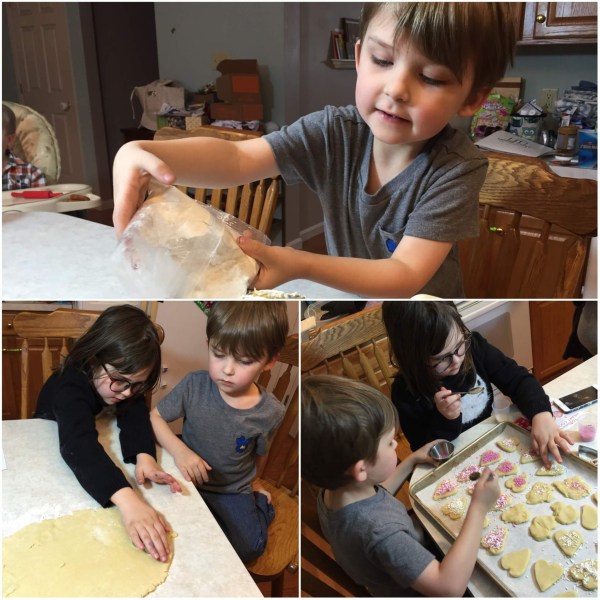 This was pretty easy – cream the butter (for some reason they insist on creaming cold butter), add an egg white, the mix, and freeze the dough. We rolled it out, cut the cookies, and added sprinkles. The kids loved doing sprinkles – especially the color combo!
Tada! These baked right at 10 minutes for us. Even though the instructions say until edges are brown, don't – that really gives a hard too cooked cookie. Cookies continue to bake after you remove them from the oven. The instructions gave no advice on when to remove from the pan, so we performed the standard maneuver of sliding our parchment off onto a cooling rack after two minutes (FYI – we use King Arthur's Flour pre-cut parchment sheets and now our entire family does too – they're really that great and I cannot recommend them enough).
We put some cookies in a bag to finish the craft. I loved that the string was pre-cut.
But we're going to be honest, we ate the entire thing in about a day and gave away nothing.
This month was the best box we've seen from this subscription (see our Foodstirs Reviews for previous fails). Foodstirs is one of the lowest value subscription boxes I have seen in all my time (over 3 years) as a subscription box reviewer. I strongly recommend taking a look at other baking subscription boxes – you must call to cancel, which is why I'm still getting this box – I'm lazy (plus it's almost like a game – will this subscription fold before or after I get around to calling?). Sometimes they have coupons on the site, but usually not. If you'd like to try it out we're happy to enter your information so you can get a $10 coupon – just fill out the information in this form. FYI – you can get a half-size of this craft (without the gift bags and the mix is half size, so it will make about half the number of cookies you saw above)) in the February POPSUGAR Must Have Box (which you can cancel online!). In our opinion, normal people don't typically pay 25 bucks for a sheet of cookies or a pan of brownies. We like the ingredients for the mixes and the crafts are fun, they just aren't twenty-five dollars fun.
Visit Foodstirs to subscribe or find out more!
The Subscription
:
Foodstirs
The Description
: Get curated themed baking kits delivered straight to your door every month. A convenient, delicious and healthier way to bring families together in the kitchen. Get family-oriented baking kits made with premium and real ingredients, free of preservatives, artificial dyes and flavors. Organic and non-GMO ingredients when available.
The Price
: $25.90