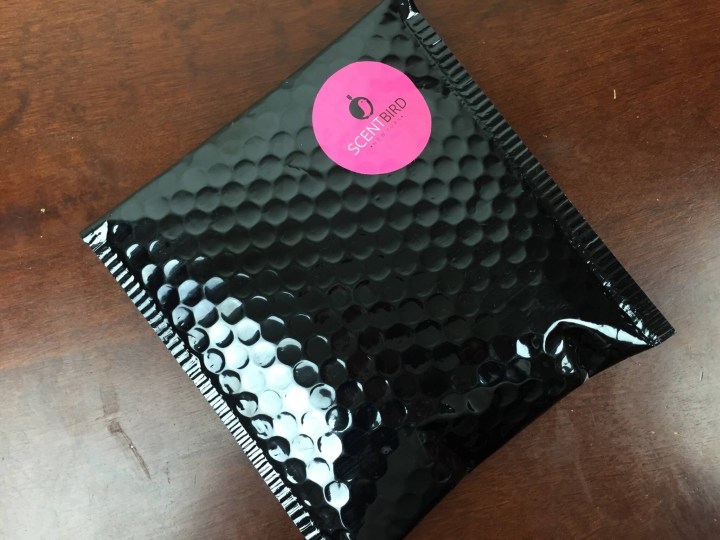 So excited about my Scentbird sample this month!! Scentbird is a monthly perfume and fragrance decanting subscription. With Scentbird you get a thirty day supply of perfume every month. When you join you fill out a profile – including three of your favorite designer perfumes – then you make a wishlist of perfumes you'd like to try. You'll get a new sprayer every month, plus your first month includes a case to hold whatever perfume you're currently using! You can add extra cases to an existing subscription for $12.95.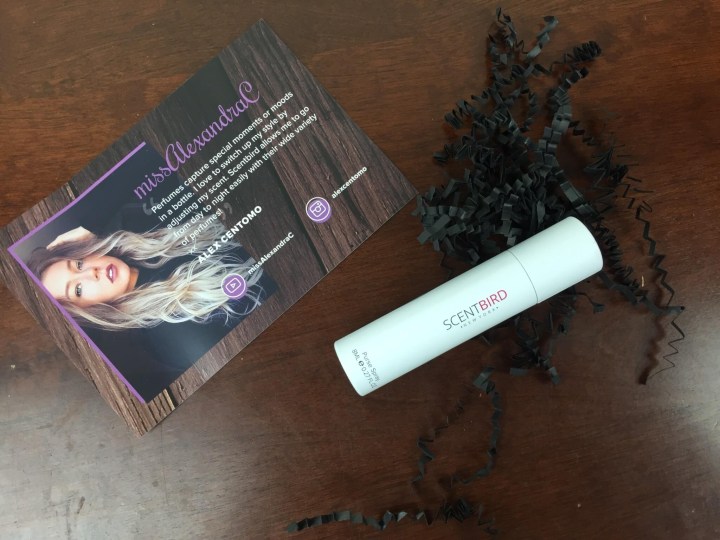 My mailer came with my fragrance and a card.
Velvet Flora is an intoxicating blend of sophistication and allure made for anyone who has an aura of distinction, confidence, and modernity. It captures the unique contrast of bergamot and leathery woods, awakening the senses with freshness and warmth.

Each CLEAN Reserve fragrance was created to be dynamic and evoke, not memories of the past, but possibilities and experiences yet to be discovered. Each is linear without much movement from top to bottom, making it ideal for layering and blending.
 Your first month will include a little perfume vial case and velvet holder. Scentbird decants the perfume from the manufacturer's bottle to a little glass vial that fits in the sprayer. The perfumes are 100% authentic and you'll receive an 8ml sprayer. A card comes with the vial demonstrating its use. You just twist it to spray!
The sprayer now comes in this neat cardboard tube (it was previously a box). I tend to store all my sprayers in mugs, so I'm not sure if I can reuse this tube for something interesting. Maybe sewing needles!
I selected Comptoir Sud Pacifique Vanille Abricot.
The master perfumers behind Comptoir Sud Pacifique have captured the feeling of the tropics. Created in 1992, Vanille Abricot is Comptoir Sud Pacifique's all-time bestseller. Joyous notes of tropical fruit blend with Tahitian vanilla and delicate sugar candy tones to evoke a vacation to an island paradise. Created based on an impression of a Polynesian island, the scent translates to a subconscious feeling of joy and comfort.
To me vanilla scents are just irresistible, and I wanted to try this one too (I got another variation in a previous month!) – especially since it's their best seller. It's fruity and sweet and delicious, but doesn't have that baked goods feel that vanilla sometimes does. I almost wished it was a little more "dessert-y" but I think it's fabulous.
ScentBird also provides a quick visual guide to the perfumes – and that's exactly why I chose it – a nice every day scent for winter. You can get even more details on the different vectors of the scent by mousing over each of the main areas.
I was really happy with the value of my selection this month too – 8 ml is equivalent to a rollerball, and for this fragrance that is about $8. Not the best value this month at all, but I have so much perfume that I do love the deluxe sample instead of dropping bank on a full bottle. As always, I think this subscription is a really fun way to sample new scents without a big investment!
Visit Scentbird to subscribe or find out more. Get your second month free when you use this link!