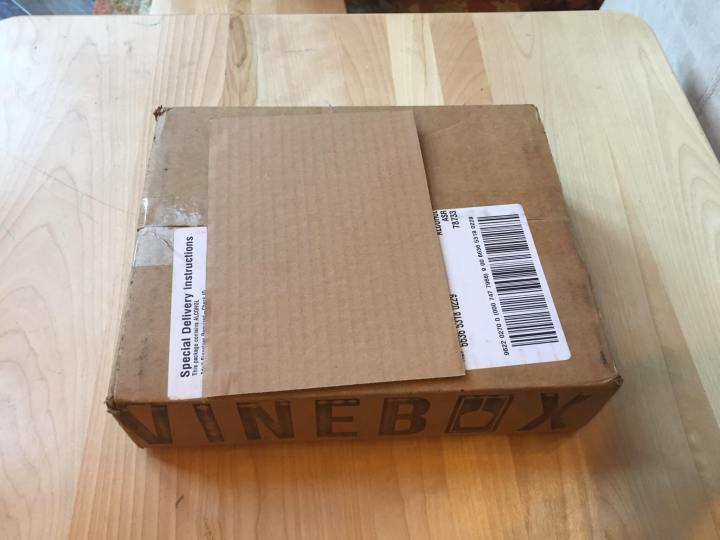 VINEBOX is a new monthly wine by the glass box that provides its subscribers with three wines to taste. While each full bottle of wine would retail from $20 to $50 a bottle, the three tastes arrive at subscribers' doors for $30-$35 a month plus shipping. This is the ideal wine club for people who enjoy high end boutique wines, but want to try them before committing to purchasing an entire bottle. It's also great for people who would like to try new varietals or styles of wine without the commitment that goes into purchasing an entire bottle. Each month's selections will include both reds and whites and will be curated by an expert panel of sommeliers. Wine notes are included for each tasting. Because the wine has been repackaged from its original bottles, the shipped tastings will only last for approximately 3 years from date of receipt. But really, who wants to wait that long to taste three glasses of wine anyway?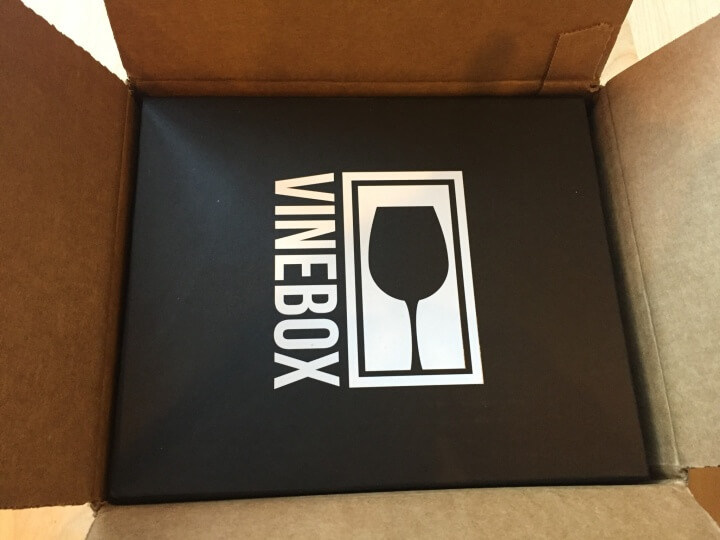 The three glasses of wine arrived packaged inside a sleek black and white box.
As this is my first shipment, it arrived with a welcome envelope.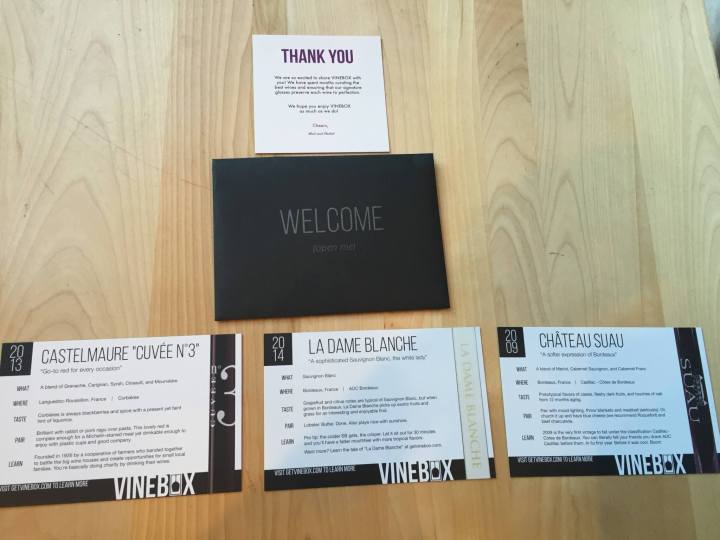 The welcome envelope included a note thanking me for joining as well as tasting notes on the three tasting bottles included in the shipment: 2013 Castelmaure's "Cuvée No. 3", 2014 La Dame Blanche and 2009 Château Suau. You can find information on each wine under "Wines" on the VINEBOX website.
The Castelmaure Collective's Cuvee No. 3 is a blend of Carignan, Syrah, Grenache, Cinsault and Mourvèdre. It is produced in the Languedoc region of France, in the Corbières appelation, in the Durban terroir. As such, it tastes of blackberries and spice with a hint of licorice. It was aged in oak for 12 months.
When I saw this glass of wine, I was very excited: it's something I never would have tried had I had to purchase a bottle to try it. My tastes tend to gravitate more toward full-bodied Cabernets, and this Cuvee No. 3 is nothing like those. This is why Vinebox is so great. It takes you outside your comfort zone to see if there are other wines or styles out there that you might enjoy. Alas, this was not the wine that was going to send me rushing out to the store to try more blends, but I did enjoy it. It was a light everyday red with little body. Vinebox recommends serving with rabbit or pork ragu over pasta. Decant before serving.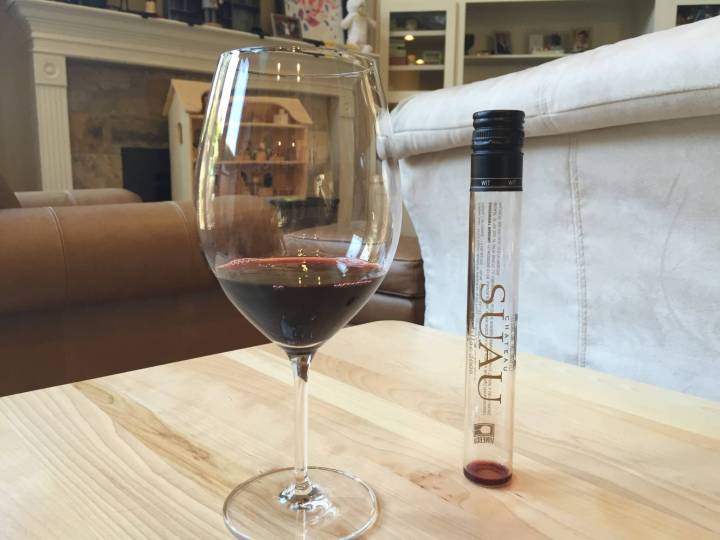 Château Suau's 2009 Cadillac Côtes de Bordeaux Rouge is a blend of Merlot and Cabernet Sauvignon that was aged in French oak for 12 months. It contains the flavors one would expect, namely cassis, fruit and oak. According to the wine notes included in the shipment, 2009 was the first vintage for which the Cadillac appellation designation could be used.
This blend had a lot more body than the first. I appreciated its more robust, earthy taste. Perhaps surprisingly, although I liked both of the reds in the box, I preferred the Castelmaure. Vinebox recommends pairing the Château Suau with meatloaf, blue cheese and beef charcuterie.
My biggest surprise in this month's shipment was how much I enjoyed Château de Taillan's 2014 Sauvignon Blanc, La Dame Blanche. As I said earlier, I typically gravitate toward big California Cabernets. Most of my favorite whites are Chardonnays produced without additional malolactic fermentation. Still, I loved this wine! I could happily drink this most any time. I drank this at room temperature, which probably brought out its relatively large mouth feel and fruit flavors. Fantastic! Vinebox recommends pairing it with lobster and butter.
I love how Vinebox introduced me to three wines, all of which I enjoyed to varying degrees, but none of which I would have tried or purchased had Vinebox not sent them to my doorstep! I also like how all I have to do to order more La Dame Blanche is to get in touch with Vinebox–super easy and convenient!
Save $10 on your first subscription! Use coupon code HELLO10.
Visit VINEBOX to subscribe or find out more!
The Subscription
:
VINEBOX
The Description
: VINEBOX, the world's first wine by the glass club. Every month, we curate and deliver 3 spectacular wines in perfectly measured pours straight to your door. Discover exceptional wines from boutique wineries across Europe, by the glass.
The Price
: $35.00 per month