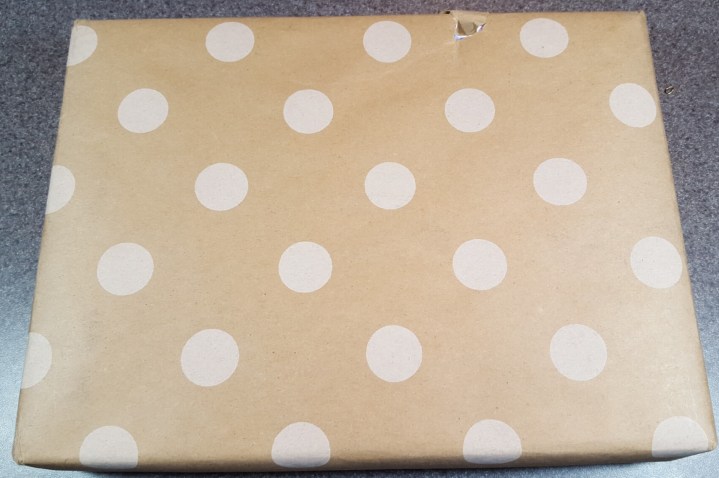 Adult Color Box is a monthly adult coloring subscription box. Not just coloring sheets, but full-size coloring books plus coloring accessories. The outer wrapper was really fun.  I love kraft paper and adding the polka-dots was perfect.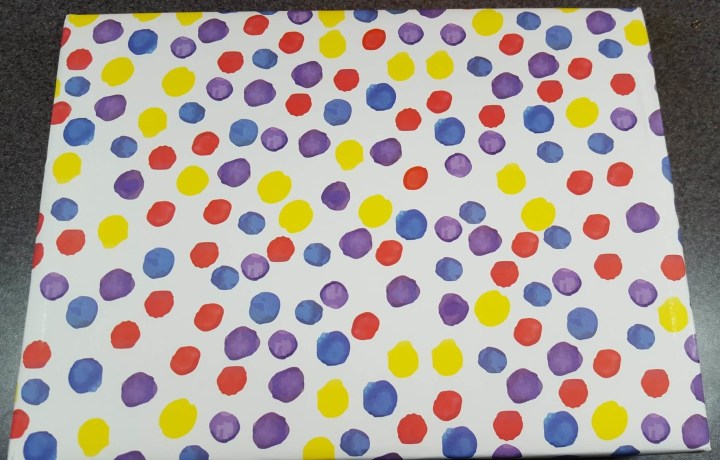 Once I peeled away the kraft outer wrapper the box was wrapped in more polka-dot wrapping paper.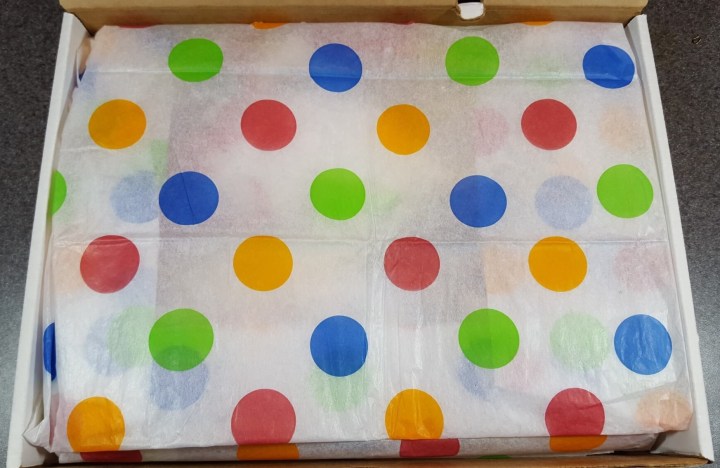 First look and even more polka-dots.  This is really fun and I'm loving peeling back all the layers.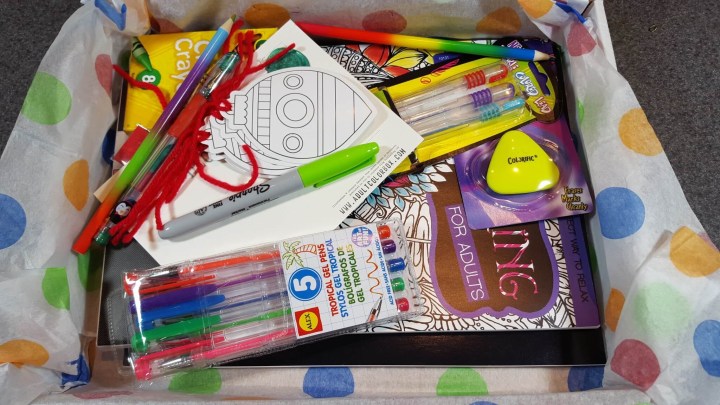 My first real look and I was excited before but this really did me in. All the fun goodies all in one place.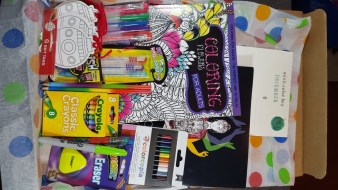 All of the contents in the box.  The box did not come with a contents list just the postcard up top that told you what month it is.  There is a coloring picture on the back and I'll post that below.
Adult Coloring Book Keep Calm ($10.76 Amazon, $5.99 sticker on the back of book) –  So this book really had me intrigued and well I knew why they call this an adult book. It is pretty thick with 48 single sided pages to color. I'm going to post some detail shots below.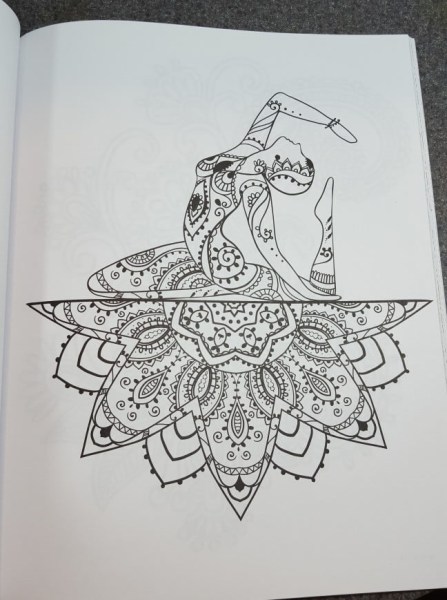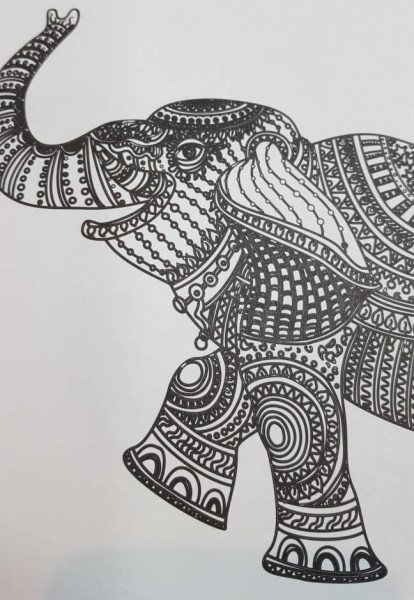 A couple of the interior pages. There are some beautiful person artwork and the detail is pretty intense on some of them.  I will for sure need some fine tips pencils and pens.
Coloring Flowers for Adults by Bendon (I can't find this exact one but other Bendon books go for $7.99 new) – Another really nice coloring book. These pages aren't has thick as the first book but they are still single sided which I really like. I don't want to have bleed through on my pages and then having to pick which one to color so I love the single sided.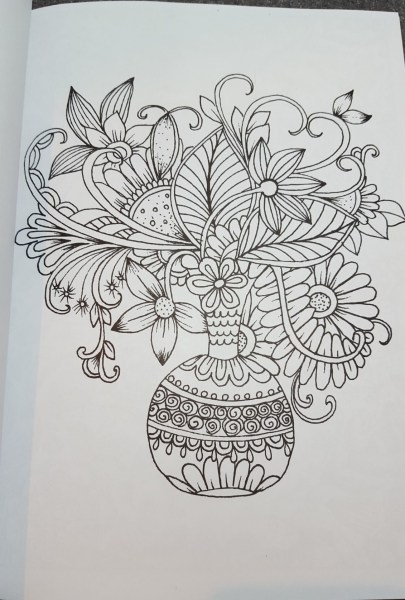 A couple sample pages from this book. Most of the pages in this one aren't as intricate as the first book but they are still great and perhaps easier to color.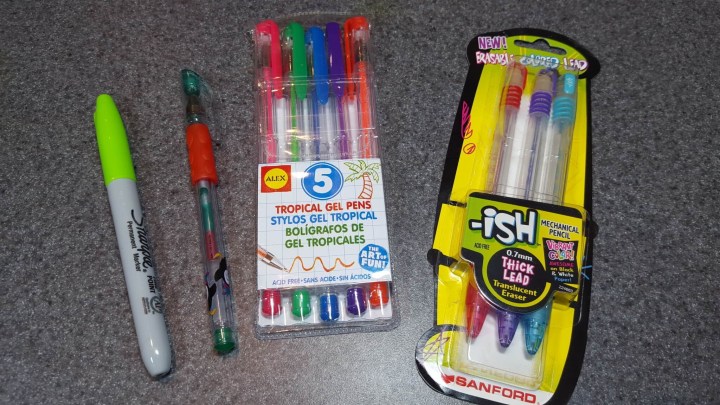 Sharpie Fine Point Lime Green Pen ($6 for assorted 12 pack) – based on pictures it looks like colors varied but they couldn't have picked a better one for me.  This is one of my favorite colors.
Penguin Pen – I'm not even sure where to go looking for this pen. It is a regular writing pen however the ink appears to be in different colors.  I'm really curious how this will work.
Alex Tropical Gel Pen set of 5 ($5.96) – I love gel pens so these will be used right away.
Sanford -ish Colored Mechanical Pencils – Oh WOW I thought these were pens but they are colored pencils and that makes them even more fun.  They also so erasable so I will be trying that out.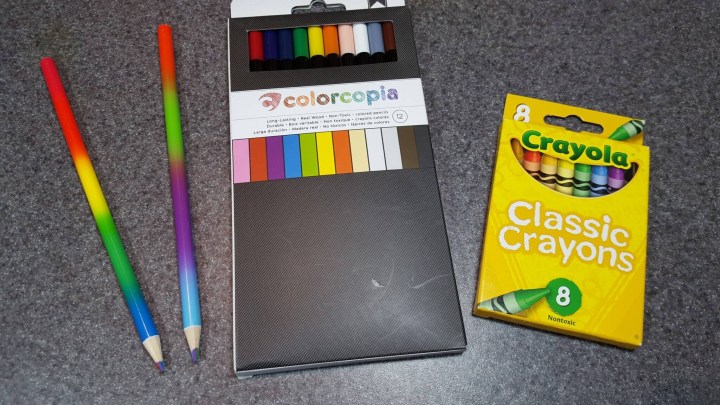 Multi-color colored pencils – I remember having this as a kid and thinking they were AWESOME.  I'm betting I have the same love for them as an adult.
American Crafts Colorcopia colored pencils set of 12 ($10.55) – A great start to coloring and a nice variety of colors.
Crayola Classic Crayons 8 ($2.01) – I'll admit I'm a bit of a crayon snob and will only buy and use Crayola and with a couple boys in my house I'm glad to have my own pack. Their packs are not always in the best condition after they've used them. 🙂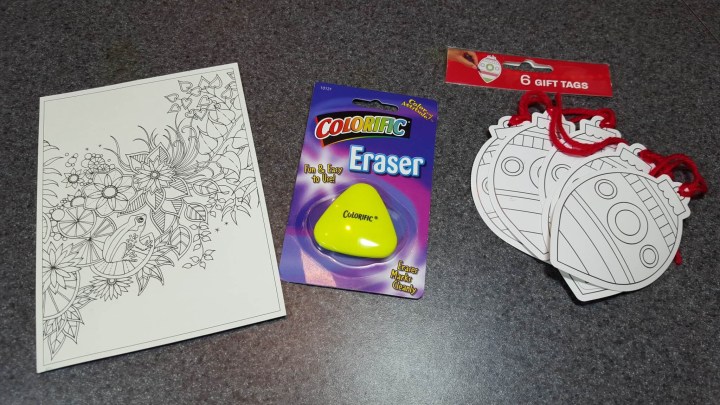 This is the backside of the postcard with the label.  I love the little frog and this is really pretty.
Colorific Eraser – who doesn't need an eraser when using pencils? This is a great thought and addition.
6 gift tags – Since this was the December box this is a nice addition and I'll stash them away for next December.
Overall I'm happy with this box! I really love the books and the quality was good, plus the detail level was adult-specific.  I'm ready to get into it and start coloring – it will be nice to color something besides cartoon characters! A box like this is perfect for adult unwinding, or even for an older teen or tween who still enjoys coloring but needs something a bit more grown up.
Visit Adult Color Box to subscribe or find out more!
The Subscription
:
Adult Color Box
The Description
: Adult Color Box was created to bring you a special curated collection including some of the latest coloring products, plus new & unique items to color with monthly. Receive 5-8 items per box.
The Price
: $30.00 per month