Glowing Beets is a new monthly natural beauty subscription box. In each box you'll receive 3-4 deluxe-sized samples or full size beauty products made with natural or organic ingredients. You'll be able to test out the scent, texture, and performance of high-end natural and organic beauty products before committing to full size.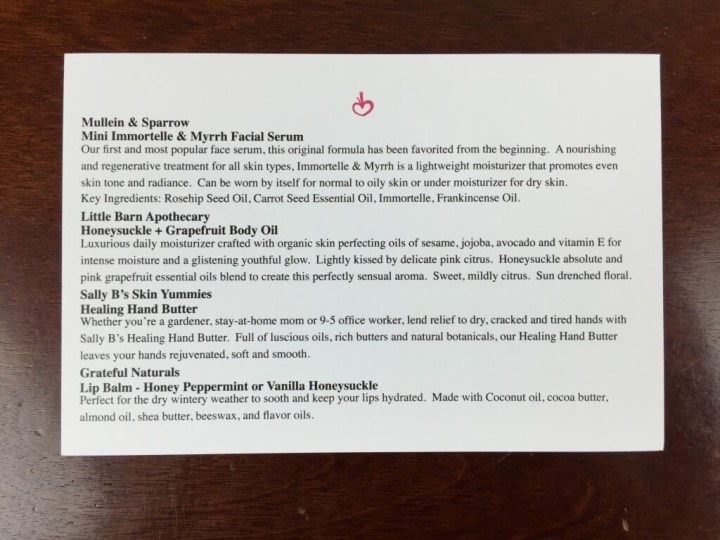 The two-sided information card gives information on each item.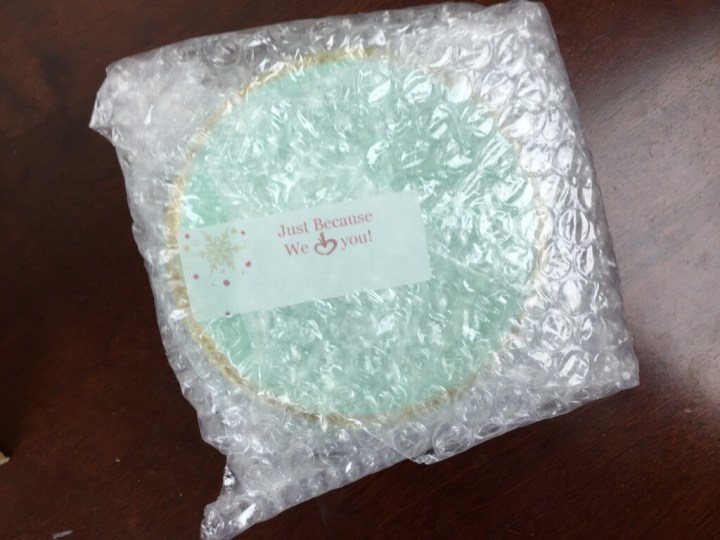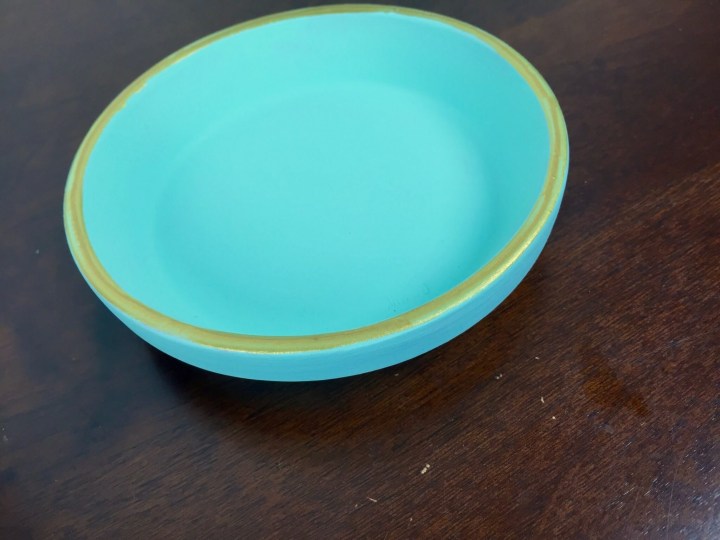 IncredibleLilThings Mint + Gold Ring Dish ($9.50) This was a holiday bonus for every subscriber – a pretty robin's egg blue painted dish with a gold metallic rim!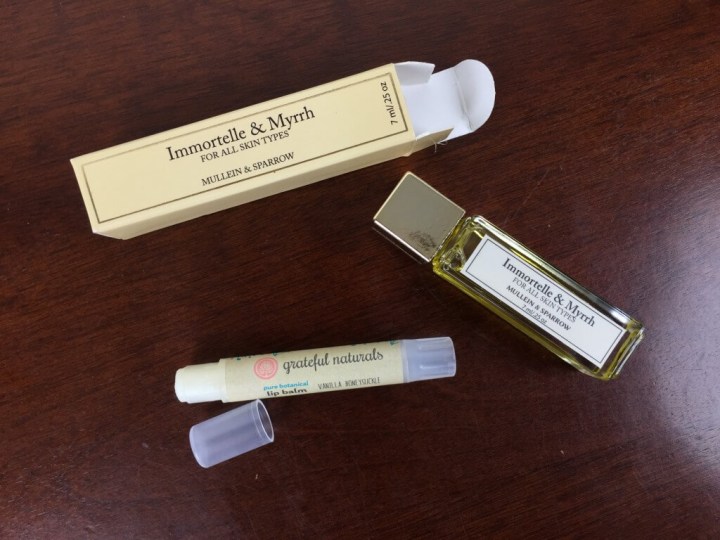 Mullein & Sparrow Mini Immortelle & Myrrh Facial Serum ($28) Well there's the cost of of the box right there! This is an amazing item and I honestly have never seen immortelle outside of a L'Occitane product!  Immortelle is a natural essential oil with healing benefits. It's a very pricey ingredient and works wonders!
Grateful Natural Lip Balm ($4) I received this in vanilla honeysuckle flavor! It was sweet and light and very nourishing to my lips – the ingredients were simple too: coconut oil. cocoa butter, almond oil, shea butter, beeswax, flavor oils.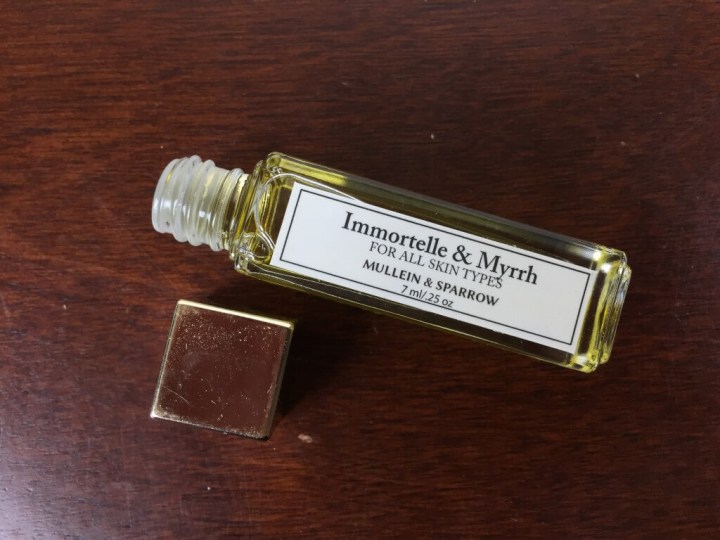 The bottle is so pretty and it has a dispenser top that lets the product out drop by drop – you don't want to waste this stuff!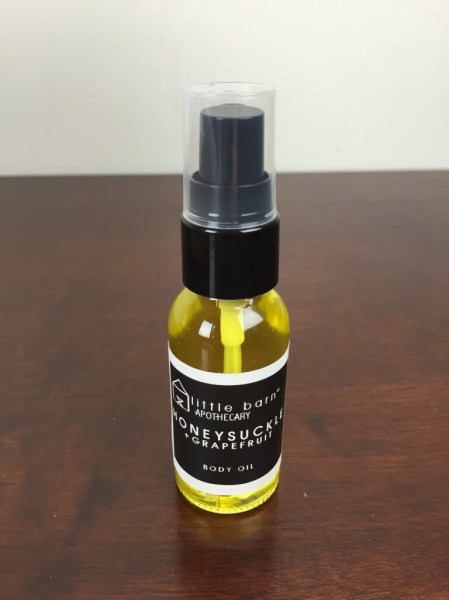 Little Barn Apothecary Honeysuckle+Grapefruit Body Oil ($8.50) I cannot get over the scent of this body oil! It's intensely scented and absolutely delicious! The oil seems very light but thick and left my skin absolutely velvety. This to me is a total luxury product. I'm so happy to have discovered this brand (dear Glowing Beets, I would not be upset to find Lemongrass + Mint body oil in my box during the summer!). I cannot stop smelling it!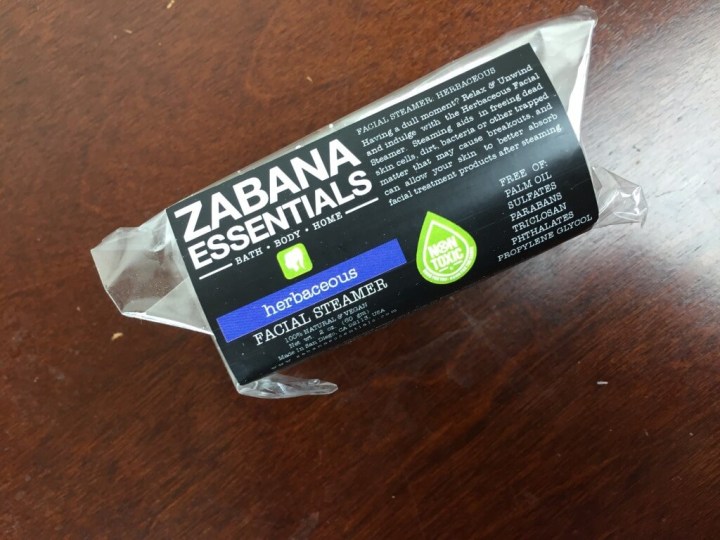 ZabanaEssentials Herbaceous Facial Steamers ($5.95) This is a fizzing steamer that you drop in a hot bowl of water, cover with a towel, and steam the impurities out of your face!
They are absolutely gorgeous and handcrafted with red clover, lavender, rosemary, blue cornflower, tea tree, lavender, grapefruit, & rosemary essential oils, and witch hazel.
Zabana says you can put the leftover water from the steamer in a spray bottle and store it in the refrigerator for 2-3 days and use as a toner!

Sally B's Skin Yummies Healing Hand Butter ($8) The sweet lemon ginger scent of this product is super invigorating and a treat for the senses. It's hard to describe, but I liked it because even though it's a butter, it gave my hands sort of a matte finish – it would be the perfect cream for dry hands that have to deal with a lot of paper (if you've ever had to review a lot of documents or file a bunch of paper you will know exactly what I mean).
Sweet Emotions Soaptions & Potions Pumpkin Facial Mask ($7.50) This is a special order for Glowing Beets and exclusive to the box! It's made with kaolin clay, rhassoul, and real pumpkin, plus pumpkin seed, avocado, and jojoba oils! I love the focus on pumpkin because it's so seasonal and so great for your face – naturally encouraging skin regeneration and cell turnover!
This was another amazing box from Glowing Beets!  I'm super impressed with the curation and the value of this subscription so far – December's box had about $62 in value and every product was absolutely fantastic.
Glowing Beets also sent me some awesome items from the Glowing Beets Shop to check out! This was wrapped up like a Christmas present for me and it is an awesome gift, because I need to spend more attention on my skincare routine, and I love Indie Lee!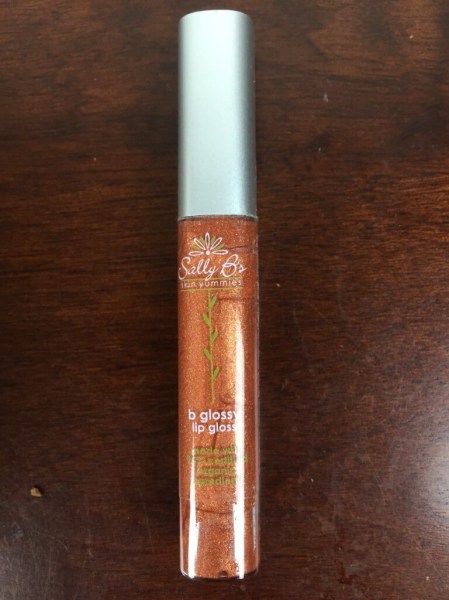 Another product from Sally B's Skin Yummies! B Glossy Lip Gloss ($18) is an organic lip gloss that adds some great shimmer to lips and made with 98% certified organic ingredients!
Glowing Beets carries the full line of Indie Lee products as far as I can tell! I have used the brightening cleanser ($32) before and I was excited to get more! It has a great strawberry scent and includes lycopene and hydrolyzed wheat protein to brighten your skin – and you can use it with your face brush (it's recommended!).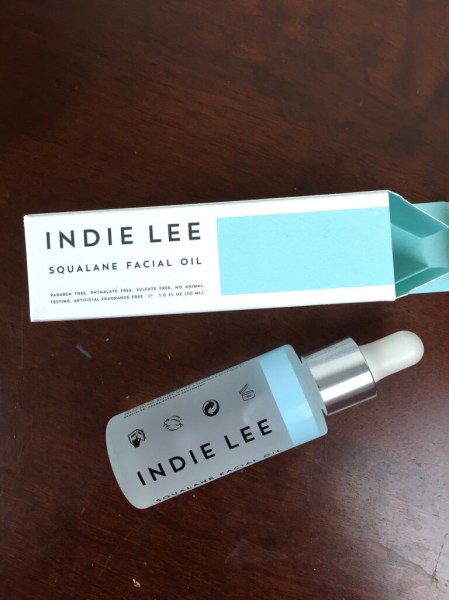 Indie Lee Squalane Facial Oil ($32) Squalane oil promotes skin elasticity, diminishes age spots, and boosts cell regeneration and oxygenation. This is absolutely perfect for me because I do have dark spots and I'm always hunting for products that will help diminish them. I am excited to put this one through its paces and thoroughly test it out.
Indie Lee has other facial oils and versions of its cleanser that you can check out at Glowing Beets too.
Indie Lee Calendula Eye Balm ($42) I just about died when I saw this! Glowing Beets must be stalking me and know that I love calendula! It's one of those things that you don't really know about until you discover it in a baby product, but it absolutely helps to heal skin.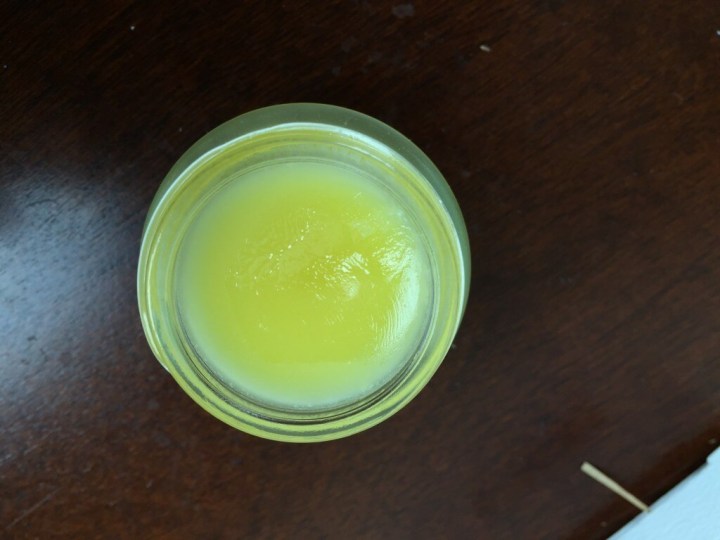 This eye balm features calendula oil in a mango seed butter base (which helps with dark circles). They top it off with lavender oil for relaxation. I couldn't even wait to take a picture until I used it first! It's so moisturizing and lovely!
I think the products that Glowing Beets sent along with the box are really indicative of their curation philosophy and I loved all of them. This was only their third box but I can definitely see that they might turn into a one stop shop for sampling luxury natural beauty products and buying your favorites!
Visit Glowing Beets to subscribe or find out more! Save 10% off your first box with coupon code 10OFF.