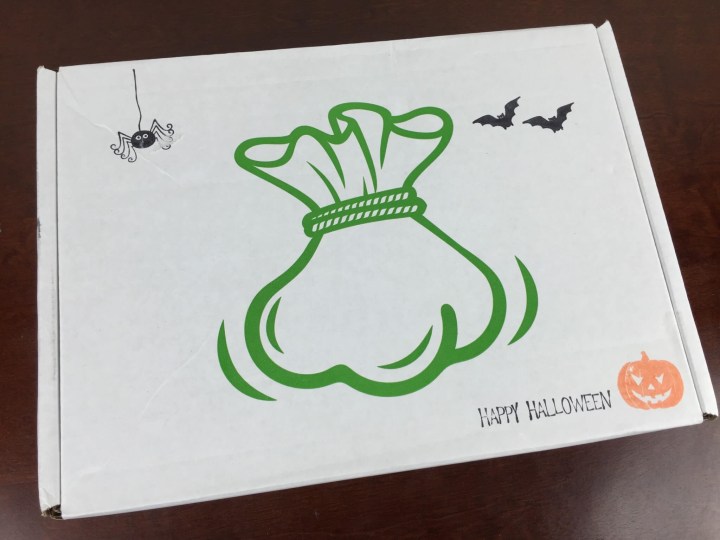 SnackSack is a monthly snacking subscription box that aims to bring high nutritional value natural snacks to your door every month. Snack Sack comes loaded with a variety of health-conscious snacks that leverage fruits, vegetables, and other natural ingredients to provide you with a more nutritious and balanced snack pantry.  Snacks are organic or all-natural, non-GMO, vegan, fair-trade, or gluten-free.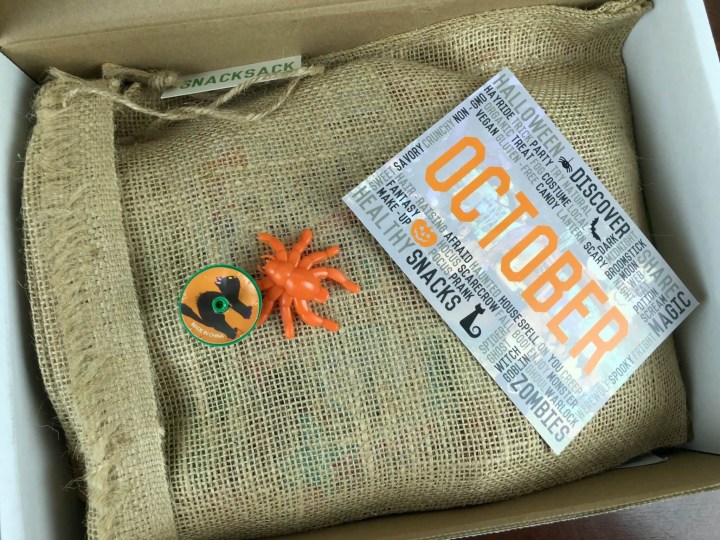 We were amused that the snacks still come with an actual burlap sack because they never all fit in. Love the Halloween theme!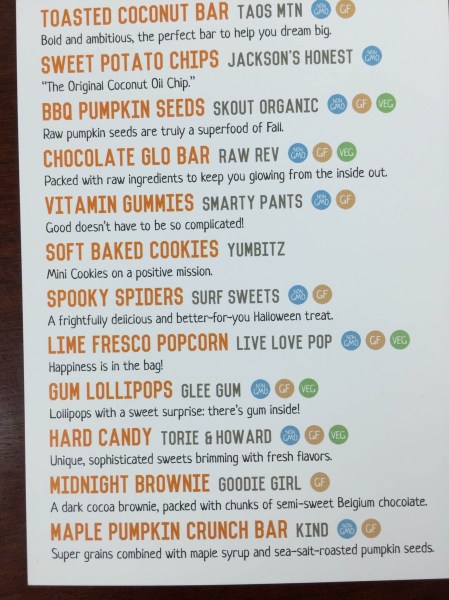 The information card gives you brief info on the many snacks packed into this box, plus a guide to which the snacks are non-GMO, gluten free, and vegetarian.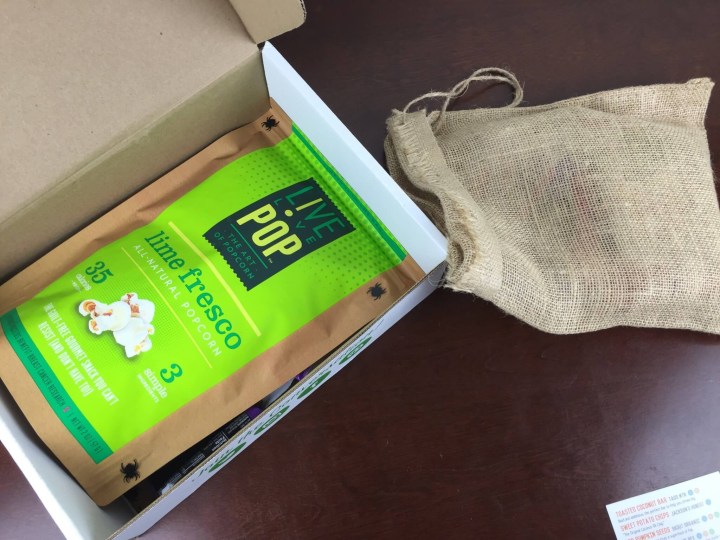 Imagine my surprise when I saw this GIANT bag of popcorn when I removed the sack! Whoah!
And I totally jumped and yelled when I removed the popcorn (I didn't notice the confetti spiders on it – I was too taken with the giant bag of snacks to notice) because "spiders" went flying everywhere!!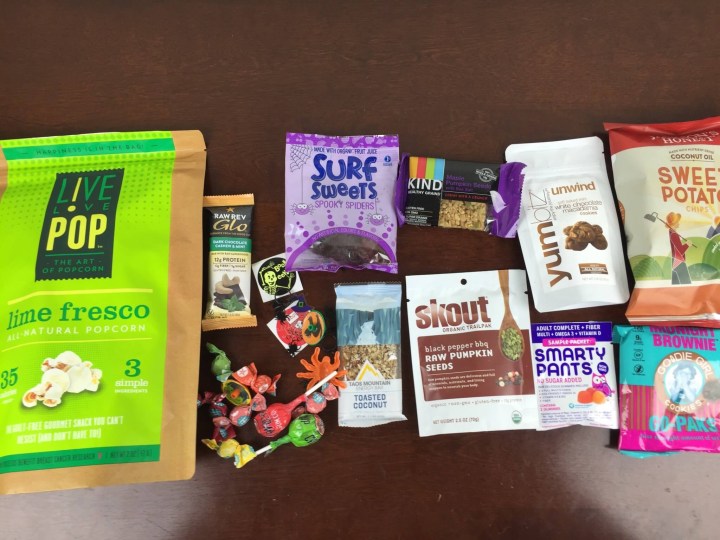 All the items in the box for October!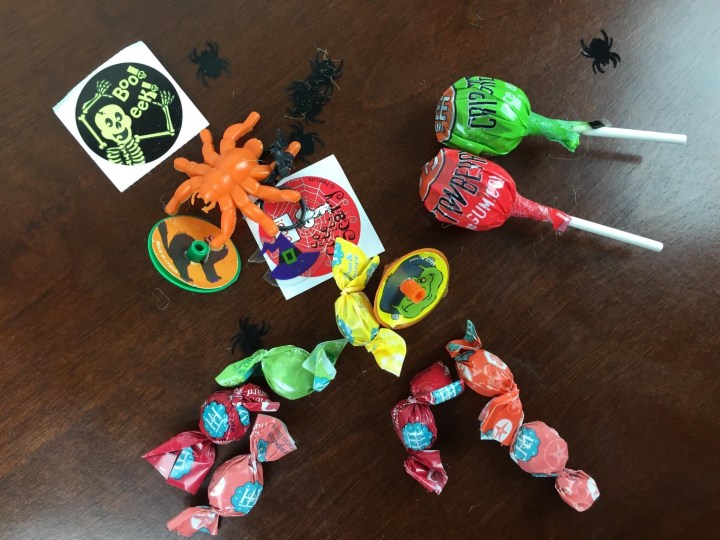 Glee Gum Gum Lollipops
Torie & Howard Hard Candy
Tricks and Treats! I love the Torie & Howard Organic Hard Candies but I will let my kids test out the Glee Gum blow pops for me.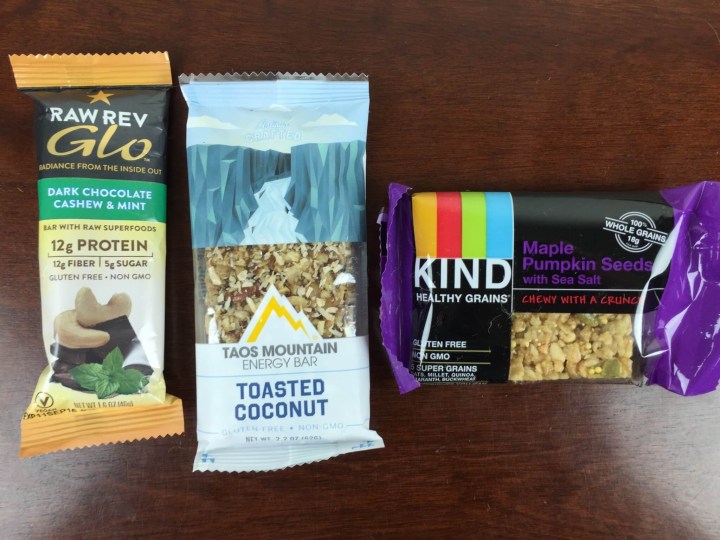 RawRev Raw Dark Chocolate Cashew & Mint Glo Bar:  I actually haven't had this flavor of bar before and I love cashews so bring it on (even though cashews and mint sounds a a bit odd!).
Taos Mountain Toasted Coconut Bar:  Moist and chewy, this bar is totally packed with coconut and nuts and supports the National Park Foundation!
Kind Maple Pumpkin Seeds Bar: Plus, a nice seasonally flavored grain-based bar!
All of these are gluten-free and non-gmo. The bar on the left is the high protein bar of course. Nice to have a selection!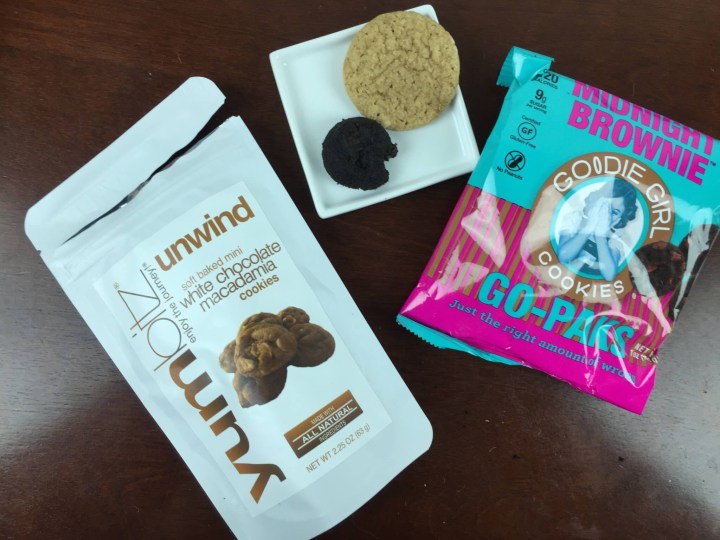 YumBitz Soft Baked Cookies:  I tasted one of these and they were tasty and sweet – but I saved the rest for my husband – he loves white chocolate!!
Goodie Girl Midnight Brownie Cookies: These are SO dark and what a contrast. They are crunchy and all about that dark chocolate flavor. It's like eating the outsides of a gluten free jo jo I think! But kind of crumbly. My daughter stole one at breakfast and then I packed them in her lunch.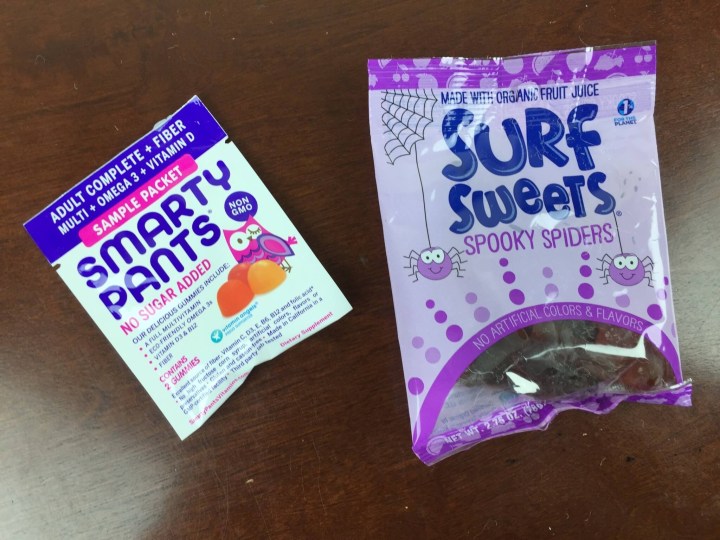 Smarty Pants Vitamin Gummies – No Sugar Added:  I love the sugar-free gummy vitamins!
Surf Sweets Spooky Spiders:  These are definitely still sugary candy but they have no HFCS – made with fruit juice! My kids were crazy excited about these and I thought they were fun too!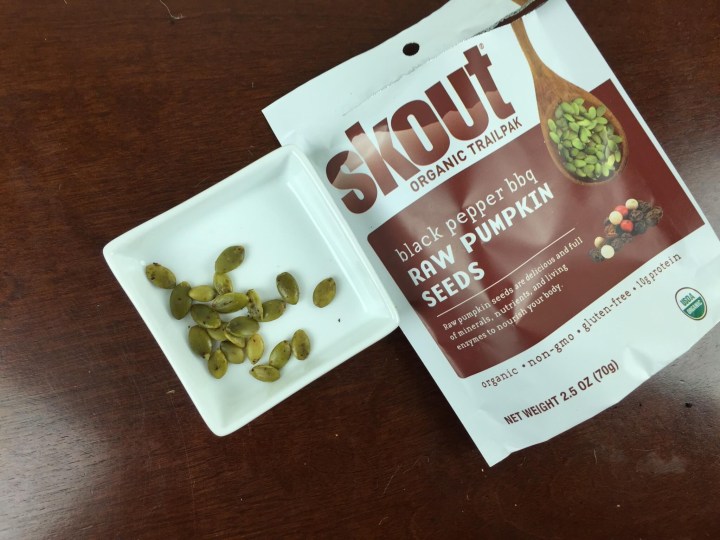 Skout Organic Black Pepper BBQ Raw Pumpkin Seeds: I love getting seeds in my boxes, especially flavored ones. They were tasty but I don't particularly recall the flavoring so I am going to go with I wish they had some more BBQ flavor in them. I love my seeds on cottage cheese.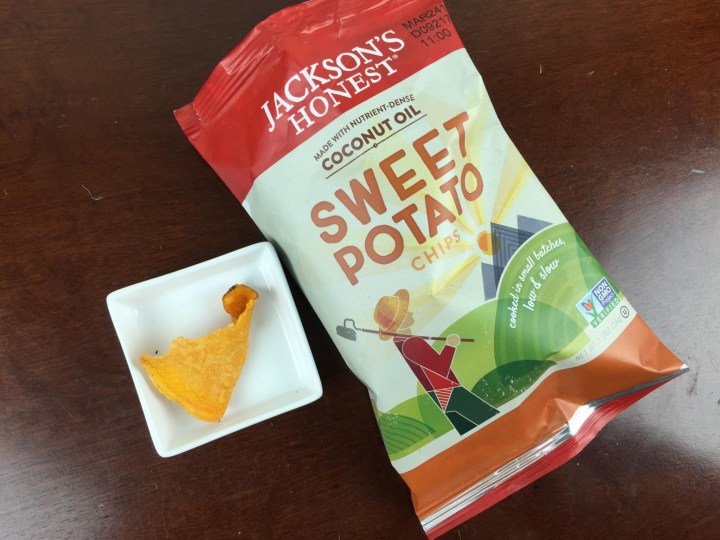 Jackson's Honest Sweet Potato Chips:  This is a marvelous chip brand – second variety I have sampled this week! I loved the sweet potatoes. They had just the right thickness and weren't greasy at all. The flavor really came out and they are made with coconut oil.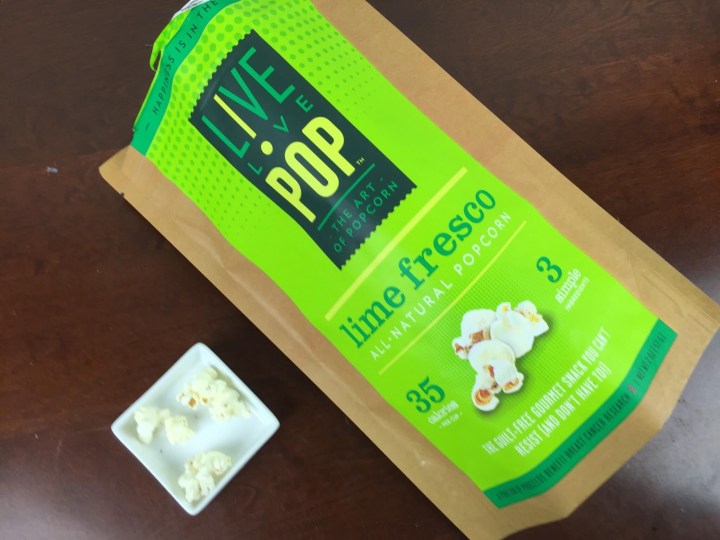 Live Love Pop Lime Fresco Popcorn:  This bag wasn't quite as full as I would like, but I love popcorn and have plowed through two microwave bags myself this week already. So I am a little greedy but this is a way healthier choice. Nice lime and salt flavoring but I wished the lime stood out a bit more. Some of the pieces that had more flavoring were really fantastic but it was all good.
I absolutely loved the attention Snack Sack paid not only to the box decoration but also the theming of the snacks this month! It made me super happy as it always does to get a themed box and now I can't wait to see what they will do for the holidays!
Visit SnackSack to subscribe or find out more! Get 15% off the entire lifetime of your subscription! Use coupon code HELLO15.
The Subscription
:
SnackSack
The Description
: Monthly surprise delivery of delicious all-natural & organic snack foods. We curate a delicious assortment of gluten-free, non-gmo, & vegan goodies. Sent from beautiful Colorado directly to your doorstep.
The Price
: $23 per month
The Coupon
: Use coupon code
HELLO10
for 10% off your first box!