Spoilers are coming in for the December 2015 Nerd Block!
Over the years, we have brought you a lot of Star Wars items in our various blocks.

This December, Nerd Block Classic Subscribers will be feeling the POWER OF THE FORCE, with a block dedicated to everyone's favorite franchise from a galaxy far, far away.

With The Force Awakens just one month away, we're kicking our love of the Force into hyperdrive and bringing subscribers a box stuffed with items that celebrate the complete saga from Classic to Current.

This Star Wars celebration INCLUDES a Funko POP! Vinyl figure and one of the coolest shirts we've ever printed.
This month's Nerd Block will include a Funko POP!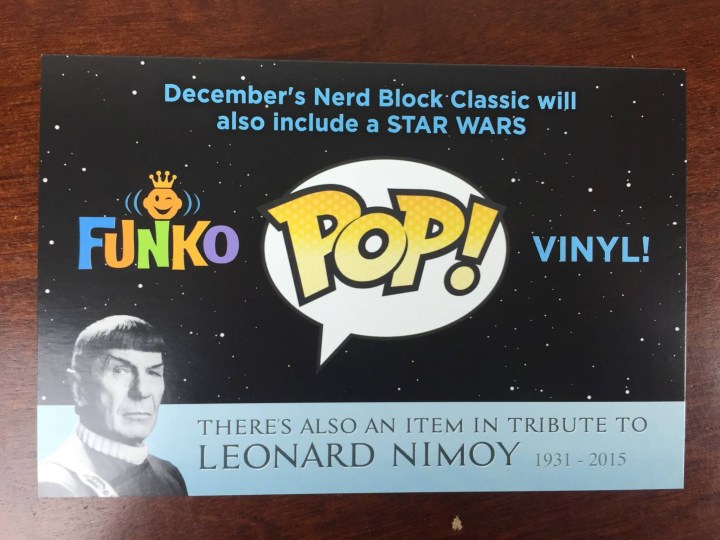 And an item in tribute to Leonard Nimoy!
The Welcome Block deal expires 11/25!
Have we mentioned how much we love Star Wars?

We love it just as much as you, which is why we've decided that the December Nerd Block Classic block should be themed "Star Wars: From Classic to Current"!

With items from the classic films to the current film we've got all your Star Wars love covered! Subscribe today to join the Nerd-Side with a December Nerd Block Classic
Current Nerd Block Coupon Codes
use the code SUPERHERO to save 10%.
use code SPECIAL25 or CONTINUE to save 25%
Try SAVE25 for $4.50 off. 
OR get a free Welcome Block!!! (About a $20 value) – Expires 11/25!
Enter codes after the giant green review order button. However you will NOT get a Welcome block if you use a coupon code.
Visit Nerd Block to subscribe, or check out all our Nerd Block Reviews (for all of the Nerd Block variations!) and Nerd Block Spoilers. You can see other Geek, Gamer & Nerd Subscription Boxes in the subscription directory!