I couldn't have been more excited about this box! The September FanMail box was themed "Legends of CW" with heavy Supernatural spoilers! FanMail is a monthly geek and gamer box for women, curated by women. Each month's mystery box will have a theme and contain a variety of memorabilia and collectibles, including handmade and fanmade! Items might include exclusive comics and t-shirts, jewelry, stationery, books, autographs, and photos.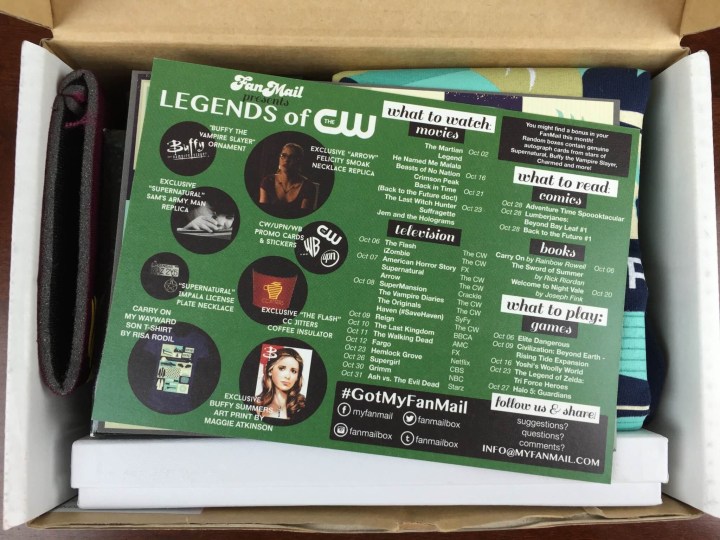 Each month, you'll get a handy pop culture newsletter that will tell you what movies are coming out, what's up for streaming and binging, and what conventions or events are out there that you may want to attend.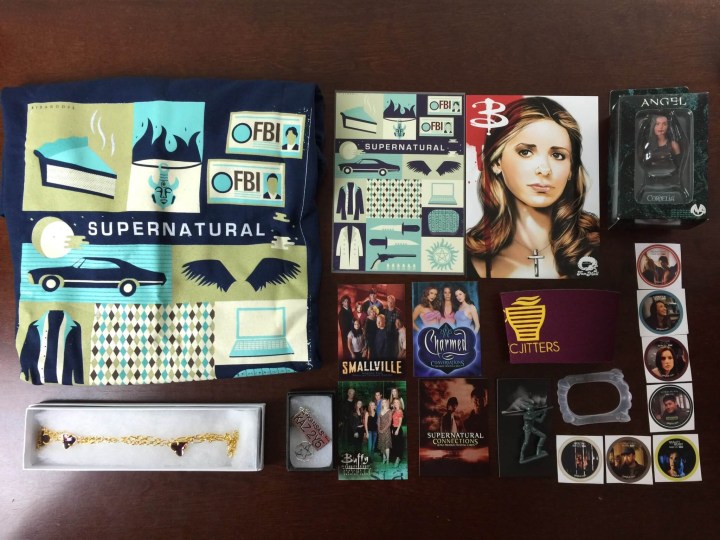 All the items in the Supernatural September 2015 FanMail box.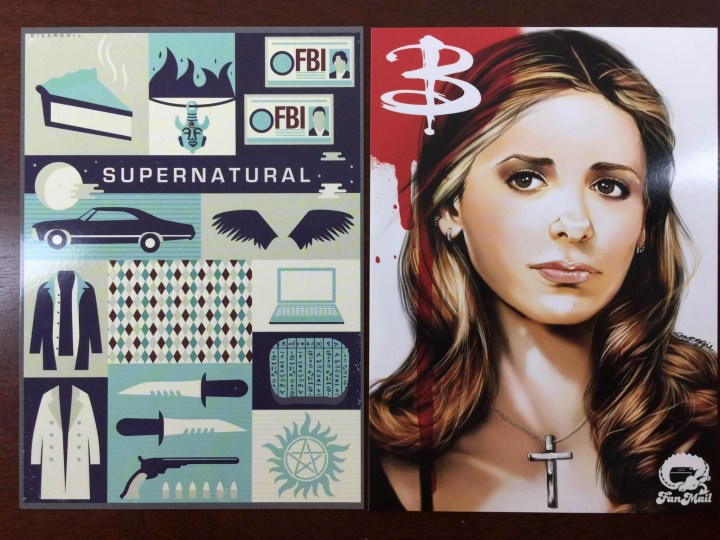 The card on the left was the promo for FaMail Favorites – holiday time limited edition boxes. The one on the right is the flip side of the information card and is a Buffy Summers Art Print from Maggie Atkinson. I hate to be absolute, but it's pretty much my favorite series of all time!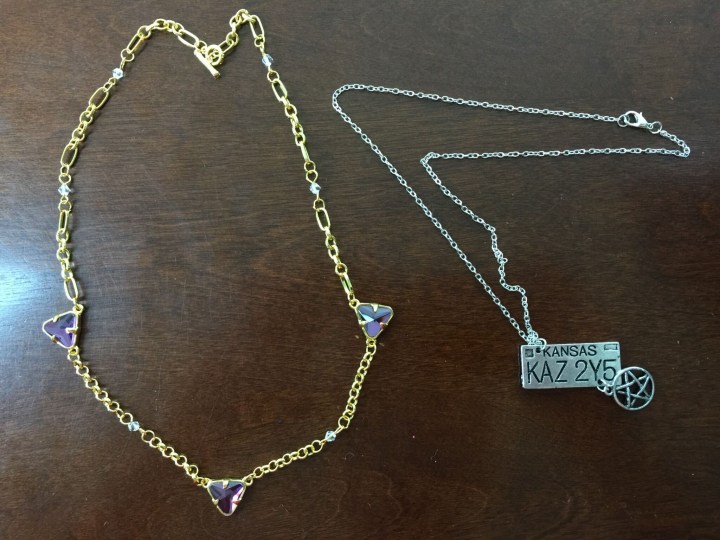 Exclusive "Arrow" Felicity Smoak Necklace Replica
"Supernatural" Impala License Plate Necklace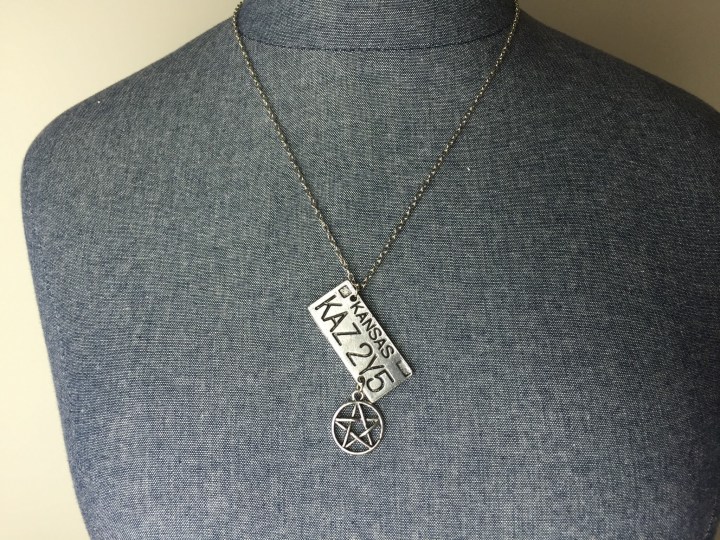 I am pretty sure that my husband, for the first time in his life, considered wearing a necklace when he unboxed this for me.  We watched the season premier last night (SO GOOD – and don't hate on us for being a day late. We only get The CW in SD so we have to wait a day for HD). These are the plates from the first couple of years. And it's shocking how long ago that was!
This is a replica of Felicity Smoak's necklace from Season 3, Episode 10. I don't watch Arrow, but now I know that Peggy Li designs much of the jewelry worn on the show (and there's a lot of it!) and you can see the original of this necklace at J. Crew. It's called the Triad necklace and it's gorgeous! I know absolutely zero about this show but I love the necklace!
Promo Cards & Stickers
The cards are promos for Ink Works Premium Trading Cards and they're pretty awesome and a nice promotional item that you can actually hang up or paste in a scrapbook (Smallville, Charmed, Buffy, Supernatural).  The stickers are from Get Glue (Arrow, Supernatural, Nikita, Beauty & the Beast,  Vampire Diaries, 90210!). I thought it was awesome that Charmed was in here!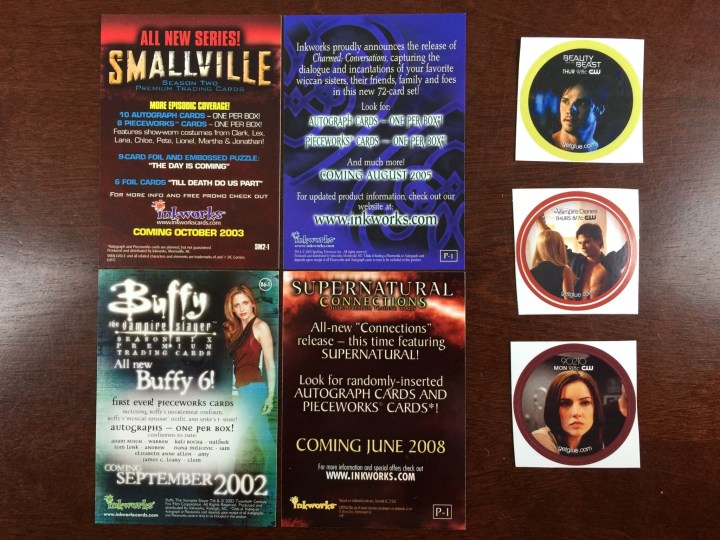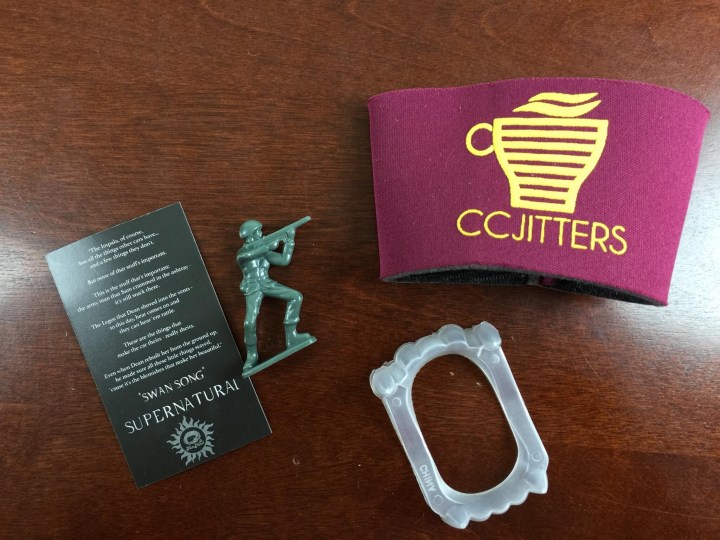 Exclusive "Supernatural" Sam's Army Replica – No, it's not a generic soldier packaged with a card, it's actually an exclusive item (by itself, not packaged with the car). This is from the episode Swan Song, where Sam (inhabited by Lucifer and about to kill Dean) saw the toy that he had crammed in the ashtray as a child, which triggered warm fuzzies thus enabling good to win over evil yet again.
Exclusive "The Flash" CC Jitters Coffee Insulator: The coffee that will get you up in a flash, and straight as an arrow (I totally swiped that). They actually reuse the same set on The Flash and Arrow!
Vampire Teeth!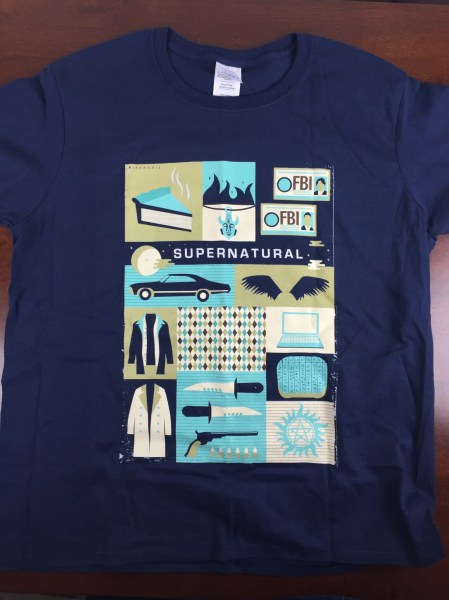 Carry On My Wayward Son Shirt by Risa Rodil:  And yes, it's the most perfect homage shirt that I've ever seen. I can't even with this illustrator. I want all the things. I hope every fan subscription box sees this work and picks up items, because it's just awesome. We have pie, fbi badges, angels wings, Castiel's trench, the tablet, Baby (the Impala), and more. And most perfectly – some argyle wallpaper that surely could have been found in the one of 200 hotel rooms the brothers have overnighted in during the series (just guesstimating!).
Buffy The Vampire Slayer Ornament – Cordelia: Well, the card says BtVS but obviously this is an Angel ornament. Nothing says happy holidays like vampires! But in all seriousness, Angel is a much better way to remember Cordy than Buffy was.
What a fantastic super amazing box September was! I totally loved it, I can't wait for the October box, which is YA fiction themed!  The items were really perfectly curated, the shirt was a massive hit for me, and there was a lot more in this box than I was expecting. After the last couple boxes I'm really happy with this subscription and absolutely looking forward to what's up next.
Visit FanMail to subscribe or find out more!
The Subscription
:
FanMail
The Description
: FanMail is a mystery box designed for lady geeks (by lady geeks!), which means that each box is filled with amazing products from the fandoms you love!
The Price
: $21.99 + $6 shipping
The Coupon
: Get a pop culture t-shirt in your first box when you sign up for a 6-month or 1-year subscription