Exotic Noods is a monthly ramen subscription box. Each month Exotic Noods (best name for a subscription box ever!) curates a selection of the highest quality and most unique instant noodles and sends them straight to your door! They only feature products with a bowl, so no cooktop is required, unless you need one to cook your additions! Every Exotic Noods box comes replete with suggestions on the perfect toppers for your noods. Styles vary and can include udon and buckwheat soba noodles, curry and shio soups, fried tofu toppings, and more.
I love the little guy slurping noodles! I'm a huge ramen fan.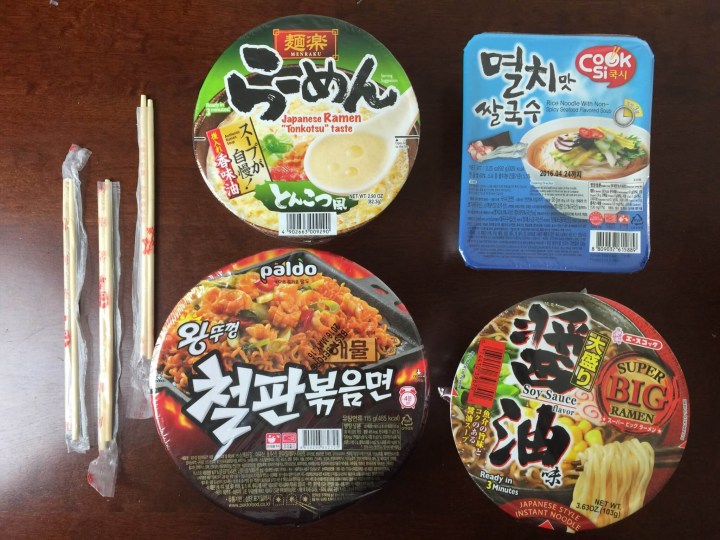 Everything in the September box! I couldn't believe how GIANT these containers are – much larger than typical US grocery store noodles.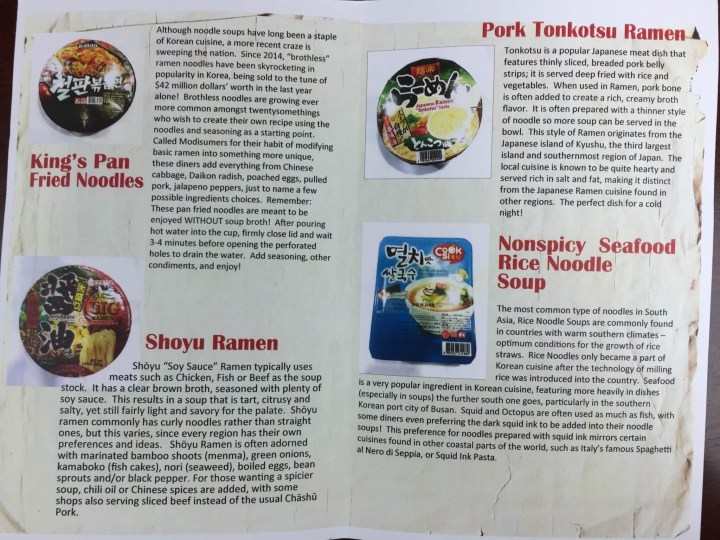 The information sheet tells you extensive information about each bowl, including its history, popularity, regional preferences, and suggested toppings.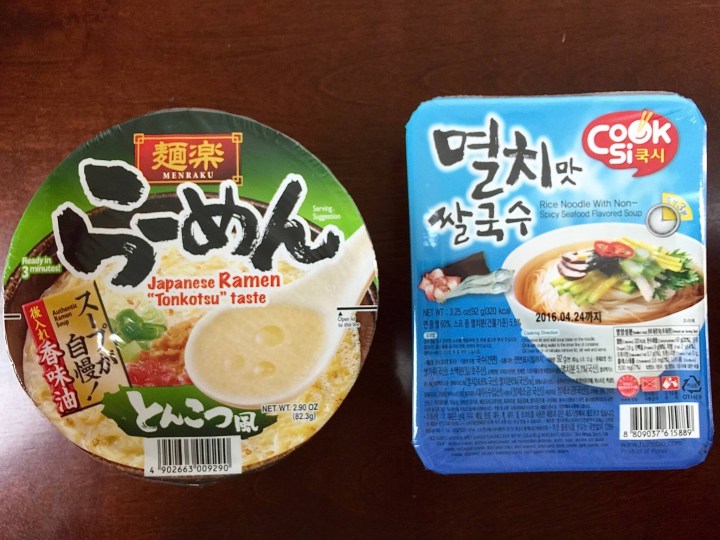 Menraku Pork Japanese Ramen Tonkotsu Taste:  Tonkotsu is a Japanese pork dish and is often served with a rich creamy broth and thinner noodle so you can get more soup. This was absolutely delightful and even came with sesame seasoning oil for the top. I was stuffed and happy with half the bowl – my husband gladly finished off the other half. It was really so delicious!
Cooksi Non-Spicy Seafood Rice Noodle Soup: This is a rice noodle soup and is described as not spicy, but the label totally says hot chili! So I think it means it may be warm but won't burn off your mouth! This one is Korean and I have found a couple of translations that essentially say what I think is on the package: Non-spicy noodle with uniquely refreshing and clean taste created by using good quality seafoods/seaweeds and fresh anchovy soup flavor from the sea of Korea. The instant noodle in a bowl added with solid ingredients of sea food (sea mustard, laver, etc.) is a favorite of children and the elderly.
I love that they're all bowls!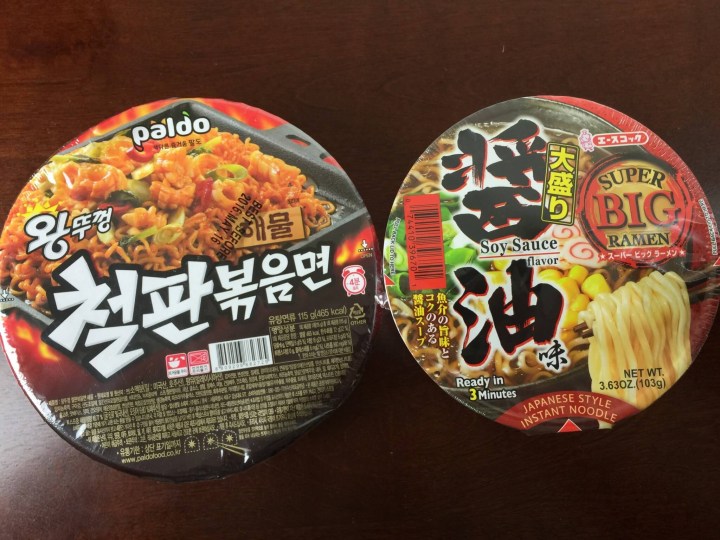 Paldo King's Pan Fried Noodles: This reminds me of Maruchan Yakisoba noodles. These are brothless noodles and they are the hot new thing with millennials that prefer to make their own creations with the noodles and seasonings. They even have a name for them – Modisumers! I do often throw leftovers into my ramen but my favorite preparation usually involves frozen peas. I absolutely cannot wait to fix these up with some goodies!
Shoyu Super Big Ramen: Instead of meat, chicken, or fish as the stock, this one uses soy sauce! The style of the noodle is a regional variation, but it's usually curly and beef or pork is a common topper. This is totally my breakfast tomorrow, and I'm hoping I have some frozen corn in the fridge!
The Pan noodles had 3 packets!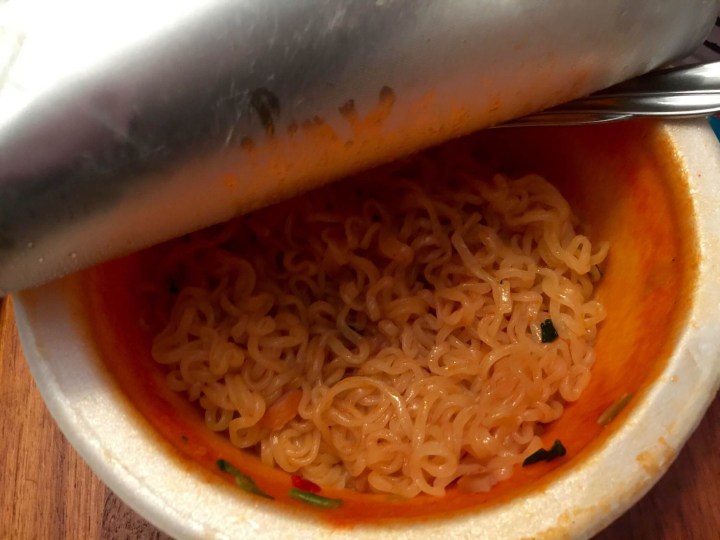 I really had no idea what I was doing when I made them. I cooked them with the main sauce in the broth, drained that, and added a bit more in. It was spicy!!!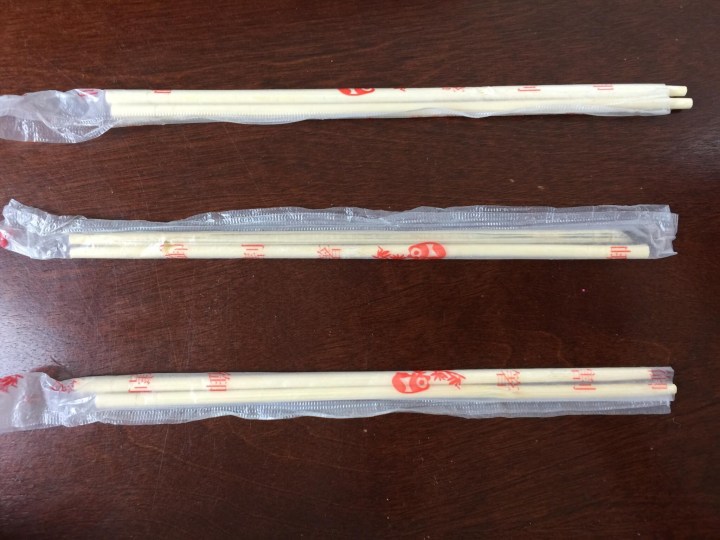 The box also came with 3 sets of chopsticks! I'm not sure which bowl was unworthy of them – probably the rice noodles?
Get in my belly!!! I'm a ramen lover so I absolutely loved this subscription! I cannot remember the last time I had some sort of unusual or imported ramen, if ever. It's usually Maruchan, so I rarely make it.  You can make your dollar go a little further on this one by subscribing to a longer term.
Visit Exotic Noods to subscribe or find out more!
The Subscription
:
Exotic Noods
The Description
: A curated selection of instant ramen from around the world. We feature 4 different flavors a month and no month will ever be the same.
The Price
: $20.00 per month
The Coupon
: Save 20% on your first box! Use coupon code
Flavor20
.