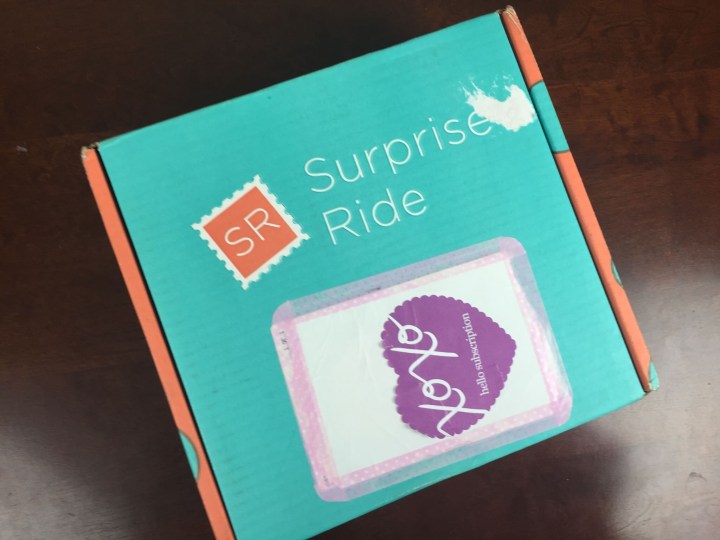 Surprise Ride is a monthly activity subscription box for kids. Every month you'll receive a curated monthly adventure for kids ages 6-11. Activities center around a theme like art, geography, outer space, food, and more!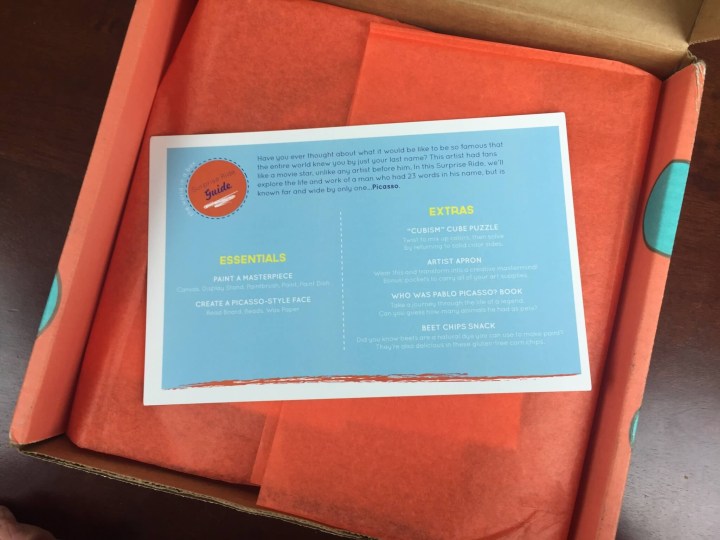 This is such a nice presentation – perfect for a gift!
You'll get a Surprise Ride guide in your box with the essentials (2 activities), plus all the extras you need for your adventures!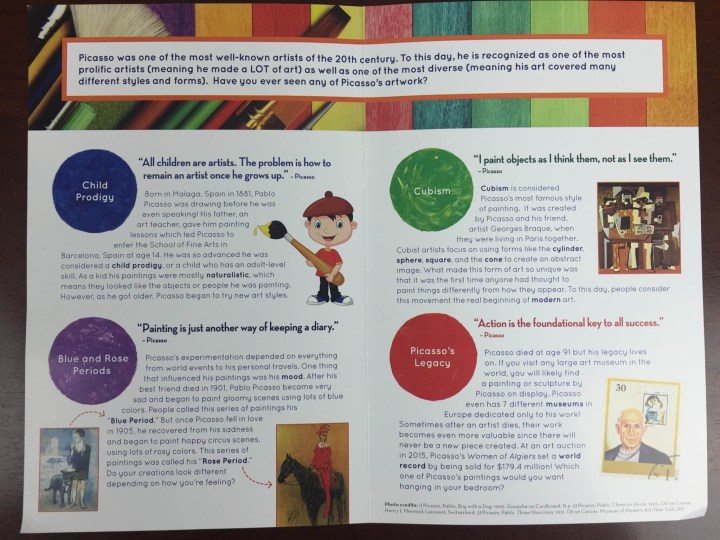 The theme was Picasso! Each box has a guide to the month's theme which contains fun facts and ideas, and serves as an intro to the actual activities. The booklet is a great intro to the month's theme.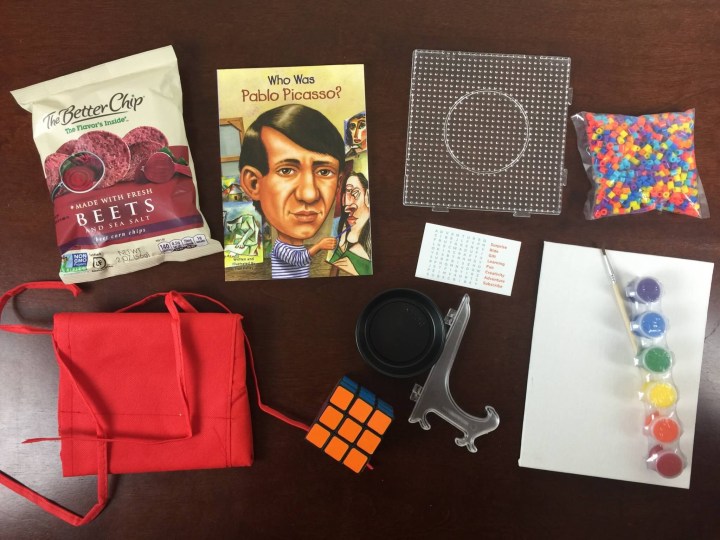 Everything in this month's box!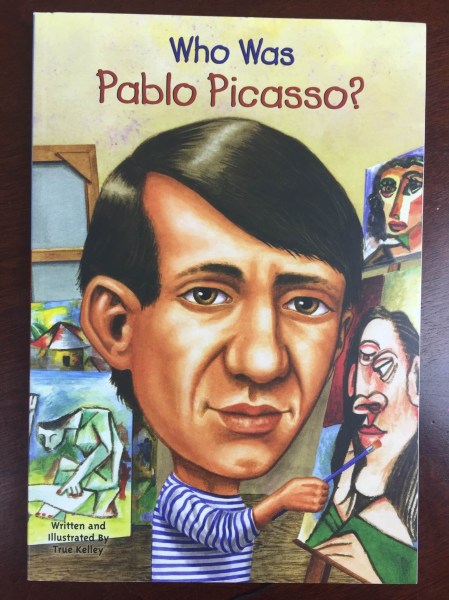 Who Was Pablo Picasso? This was a fantastic book series discovery! This book was absolutely perfect for the target age range while still retaining illustrations on every single page. My kid devoured this book and I am going to find more from the Penguin "Who Was" line!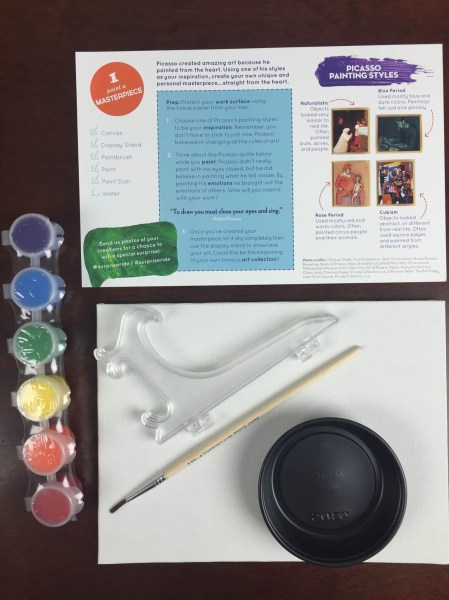 Paint A Masterpiece: The last activity encouraged kids to look at some Picasso works and use them as their inspiration. It came with an easel to display your masterpiece, too! Also – I should note that I was particularly pleased with the brush. It was high quality, not a cheap plastic thing.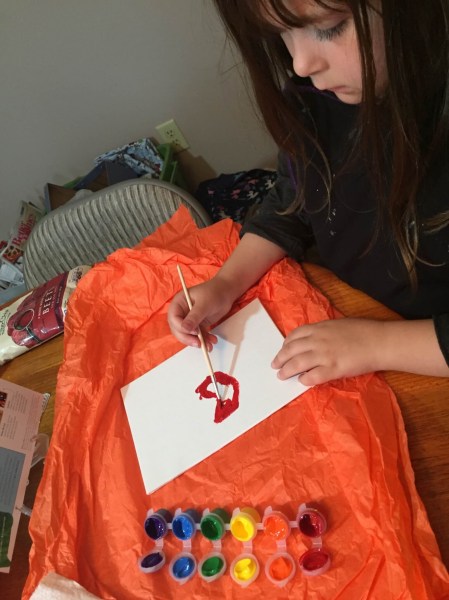 She got right to work!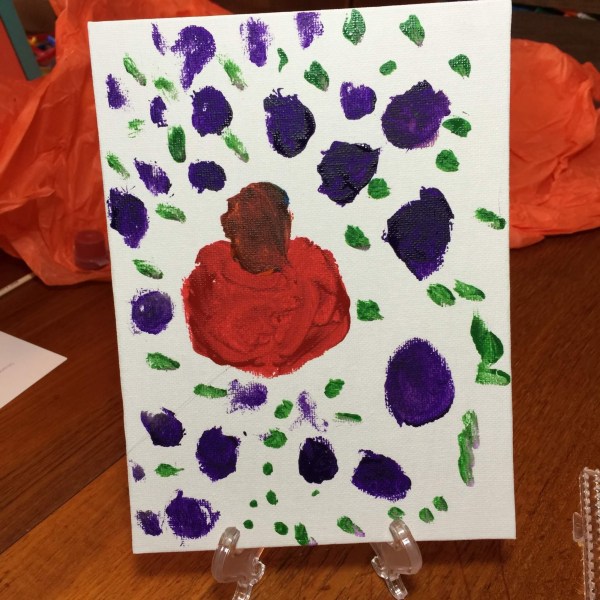 My daughter made an apple with purple dots!
Picasso-Style Face:  The next activity was a fuse bead activity to create a cubist face. My daughter decided to make a pixel mine craft snowball instead – inspired by the puzzle cube – cubism and pixelart are very similar and we had fun!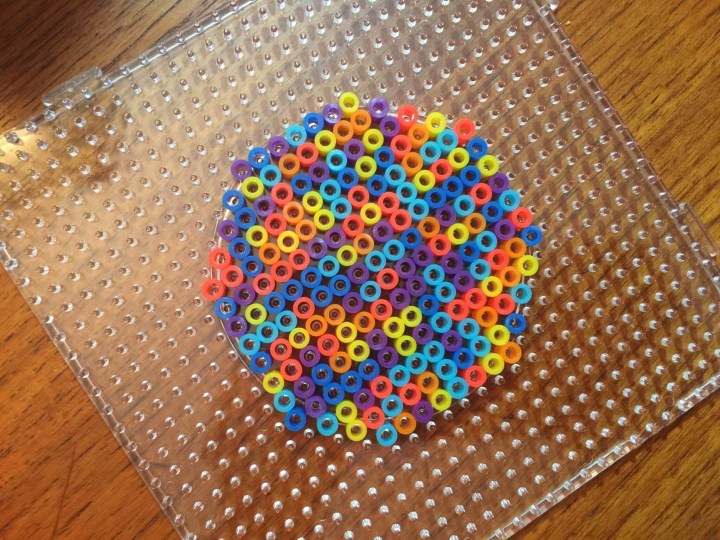 We haven't had a chance to fuse the beads yet because I'm not sure where my iron is. Dad will take care of it!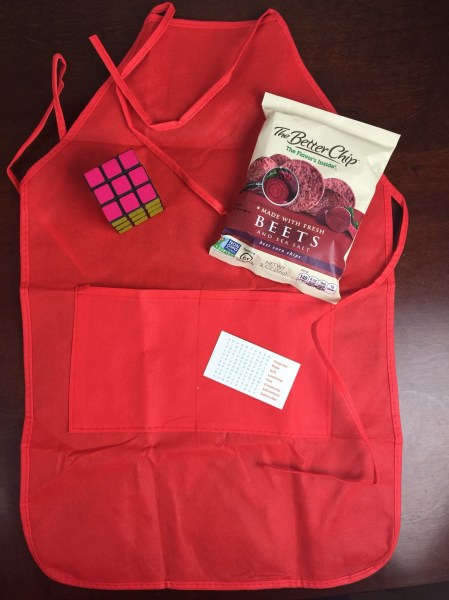 As always, Surprise Ride comes with extras! This month's snack was The Better Chip Beets! There was a painting smock/apron plus a puzzle cube (like a Rubik's Cube). I don't know how intentional the connection between the cubist style and pixelated art was, but it really worked for this box! My daughter begged me to solve the Rubik's cube after she mixed it up. We'll work on it this weekend!
I liked the way that this month extended the idea of Picasso's art styles into something that was modern and accessible to kids and that they'd seen before. Plus – I really liked that my daughter was excited and engaged with that book. It reflected excellent curation and I'm really happy to have found a nonfiction book series that she enjoys and is the right level for her! She enjoyed doing both activities and we had a fun time just doing some crafts together while learning something new!
Visit Surprise Ride to subscribe or find out more!  Save $5 on your first box with coupon code BESTGIFT5.
The Subscription
:
Surprise Ride
The Description
: SurpriseRide is a theme-based monthly activity subscription box for kids ages 6-11. SupriseRide boxes come with everything you need to do the kid-tested projects, right down to extra paint. SurpriseRides are themed not only by activity, but by the travel experience.
The Price
: $29.99 per month
The Coupon
: Get $5 off your first box with coupon code
BESTGIFT5
.