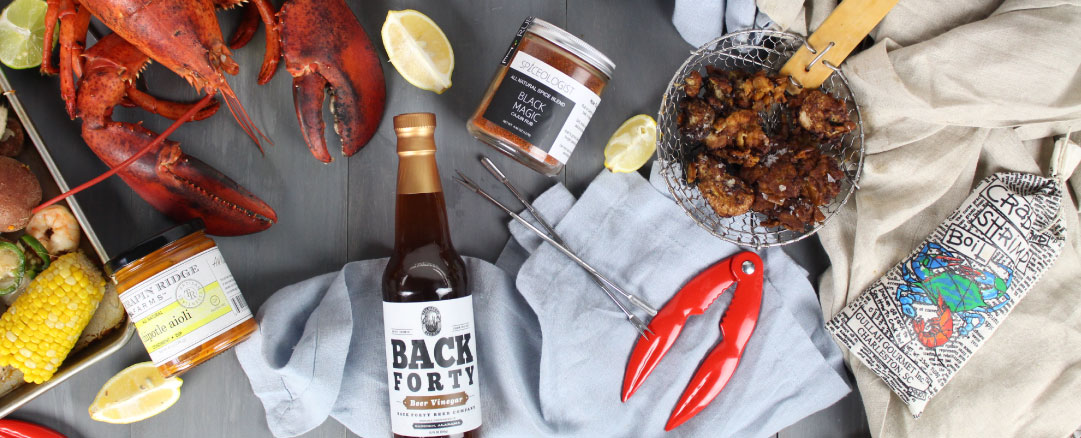 Hamptons Lane is a monthly food-based subscription service for foodies and entertainers. Each month members receive a curated collection of specialty ingredients and innovative kitchen tools spotlighting a different region, food, ingredient, or skill. Within each box, home cooks will discover new ingredients, recipes and tools to expand their culinary horizons.
The October 2015 Hamptons Lane box is the Coastal Seafood Boil Box and is available to pre-order!
For National Seafood Month this October, we teamed up with Coastal Living Magazine to bring you everything you need to throw an authentic Crab Boil, complete with their editorial team's unique South of the Border twist. A classic Seafood Skimmer and Crab & Shrimp Boil Seasoning are the chef's must-haves, while cute claw-shaped claw crackers and stainless steel seafood picks are necessities for any crustacean feaster looking to extract fresh lobster and crab meat from the shells. No Crab Boil is complete without sides and sauces – and these are made with ingredients like an innovative malt-style Beer Vinegar, creamy Chipotle Aioli, and artisan Black Magic seasoning. Their bold flavors give this Lowcountry classic meal a spicy accent any seafood lover will enjoy.
Every box will include:
Chipotle Aioli from Terrapin Ridge Farms, Clearwater, Florida
Four Stainless Steel Seafood Picks from Norpro, Everett, Washington
Black Magic Cajun Blackening Seasoning from Spiceologist, Spokane, Washington
6″ Bamboo Seafood Skimmer from Hamptons Lane, New York, New York
Beer Vinegar from Back Forty Beer Company, Gadsden, Alabama
Crab & Shrimp Boil Seasoning from Gullah Gourmet, Charleston, South Carolina
Two Red Lobster Claw Seafood Crackers from Hamptons Lane, New York, New York
You can also add on to your box!
. Just visit Hamptons Lane to check it out and save $10 on your first box with code Mommysplurge10!