The September box was pretty standard fare for New Beauty Test Tube – some familiar products, favorite brands, and some new discoveries. Overall, a nice mix! New Beauty Test Tube is a beauty subscription box filled with deluxe and full-size products. When you subscribe you will also receive a subscription to NewBeauty magazine, delivered quarterly.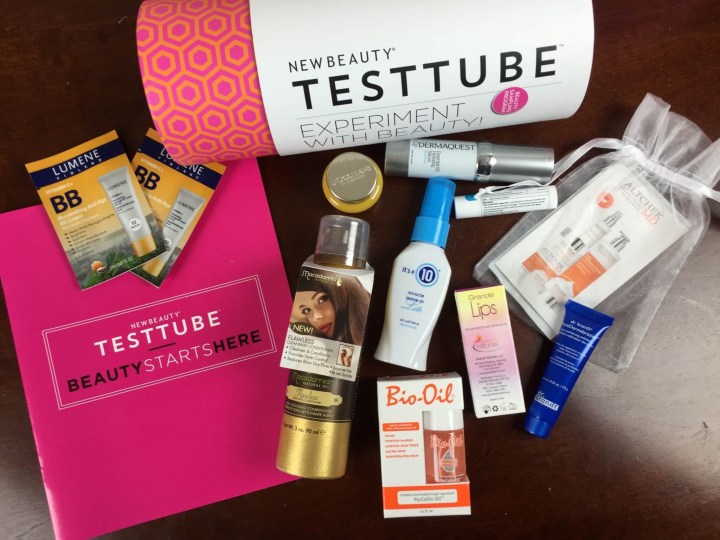 Inside the box is the tube and information booklet, and all the items are in the tube!
The information booklet has details on each item – and it's had a great refresh and redesign! Each Test Tube Insider has reasons why they love the product on the page.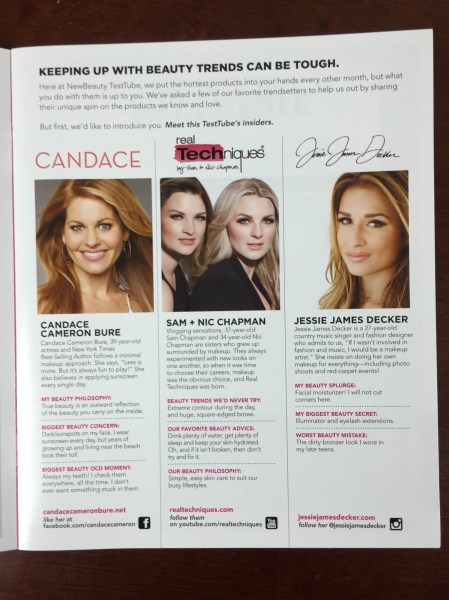 I liked how some of the celebrities they picked as TestTube Insiders are a bit older. I definitely think of this box as targeted to more mature women although everyone should care about skincare!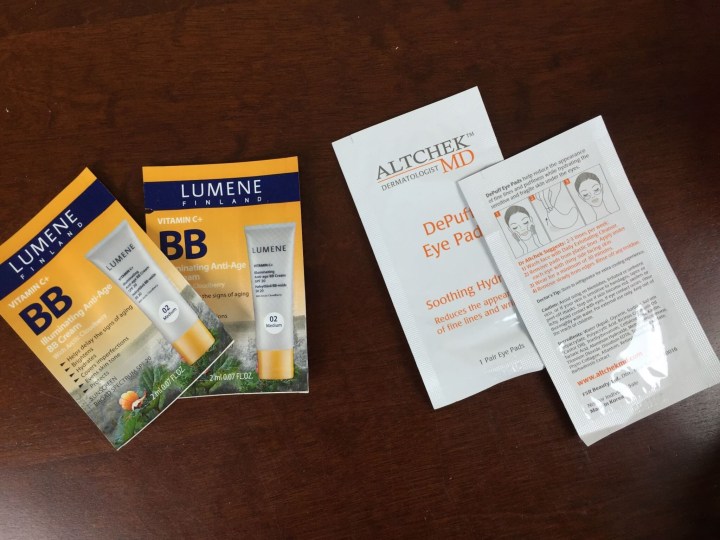 Lumene BB Illuminated Anti-Age BB Cream (Sample) Lumene is a nice drugstore brand you can find at CVS. A couple samples – I save them for travel (I try to bring as little home as possible). 
Altchek MD Eye Gel Pads (2 Treatments ) ($4) These are very much like the ToGoSpa EYES soothers (they have a subscription that I sometimes review). These ones are much stickier.
Macadamia Flawless Cleansing Conditioner  ($15) I really like Macadamia's hair products (this is like WEN – use it twice in the shower for both shampoo and conditioner) and especially the dispenser on this one. I like the results but am never devoted enough to go 100 percent cowashing! One note – I love the pump on this product! This is a repeat from around a year and a half ago.
It's a 10 Miracle Leave In Lite ($9 )This is a great alternative for anyone needing a lighter leave in detangling product. It's a 10 has a great formula and works always. You will never need detangler again with this subscription. And reading the reviews on Birchbox, it seems you can use it on synthetic hair. So if you're a mom and have a lot of this – use on the kids and the My Little Ponies. (I'm a mom.)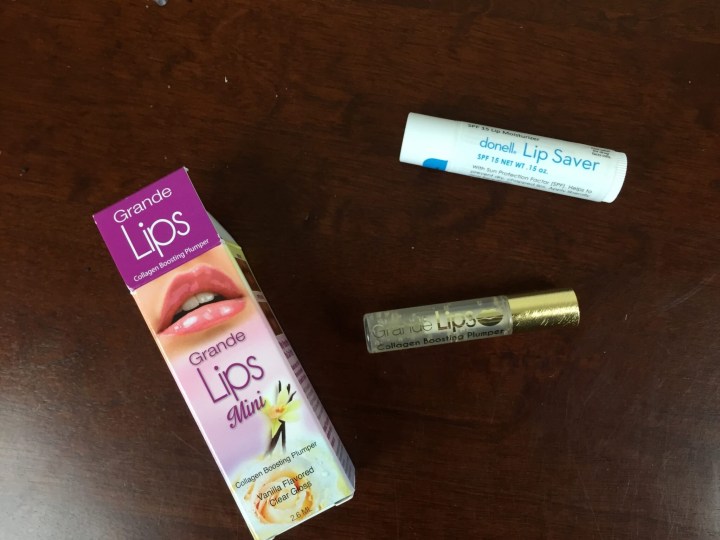 Grande Lips Mini ($27) Well I don't really think plumping glosses really work (do you?) but this is a nice clear gloss and has collagen, so works for me! This is a little odd – according to the packaging this has more product ( 0.0879 oz) than the full-size (0.05 oz) , but the full-size product has a silicone applicator with an airless click wand so you probably get more out of the regular one. Whatever!
donell Lip Saver Lip Balm ($7) Another item in the lip category – this one is pretty unusual. It contains cow trachea! (So ummm not vegan). This particular product was developed for healing lips ravaged by Accutane and includes Mucopolysaccharide–cartilage complex which promotes wound healing and is also used after laser resurfacing treatments. They kinda play down what "MCC" is. I had to Google it.
Bio-Oil ($2) This product has a lot of fans but Bio Oil doesn't make any specific claims about Purcellin oil (their "breakthrough ingredient"). I tend to think if it really worked on stretch marks it would be too expensive to afford! But this is a nice way to test if it works for you. 
DermaQuest Essential B5 Hydrating Serum ($35.50) I love serums! I am very picky about my moisturizing products so a lot of the "work" on my skin gets achieved through serums. This one is a hydrating serum with some natural actives – so perfect for use before a heavy duty lotion.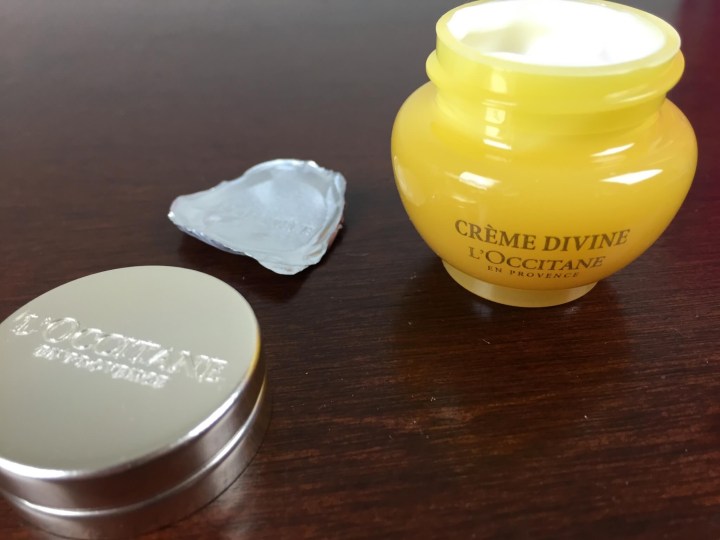 L'Occitane En Provence Divine Cream ($12.70) And speaking of – yesssss! Immortelle is a natural essential oil with healing benefits, and what a lovely treat to get L'Occitane in this box!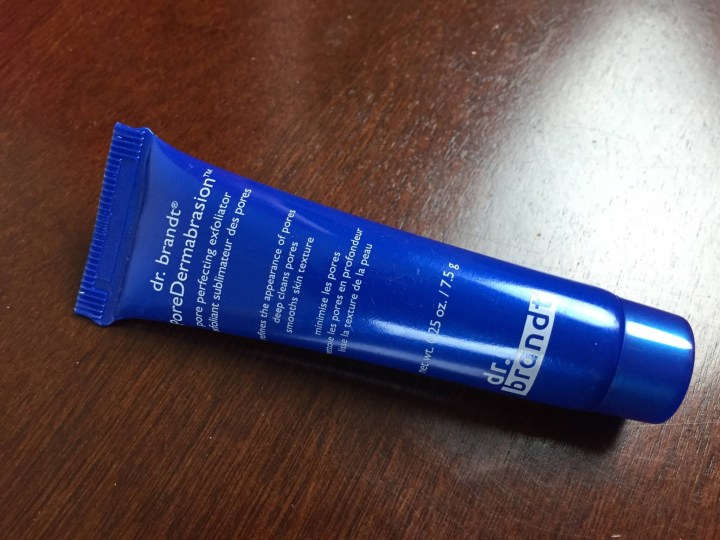 dr. brandt PoreDermabrasion ($7.25) This is a great exfoliating/mini dermabrasion product with both physical exfoliation and salicylic acid. I am thinking that would be helpful for people new to exfoliating their face regularly – sometimes you can break out when you first start.
Several of the products aren't listed on the cards and they are bonuses, so you may receive some variation. This was a really great box, with about $119 in product value and a great mix of products to add into my routine!
Visit New Beauty TestTube to find out more and to subscribe. Save 30% on your first box with this link – no code necessary!
The Subscription
:
New Beauty TestTube
The Description
: Six times a year receive a TestTube filled with deluxe and full-size beauty products – top brands, time-tested formulas and targeted innovations. Subscribers receive a subscription to NewBeauty magazine, delivered quarterly.
The Price
: $38 bimonthly