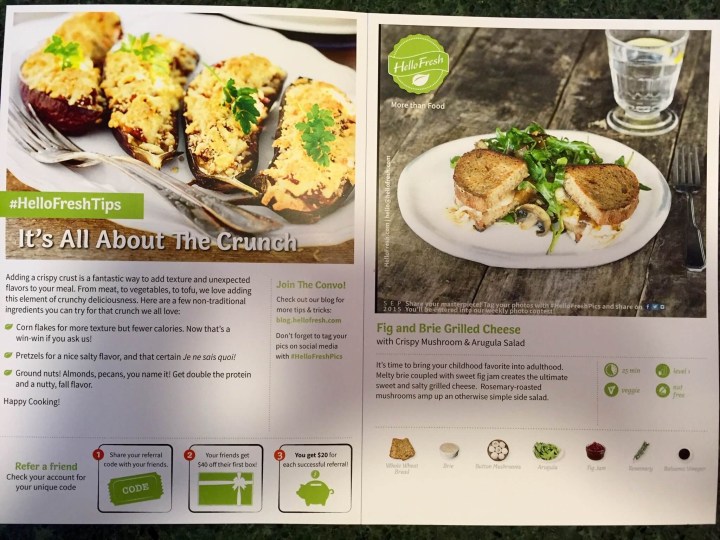 I'm happy to be back home from a short family trip so I could get back to my Hello Fresh!  Hello Fresh is a meal kit subscription box where you'll get the recipes and ingredients to make 3 meals for two (or 4) every week. Hello Fresh is a subscription, but you can pause your deliveries whenever you'd like. They offer both vegetarian and regular (omnivore) boxes – this is the vegetarian box!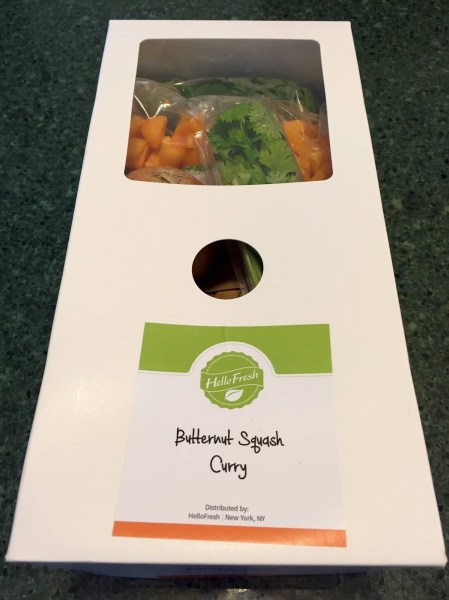 Hello Fresh instructions have very nice illustrations, are clearly written, and even lets you know nutrition info, prep time, and which recipes are best to make first. Even a novice cook can follow them.  Hello Fresh sends all the sauces, bouillon and such in individual serving packets or in off-the-shelf brand name packaging; although it means a little more packaging, they survive shipping better than the plastic cups used by Plated. I like that the outer packaging of the box is recyclable.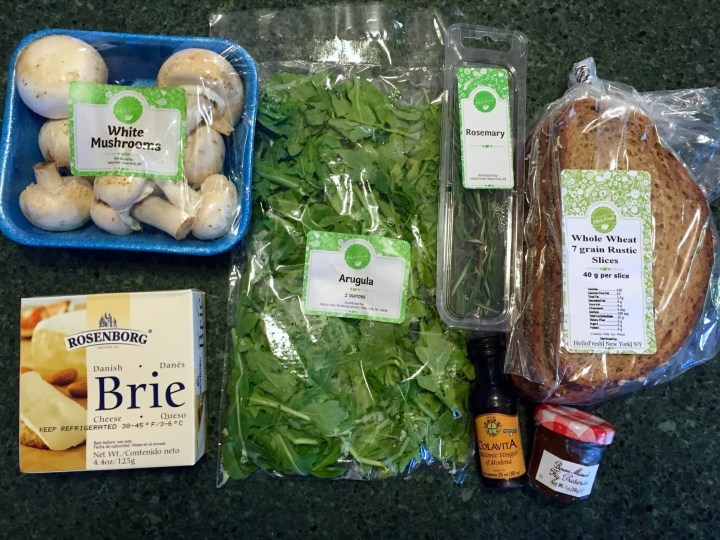 Fig & Brie Grilled Cheese with Crispy Mushroom and Arugula Salad. 25 minutes, 639 cal.
My husband and I are crazy about brie, we like it baked, baked with whiskey, baked with butter, plain, plain with raspberry chipotle on top and so on.  We like brie.  We had a huge brunch this morning and knew we'd be eating at a graduation party in the evening.  This was the perfect afternoon meal for in between.  Easy to fix and fabulous.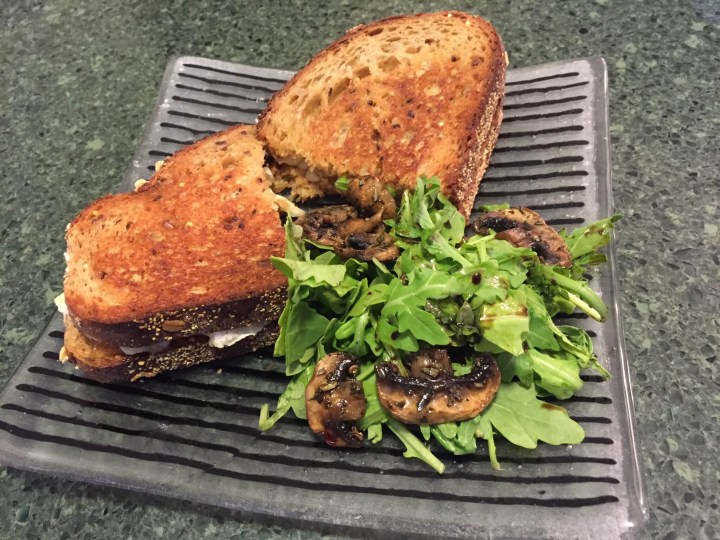 The sandwich was super easy as are most grilled cheese and scrumptious.  Did I mention we love brie?  I grilled it this time in a pan just like the directions said to but the next time we try this…panini press it is.  Melted this way the brie was creamy, a little gooey and just full of goodness with the jam making it just a touch sweet.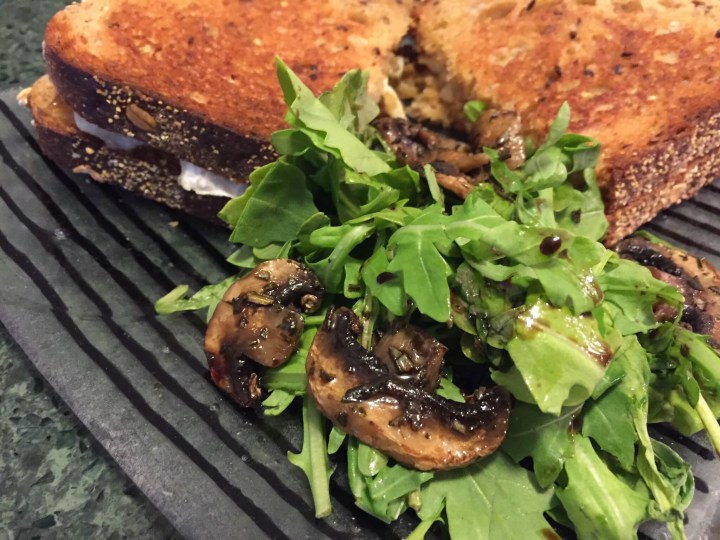 Baking the mushrooms was something new for us especially with the rosemary coating on them. We do find the arugula a tad bitter and next time we'll mix the arugula with romaine (our favorite). Overall, we found this a very tasty salad with the balsamic vinegar and EVOO dressing.  It paired very nicely with the grilled brie sandwich.
The sandwich rated 10+ and the salad an 8.5.  Can't wait to make this again.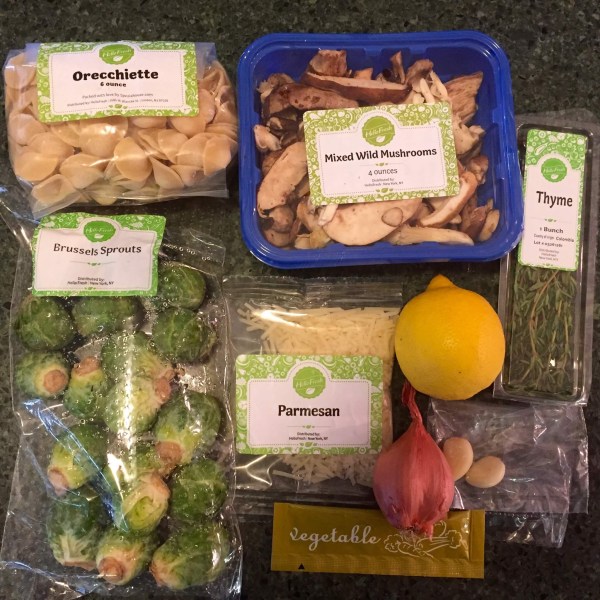 Creamy Orecchiette with Brussels Sprouts and Wild Mushrooms. 35 minutes, level 1, 641 cal.
10, this meal is a definite 10 on our scale of 1-10 on the recipe scale.  After taking our first bite we, my husband and I both commented on how good this was. We loved the flavors of the mixed wild mushrooms, I've got to get out of the habit of using canned mushrooms after cooking these and loving the flavors.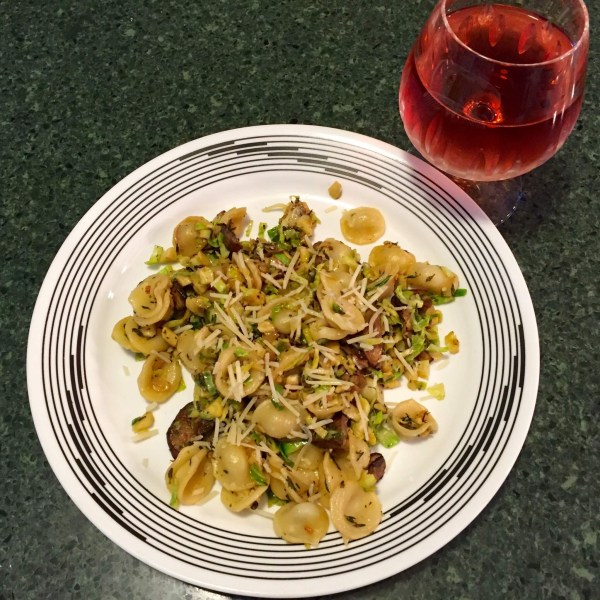 The orecchiette was a new pasta for us and we enjoyed the shape that held small pieces of the ingredients in the center of the pasta. The sauce was exceptional with all the thyme.  I don't cook with a lot of thyme and wondered if the amount was too much, nope, not for us. We ate every bit even though this was enough for 3 easily.  What could have made this better? Double the sauce, yum yum yum.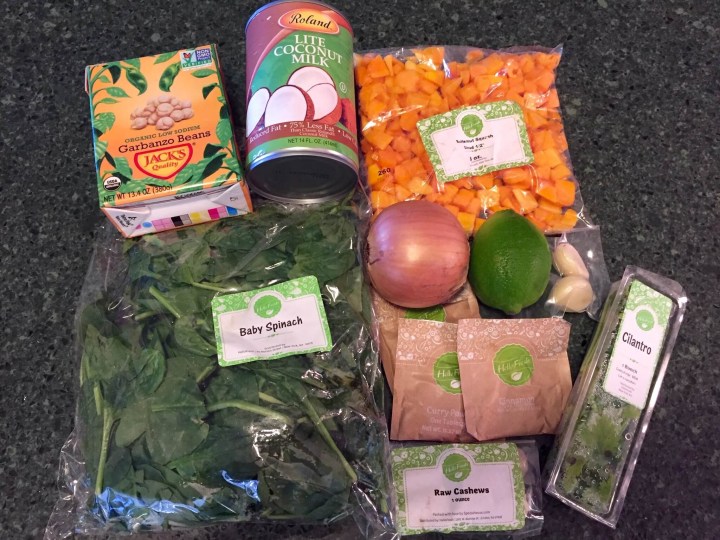 Butternut Squash Curry with Chickpeas, Spinach, and Cashews. 40 minutes, level 1, 753 cal.
This slightly spicy, slightly tart, and slightly sweet dish was a real treat.  The flavors were pleasing to the palate and the colors pleasing to the eye. The first directions were to dice the butternut squash but they came already diced.  That was a nice little surprise as I was in a hurry and this saved time. The curry I order from a local Thai restaurant doesn't use butternut squash or spinach so those tastes in curry were a delightful change in ingredients.  I am spoiled by the restaurant and they give a lot of sauce so I will double the sauce the next time I make this recipe.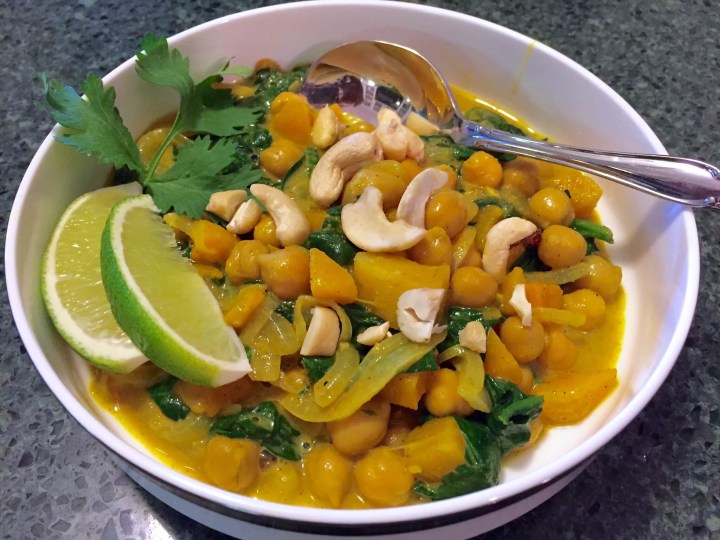 I'm a real big fan of chickpeas and with them in the dish you feel full after a bowl.  This recipe easily serves 3 and as a light first course it could serve 4-5. This dish rates an 8.5 on our 1-10 rating scale.  It's a keeper!
My parents have been away for an extended vacation and now that they're back I'm thinking that they would love to have these meals.  Hello Fresh meals would be a great gift for older people. The serving size is just right.

And here are next week's recipes!
Visit Hello Fresh to select your box for next week!  Take $40 off your first box with coupon code 7UT7K8.Check out all our Hello Fresh Reviews and don't forget to take a look at other Fresh Food Subscription Boxes
The Subscription
: 
Hello Fresh
The Description
: Each week Hello Fresh delivers beautifully photographed step-by-step recipe cards, with the exact fresh ingredients needed to create a selection of new recipes.
The Price
: $69 per week for 3 meals (59 vegetarian)
The Coupon
: Take $40 off your first box with coupon code
7UT7K8