ToGoSpa Society is a monthly replenishment and surprise subscription by ToGoSpa.  You may remember ToGoSpa from the January Popsugar Must Have Box. They have their own subscription! With ToGoSpa Society you'll get 15 pairs of Eyes by ToGoSpa plus The Benefit, a monthly surprise from ToGoSpa or their selected brand. The Benefit is always valued at $20-$50 and is a high quality spa item. It's so fun to get a total surprise plus some really fabulous skincare!  You can upgrade your box to receive more Eyes or add on Face by ToGoSpa as well!  ToGoSpa EYES and FACE
are innovative, collagen-infused under-eye and full face mask treatments – and the newest "must do" for anyone in need of a quick, portable, spa-like pick-me-up for their tired, puffy, overworked or over-stressed eyes and skin.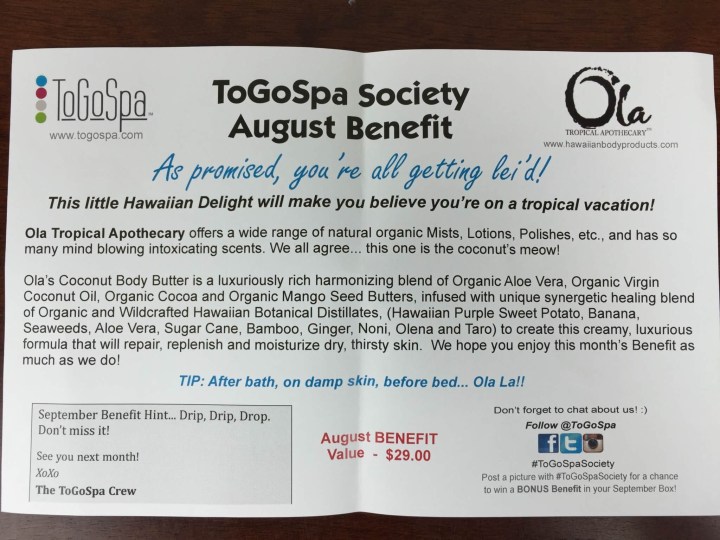 The information card details the Benefit item including its benefits and suggestions for use.
So many goodies in this box, all perfect for a relaxing spa night.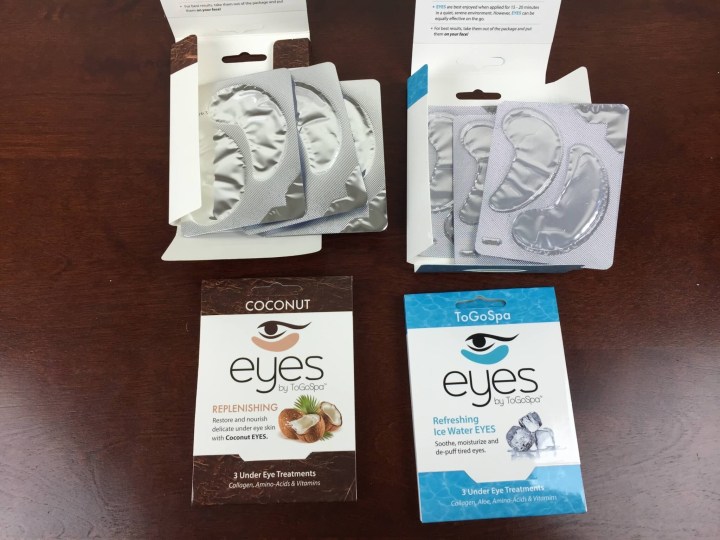 Eyes, Eyes, Eyes! I received 3 different types of Eyes by ToGoSpa – Replenishing Coconut, Rejuvenating Green Tea, and Refreshing Ice Water. The total value of these 15 treatments is $55.  These are super hydrating and are activated by your body temp! EYES are collagen gel pads with Hyaluronic Acid, Vitamins C & E, and nutrients. Each different type has a different composition to provide different benefits. Coconut restores and nourishes the under eye area. The Ice Water ones depuff and soothe, and the green tea ones help lift and rejuvenate with green tea extracts!
There are 15 sets of EYES in the box – plenty to get you through the month. If you are a daily user, you can double your EYES for $24.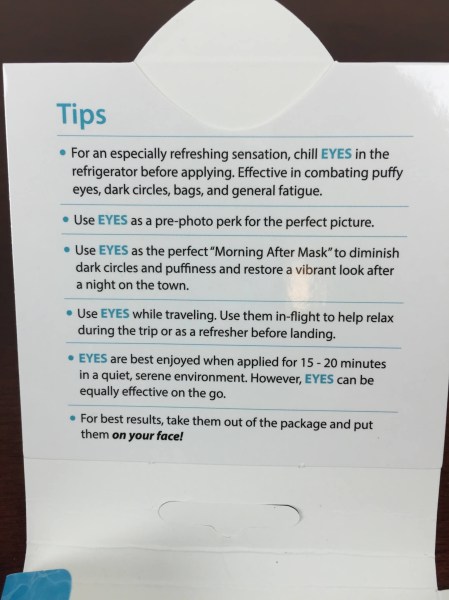 The box lids have helpful tips – like to actually use them. I love the idea to use them before a photo and I love putting them in the fridge for extra depuffing but most often use them at night to help relax and soothe – I spend so much time on the computer.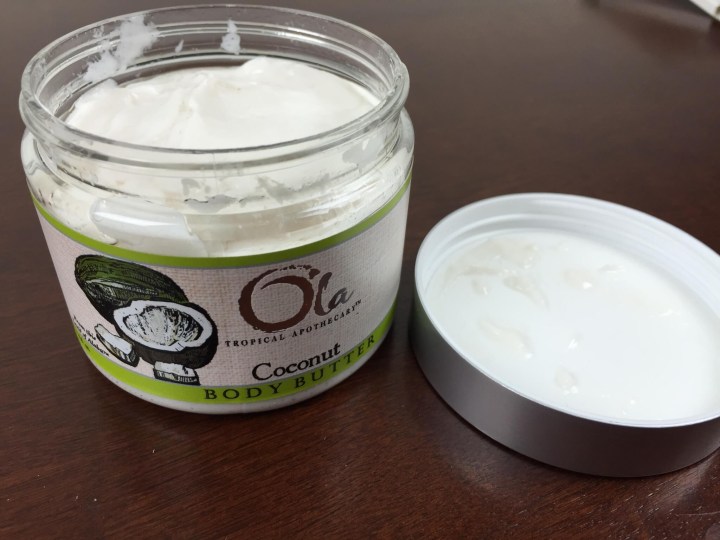 August's Benefit: Ola Tropical Apothecary Coconut Body Butter ($29) I love coconut! Even better this light and whipped formulation is perfect for smoothing on tired summer skin without weighing it down. It's infused with an amazing lemongrass scent which makes me feel like I've actually been to a spa – the fragrance is especially relaxing to me. This product is 98.5% all natural, and contains 84% certified organic or sustainably grown ingredients. It combines organic aloe vera, organic virgin coconut oil, organic cocoa and organic mango seed butters with natural actives like Hawaiian purple sweet potato, banana, seaweeds, aloe vera, sugar cane, bamboo, ginger, noni, olena, and taro to create really one of the best body butters i've ever used.
This is such a great home spa in a box. The August box had $84 in value – more than double the cost of the box.  I really like getting the variety of EYES so I can choose which one will work best for my needs when I put them on – unless you have an absolute fave, that's what I recommend! Also, I don't know if I've ever mentioned this, but you want to slide them over so the large side is resting on the bridge of your nose – get the curve right up matched to your eyes!
Visit ToGoSpa Society to find out more or to subscribe! Use coupon code MommySplurge5 for $5 off the first month of any ToGoSpa Society box or code MommySplurge10 to save $10 off the first month any ToGoSpa Society box with Face!
The Subscription
:
ToGoSpa Society
The Description
: The ToGoSpa Society membership offers huge discounts on Eyes and Face by ToGoSpa and in addition each month members receive The Benefit! The Benefit is a FULL size product we love and want to share free with our members.
The Price
: $40 per month for 15 EYES + Benefit or $64 for 30 EYES + Benefit add 3 FACE for $25 or 6 for $50
The Coupon
: Use coupon code
MommySplurge5
for $5 off the first month of any ToGoSpa Society box or code
MommySplurge10
to save $10 off the first month any ToGoSpa Society box with Face!