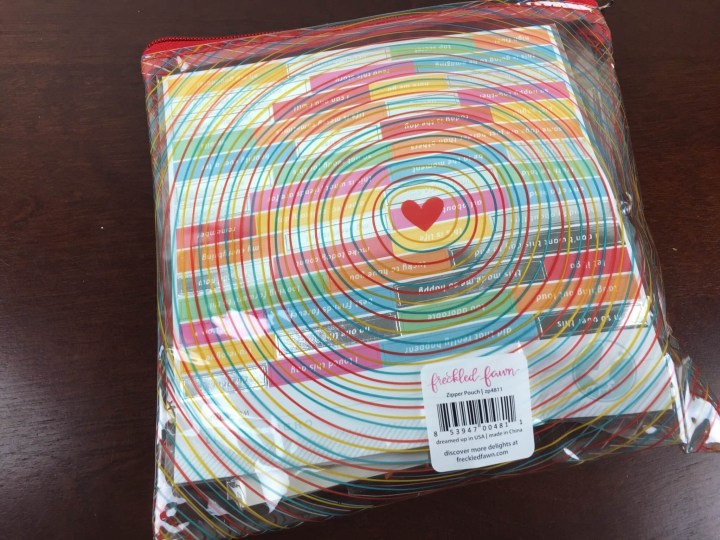 Freckled Fawn is a monthly embellishment kit subscription perfect for paper crafters, scrapbookers, penpals, happy mailers, planner addicts, or whomever might use some really darling paper craft embellishments! Every month you'll get a darling kit delivered in a darling pouch, perfectly themed. When you subscribe to Freckled Fawn's Oh Deer Me embellishment kit you'll also receive access to monthly sales and add-ons, like $5 discounts on previous kits!
The July Freckled Fawn Kit is "Silver Lining." And it is the cutiest! (Yes that's a word!).
I'll show you all the supplies individually but I took a pice of chipboard I had and pretended to make a layout. The neat little transparencies can go over paper or photos. QT=Cutie! You could hold them down with the word strips!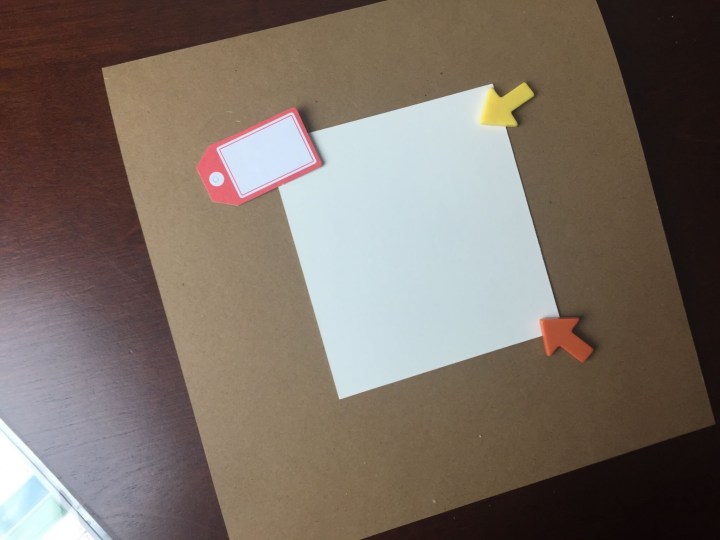 I might use some fancy scissors that cut in a pattern (like fancy pinking shears?) to cut some paper to do borders to embellish this page a little more!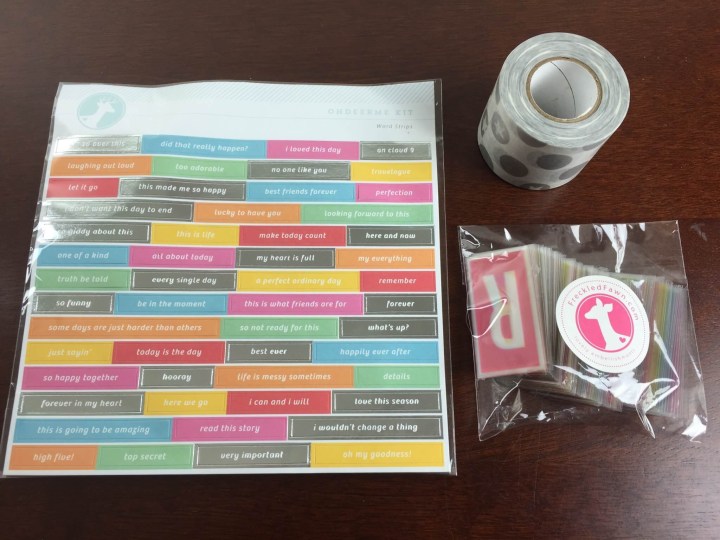 Word Strips:  You might notice a good chunk of these are silver, which goes with the theme! They're full or inspirational loving sayings and definitely great for planner, scrapbook, or cards.
Washi Tape: Look at that giant roll! I think it's at least 3 rolls wide if not 4! This is versatile and multifunctional and everyone knows that already but… washi is really that great! We use it everywhere.
Letter & Number transparencies: I think there's 3 of each, so plenty to do what you want and spell what you want!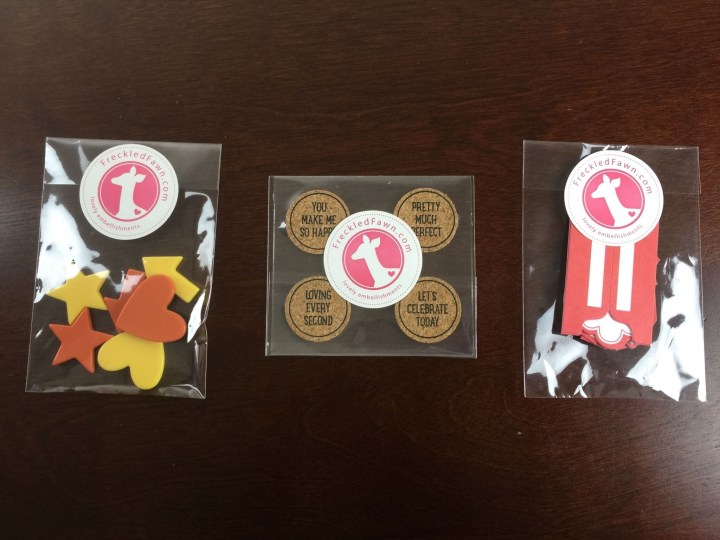 Resin Shapes: I hope you can see from the photo above that these are dimensional plastic. Very nifty and useful for all sorts of things. A heart, star, and arrow in both yellow and orange.
Cork Stickers: I love cork stickers, plus they're renewable! And when I use them I don't have to use my own handwriting.
Red Die Cut Labels: There's a few versions of these, and you can see more on their site or in the photo above. My fave one is the one that folds up to become a tab!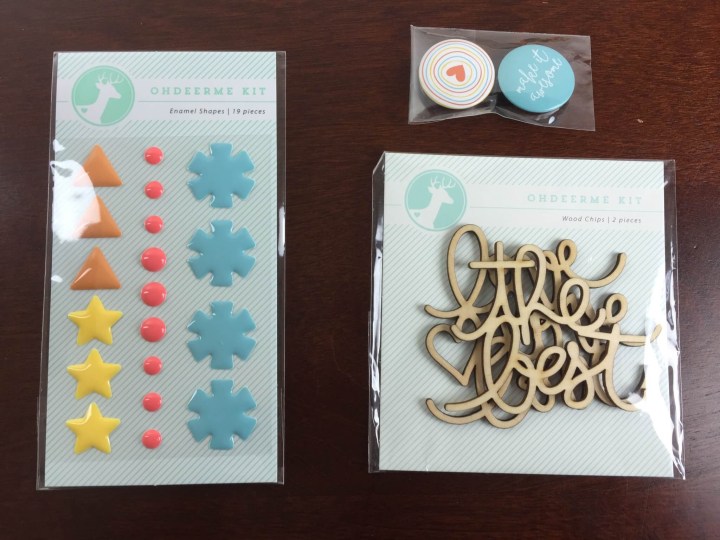 Enamel Shapes: Sticky built right in, just plop them on! I think these make anything fancy!
Flair: I love that they call the buttons flair! One is a heart in concentric circles and the other says "Make it Awesome" and you can embellish away!
Wood Phrases: One says "the best" and the other says "love love love." These are very pretty and very high quality. I would put something like this on a cover? Or maybe even for a special card. I would love to hear your ideas!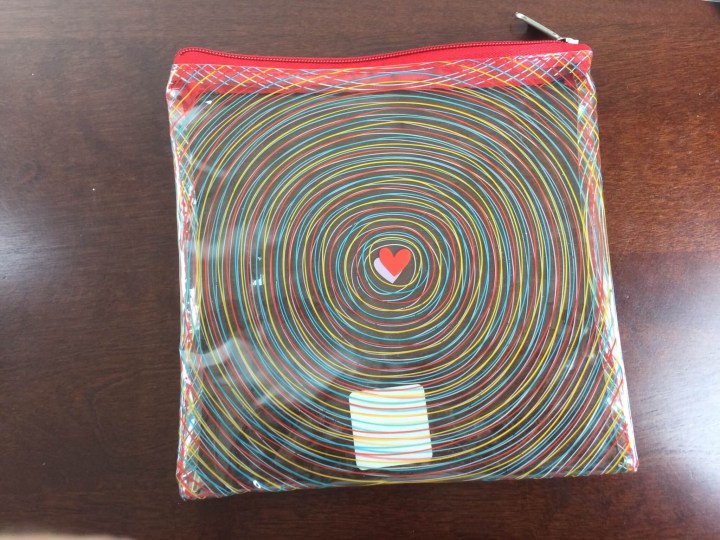 And of course, the cute pouch, with the same design as one of the pieces of flair!
I thought this was a fantastic embellishment kit that gives you a lot of options to decorate your paper in all sorts of free form ways while still sticking to a darling monthly theme.  I liked how this didn't have paper that came with it because even I have a bunch of pads of scrapbook paper, and I might use a lot of these for my planner, which for a lot of women has become a new way to journal (I got the new horizontal EC planner for that purpose!). I really need to get a printer for photos, or figure out a good place to purchase them, because these sort of themed kits makes it really easy to put a layout together! You just pick a photo and start layering.
Visit Freckled Fawn to subscribe or find out more. You can start your subscription with the current kit (that's this one!). Save 50% on your first kit with code HelloSubscription making your first kit only $12.72! It expires July 20 so be sure to get in on that! This is a crazy deal!
The Subscription
:
Freckled Fawn Embellishment Kit
The Description
:Freckled Fawn is an embellishment kit club! Each month receive a zippered pouch full of embellishments for card making, scrapbooking, and more!
The Price
: $25.45 per month, or $26.99+shipping for individual purchases
The Coupon
: Get half off your first kit! Use coupon code
HelloSubscription
. Expires July 20!