ePantry is an eco-friendly subscription service that allows you to quickly pick your favorite high quality cleaning and household supplies and set up a customized schedule for their shipment to you. You'll pay the cost of the products (you can see the details on every product on the ePantry site), plus a $2.99 shipping charge.  They carbon-offset all their shipping, too! I select new products every month, in part because we have varying needs and they are a growing company and adding new products, but also because we posts reviews – we like to show you what's there. You'll notice that some products are the same every month and some are new, but we use everything we purchase. ePantry has an automatic shipment feature plus a system to calculate exactly how much you need.
For $39.99 you can join the VIP program and get free shipping for the year plus a free gift every quarter.  Last month I got a candle and my next order will have a lip balm (which I reviewed here!). FYI I received 2 products to review in this month's box – and they're highlighted in green on my receipt (Smarty Pants vitamins).
ePantry is a B corporation and they carbon offset all their shipping and uses recycled materials wherever possible. We love that everything is packaged to ensure it doesn't leak. When you start with ePantry all you need to do is take a super quick quiz so they can create a suggested bundle for you, but you can customize it as much as you'd like.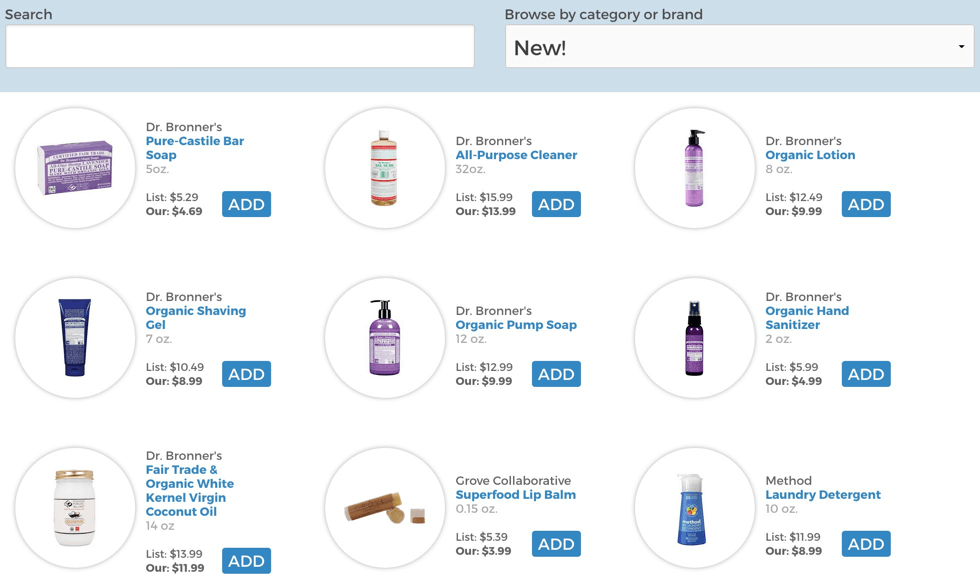 ePantry carries a variety of brands including Method, Mrs. Meyers, Seventh Generation, Preserve, and more.  They just added Dr. Bronner's!
This delivery we picked up:
Method Power Foam Dish Soap: A fave because it reduces our soap usage!
Smarty Pants Kids & Adults Vitamins: We love these because they taste good and there's no swallowing (and they have Omega 3s in them too!). FYI for the adults the serving size is 6 gum drops.
Tom's of Maine Baby Shampoo & Wash: Because we have a dirty baby and like a clean one!
Secret Outlast Gel Completely Clean & Secret Clinical Strength, Smooth Solid: Because I use regular deodorant. ePantry has also recently added a roster of P&G products, so if you have a family like mine that tends to use a mix of natural products and conventional ones, it makes the service better.
Crest Kids Cavity Protection: Yes, I use Sparkle Fun toothpaste to brush my teeth. My daughter claimed one of them, but I totally bought them for me.
Method Kids Foamy Hand Soap – We had a Mickey before, so of course we needed to add Minnie to the kids' bathroom.
Bobble Replacement Filters: I feel like an idiot, because I forgot to buy a water bottle – it's on my next order. I thought that having in-built filtration in an upstairs water bottle would make it easier to get my quota in.
Mrs. Meyers Fabric Softener: I love this fabric softener! We tried & didn't like the Method kind. At the same time, I'm over Mrs. Meyer's dish soaps because of their fragrances, but love Method. Fortunately ePantry has everything I like.
So that's what I got in my bundle – yours will be different because it's personalized for you. The total on this order was $115.79, including the vitamins. I find all the prices to be very reasonable and it makes our lives a lot easier. My husband does all the grocery shopping with 2-3 children in tow at any time, and, well, it's just hard to shop for food and household supplies at the same time.  Do you use ePantry? What do you tend to order?
Visit ePantry to check it out and personalize your own subscription, or see all our ePantry Reviews. FYI you can get a free $10 credit plus a free Mrs. Meyer's hand soap when you sign up. Find more Home & Household subscription boxes in the directory.
The Subscription
:
ePantry
The Description
: Flexible household product subscription service. Choose from Method, Mrs. Meyer's Clean Day, Seventh Generation cleaning products and add on TP, paper towels, and trash bags.
The Price
: Varies
The Coupon
: Get $10 off your first order when you sign up plus a free bonus item!
Use this link to activate
!