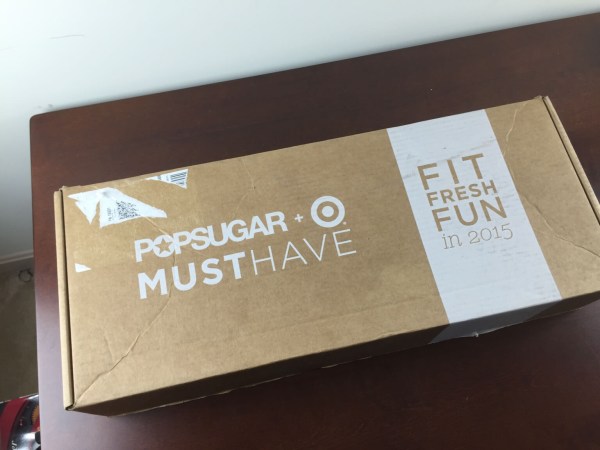 POPSUGAR Must Have Box announced a collaboration with Target (like THE Target) last week – the Special Edition Popsugar + Target Must Have Box – Fit Fresh Fun in 2015. I knew it was going to be amazing and it sold out in a hot minute. (Ok, like a bit over a day, it was nuts!). This box was $65 and way better than I could have imagined! The only comment I have heard – besides how amazing this was – is how everyone regrets hesitating to purchase. It's Target people! Le Tarjay.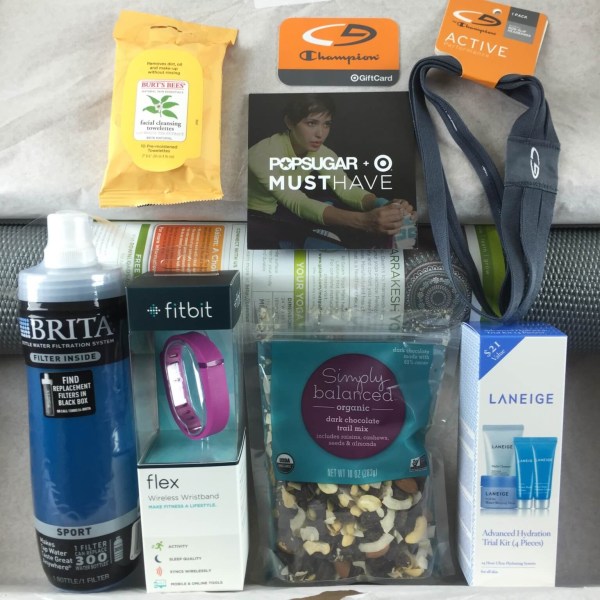 This box shipped regular FedEx. I couldn't believe it. POPSUGAR must be working on their New Year's Resolutions!
YES! My healthiest year yet. I hope so.
The information card.


Fitbit Flex (see all the colors here – it's a pink one!) ($99.99) How amazing is it that this box includes a FitBit? I have one, but not the Flex kind. I'm excited about this because now I can get a Tory Burch bangle to stick it in. And get healthy and all that 🙂 My husband is super excited because now he thinks he can steal my other Fitbit.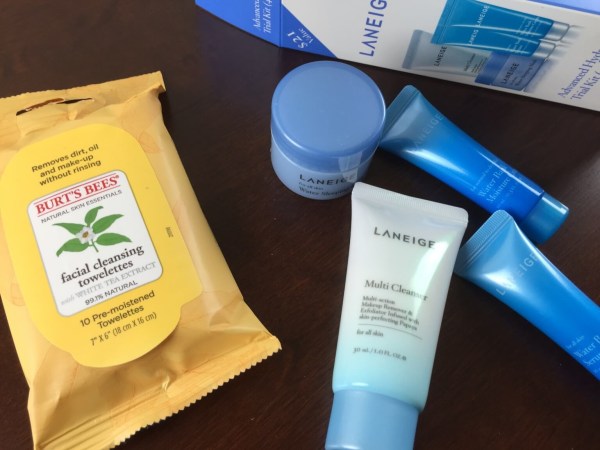 Burt's Bees White Tea Wipes ($2.99) I love face wipes and will totally use these up! Maybe not for a workout, but this & the other item – you gotta have fresh & fit skin too, right?
Laneige Advanced Hydration Trial Kit ($21) This is a brand from I think Singapore. I noticed it was in the next 3B Box (check out the newest coupons & subscription boxes page).
c9 by Champion Headband ($6.99) Whoah mega grip! I have a huge head so this one may be for the kiddo for soccer. Like really, my sons' heads are off-the-charts giant. They got them from their mama!
$20 Target Gift Card I CANNOT BELIEVE THIS BOX HAD A FREAKING GIFT CARD IN THERE.
Brita Water Bottle ($8.39) Wow, if I'd had this last week I wouldn't have had to drag my giant water filter to work! But actually, I'm going to keep this for on the go. I cannot cannot cannot stand bad tasting water and now we don't have to lug water around with us. Totally perfect for my diaper bag.
Simply Balanced Dark Chocolate Trail Mix ($6.99) YUM. This was excellent, organic, and a huge bag! HUGE.
Gaiam Yoga Mat ($21.99) This is so pretty, but I'm not sure why I opened it, because I don't really do yoga and we have carpets…  haha! I am thinking that it will be perfect for outdoor uses and dangit, I just love the pattern!
This box was insane. INSANE. Around $188 in value – POPSUGAR rewarded my loyalty very handsomely (please don't wait if there's ever another Target box!). I know that a few people might be grumbly about the Fitbit if they already have them  – but really, you could sell it and easily cover most of the box (if not all). I love the color too – it's the exact color I would select myself (dangit Pantone, I don't buy your Marsala one bit, I'm still on Radiant Orchid). Did you get this box? Did you love it as much as I did? This was a 110% home run for me! If you missed out and want to make an angry purchase, check out the Birchbox Fresh Start box!
Visit POPSUGAR Must Have Box to subscribe to the regular box!
DEAL: Save $20 on your first box with this link and coupon code MSA20
Check out all my POPSUGAR Must Have Box Reviews! Don't forget to take a look at other Lifestyle & Combo Subscription Boxes.
The Subscription
: 
POPSUGAR Must Have Box
The Description
: Seasonally themed must-haves selected by the POPSUGAR editors. Beauty, Home, Treats, Accessories, Jewelry, and Personal Care. Occasional luxury boxes for women, men, and home.
The Price
: $39.95 per month, less than $36 per box on a 1 year subscription.