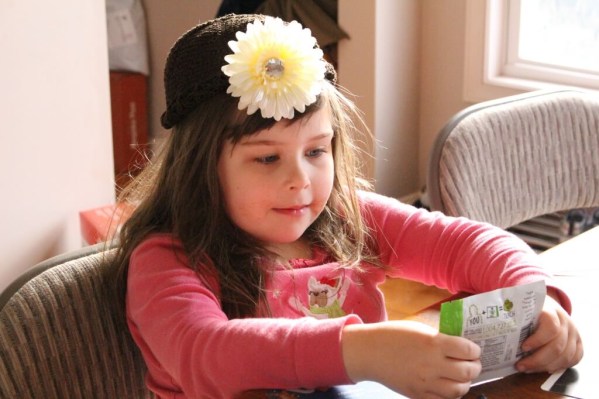 Posh Pak is a monthly subscription box for girls with three age ranges: Little Girl (5-8), Tween (9-12), and Teen (13+)!  It's the perfect box for your cute little girl up to your stylish teen. Good grief do I wish that I had something like this growing up. I was, um, a late bloomer in terms of fashion. Really late.  (!) I have found everything in the Posh Pak boxes to be really adorable plus age appropriate! She loves it!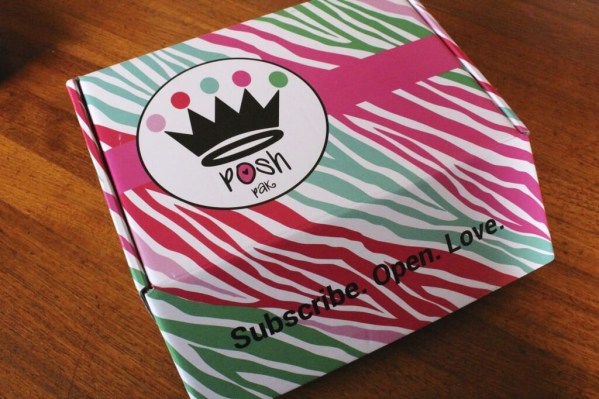 This is the cutest outer box!!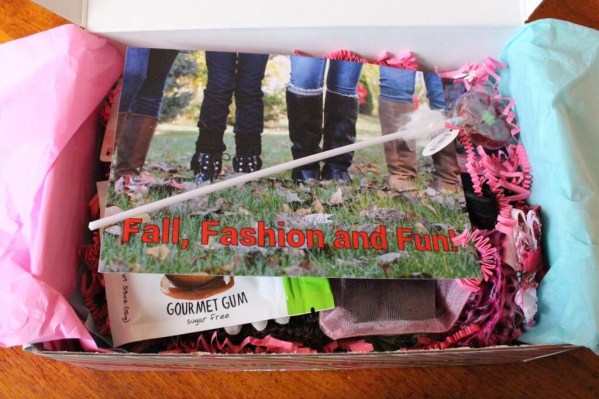 November's Posh Pak theme was Fall, Fashion and Fun!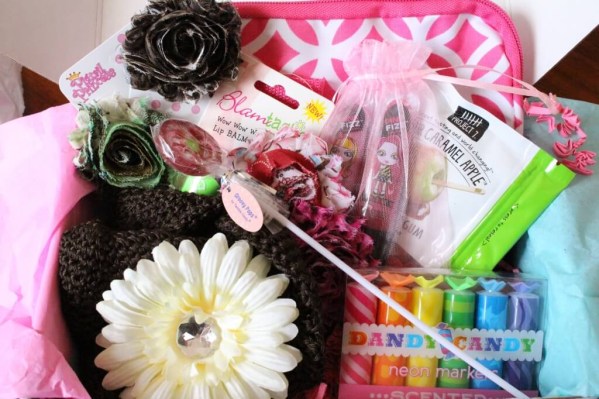 So cute for fall!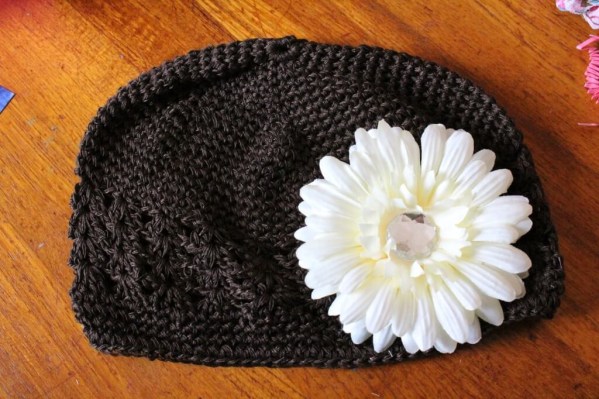 Pigtail Princess Crocheted Hat with Flower ($16.99) I love that you can clip and unclip this flower for mix and match looks. My daughter loves her bow holder ribbon from a previous box and excitedly chooses a new one every day. Now she can keep her noggin warm and mix up the style too!
Blamtastic Wow Wow Atermelon Lip Balm & Sleeve ($3.49) and Pink Fizz Sparkly Scented Lip Gloss (3.98) The lip gloss is great for some holiday fun and it smells delicious (seriously it's great lip gloss and smells fantastic). I love the Blamtastic for daily use – it clips right on her backpack and contains an SPF.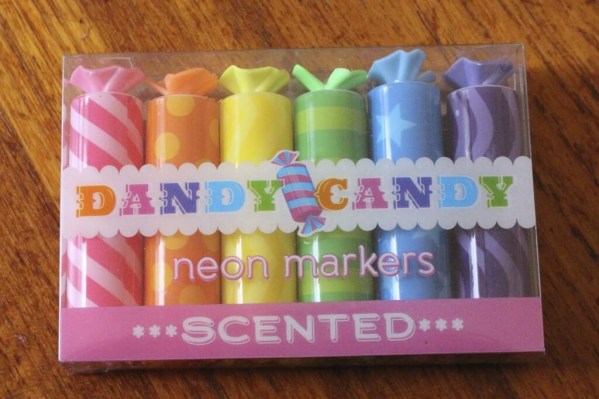 Dandy Candy Scented Neon Markers ($7.95) I love how this box is always including a stationery item. This time it was fun fruity scented candy shaped markers!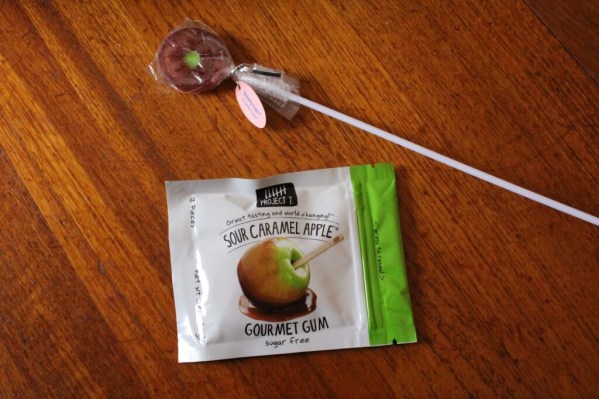 Every Posh Pak comes with the fun lollipop wand. We also got Project 7 Sour Caramel Apple Gourmet Gum ($1.69), which thrilled my daughter to no end.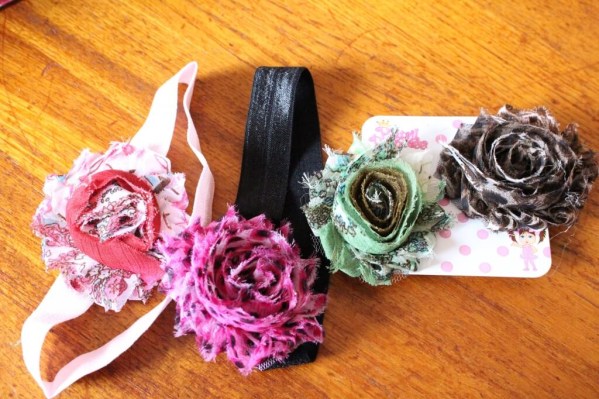 Vintage Style Chiffon Flower Clips and Interchangeable Headbands ($18) This is super cute and more mix and match style! As little girls are more into hair accessories than older ones I love that this box is full of them. Great value too.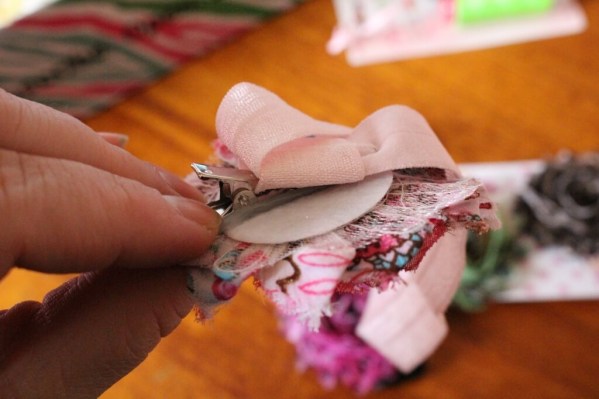 This is how the clips work!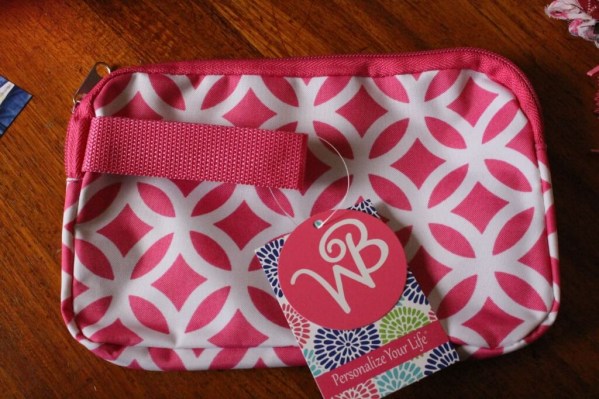 Viv & Lou Pink Sadie Accessory Pouch ($12.95) My kiddo needs to learn more personal organization and we'll be organizing *something* in her new pink pouch (which is a really trendy pattern), I'm just not sure what yet. I think it will be great to hold markers, pens, and a small notebook. A great journaling pouch!
November was another fantastic Posh Pak! It also had over $61 in value and my daughter will use everything. Posh Paks for the older kids included boot cuffs and nail polish/nail accessories.
Visit Posh Pak to subscribe or to find out more about this box! You can also check out the teen & tween subscription box list or the rest of my PoshPak Reviews!
The Subscription
: 
PoshPak
The Description
: Inside the Pak you will find 4 to 6 items ranging from health/beauty, fashion accessories, tech, school supplies, tasty treats and some designer labels, just for girls. Choose between the age ranges of 5-8, 9-12, and 13+!
The Price
: $29 per month.