July's Bestowed Box is about taking your fun summer snacks on the road!  This is great, because we are going to spend two weeks on the road/in a hotel in the next month. YAY. (ok not)  But these are great nutritious snacks (and great ideas for) trying to be healthy on the road! I do totally dig Bestowed, it just strikes my fancy. Bestowed is currently on LivingSocial (Thanks Jennifer P!!!) and you can use coupon code LSBDAY to save 20% on that deal all weekend!!!
Zevia Ginger Ale (yum, love this!) & Runa cinnamon-lemongrass guayuna tea – smells sooooo good!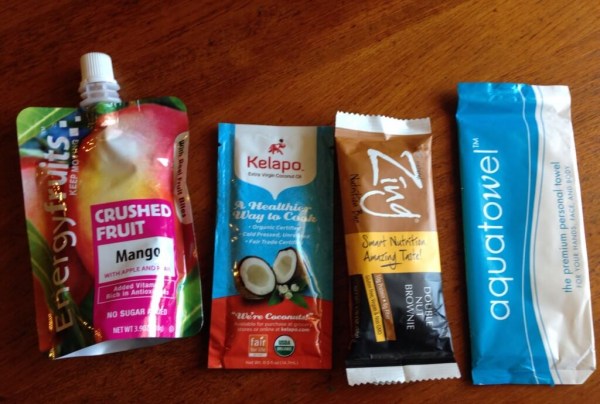 Energyfruits crushed fruit mango, Kelapo Coconut oil (these packets are perfect for camping!!) Zing Bar Double Nut Brownie (10g protein!!!), plus an Aquatowel to keep me nice & fresh!
Does anyone really use the coconut oil on toast though? I think it's a little too oily for me for that. But I love cooking with it.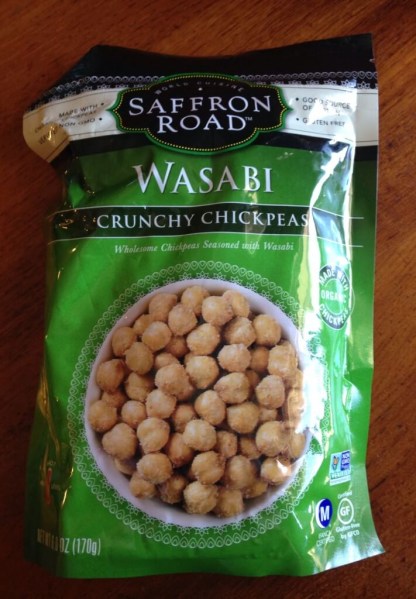 My husband is going to die when he sees this GIANT bag of  Saffron Road Wasabi flavored roasted chickpeas. He won't want to wait to go back to work on Monday. I A+ guarantee he's taking them!
If you want to subscribe to Bestowed Box, don't forget to use coupon code HELLOYUM34  to get your first box for $15! It's a great deal! Check out all my Bestowed Box Reviews! You can also see more Food Subscription Boxes or find more special diet/health-conscious boxes too.
The Subscription
:
Bestowed
The Description
: Get 5+ NEW healthy and delicious foods delivered to your door every month – each one hand picked by celebrity nutritionist and author Heather Bauer.
The Price
: $19/month
The Coupon
: Get your first box for $15 using coupon 
5OFFBST
.