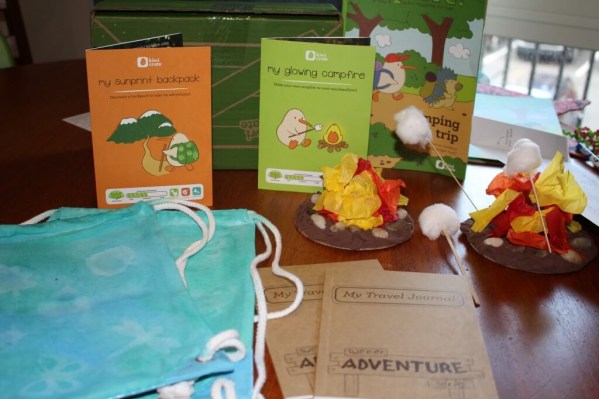 The June Kiwi Crate arrived just before I took off on my 2 day trip at the end of last week, and I had to hide it until I returned (dad was working, we also had a sitter). As soon as I got back, it was game on, because the kids cannot stand not doing Kiwi Crate! AS you can see, I finally caved and got the sibling supplies, E is old enough now where he wants his own stuff! You can get $10 off your first box by using this link!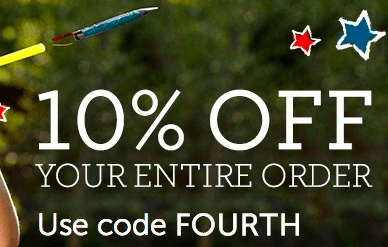 Right now there's also 10% off in the Kiwi Crate shop! Use code FOURTH! You can save $20 on a yearly subscription – just use the code FOURTH when you get a subscription here!
The Subscription
: 
Kiwi Crate
The Description
: Arts, crafts, and science activities subscription for kids ages 3-7.. Each box is organized around a theme!If you are a busy mom that needs to spend your extra time with your kids instead of hunting down a craft, a subscription craft and activity box is the way to go.
The Price
: $19.95 per month, down to $16.95 per month on a year long subscription
The Coupon
:
Click here to get a $10 off coupon on Kiwi Crate – it will be in your cart at checkout!
Kiwi Crate June 2014 Review – Camping Trip
My daughter was super excited to get rolling and made herself a "most excited kid ever" badge!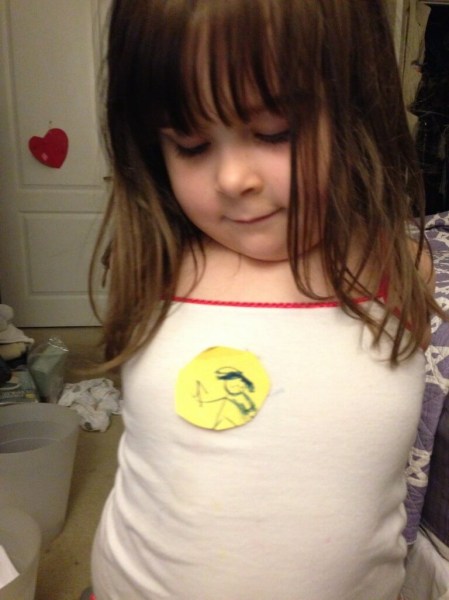 The theme for June's  Kiwi Crate was Camping Trip and it contained 2 super cute projects. Dad actually did these projects with the kids, which generally means slightly fewer photos but better final projects 🙂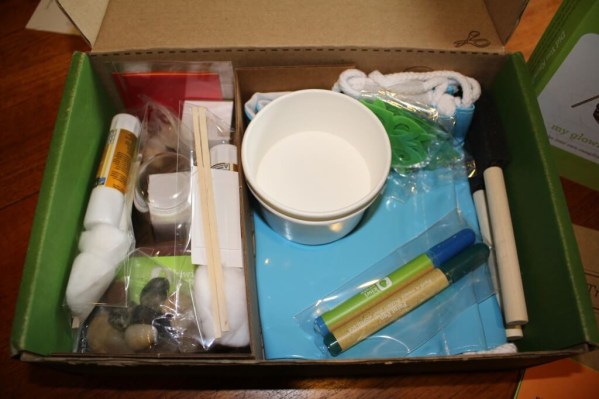 The box came with everything you need to do 2 projects, and with 2 kids, it was quite heavy!  BTW, I just emailed Kiwi Crate and asked them to start the sibling add-ons to this subscription, which was a gift. Their customer service is SO easy to work with!
This box had a super special surprise – a Naturebox Snack!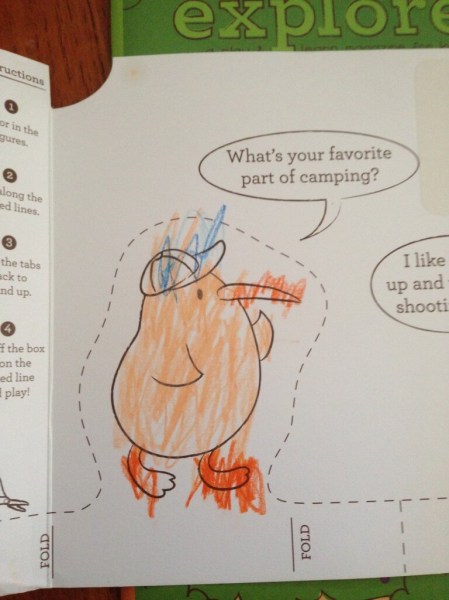 The back of the cover card always has a coloring scene and my son LOVES coloring Steve the Kiwi!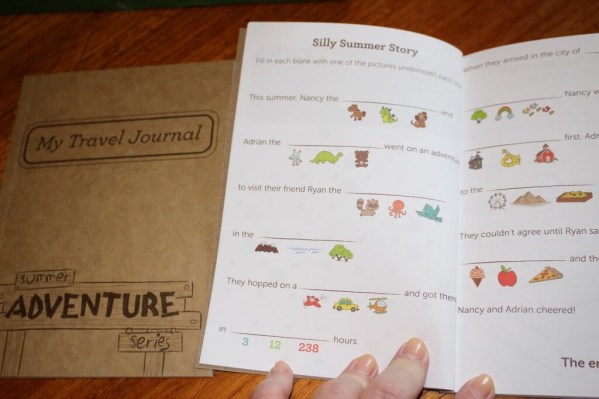 For the start of the summer adventure series a travel journal was included, and we actually saved ours for a trip that we are hoping to take in a couple of weeks!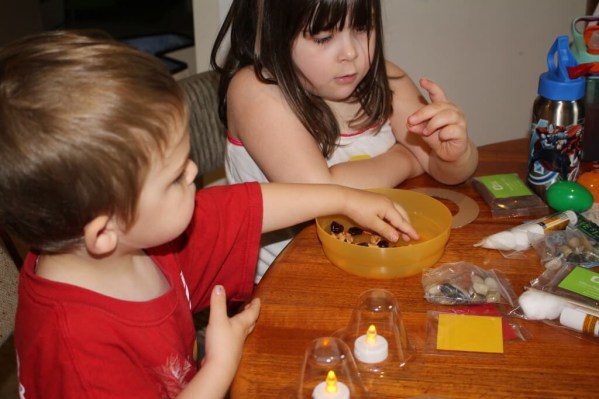 The kids always go and unpack everything and they did that with this box too!
My Glowing Campfire 
This project was the cutest ever! Dad helped E put the clay and rocks on the cardboard ring, A did her own, and then they built the little fires.
A week later, I promise you, these fires are still being played with. A's even survived a trip in the sink (she's ummmm a very curious child). The glow on them is so pretty – the LED votives flicker! The campfires are currently living on our train table (which has a prehistoric theme) and they have been camping out quite a bit!
My Sunprint Backpack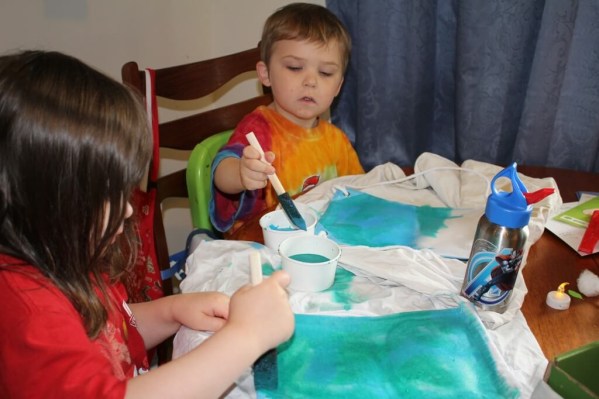 Was this ever a hit! E's turned out better (the photos are in the main one up top) but they both enjoyed doing it and it was exciting to put the plastic pieces on the backpack and see the finished product at the end of the day.
Explore! Magazine
There is an explore! magazine in all of the summer crates this year and there are fun games and comics and all sorts of projects!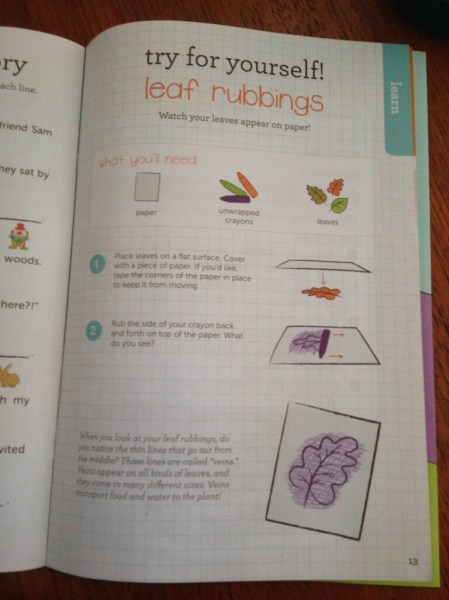 Leaf Rubbings!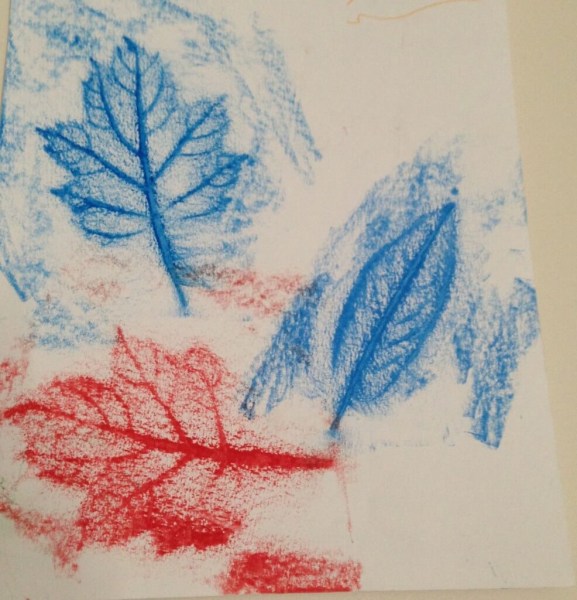 We did it!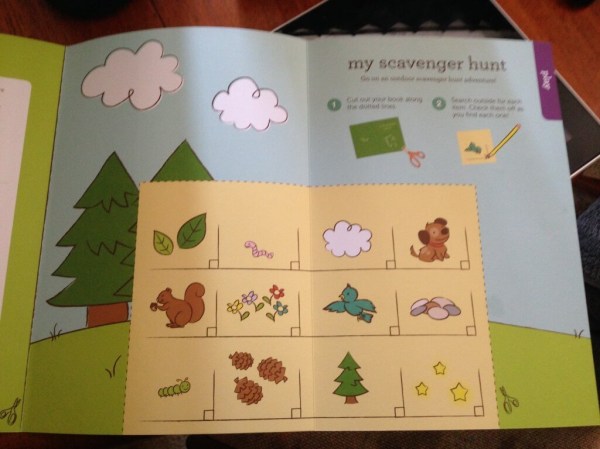 Saving this one for daddy! Although I totally had a centipede bite me the other day, I think I win??
This was just an amazing Kiwi Crate and I can't wait for next month's box!
Visit Kiwi Crate to subscribe or to find out more about this fantastic kids' craft subscription box! Check out all my Kiwi Crate Reviews to see more. Use this link if you'd like to save 30% on your subscription!