Woo it's Monday! We finally had our last Christmas (you can even see I had it marked in my planner) and the kids got way too many toys overall this year! I'm thinking that this year we have an unbirthday. We didn't really get the kids anything much for their birthdays but they still managed to get overloaded with their birthdays a week before Christmas. I'm also thinking I need seven bookcases to store everything.
Is your weather crappy? Ours was warm this weekend and it rained instead of snowed last night! So everything will be ice tomorrow. The weather that we're getting Monday/Tuesday will actually be warmer than it was this weekend. The high on Friday was -2. So a high of 7 is totally warm! Because it was so nice on Sunday Dad took the kids out to play before we went out to dinner (and soooo proud mom, my kids ate Pad Thai for dinner!). But I was zonked out with a 2 hour nap.
For today we have the Great and Powerful Oz slated, and I think we are going to start packing. We packed up 2 boxes of toys, and a box of my stuff, and a box of stuff for my nieces. And a box of stuff for my grandparents. We leave on Wednesday! I'm slightly afraid of the mountain of mail/fridge awaiting our return. I totally forgot to clean it out before we left…
…More from the weekend
I still managed to spoil them with a trip to the movies!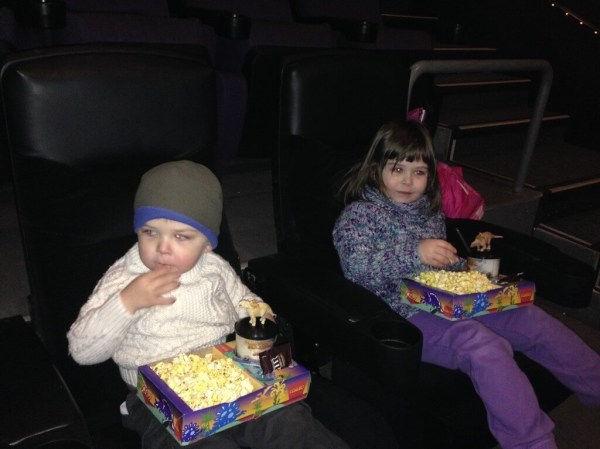 They had these kids combo packs with a little drink and a tiny candy and some popcorn, and then of course I had to buy the special dino cups. I'm such a sucker.
I was excited to see a beaver in the previews! Yes I took a picture. My mother in law got me a beaver for my collection for Christmas too.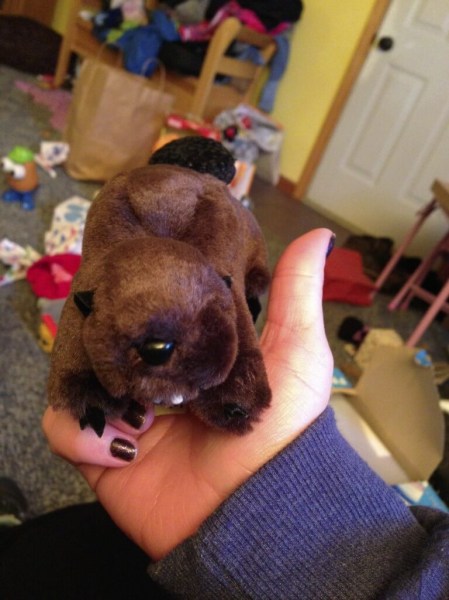 I already have this one, and I was trying to amp up MIL and I started to ask my husband about how soft it was and then I dissolved in tears. OMG I CAN'T BELIEVE I ALMOST SAID THAT. In front of my MIL no less.
And then in more rodent news, I found this when I went to do some laundry. That was exciting.
Yes, I saved him!