My Candy Express is a new subscription box packed full of CANDY.  It's $24.99 per month on a month-to-month subscription but goes to $14.99 per month if you sign up for 6 months of sweet treats. Every box comes with up to 3 pounds of candy and includes a special treat (more candy!). I was pretty impressed with the presentation of this box, and I think it would make a great gift for a candy lover.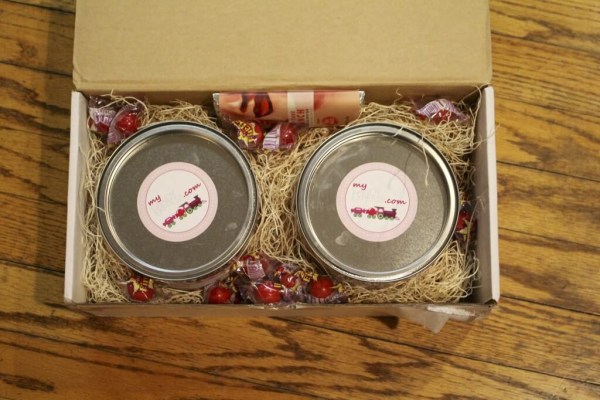 The Subscription
:
MyCandyExpress
The Description
: Get up to 3 pounds per month of high quality candy, plus a bonus of a high-end specialty candy or sweet. And basically, more candy!
The Price
: $25 per month, as low as $15 per month with a 6 month subscription
MyCandyExpress Review – December Box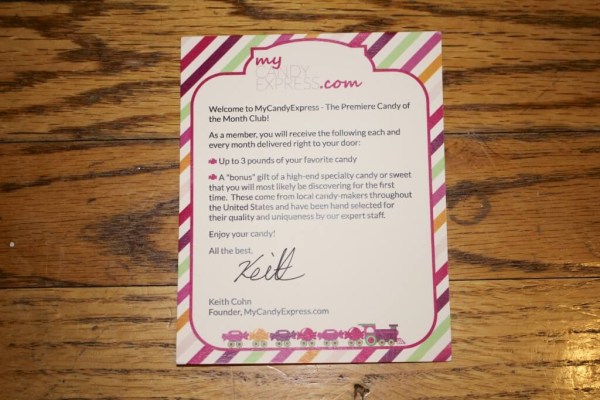 There wasn't any information on the card about the candy inside. Most candy freaks could probably figure it out. Like I did.
I thought the containers were super cute – it would be nice if they had the candy name on them! Maybe in future boxes! This is pretty much the first one! I liked that they provide a small deterrent to getting in – and prevent little hands from raiding the candy jar!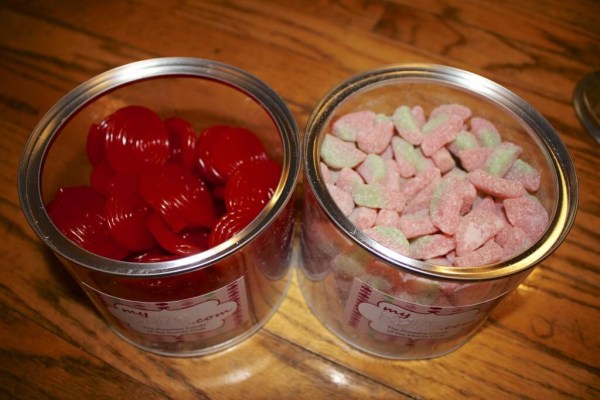 Sour Patch Green Rind Watermelon – These are delicious! And addictive.
Red Licorice Wheels – These are fun because you get to unroll them, then separate the two licorice strips! They have a great sweet strawberry flavor and are high quality.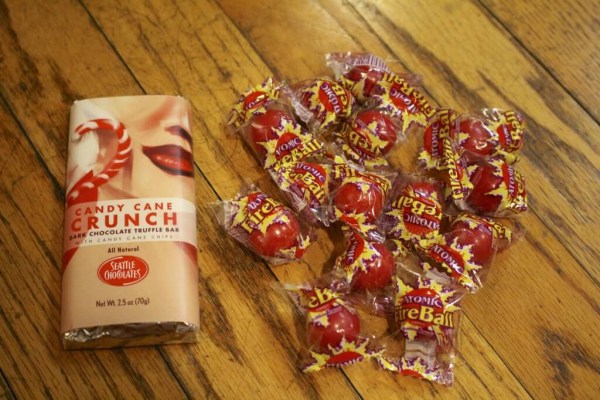 Seattle Chocolates Candy Cane Crunch Dark Chocolate Truffle Bar – YUM!
Atomic Fireballs – Owie!
One thing I discovered while researching the retail values of the items in this box is that most candies are $5/lb in bulk retail and $22 for 5 pounds (and just over $3 per pound when you buy 30 pounds at a time!).  To make things simpler I just loaded all the candy up and weighed it – it was over 3.25 pounds not including the chocolate! We ate some before I weighed it, so I think it's a wash on the containers. It's an approximate retail value of $16.25 plus $3.50 for the chocolate. Let's call it $20 in Candy! I have no idea how much it would cost at an actual candy store – very likely more.
MyCandyExpress ships via UPS 2 day air. Most online candy stores charge shipping by the weight of the candy or a flat rate of $10, so a significant part of the value is in the shipping. By getting it every month you can get less candy a little more frequently than maybe you would otherwise, and it will be fresher. This was a fun box (obviously, it's candy!) and I would recommend it, especially on a 6 month subscription!