Yesterday was a BIG day. I got up early & did my South Hill Designs Charity event. I donated my base commission to my aunt's pet project (um Merry Christmas Aunt Vicky) –  nearly $300 for a worthy cause. But I also sold lockets for 5 hours, which is exhausting. Writing a great big check is also exhausting in its own way but it was worth it.
When I say exhausted, I mean last night I was on my laptop in bed, set it to the side, closed my eyes and pulled the cover over my head (the lights were still on), and zonked. Of course right now it's 2:30am and I'm wide awake.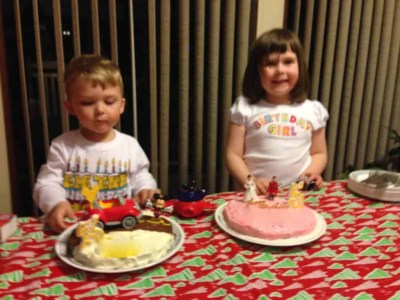 Didn't help that we had the kids' birthday party last night! Their actual birthdays aren't for another week but we had their first party here last night. It was so cute. We had a piñata and played pin the tail on the unicorn and the kids are in love with their presents! I have two happy babies who aren't really babies anymore. Instead of photos I have mostly videos and they are the sweetest! I wish we lived here so they could be with their cousins all the time.
I sent my husband to scout out price drops on toys at Costco. I admit that I'm not done shopping and even though I said I wasn't going to get the kids a whole bunch of toys my daughter remembers everything she found and I just can't have her not get surprises at Christmas. I can't! Sophia the First talking doll was acquired (seems that Amazon is out and I didn't want to risk it), though husband vetoed Furby Boom (thank you husband for being the voice of reason). I asked him about the coveted lawn ornament and after he'd left he sends me a photo that it's $60, down from something like $130. I sent him a text that read "YOU TURN AROUND AND GO BUY THAT MICKEY RIGHT NOW!"  He was like WTF really? The kids are going to die when they see it. He thinks it's weird, I think they are only kids once, and I know I am right about buying it. Also my son is 100% Mickey obsessed. Since my daughter always makes everything about her, sometimes it's nice to spoil my little guy.
Also, I woke up to all these emergency alerts from the DC area that there's terrible snow, and I see photos on my Facebook that there's a whole dusting. DC is so funny but the truth is nobody can drive in it and there's always all these accidents.
So anyways now I'm awake and I figured I'd tell you about my day. And eat chocolate, which always sounds like a good idea at this time of night.