Is it any surprise that I picked up Blue Apron for Thanksgiving? I had a voucher (and Blue Apron is still available on Gilt City, check the coupon box below before the review!). I let my husband choose which of the meal subscriptions he'd like to make for Thanksgiving, and for whatever reason, he chose Blue Apron! Blue Apron sends the fresh food and recipes and to my surprise, for their Thanksgiving meal (which could but did not have to be cooked all at once for a big spread), had complete instructions for cooking everything all at once! It really saved my behind! The meal was delicious and fun to prepare, though I'm not sure it kept me out of the kitchen any more than preparing a traditional Thanksgiving dinner would have. However – when I was unpacking it I was struck how much I saved by not overbuying – a bunch of herbs here and there for just a few sprigs really does add up. We had plenty of leftovers and I just barely used them up before we jetted out to Florida!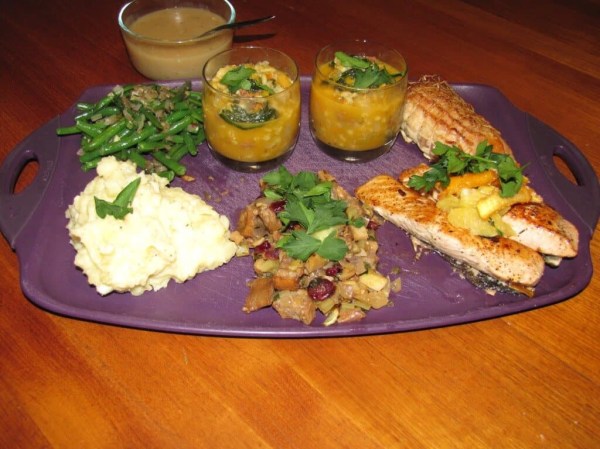 The Subscription
:
Blue Apron
The Description
: Get healthy delicious ingredients ready to be made into a meal! Each meal is 500-700 calories per serving and takes about half an hour to prepare. Each box has 3 meals per week for 2. Blue Apron only assumes you have olive oil, salt, and pepper, and basic pots & pans.
The Price
: $59 per week
Thanksgiving 2013 Blue Apron
Here's all the food that came in this box. It was a smorgasbord. I have trouble keeping little hands out of photos like these, but that's ok. I want my children to be excited about real food!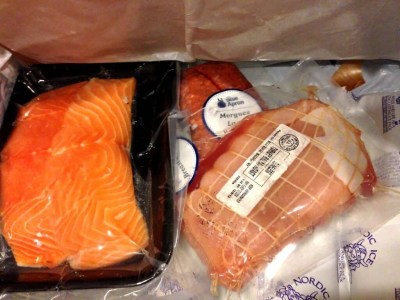 There was a parchment paper separating the produce/other items from the meat, which rested on five giant ice blocks, all of which were still frozen solid.
The recipe cards!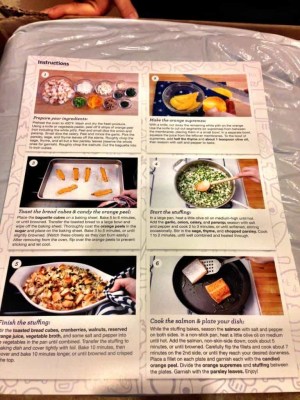 The back of the card – you can click on these to see the full photo if you'd like. The instructions were complete and provide an easy visual guide to what you are doing next.
Thanksgiving Day timeline. I started everything when my husband was about 3 hours away. I was going to save the box for Friday and let him make everything, but my daughter somehow figured out the actual day of Thanksgiving, so I had to cook. (She insisted on eating turkey on the actual day of)
We sang to the food.
And stole the milk – Blue Apron has everything you need except for salt, pepper, and oil. We had milk so I was cool with him drinking it. He's obsessed with individual cartoned milks.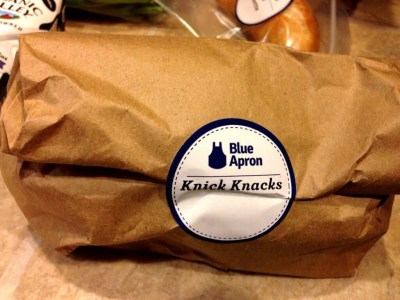 I was so intrigued with what was in this bag! Knick Knacks – I thought it was funny!
It contained all the bits & bobs needed to make your meal complete!
I'm sorry, I can't resist this photo.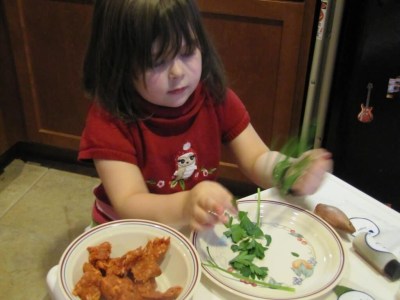 Because they were so interested in the food, they became eager little helpers.
I set up my Table Mate in the kitchen (I love that thing!) and put them to work.
Then, much cooking occurred. Three hours of cooking.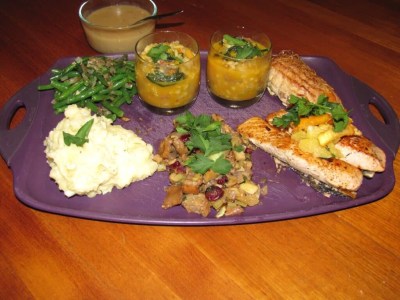 Everything was delicious – here's what we had (and this is just what we put out – there was more of all the sides!
Maple-Glazed Turkey Breast with Mashed Potatoes, Green Beans & Maitake Mushrooms OH SO EASY to make. I threw this in a silicone brownie pan and roasted it and it was delicious & easy. I wasn't crazy about the maple glaze – I prefer savory – but it was still yummy. I had wished there were more green beans.
Pan-Seared Salmon with Caramelized Oranges and Cranberry-Walnut Stuffing They sent along this tiny little roll to make the stuffing. I was skeptical. I had Stove-top for backup. But it made a huge pan and was the most delicious stuffing I've ever eaten. My husband & daughter were wild about the salmon and it all was consumed in a sitting. It had orange segments marinated in olive oil and thyme on top along with candied orange peels (made by moi!). The stuffing had turnips in it, which provided a nice crunch along with the walnuts.
Lamb Merguez Sausage and Butternut Squash Soup with Barley & Spinach This was an unexpected hit. It was absolutely delightful, easy to make, and a nice gourmet addition to our Thanksgiving feast! We found that it tasted better fresh (I made it first and reheated it quickly to serve) rather than as leftovers.
Overall this menu was wonderful. If I did this again I'd probably use my cuisinart to chop up the onions and do all the prep work. There was a lot of prep but that was to be expected – I was cooking 3 different meals all at one time. My kids ate pretty much everything happily too!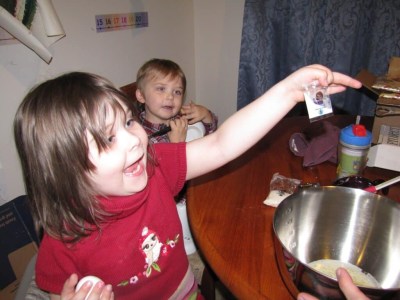 After we had dinner, Daddy & the kids made the cookies from our November Bluum Box. Plus I served the cookies from November Bourbon & Boots Box right in my redneck wine glass! And we did chomp on the cheese straws all day, as promised (deee-licious!). It was a great Thanksgiving meal and I didn't have to go to the store for one single thing!