I picked up two
subscriptions – one for me, one for my husband – off a recent Living Social Deal! Although this box is for college students, the items looked nice, and they had a selection for grad students! Since I am one (for the second time, ahem), I count, right?! ? If you'd like, my husband's quickie review of his Pijon box is right here.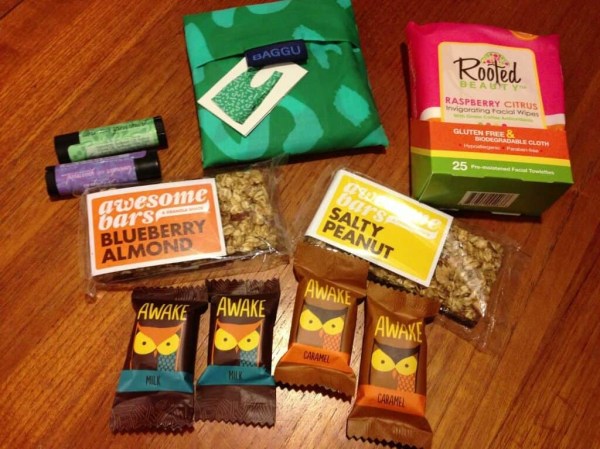 The Subscription
:
PijonBox
The Description: College care subscription tailored to needs of recipient plus a delightful surprise every time. Crates are stuffed with fun and useful items, like food and snacks, cleaning supplies, grooming and personal hygiene, and more!
The Price: $29 per month
The Coupon: Save $10 on your first box! Use code FB10SPOT. Expires December 19, 2013.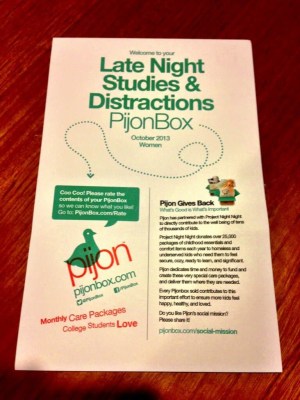 Info Card ($0) Pijon funds and creates boxes for Project Night Night, which provides comfort items for homeless kids. Awesomeness. Really.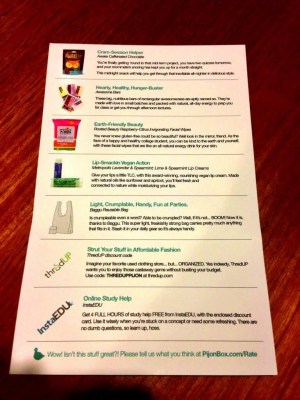 The back of the card provides the details on the items included!
This was shipped in a rather large box with tons of brown paper squigglies.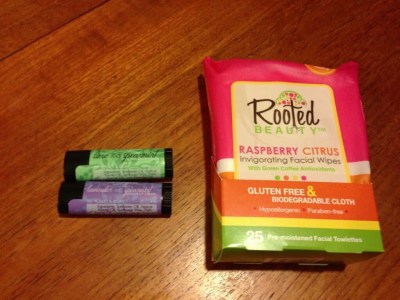 Metropolis Lip Creams ($14) Wow, pricey! Lavender & Spearmint and Lime & Spearmint flavors, both vegan. While I'm sure these are nice, mint irritates my lips, so I'll skip these!
Rooted Beauty – Raspberry Citrus Facial Wipes ($7) I thought this was a great inclusion for a college student. Perfect for after the gym, and the company donates to anti-sex trafficking organizations. I thought
was a very conscious box in terms of what they chose to include!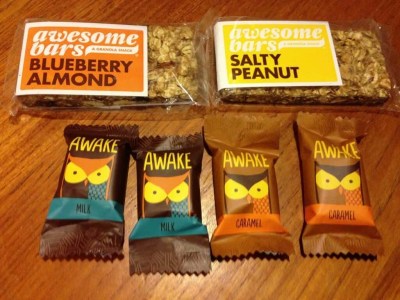 Awesome Bars ($5) Granola bars! I stashed these for the kids. Funny enough, I haven't seen a straight up granola bar in quite a while. I know they will love them!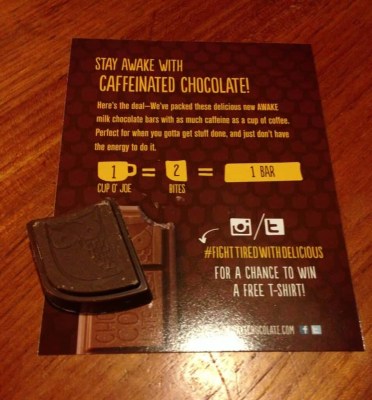 Awake Caffeinated Chocolate ($?) Each of these bites contains the caffeine equivalent of 1/2 cup of coffee. I only drink soda, no coffee, which actually has substantially less caffeine than coffee! The
Baggu Bag ($9) Whoops, my photo was terrible. It's a reusable bag, of which I have many. But a super choice for a college student who is on their own recently for the first time 🙂
There was also a $10 off coupon for ThredUp – new customers only. Boo! That would have been fine if it wasn't on the information card. And a coupon for 4 hours of tutoring at InstaEDU.
I thought this was a really nice box! Mine adds up to $35 plus the chocolate, and whatever values you'd like to assign to the coupons. I thought it was a nice treat for college students, but I wished there was a little more stuff because the package was so large! I'm looking forward to next month though!