I was sooooo excited to get the October NerdBlock. I forgot to order one last month and it looked totally awesome and I had subscription box envy. It had to be remedied!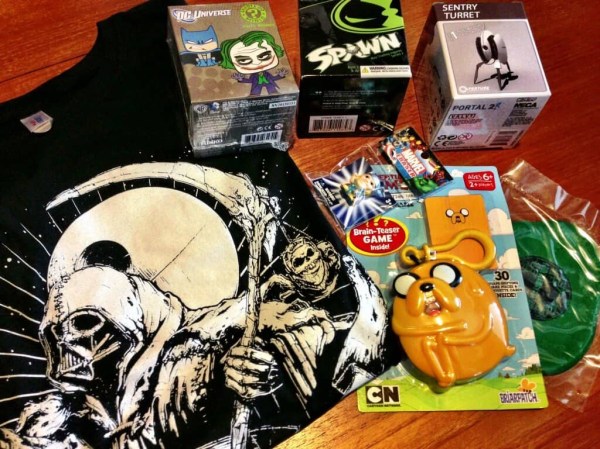 The Subscription
: 
NerdBlock
The Description
: Amonthly mystery package delivered right to your door filled with nerdy apparel, toys, and collectables! Every Nerd Block comes with a custom t-shirt (Has men's regular, fitted, and women's fitted tees – and now youth sizes!) and 5-6 epic items for you to tear into!
The Price
: $30 per month
October 2013 NerdBlock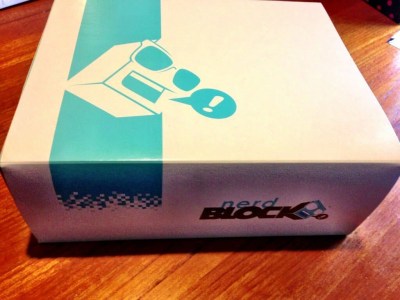 The box is shipped in an outer cardboard box. This is an inner box with an outer sleeve. It ships from Caaaaanada!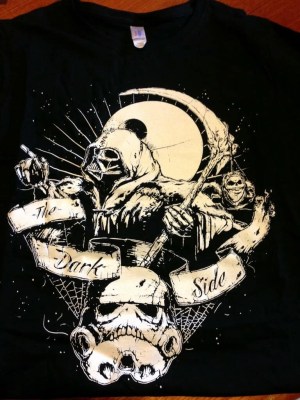 This shirt of awesomeness makes the box. Welcome to the dark side with an evil Ewok.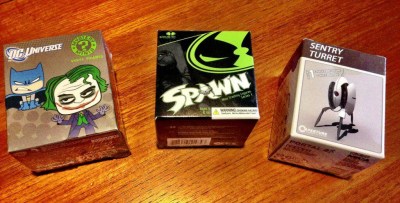 Batman Minifig ($6.84) If you get the Joker it's worth more! I haven't opened mine yet.
Spawn Minifig ($7.55) Meh.
Portal 2 Sentry Turret ($6) Meh. Way too many blind box minifigs. This is super repetitive.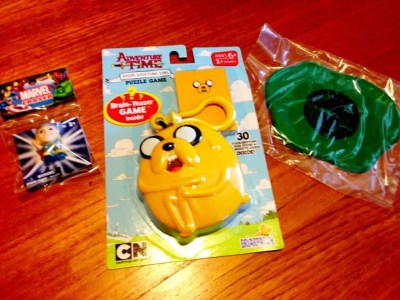 Thor Eraser A bit juvenile. Like only a child would use it. Which is fine, just not for me!
Adventure Time Puzzle Game My kids will love it (I hope). I can't find it online but the price was on the box (because of customs) – I'll update.
TMNT coaster Um, ok. It's a NYC sewer. We won't use this. Maybe we can make a diorama with all the minifigs.
I loved the shirt in October NerdBlock, it was awesome. I wasn't really wowed by anything else in the box though. I guess blindbox minifigs aren't my thing! I would probably prefer to have unique nerdy items! That poses its own problems due to licensing issues, so I guess I shouldn't be so cranky, but 3 minifigs plus some stuff that I wouldn't use – I just wasn't crazy about it. I didn't feel that these items were really "epic." Because of the price of shipping this box is quite expensive for Americans. However, you'll get what is clearly a high-quality t-shirt every single month, so it works out okay!
p.s. No information card 
 I found out on NerdBlock's Twitter account that the shirt is from Tee vs Tee. That kind of information is great for fans.
Visit NerdBlock

Check out all my Nerd Block Reviews! Don't forget to take a look at other Lifestyle & Combo Subscription Boxes &Subscription Boxes Great for Teens & Tweens.