I wasn't going to get October
but when I heard it was Hawai'i, I had to get it!
The Subscription
:
Escape Monthly
The Description: Escape with destination-inspired themes. Pamper & indulge with full-size luxury products from bath, spa & beauty to gourmet snacks & gift certificates plus travel guides & entertainment. One subscriber wins the escape vacation.
The Price: $50 per month
The Coupon: Get 20% off for life! Use code TROPICALESCAPE.
Info Brochure The brochure has a beautiful photo of the destination!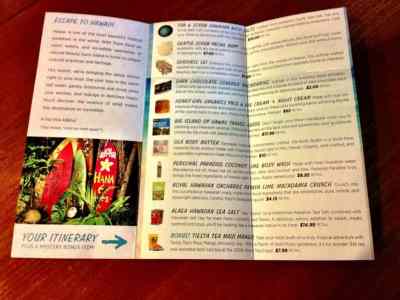 And all the information on the inside
Royal Hawaiian Orchards Papaya Lime Macadamia Crunch ($4.15) The first ingredient was macs! May be a discontinued flavor or a new flavor. Unsure! Nutty & sweet, similar to Naturebox's nut crunches.
Tiesta Tea Maui Mango Immunity ($7) This was mostly fruit bits – pineapple, orange, mango, strawberry – along with safflower and marigolds and looked really cool. I'm actually going to try this one! Honestly I think you could just eat it straight up. Good hot or cold. It's a bonus item (means its not produced there)
Hawaiian Host Dark Chocolate Covered Macadamias ($2) 2 macadamias enrobed in thick coatings of dark chocolate. I never get to write enrobed. But I did today.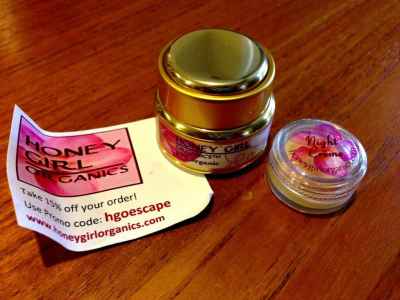 Honey Girl Organics ($??) Face & Eye cream and Night Cream samples, made with raw Hawaiian Pupukea honey & organic evoo. The brochure says $62, but that's not right, that's for the full size products.
Alaea Hawaiian Sea Salt ($15) I was really excited by this! I love salt! It's red from natural Hawaiian clay and was a nice, perky salt.
Tub & Scrub Hawaiian Bath Salts (made in Hawaii) – Oregon Rain ($10) I thought it was funny that this was Oregon Rain (the location of the last box). Of course it refers to the water from Hawaii ending up on the West coast! Made from Pacfic sea salt, it had a nice, relaxing smell!
Shell Lei ($6) Crafted from seashells found on Hawaiian beaches. This was a fun addition!
Personal Paradise Coconut Lime Body Lotion ($2.50) Definitely a fave, it's coconut, lime, and lychee, and the lychee gives it an extra special something! It's fabulous. Looks like it's a brand that provides products to Hawaiian luxury hotels. It's really great. Take me to Hawaii so I can buy it (I didn't win the vacay). The information card said body wash of $10 retail and I would prefer to have that.
Gentle Scrub Facial Buff ($7 (really? be real)) I wouldn't use this on my face (rough for that) nor would I buy it for $7. Won't mean I won't use it, but that's a bit silly!
Ostara Organics Lilac and Lillies Soap ($1) This wasn't on the information card and it isn't made in Hawaii but it sure smells nice!
Ola Body Butter ($10.40) This is strongly (but nicely) scented and is a great "transport me there!" item. I'm putting it on tonight & relaxing!
Big Island of Hawai'i Tour Guide ($12.85) Instead of these, I sure wish they'd just give a voucher for the e-book or even better – a good read set in the locale! I don't know what to do with these.
Alas, I won't be getting next month's box – it's Vermont! Spending a month there in the dead of winter will give me quite enough maple exposure, thanksverymuch. Plus, they can't ship ice cream! Who knows, perhaps they'll send out Ben&Jerry's coupons! Going on totally my own gut about the skincare products and the scrubber, I'd say this box has a $70 retail value! Considering the coupons available I'd say that's a great deal, and I wish
would be a tad more realistic in their prices on some items ?