Sweet Pea Box sent me their kids clothing subscription box for my review. Thanks Sweet Pea! Be sure to enter the giveaway and get information on this weekend's sale at Sweet Pea at the bottom of the review!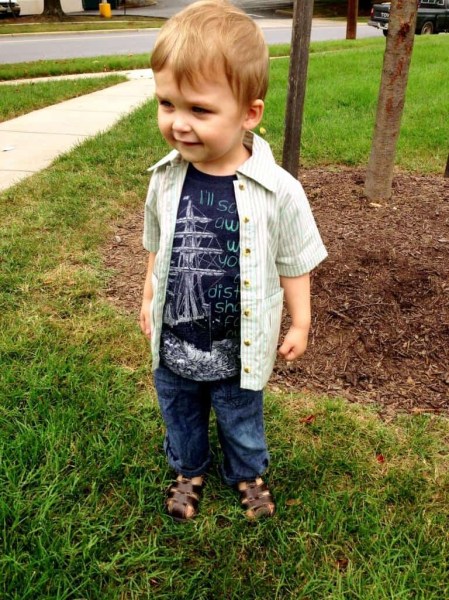 I wasn't really sure what to expect with Sweet Pea Box, as I don't believe I've ever seen a review of their children's clothing subscription service.  Sweet Pea Box is a monthly box of children's with options for 4, 6, and 8 items (at $30, $40, and $50, respectively). Signing up is simple and you fill out your profile and voila, new clothes, no shopping! Sweet Pea promises designer clothes for your children and that's what I got! I am so happy with this Sweet Pea Box!
August Sweet Pea Box Review
The clothes came packaged in gift wrap, which I thought was a nice touch and added to the excitement of opening the package.  The clothes were folded very neatly!
My son was so excited by this hat he had to put it on immediately. The hat is from Gymboree.
This is a Kate Quinn Organics Button down shirt and a Tiny Whales t-shirt. I thought these shirts were darling!! They were just my guys' style and matched the profile I gave Sweet Pea Box (hipster).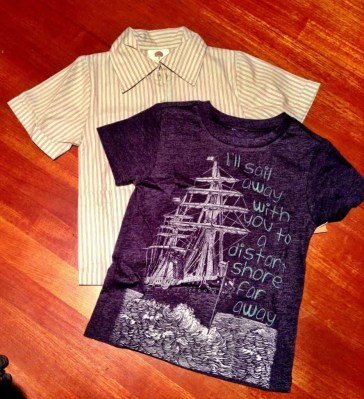 E paired this look with roll-up dungarees and fisherman's sandals.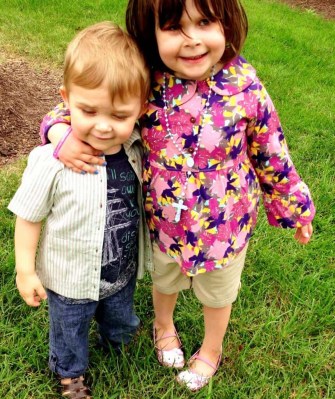 Next up, a girl's outfit. This was another great outfit! I loved the Peter Pan collar and bell sleeves and the details on the shorts. The shirt is Violet + Moss.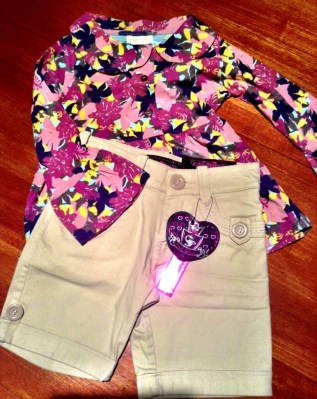 My daughter paired this outfit with a pink glitter bracelet and Hello Kitty shoes (and a rosary). She's really getting into accessorizing her outfits. When did I get a daughter that's old enough to do that?
Next up, a truck shorts set from Dogwood USA. Every little boy loves trucks and E grabbed this one as soon as it came out of the package.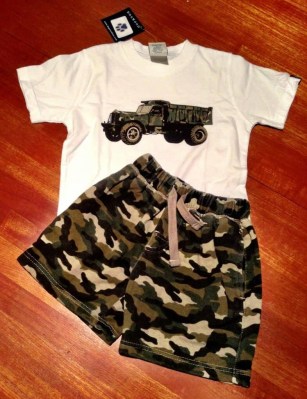 This was a great play outfit and I liked that the bottoms hide dirt! Isn't it cute? The bottoms were fleecy and rugged.
The Sweet Pea Box I received was a six item box with a freebie referral item (the Kate Quinn shirt), and is worth $40. At significantly less than $7 per piece (counting only 6 items) I think this is a great bargain! Plus, I loved the clothes and was very happy with the selection I received. And my kids loved them too! If you're interested in signing up, visit Sweet Pea Box and tell them that you came from MommySplurge! Also, Sweet Pea Box is having a sale Saturday, the 24th at 12 noon and until Sunday, the 25th at midnight, eastern standard time on Kate Quinn, Violet + Moss and Plum Bunny, so get in on that action!
And I have a giveaway! The winner will receive one 4-piece item box! The giveaway ends September 20 at midnight PACIFIC and is open to US addresses only please!