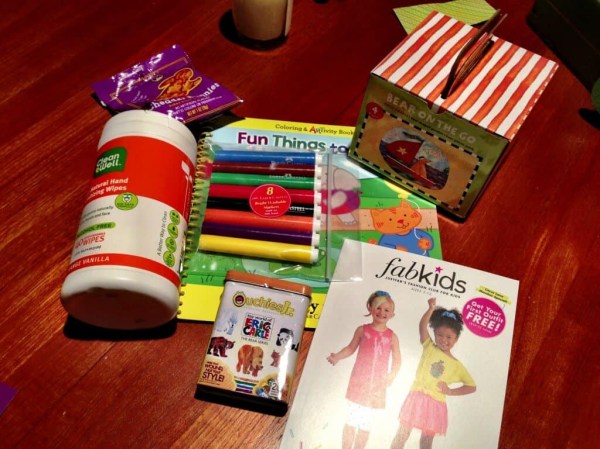 Our August Citrus Lane arrived a few days ago! I saved them for a fun after dinner activity! Citrus Lane is a fun baby, toddler, and preschooler subscription box with a little something for everyone. I was really happy with our picks this month. And oh yeah, I got two! One for my son, a 32 month old boy, and one for my daughter, a 4 year and 8 months old preschool girl. Alas, both are December babies and we don't do the school thing until next year! As always, Citrus Lane is $25 per month, but you can get $10 off your first month by signing up with my link! I'm not sure if the The coupon TAKEHALF is still working!! So use that when you check out!
The bottom box is the boy's box. The required larger box wasn't anything really huge, the packaging for one of the items I guess just didn't fit!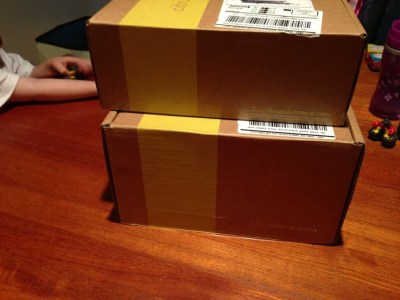 Citrus Lane August 2o13: 32 month old boy
The information card gives plenty of information on each item plus any applicable coupons to purchase more!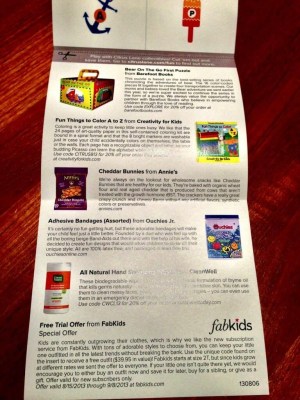 Bear on the Go First Puzzle from Barefoot Books. This is really cute and my son loved it. Also I love barefoot books – it's a fantastic company and these puzzles are seriously sturdy. They're great quality with great colors and I'm really happy to have these in our closet because they're going to the kids busy for hours. $13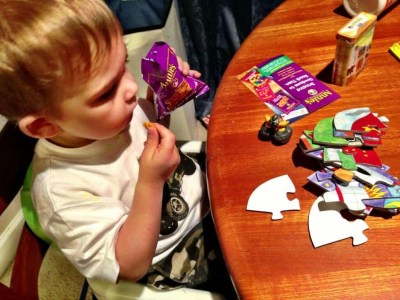 Fun things to color from A-Z – Creativity for Kids. This is alphabet themed!. It has washable markers and a little pouch to store them in and the really great thing is is it has perforated edges on the sheet so you can tear off each piece of artwork and hang it without worrying about the spiral binding. It is also great for travel. Faber Castell is another great company and I've had very positive interactions with them! $8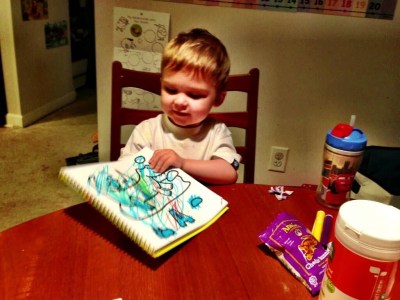 Cheddar bunnies from Annie's. We actually just picked up a huge package of of Annie's Bunny snacks from Costco! the kids loved them and there are natural and don't have any artificial flavors or preservatives and I love that! $0.50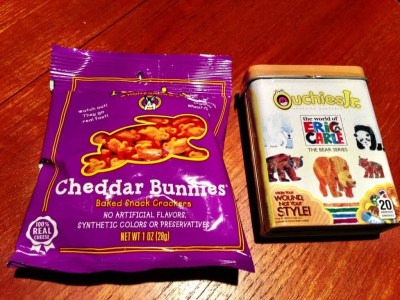 Ouchie's Junior bandages in an Eric Carle print. These are adorable bandages and my kids at the age where they're obsessed with Band-Aids and putting one on every boo-boo so it's always good to have an extra set around, and these are really cute. $5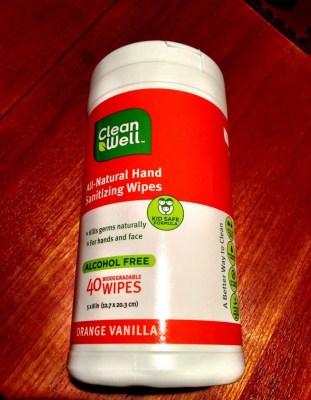 All-natural hand sanitizing wipes from Cleanwell – Full-size! These are orange and vanilla scented but you can really tell they have thyme as the active ingredient. They are alcohol free and safe if you need to wipe off an injury but also for cleaning up. The information card says that you can use these an emergency diaper situation which is great so you're not going to sting or burn your kids. My daughter is totally obsessed with them. We have an addict on our hands! $5.50
The value of this toddler boy's Citrus Lane  box was $32! PLUS!
A free trial offer from FabKids! This is for new subscribers so now we have grandparents that are new subscribers. This is a $40 value. I wanted to try out the new boys line and so I am really excited to get this outfit. $39.95 value, let's call it $20 because that's what you can generally buy one for as a new subscriber. $52 of value packed in this box. Let me tell you, I was really happy to have picked up two this month! I paid $4.95 to redeem this offer and was completely thrilled with that. Even without the outfit Citrus Lane was a fantastic value this month!
If you didn't get the box this month and wanted to get FabKids, use my link and get half off your first outfit!
Citrus Lane August 2o13: 4 year old girl
The preschool girls' Citrus Lane box was quite similar to the toddler boy's, just a slight variation, so this is just a simple rundown!
Cheddar bunnies from Annie's  $0.50
Ouchie's junior bandages in an Olivia print $5
Cleanwell sanitizing wipes $5.50
Plus once again the free trial offer from FabKids. (I'm valuing at $20)
This Citrus Lane preschool girl's box was valued at $2 more than the boys' box at $54. I'm very happy I got two boxes this month and I will get two again for September! I can always use extras of things like all-natural sanitizing wipes and band-aids!  If you want to pick up Citrus Lane, you can do so right there!
They spelled pageant wrong. Whoops!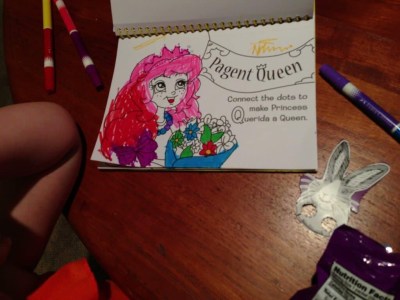 Loved it!