Bark Bright's latest gift with purchase deal is one of Bark brand's most favorite deal! Get ready to start off your pup's clean teeth journey – no brushing required!
NEW PRODUCT ALERT! BARK Bright's new Durable Dental Kits provide 3x the chew time with less than 10 simple, clean ingredients.

This rust-resistant Yeti® dog bowl gift stays clean and shiny — just like your dog's teeth after New Bright Durable! This dental chew + toothpaste duo lasts longer, so super chewers see results in just 1 month!
When you sign up for Bark Bright you'll get a FREE Yeti Dog Bowl in Navy OR in Seafoam Green with your first box in a 6-month subscription! Just use this link to subscribe – no coupon code needed!
Get FREE Yeti Dog Bowl at Bark Bright!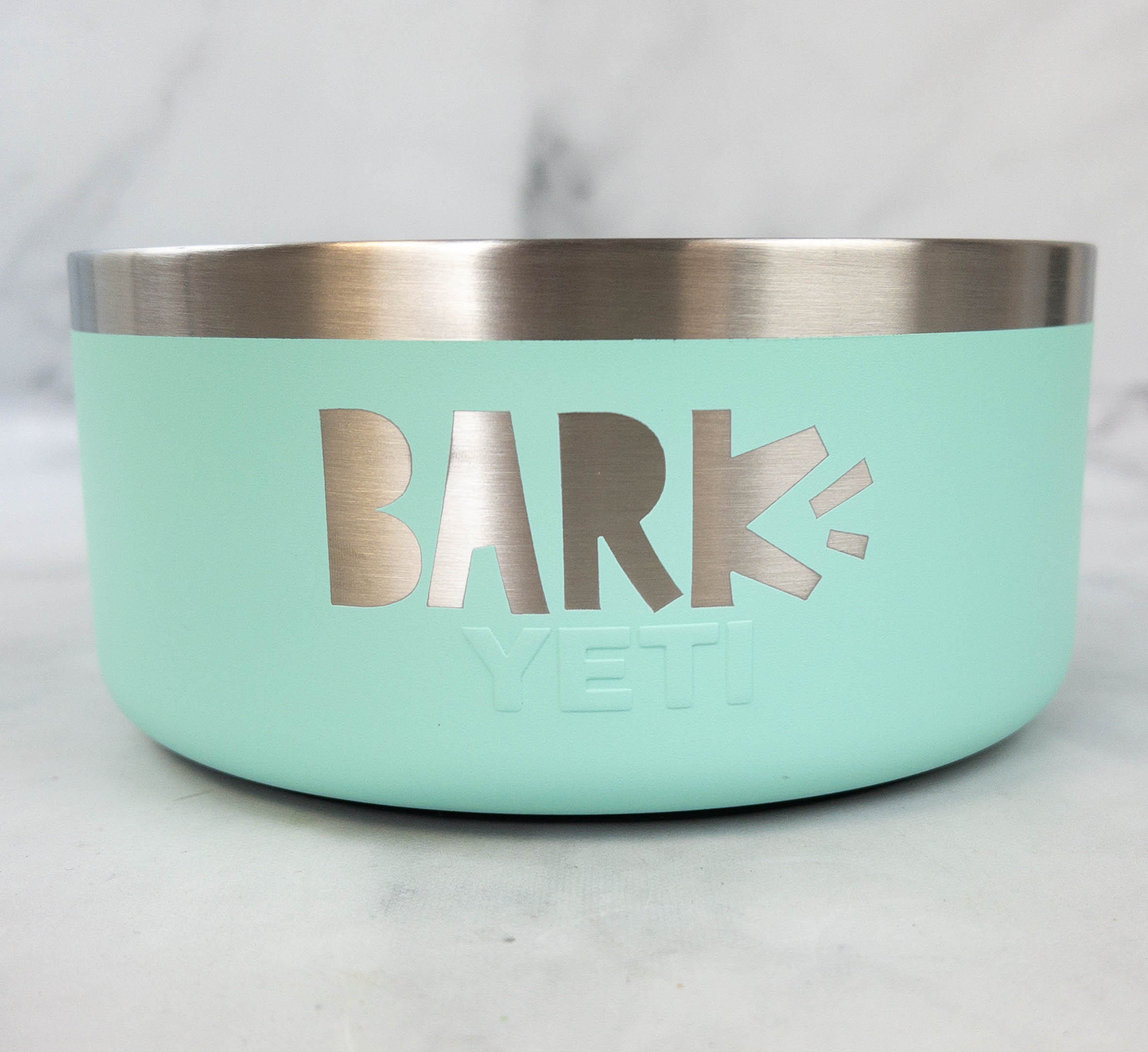 Dog food bowls come in different materials and sizes – some are more durable than others, like the Yeti Dog Bowls which are made with double-wall stainless steel and a non-slip design. The YETI dog bowl is food-safe, which means you can put different kinds of dog food (and even water) in it. Also, it can hold up to four full cups of dog food, which is great for dogs with a big appetite. When it's time to clean the bowl, you just have to put it in the dishwasher, and you're done. Yup, the YETI dog bowl is dishwasher-safe!
Love this bowl and need to get it for your beloved dog? You can get it free when you sign up for Bark Bright, only for a limited time. We received the sturdy bowl in a beautiful seafoam green color, which is a Bark brand exclusive!
OR Get a FREE Extra Month with a 6-month subscription when you subscribe to Bark Bright! Just use this link to subscribe – no coupon code needed!
BarkBright Dental is a monthly dog dental subscription box that delivers unique and specially formulated toothpaste and dental chews straight to your doorstep. There are now TWO options for the dental chews, and you can choose depending on your dog's chewing habits! The Original Chews are chicken-flavored, star-shaped chews with a groove that holds the toothpaste, a quick and effective way to clean the teeth of all kinds of chewers. The newest option is the Durable Chews, which are vegetarian, mint-flavored chews featuring proprietary nubs and ridges to make them last longer for super chewers!
If in any case their toothpaste and treats don't meet your dog's needs, then they'll be sending their own man to work with you and find out the exact right bite for your pups! See our full BarkBright review to find out more about what comes inside.
Here's all the details on BarkBright ($30 per month for the Original Chews, $35 per month for the Durable Chews): The Bark Bright enzymatic toothpaste has 3 enzymes that break down the debris that causes bad breath. Together this trio turbocharges your dog's natural self-cleaning process to keep breath fresh, no toothbrush required.
Triple Enzyme Toothpaste. Each bag includes 1 gel tube of toothpaste from BarkBright! (1 month supply)
Dental Chews. Choose between the chicken-flavored Original Chews (30 pieces) OR the NEW vegetarian, mint-flavored Durable Chews (15 pieces). (1 month supply)