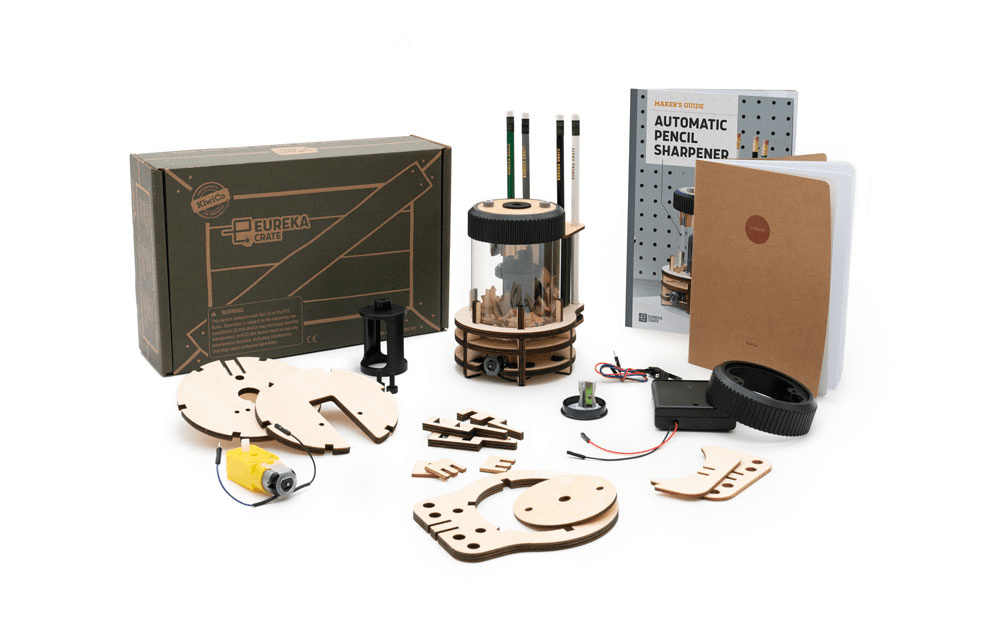 Eureka Crate's Cyber Monday deal is available now! Eureka Crate sends engineering & design projects for ages 14 to 104.
Use this link and coupon code MERRY to save 50% off your first month of any subscription in the KiwiCo Family!
Cyber Monday: First Box $15.95 Shipped!
Your first box in this subscription will be just $15.95 – regularly $31.95.
OR, use this link and coupon code MERRY to score free months with a longer-length subscription!
Half Off First month in a month-to-month subscription
1 month FREE with a 3-month subscription
2 months FREE with a 6-month subscription
4 months FREE with a 12-month subscription
For Eureka Crate & Maker Crate 4 months FREE with a 12-month subscription for $249.75 = $20.81 per box.
Eureka Crate teaches innovators how to apply principles of science and math to make awesome things you will love to use everyday – from an articulated desk lamp to an electric pencil sharpener to a wooden ukulele.

These crates apply science and math principles to the design of everyday items. We provide a blueprint for creative solutions to real world problems and needs. Engineers, armed with critical thinking and problem solving skills, gain an appreciation for the design process and take pride in making something with real utility.
Want to know more about which box is right for your child (or kids at heart)? This page lays out all the details on every KiwiCo box!
The STEM subscription for the maker in all of us! Kids and kids at heart will love engineering solutions to real-world problems and build problem-solving skills with the cool engineering and design builds included in Eureka Crate! If you're ready to graduate from KiwiCo's other boxes or just can't get enough, you'll love this box, which is designed to create a hands-on learning experience using everyday items to discover the science and math principles they embody, along with the design process of the month's project!
Every Eureka Crate includes:
Engineering Project Put science to work and build something amazing
Hands-On Creativity High-quality materials and detailed step-by-step instructions
Maker's Guide Explore the science and technology behind the design
Design Challenge Get inspired and develop creative problem-solving skills
See our Eureka Crate reviews to find out more about this hackable box!
And don't forget to check out all of the Cyber Monday Subscription Box Deals!