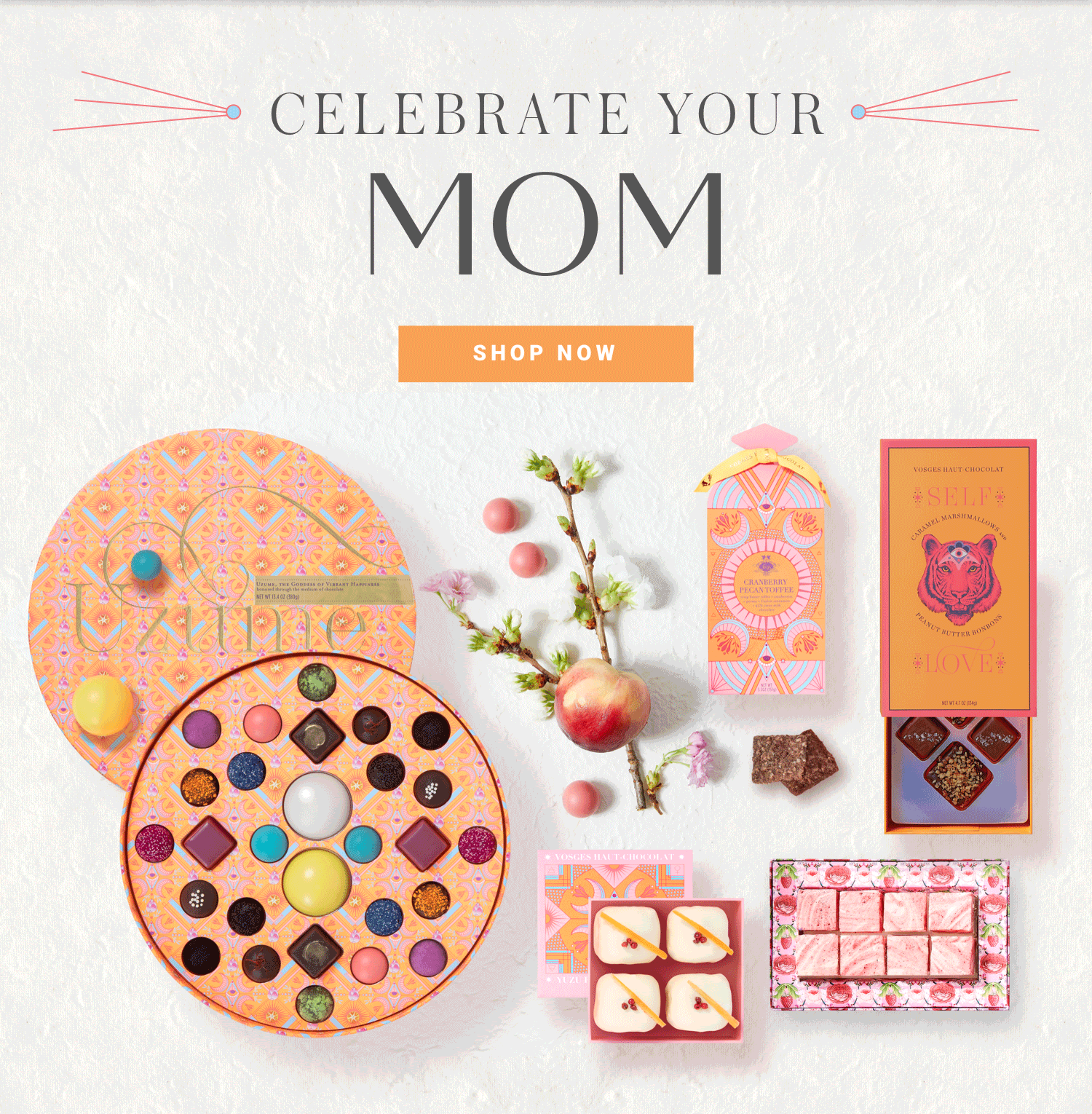 Vosges Haut Chocolat Mother's Day Gift Sets are now available – give your favorite mom the the delicious taste experience of Vosges' out of this world chocolate this Mother's Day!
For Moms Supporting Moms!
Here's a sneak peek of the Mother's Day Collection:
Collection Uzume ($125)
In our latest Spring collection, Uzume, we chronicle the unique characteristics of every root, island black sugar, sake, sesame seed and obscurity to highlight the craft and pristine cultivation that comes from Japan.

A perfect Mother's Day or just because gift! The goddess of the dawn, merriment and humor, Uzume acted as an ancient change agent credited with bringing joy to all in her path. She was jovial and creative, inspiring people to see their potential for happiness and creation. This collection celebrates her, her origins in Japanese culture and her attribute of creativity. Katrina has used the medium of chocolate to honor the ingredients that are found throughout Japan during this season of renewal and the artisans who craft and cultivate them.
Bastet A Sacred Hi Vibe Chocolate Collection ($160)
A collection worthy of a warrior goddess. Dedicated to this fiery protector, this limited edition Valentine's Day heart-shaped box is as extraordinary as Bastet herself. The goddess of women's secrets, fertility, music and health, Bastet is celebrated with chocolates made to elicit the pleasure that this deity is so often associated with.
Comfort Food Tower ($82)
A luxurious twist on the classic comfort foods that everyone loves to indulge in. Fluffy caramel marshmallows, crunchy caramel toffee and rich peanut butter bonbons are stacked and tied together with our signature purple ribbon.
Here are other Mother's Day Gift Sets:
Are you getting the Vosges Haut Chocolat Mother's Day Gift Sets?
Check out Vosges Chocolate Lunar Club if you want to get a regular subscription.
Find more Mother's Day gift ideas in our complete guide!