Japan Crate is a monthly subscription box that helps you "experience the excitement of Japan every month through fun candy & snacks." They have three subscription levels that start at $35.95 a month and offer 1, 3, 6, or 12-month plans that auto-renew at the end of the term. Japan Crate aims to send candy that is fun and exclusively available in Japan.
DEAL: Save $3 on your first regular or premium crate with coupon code HELLO.
This is a review of the Premium box, which is currently $45.79 per month.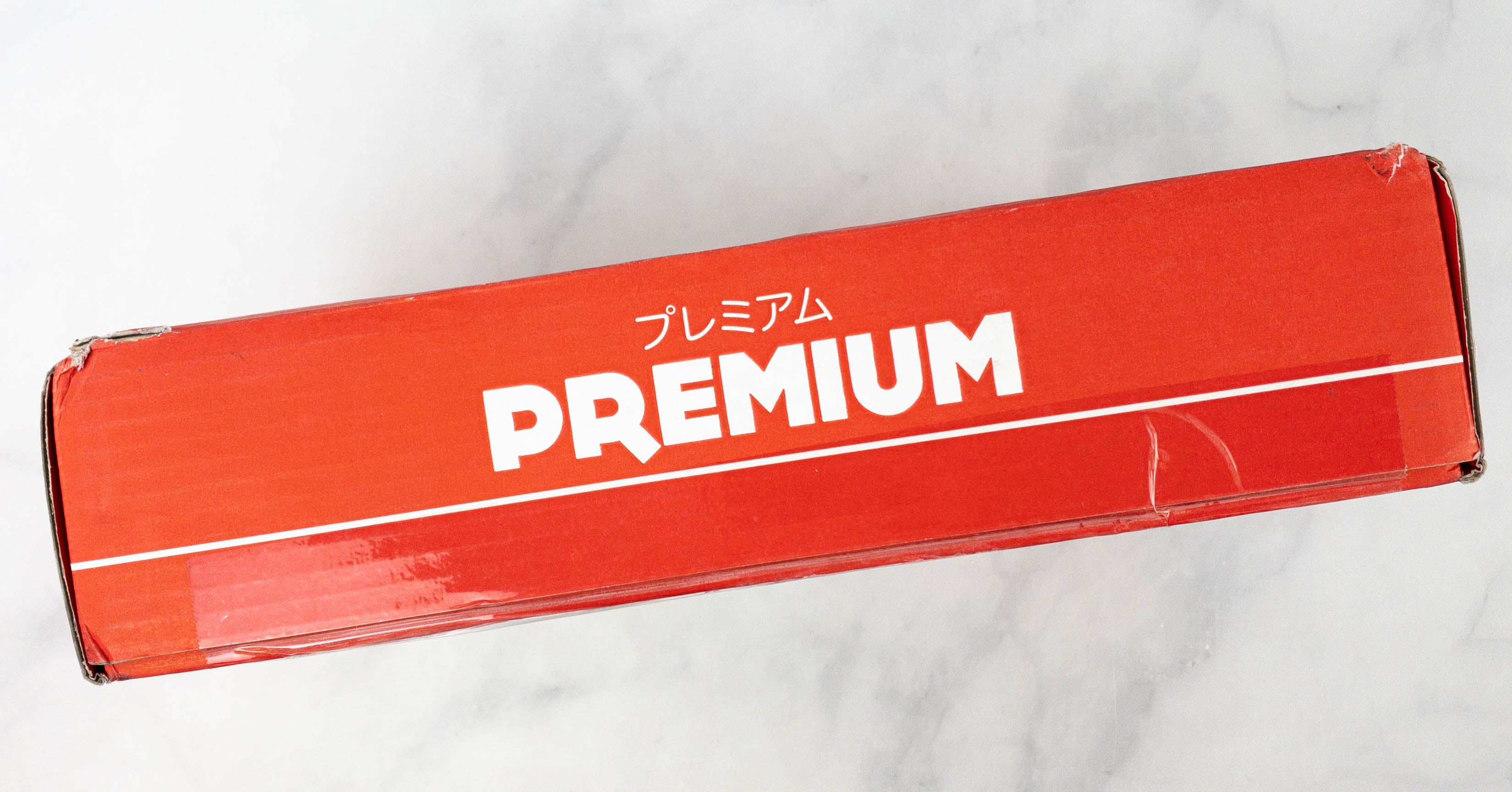 The box came in perfect condition!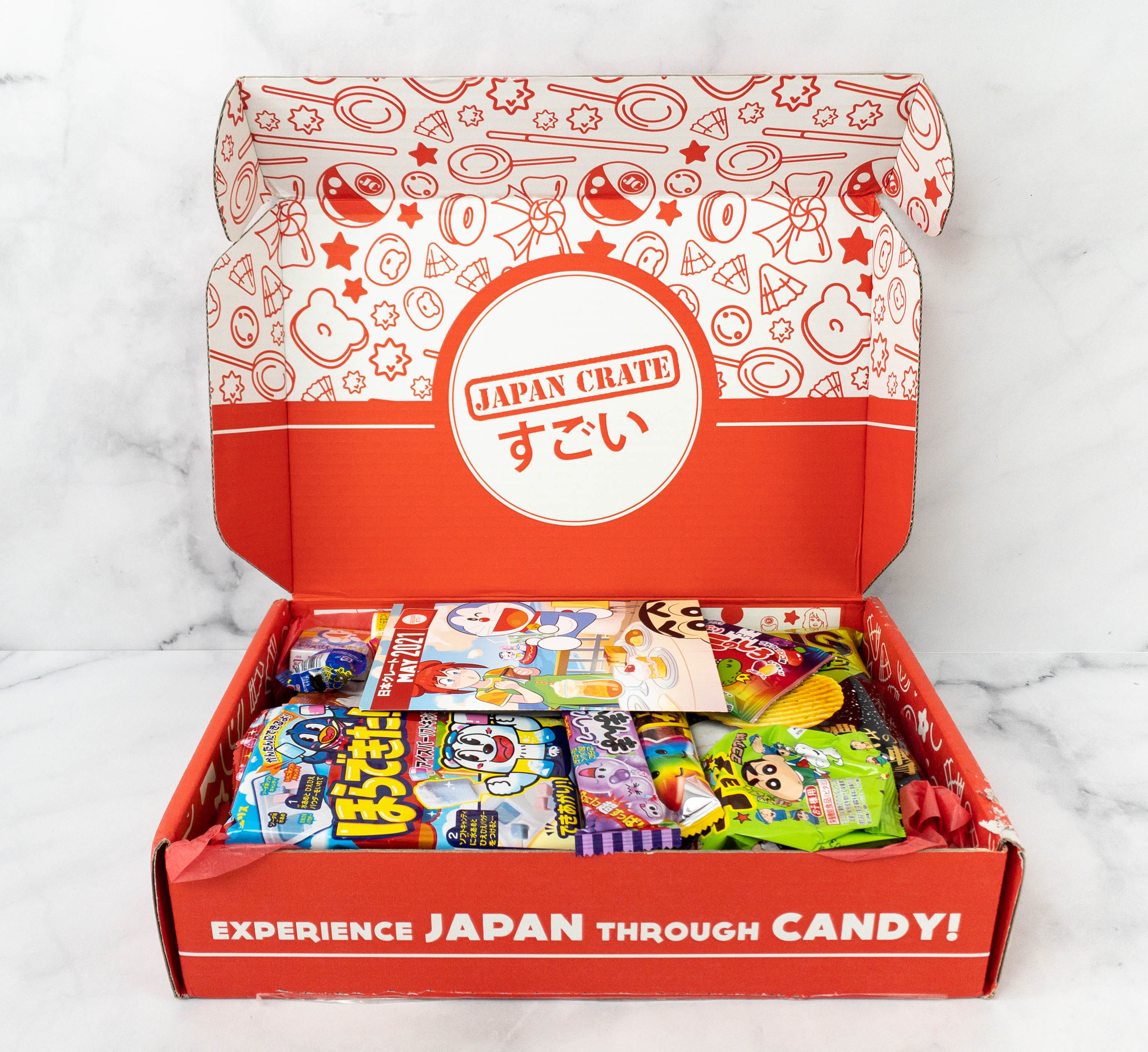 The interior of the box has cute prints!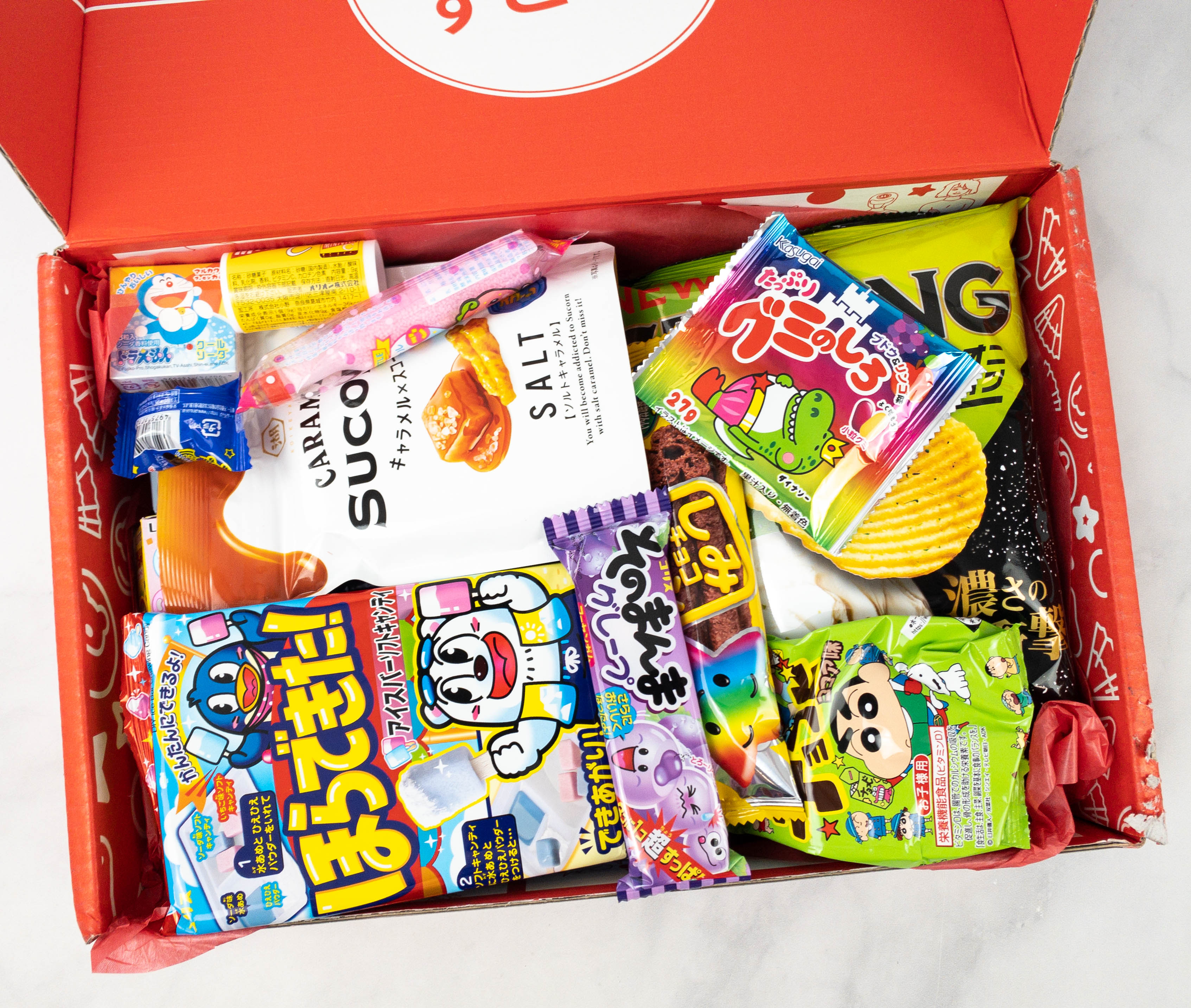 As always, the box is pack with LOTS of snacks!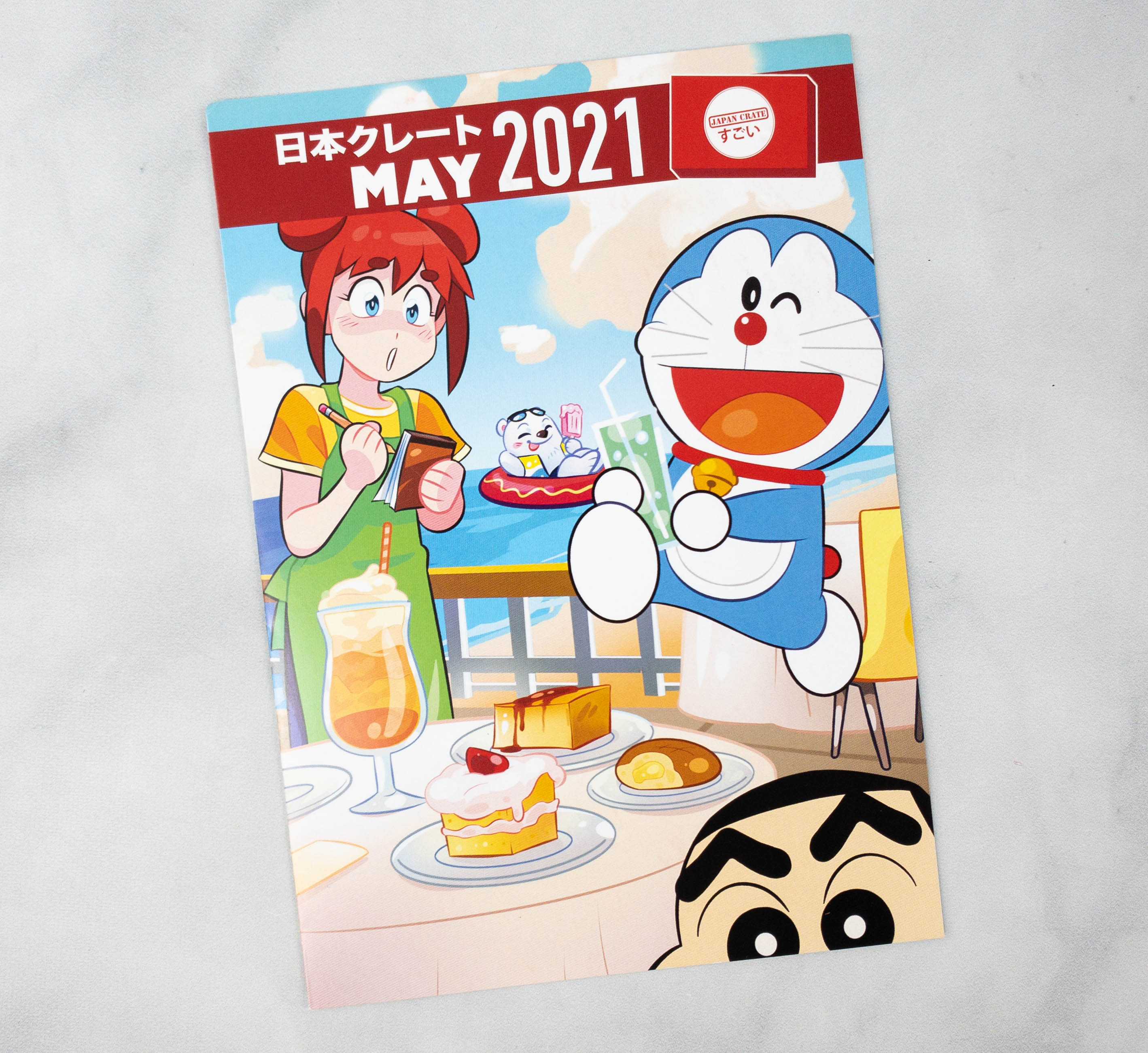 The box also includes an information booklet!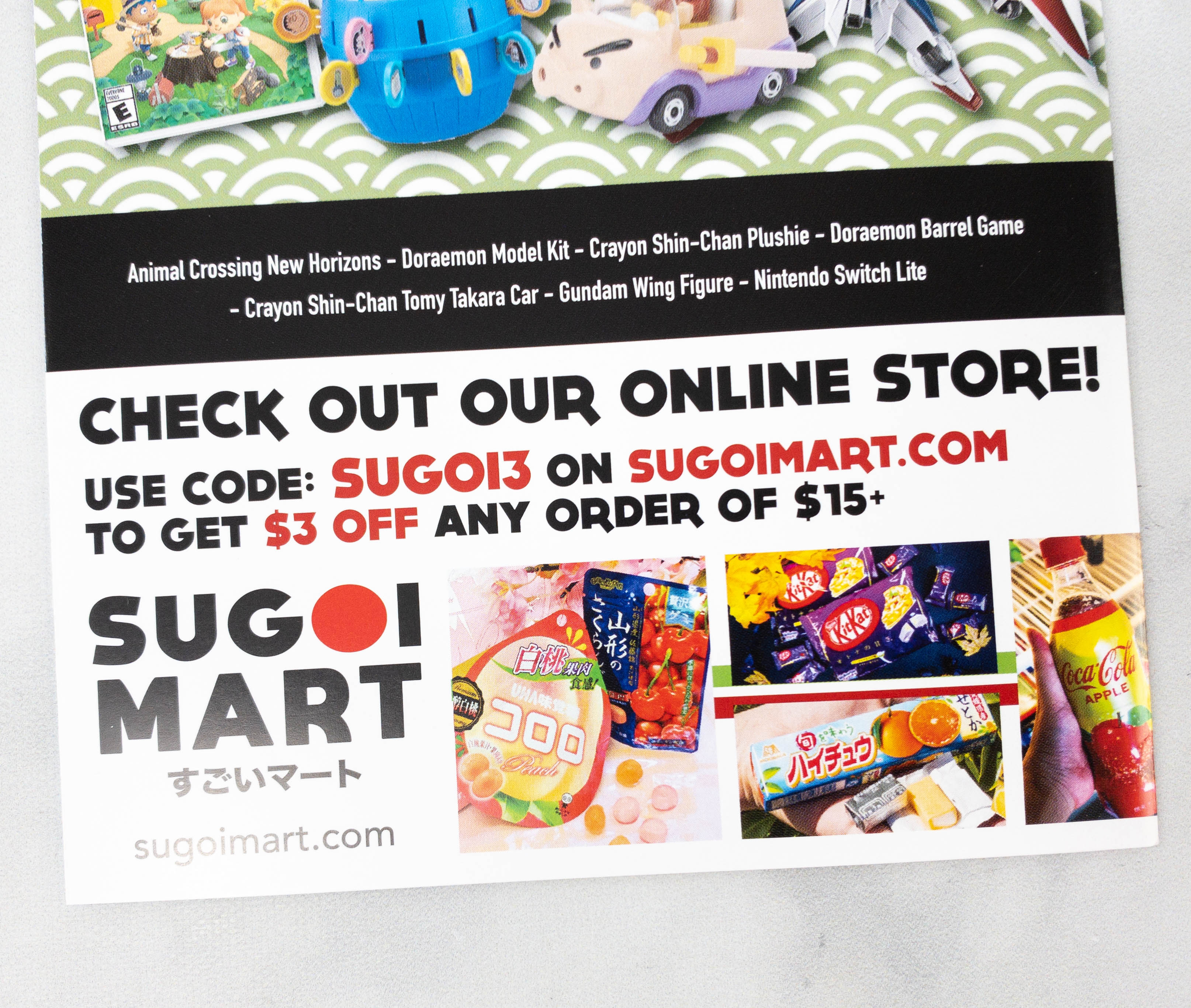 Featured in this part of the booklet is Sugoi Mart. They gave us a $3 off coupon code which we can use on orders $15 and up!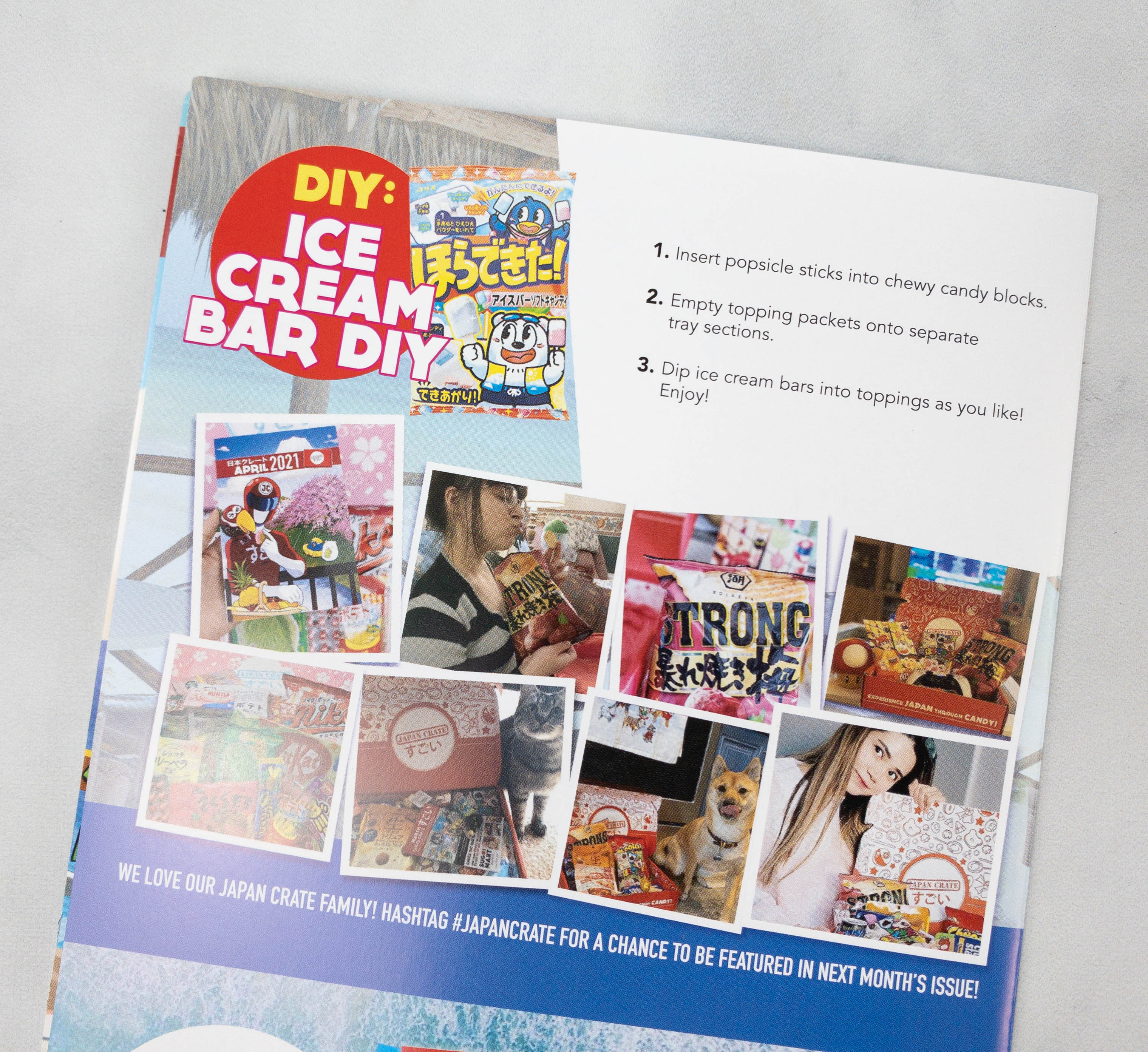 The booklet also features selfies of subscribers with their Japan Crate.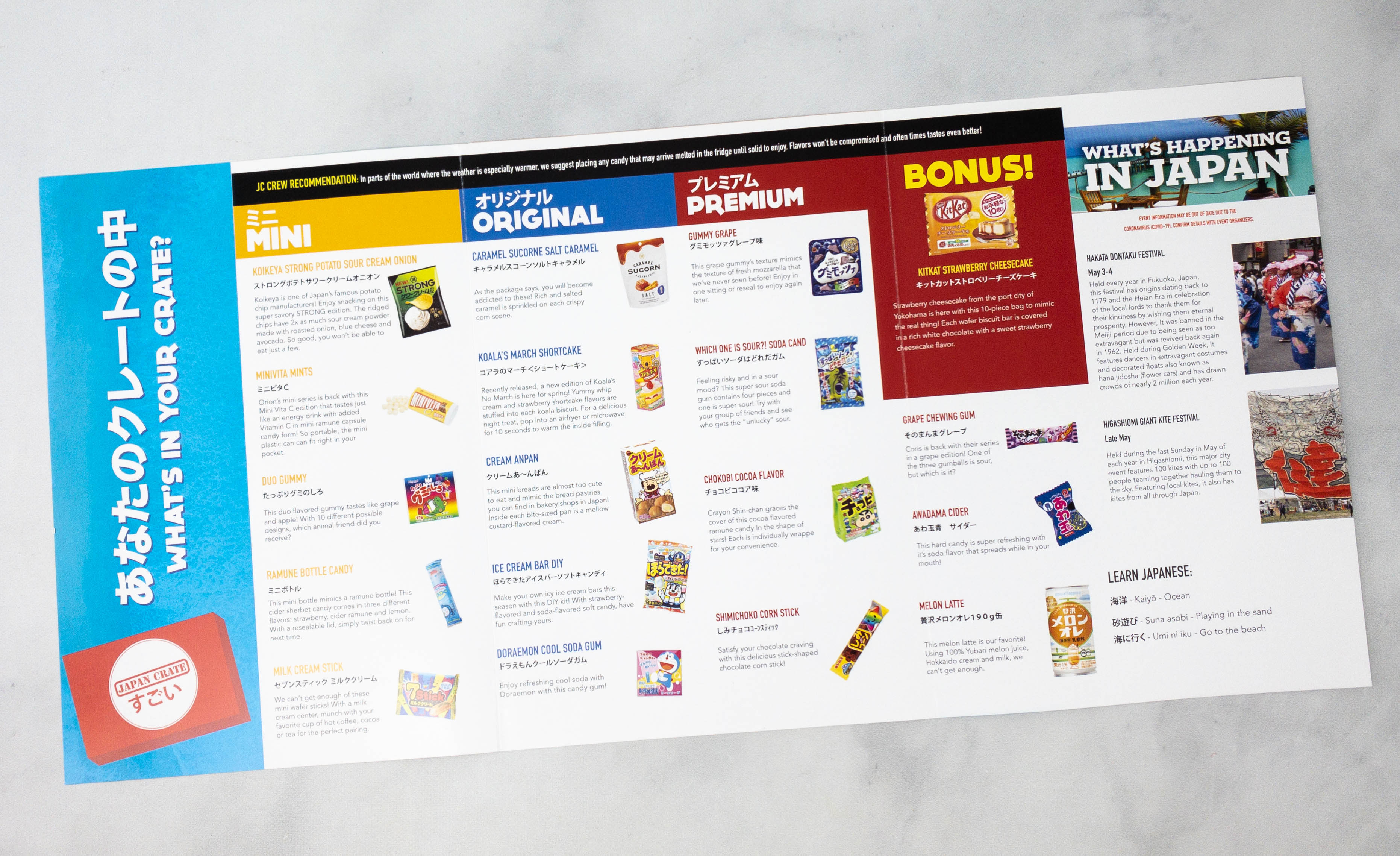 Inside the booklet is a chart of contents that lists all the snacks from three different box sizes. There are 3 different subscription levels available: The Mini includes 5 items, the Original includes those items PLUS another 5 items, and the Premium includes those 10 items PLUS another 5 items.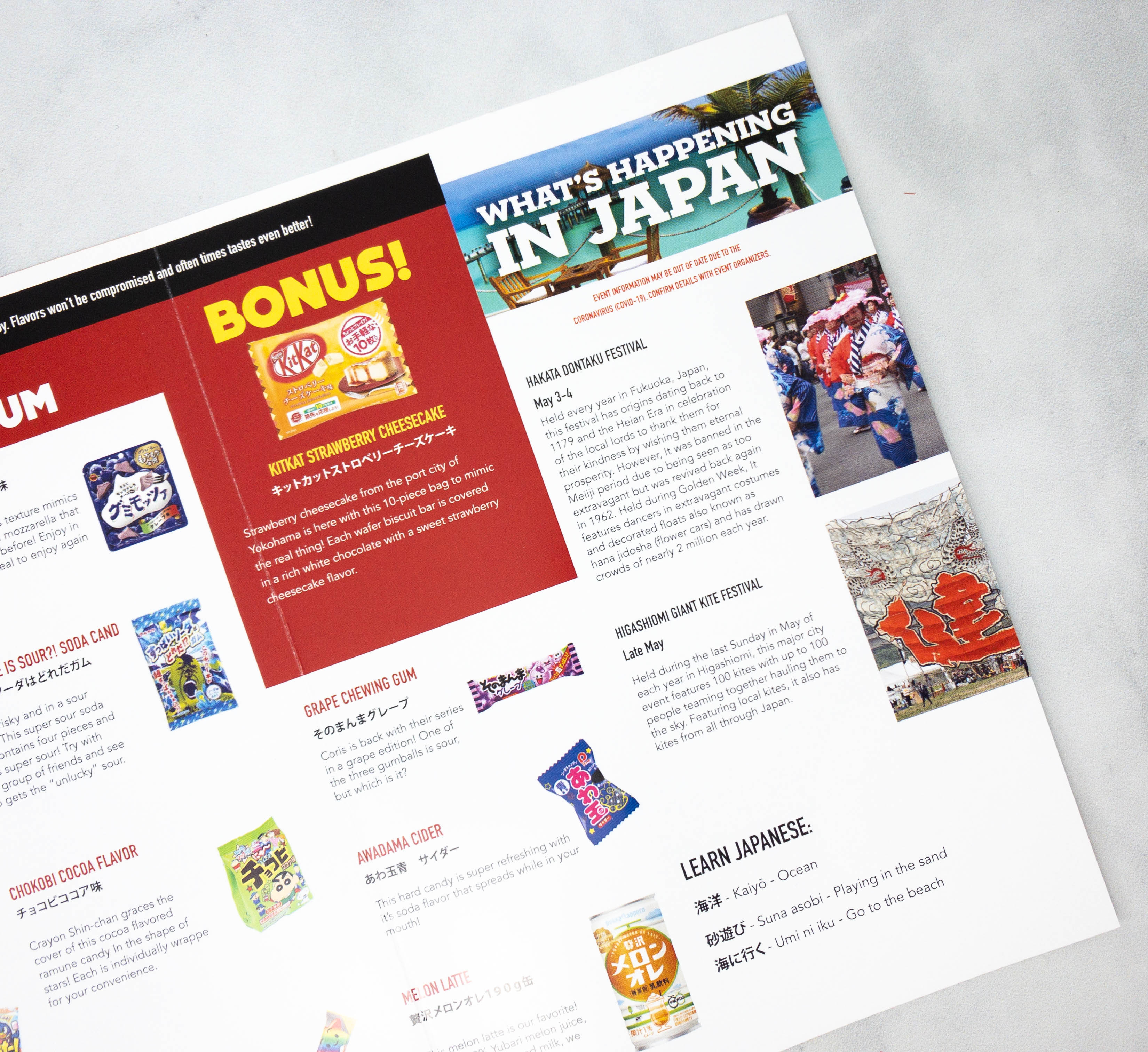 This month, subscribers will get a bonus item, a bag of KitKat Strawberry Cheesecake. There are also info about festivals held in Japan during March and some Japanese vocabulary words.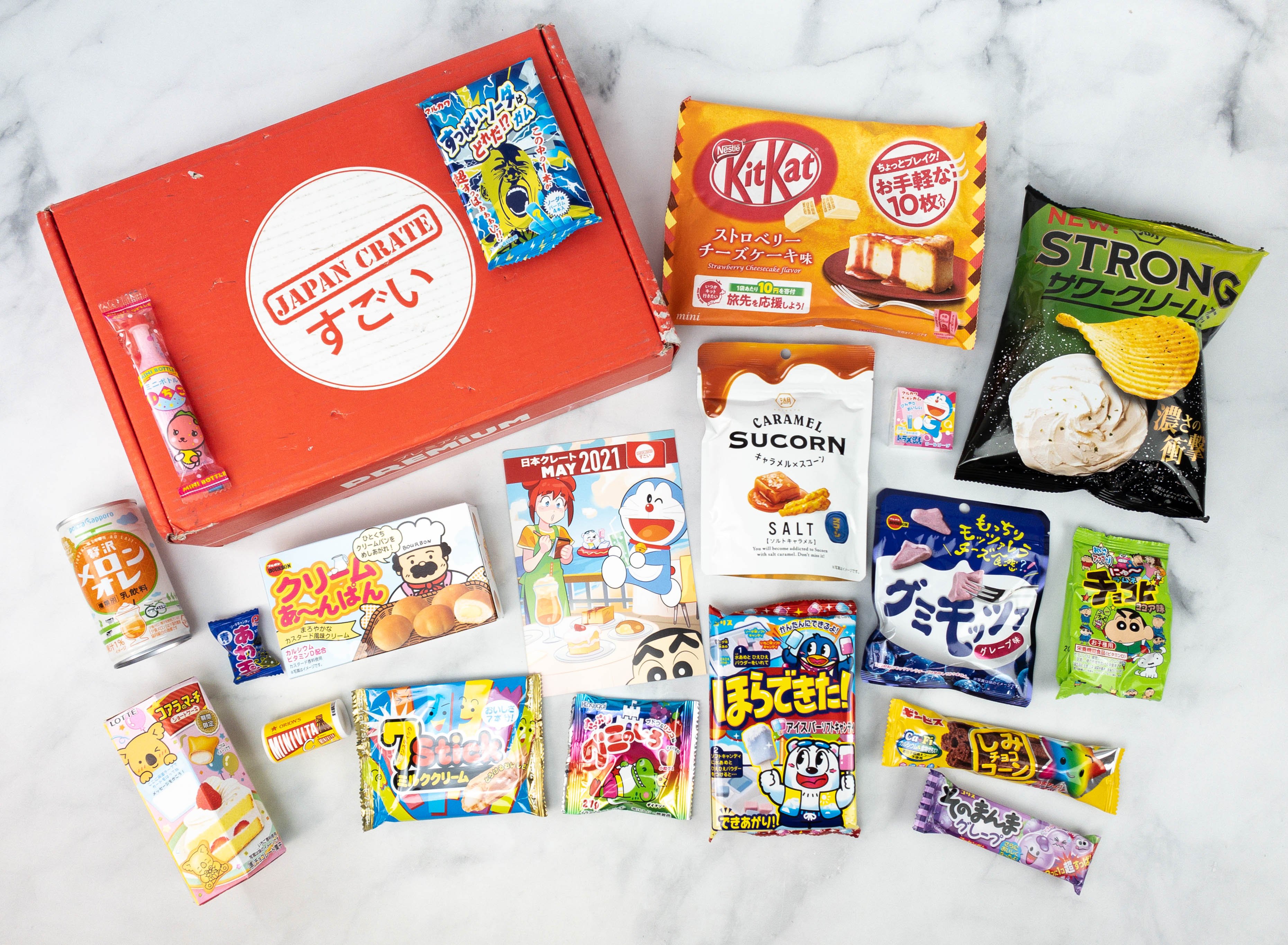 Everything in my May 2021 box!
Cream Anpan. These mini breads are so delicious! Each soft piece has a custard cream filling, and it only took one bite for me to fell in love with this pastry.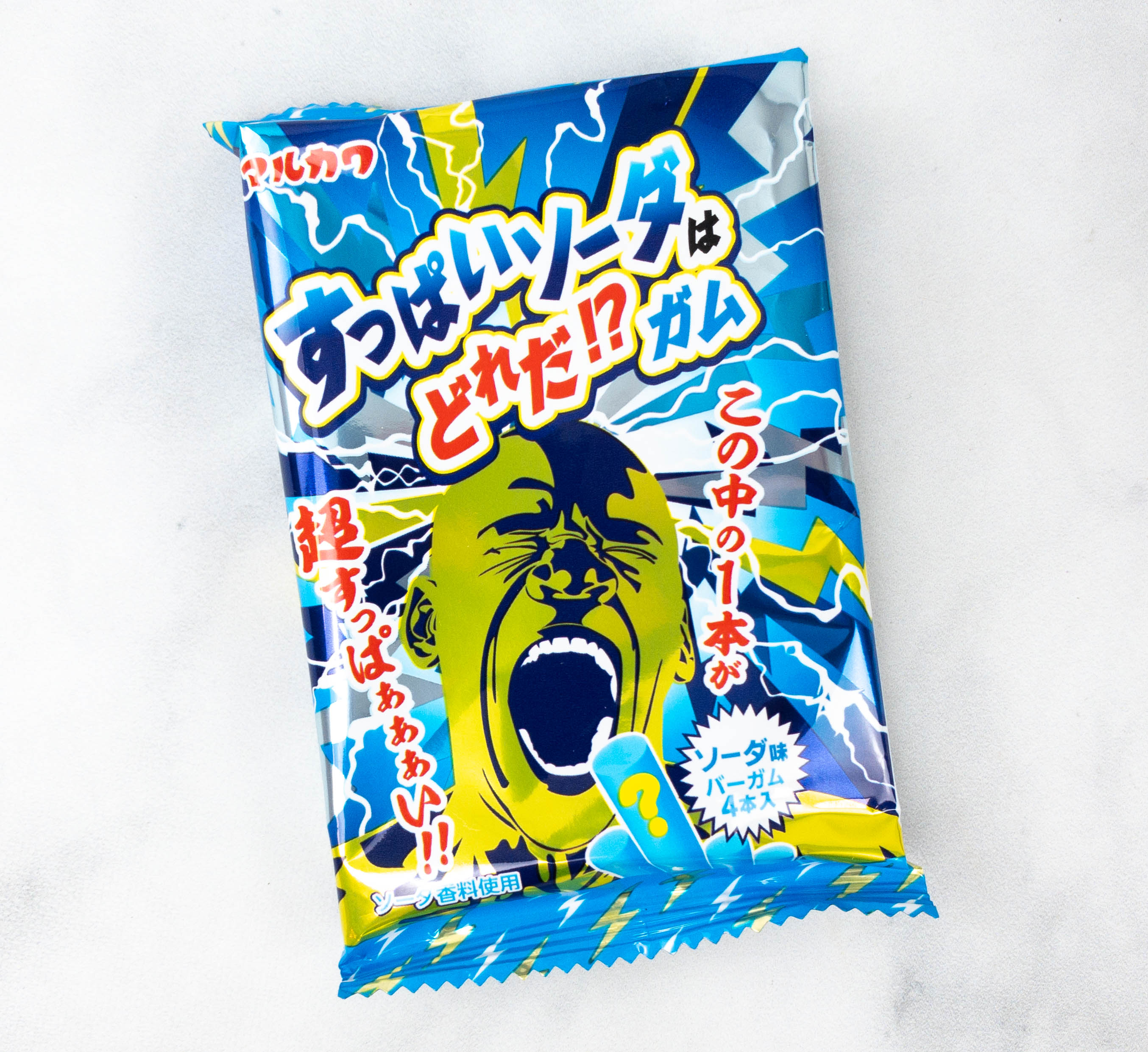 Which One is Sour? Soda Candy. This is for the sour candy fans! It contains 4 sour soda gums and 1 of them is extremely sour. It makes a great game to play with friends, as you can get one candy each and guess who will get the special piece.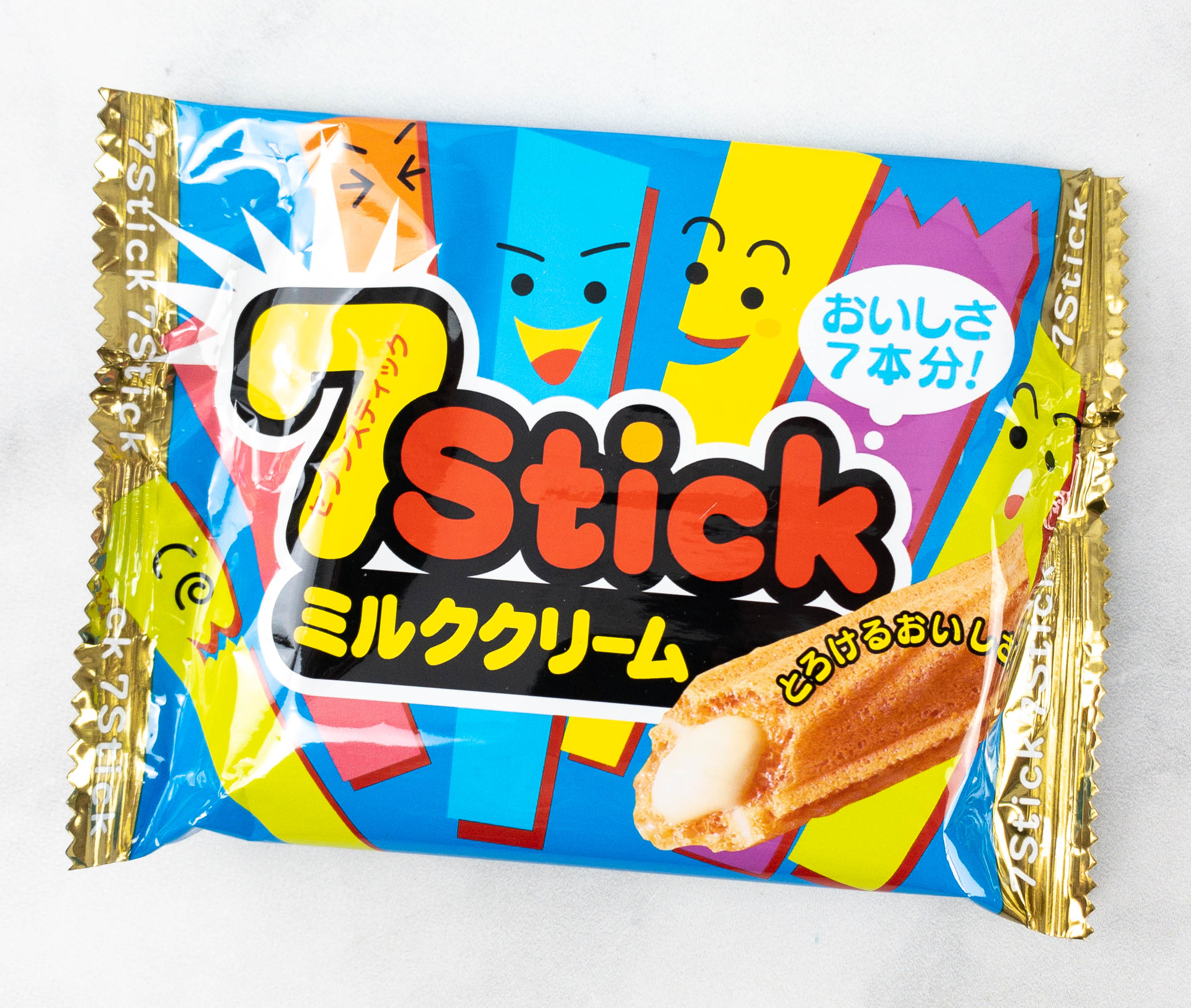 Milk Cream Stick. I love wafers and this pack of milk cream stick wafer isn't an exception. They may be small but they are sweet and satisfying. They also make great on the go snacks.
Ramune Bottle Candy. This cider sherbet candy also turned out be a an enjoyable treat. It comes in a resealable cute bottle shaped container and it contains three different flavors: strawberry, cider ramune, and lemon!
Awadama Cider. Another soda flavored treat included in this month's box is this hard candy. I was tempted to bite it off while in my mouth because of its flavorful taste. Still, I enjoyed it better by waiting for it to melt in my mouth slowly!
Minivita Mints. The mints come in a convenient packaging that's easy to bring anywhere. They taste just like the usual energy drink and they are even packed with vitamin C!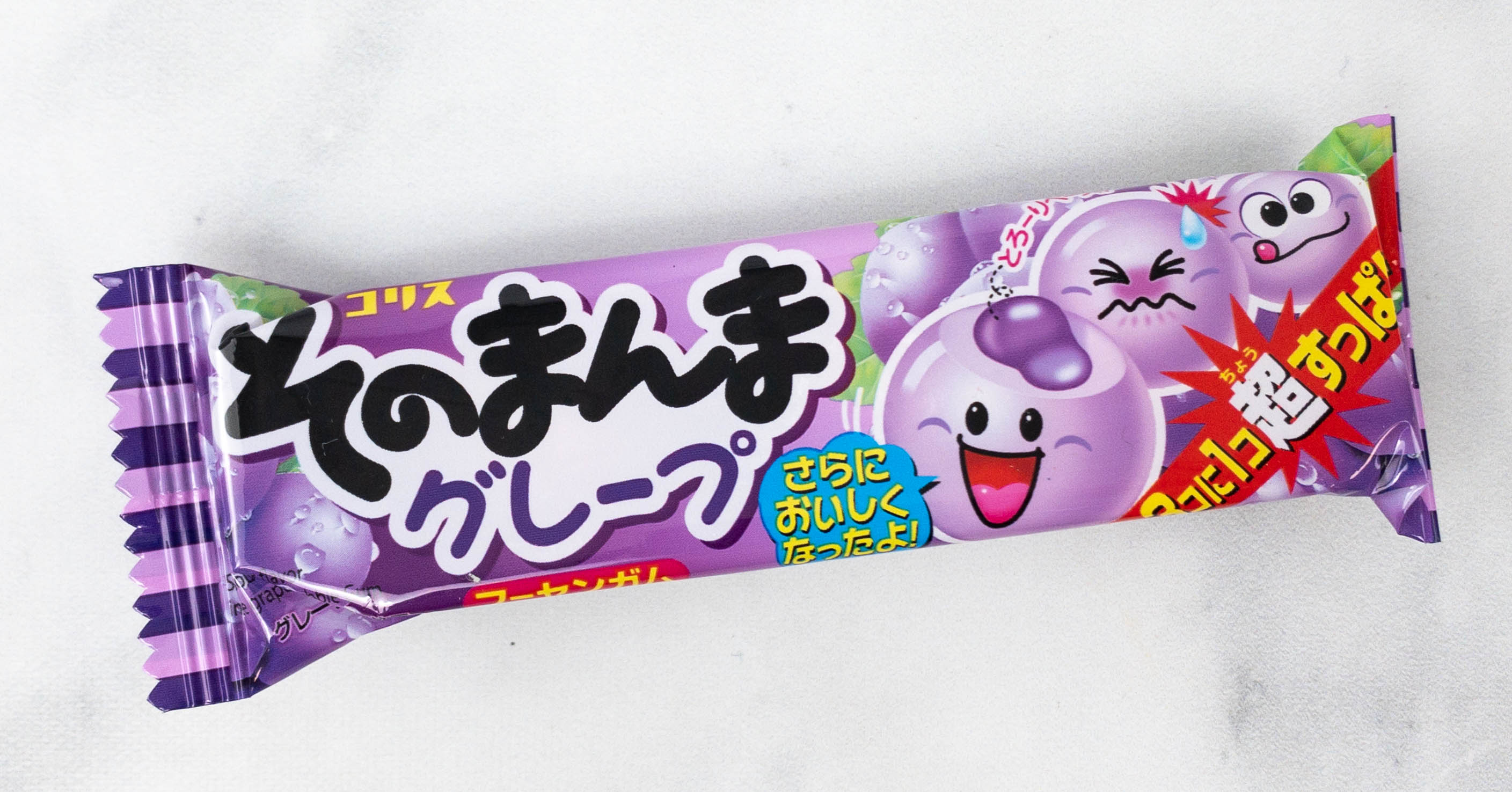 Grape Chewing Gum. It's a pack of 3 grape flavored gums with 1 extremely sour piece. The concept is similar to the pack of soda candies I've tried earlier. Honestly, I didn't mind when I picked the "unlucky" piece because it still tasted good even with the sour flavor!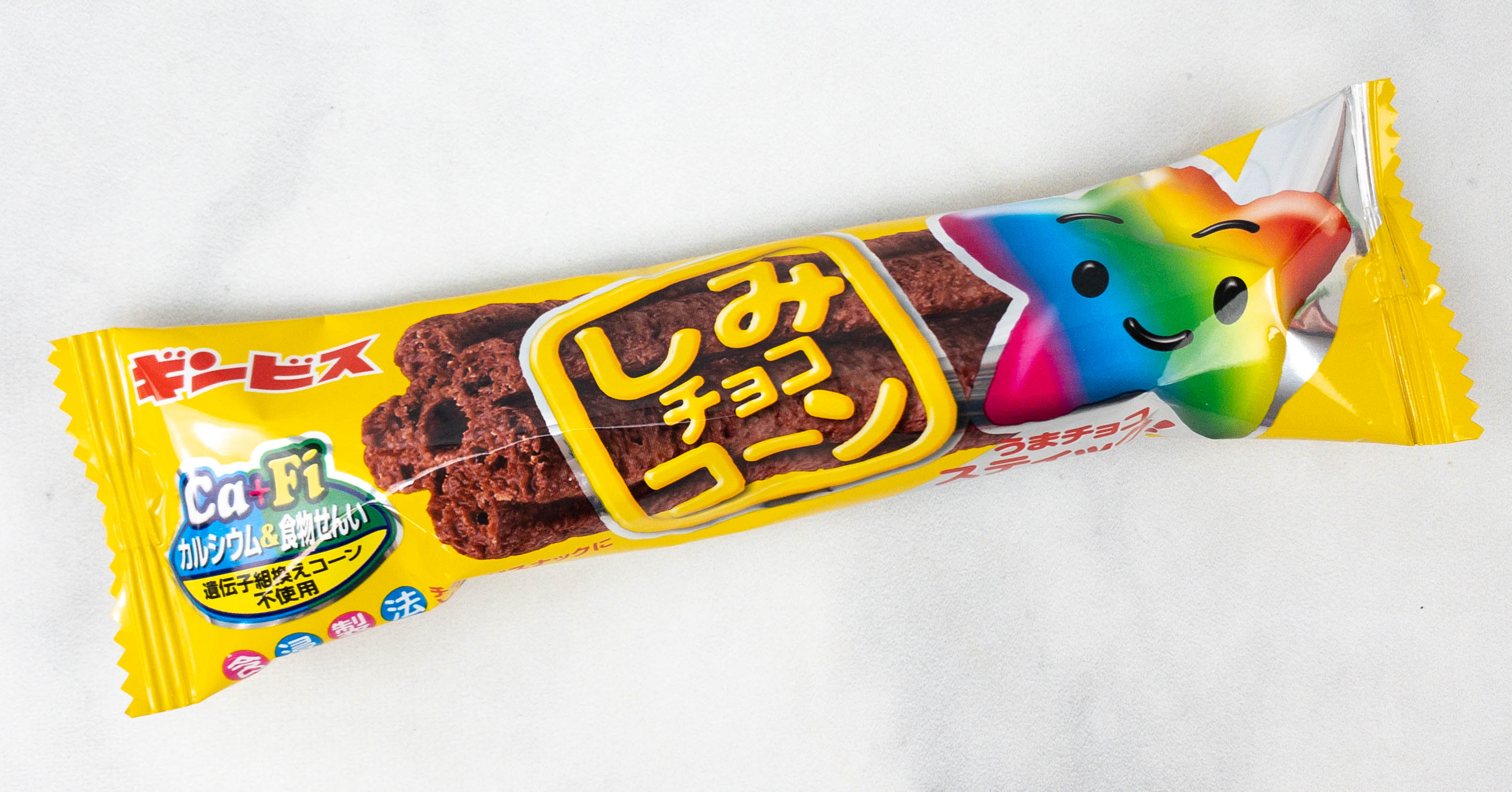 Shimichoko Corn Stick. This puffed corn stick is infused with a rich chocolate flavor! Its crunchy texture and sweet taste makes it a hit with kids.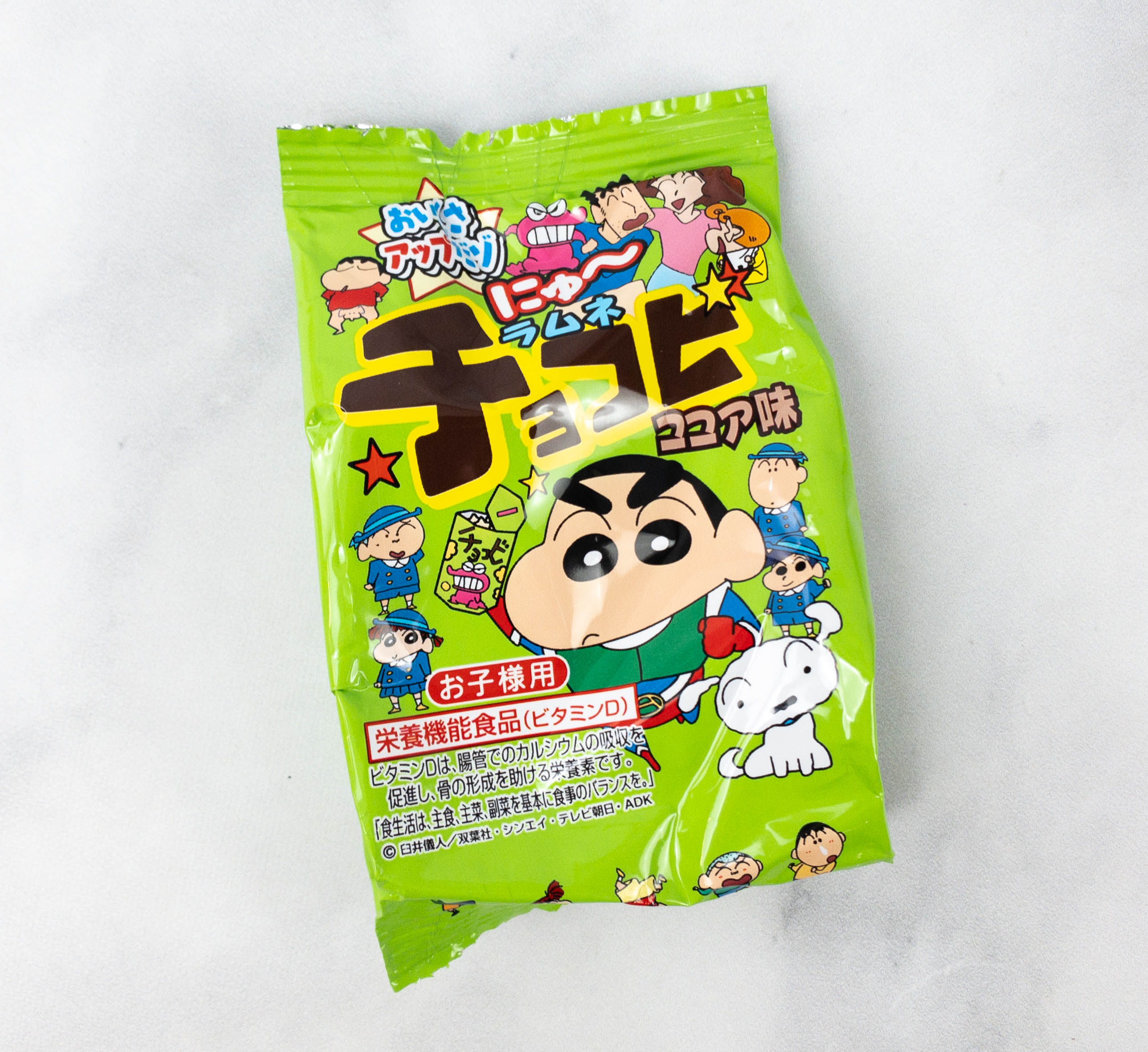 Chokobi Cocoa Flavor. Here's another chocolatey snack! They are crunchy star-shaped chocolates with a hint of ramune flavor. The chocolates are individually wrapped, so you can just take one and go without worrying about the other pieces' freshness. Crayon Shin Chan fans would probably love its packaging too!
Gummy Grape. This unique Japanese snack is a grape gummy that resembles the texture of a fresh mozzarella. It's soft, flavorful, and fun to chew on, so it's hard not to finish it in one sitting.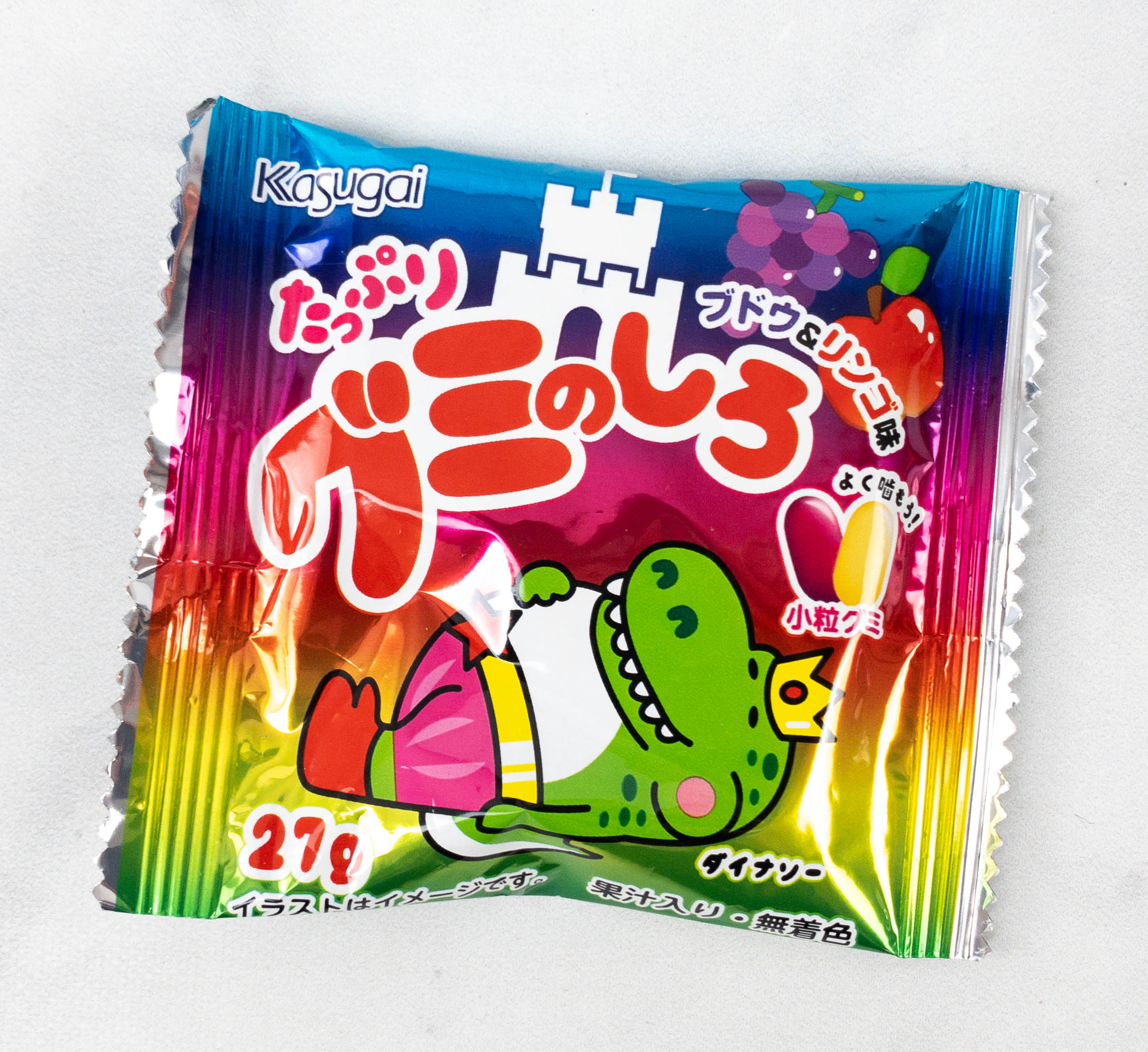 Duo Gummy. Here are more gummy candies and I'm not complaining! The apple and grape flavored gummies are the perfect mix of sweet and fruity. I also liked how soft and chewy they are.
Doraemon Cool Soda Gum. This gum features Doraemon on the packaging! Just like the other candies in this box, it's also soda flavored and it's refreshing to chew on.
Koikeya Strong Potato Sour Cream Onion. Koikeya is known for their delicious potato chips. This variant has ridged chips with twice the sour cream flavor, so each bite is really savory. The flavoring is made with a combination of sour cream powder, roasted onion, blue cheese, and avocado.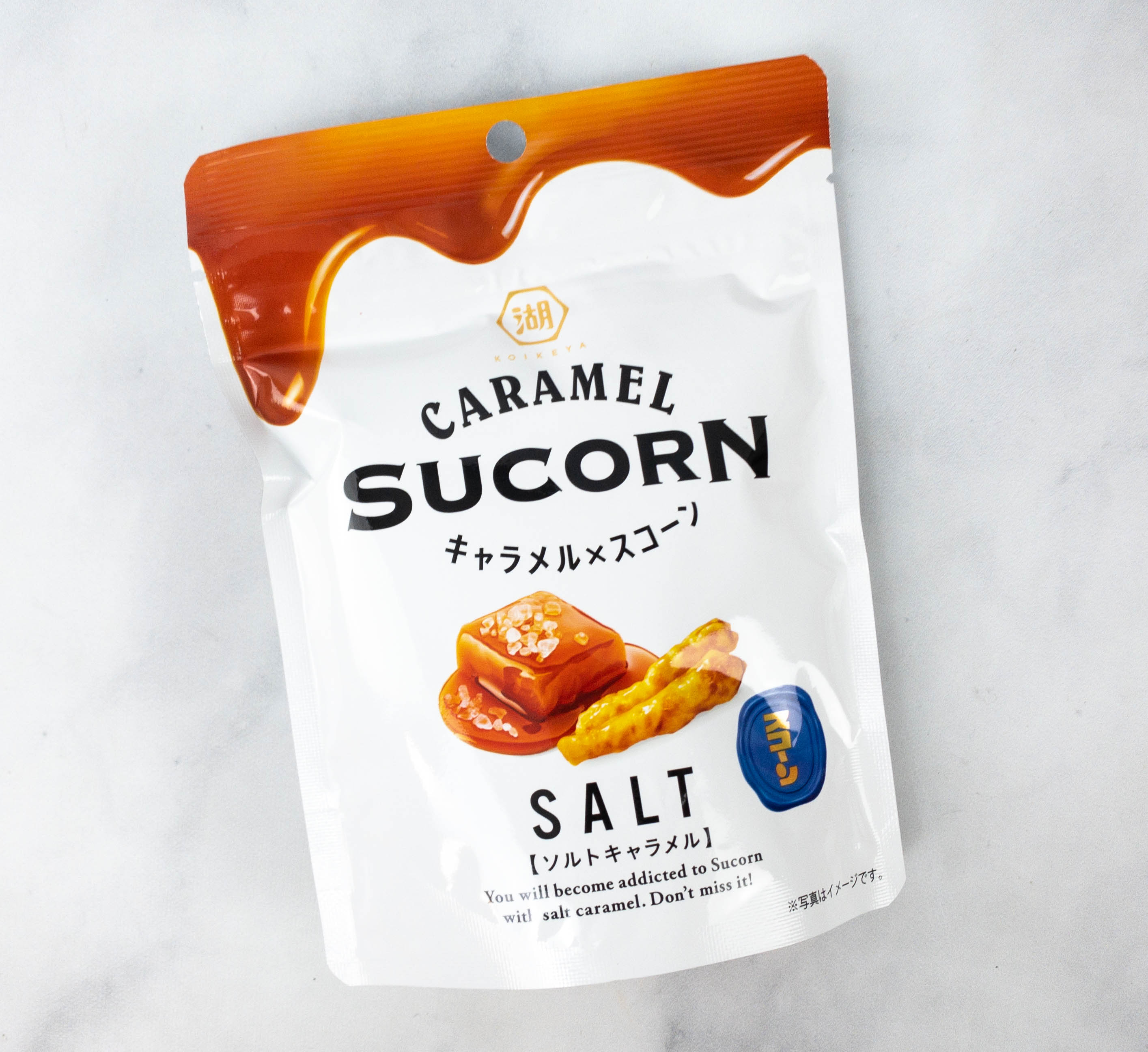 Caramel Sucorn Salt Caramel. For those who have a sweet tooth, here's a corn snack coated with salted caramel. Aside from the perfect blend of flavors, what I really liked about this snack is that they are also perfectly crunchy up to the last bite!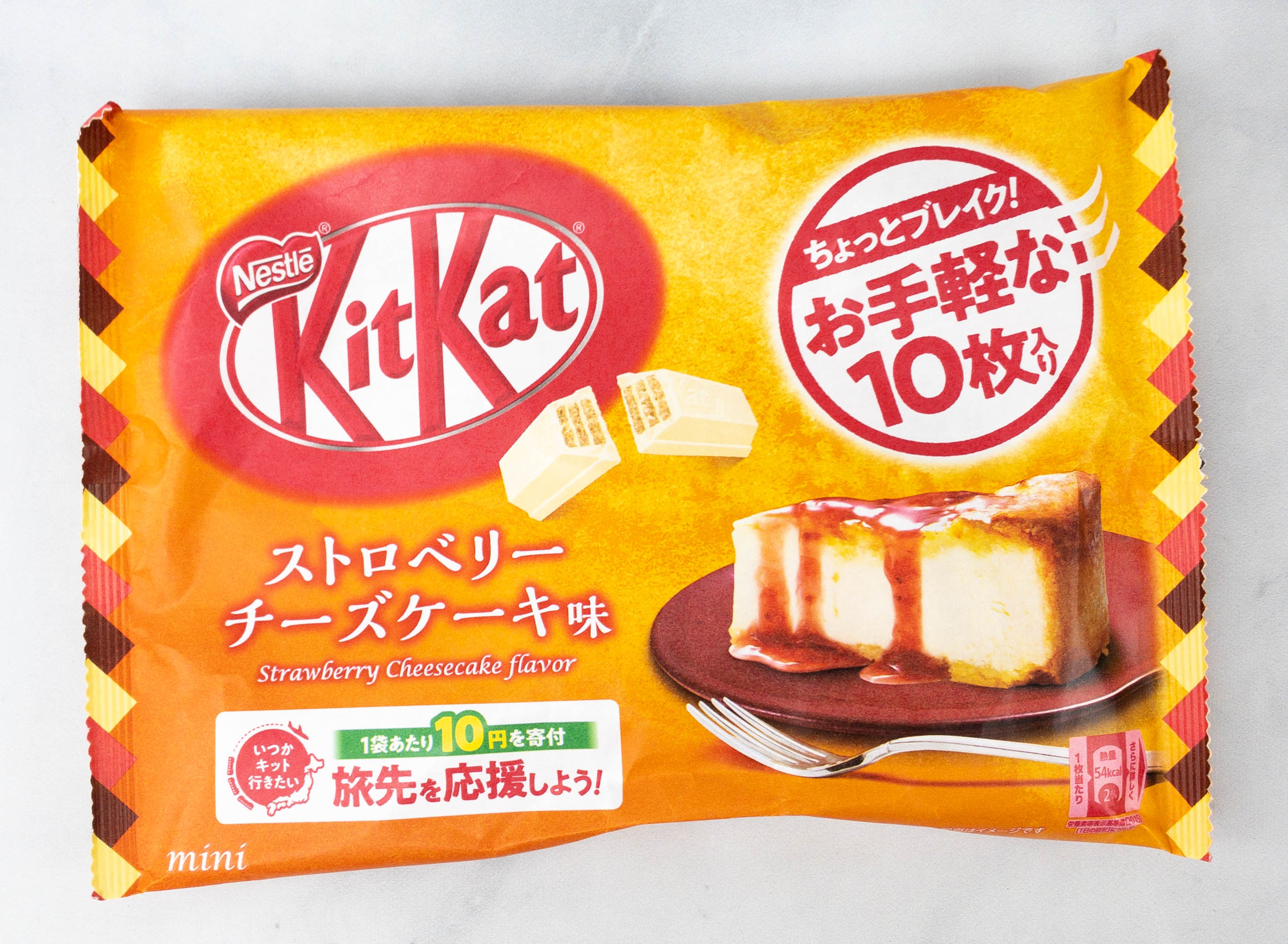 KitKat Strawberry Cheesecake. The Premium Box includes a bonus item and this month, it's a pack of delicious strawberry cheesecake flavored KitKat!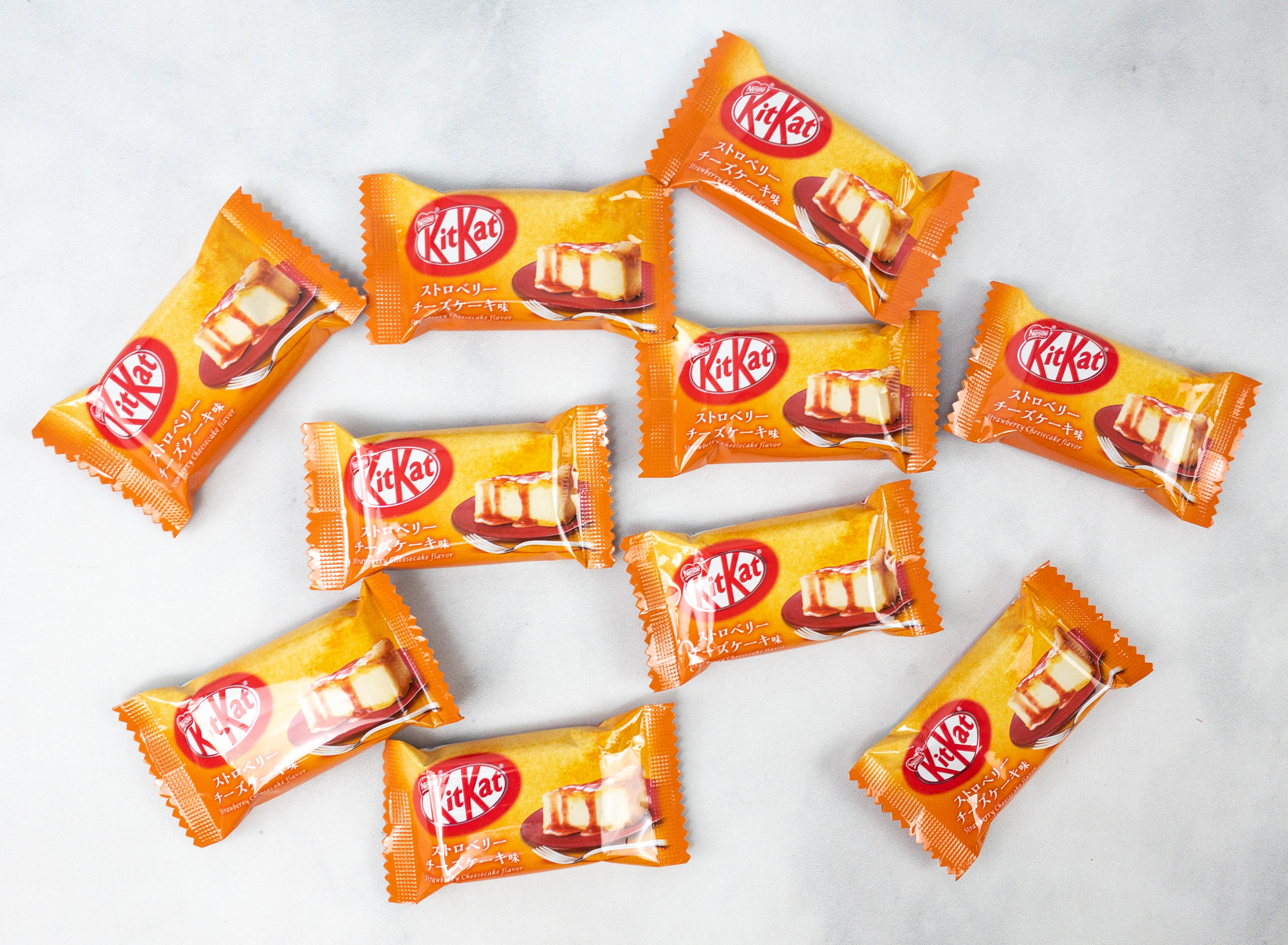 The pack contains 10 individually wrapped KitKats. It features their signature crunchy wafer, coated with creamy chocolate with strawberry bits.
Ice Cream Bar DIY. Another staple in every Japan Crate is the DIY snacks! This one contains everything we need to make a mini ice cream candy bar.
The packaging is in Japanese, but they provide the English translation on the booklet.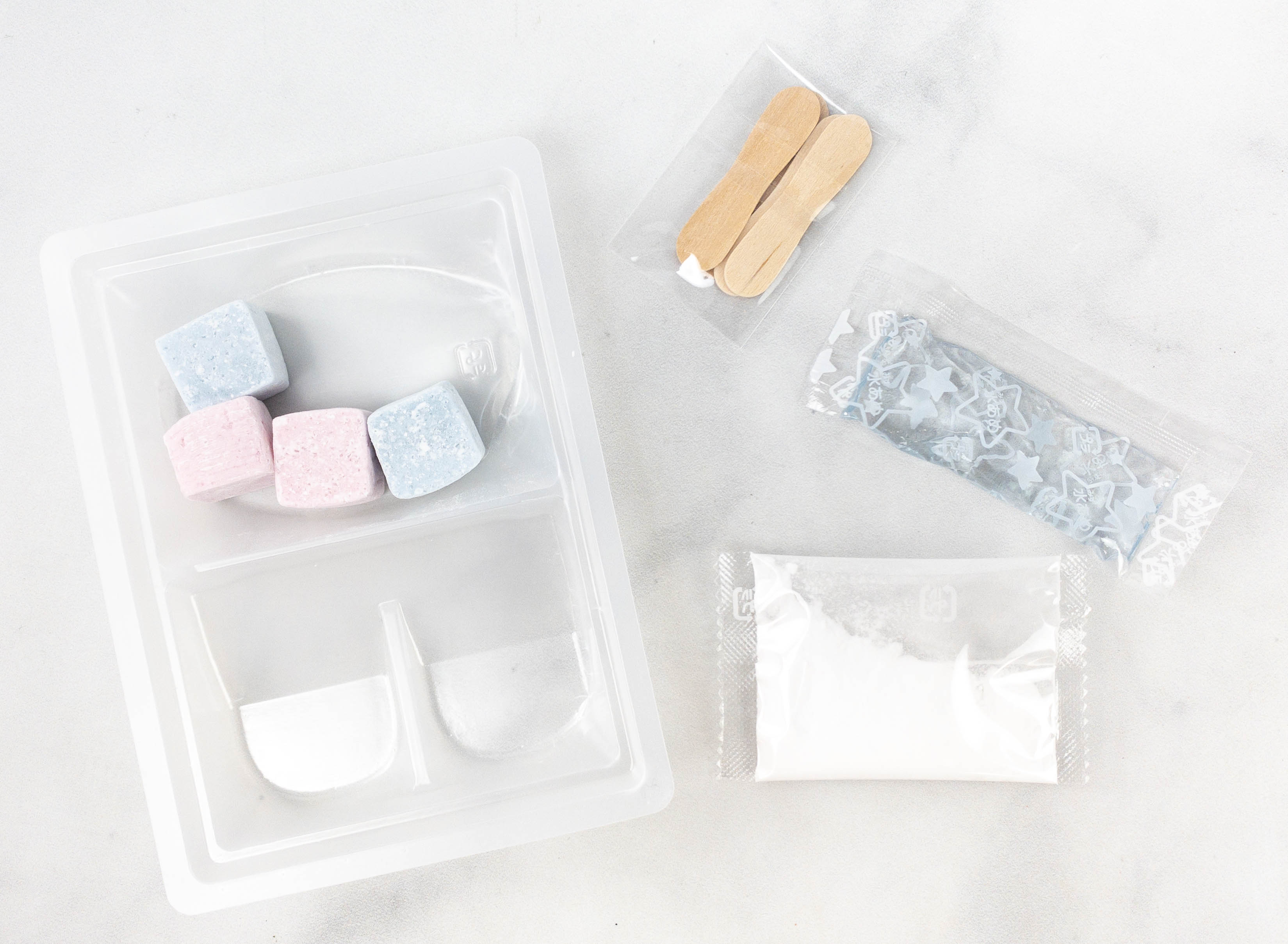 The first step is to insert the popsicle sticks into each candy. Then, put the topping pockets on separate sections of the tray. Then, dip the candies into the toppings you prefer.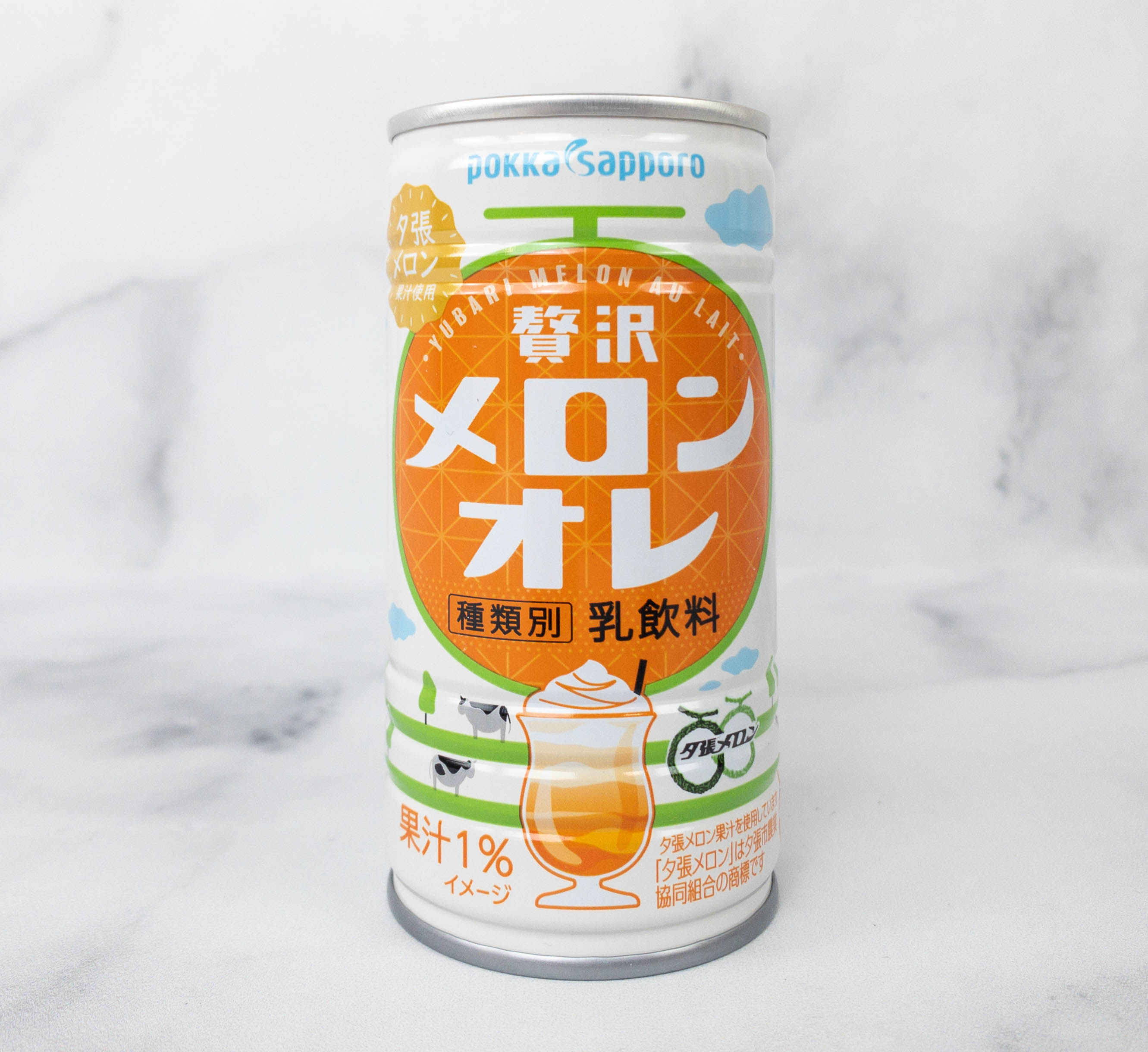 Melon Latte. This month's beverage is a fruity melon latte! A refreshing summer drink, it's made from yubari melon juice, Hokkaido cream, and milk. Each sip is smooth and creamy. It really tastes good especially when chilled.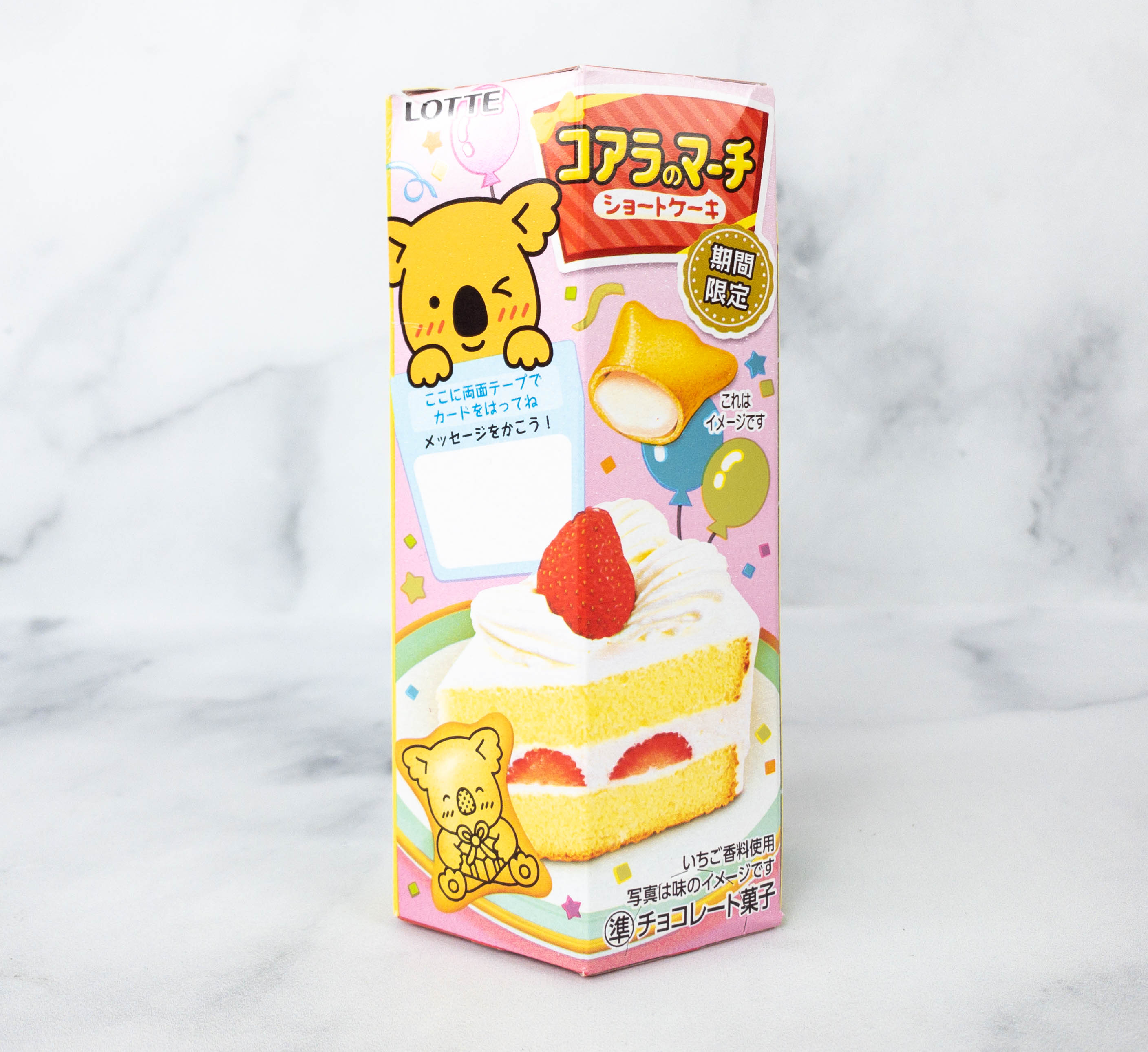 Koala's March Shortcake. These cute biscuit pieces featuring a koala have a strawberry shortcake flavored filling. As suggested by the information card, we tried heating them up in the microwave and the result was really good. The sweet, warm filling made it so enjoyable!
It's another jampacked box from Japan Crate! It included a lot of candies and sweets, and since this is the Premium box, I also have a bonus pack of limited edition KitKats and a delicious melon drink. Everything is delicious, but my favorites would have to be the salted caramel corn snacks and and the biscuits filled with strawberry shortcake filling. Both are definitely great as a dessert snack! Although there's a price increase caused by shipping requirements amidst the COVID situation, this is still worthy of a try if you have an extra budget and if you really want snacks straight from Japan!
What item do you want to try from this month's Japan Crate? Let me know in the comments!