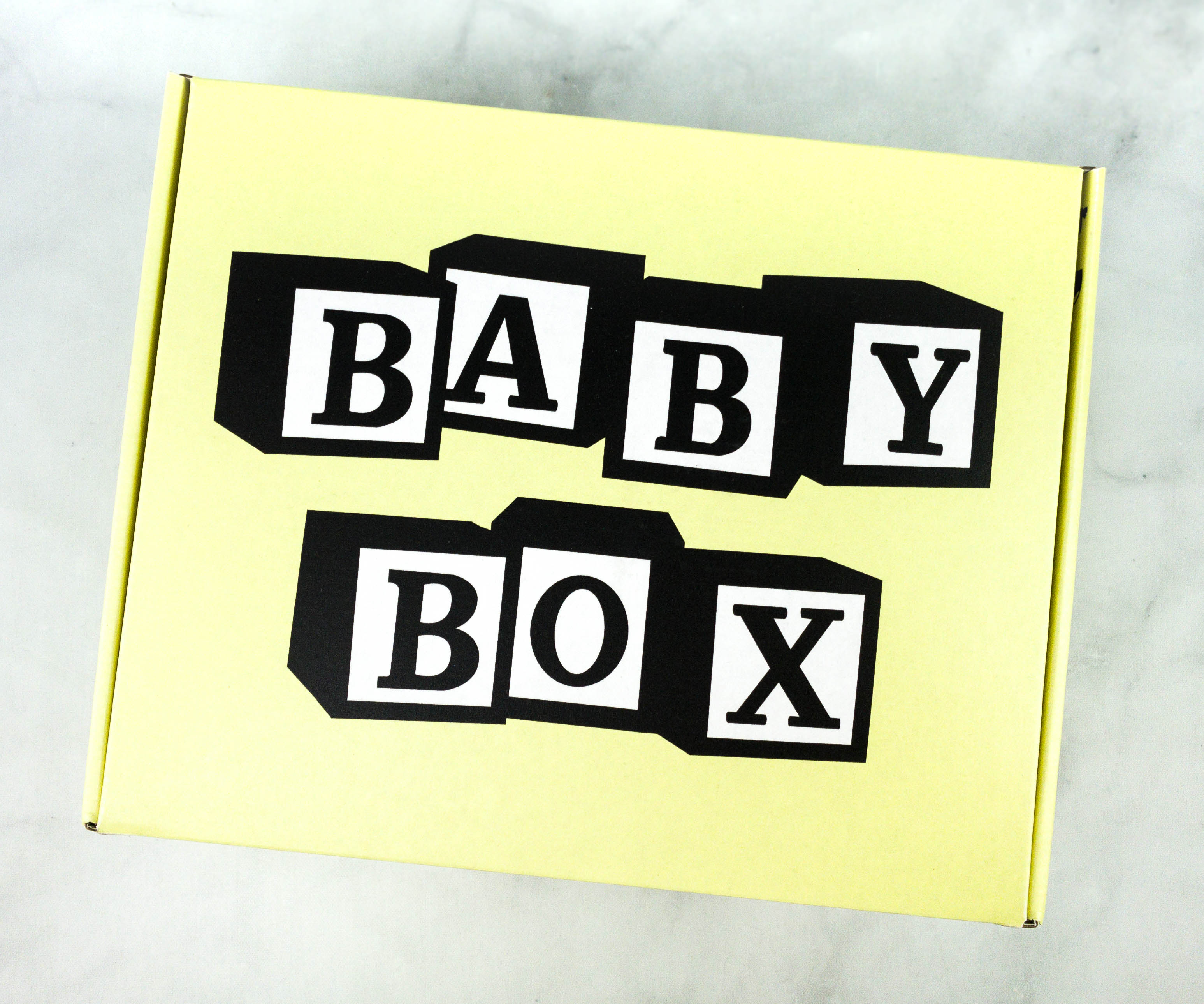 123 Baby Box is a monthly subscription service for babies aged 0-3 years. They deliver monthly boxes filled with baby products ranging from toys and diapers to books and clothing. Each 123 Baby Box comes with full-sized products tailored to your child's age and stage along with some goodies for mommy too. The promised value for each box is $75. For a month-to-month plan, it costs $56.99 per box. You can also get it for $45.99 per box on a 6-month plan or for $39.99 per box on an annual plan.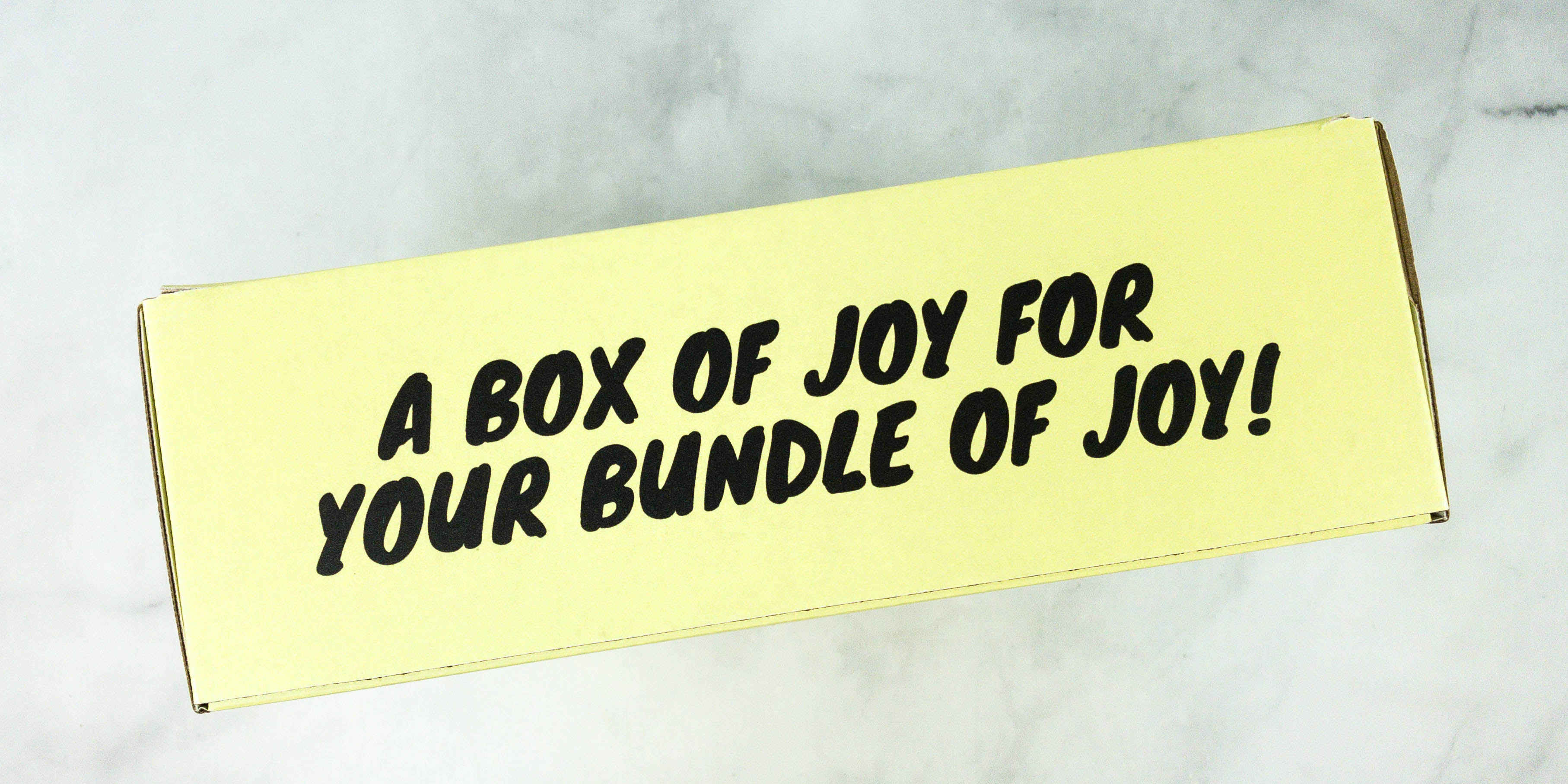 A box of joy for your bundle of joy!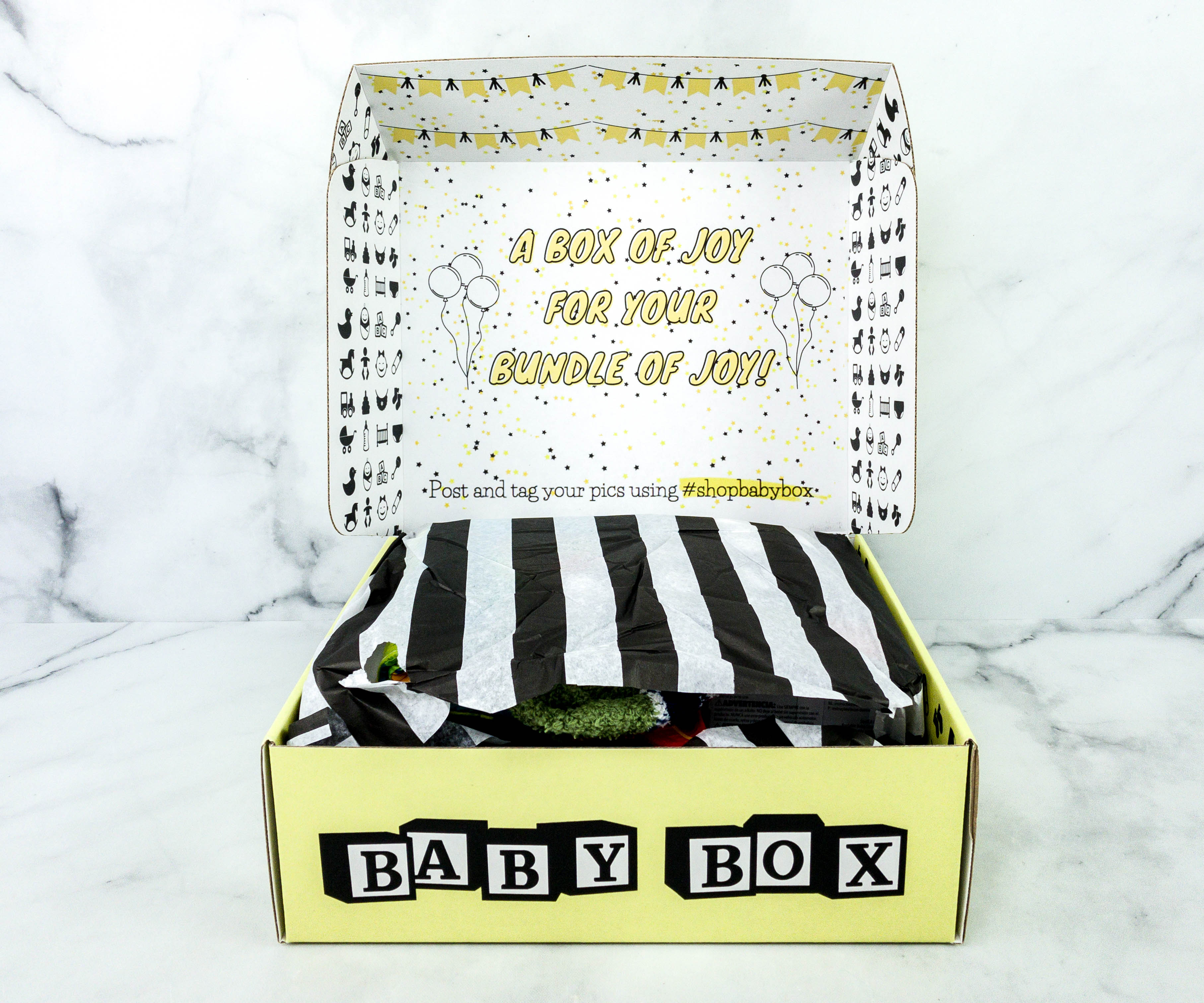 The package is filled to the brim. The interior of the box is also filled with cute prints!
The items came wrapped in a black and white striped paper.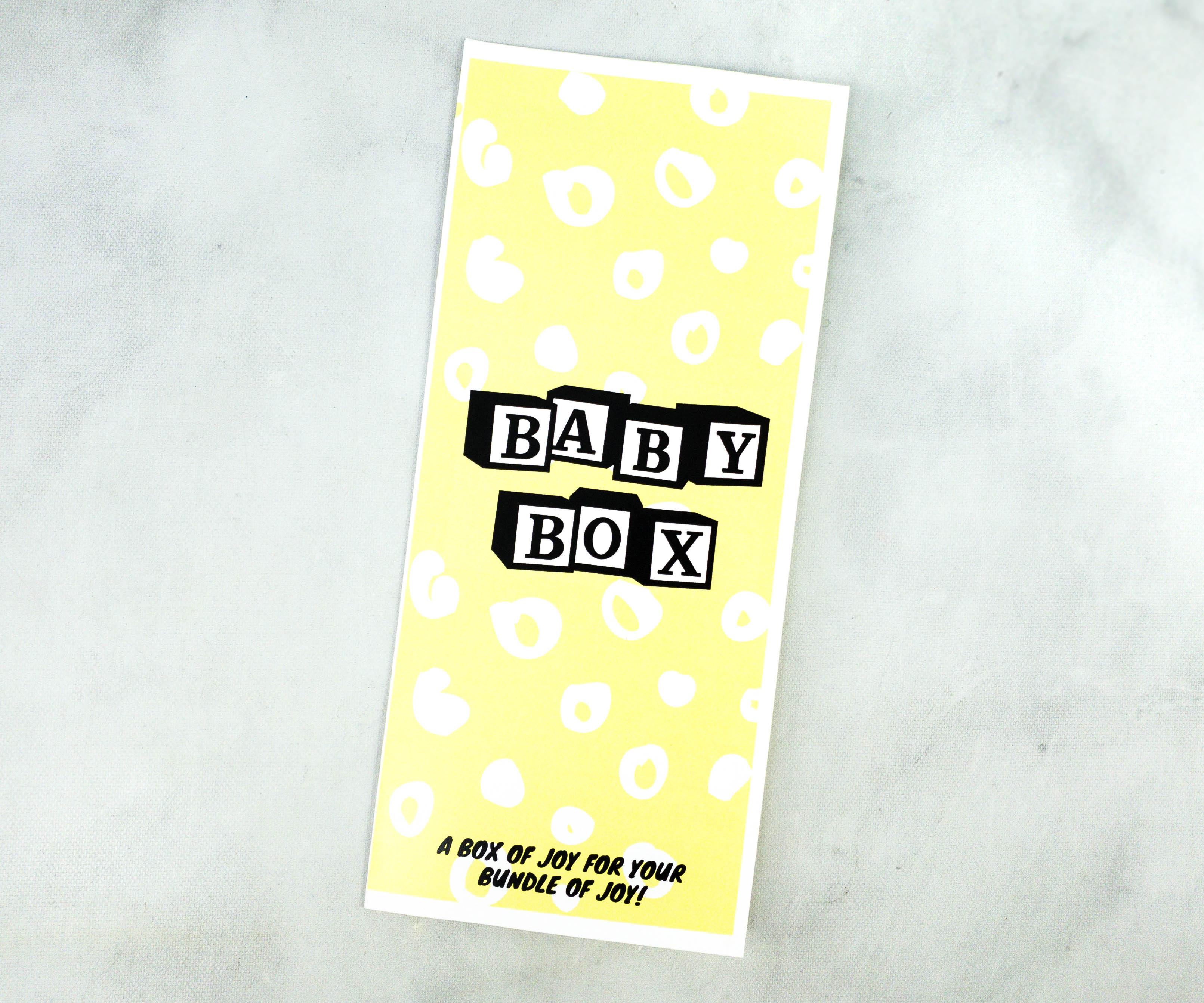 The box also includes a leaflet!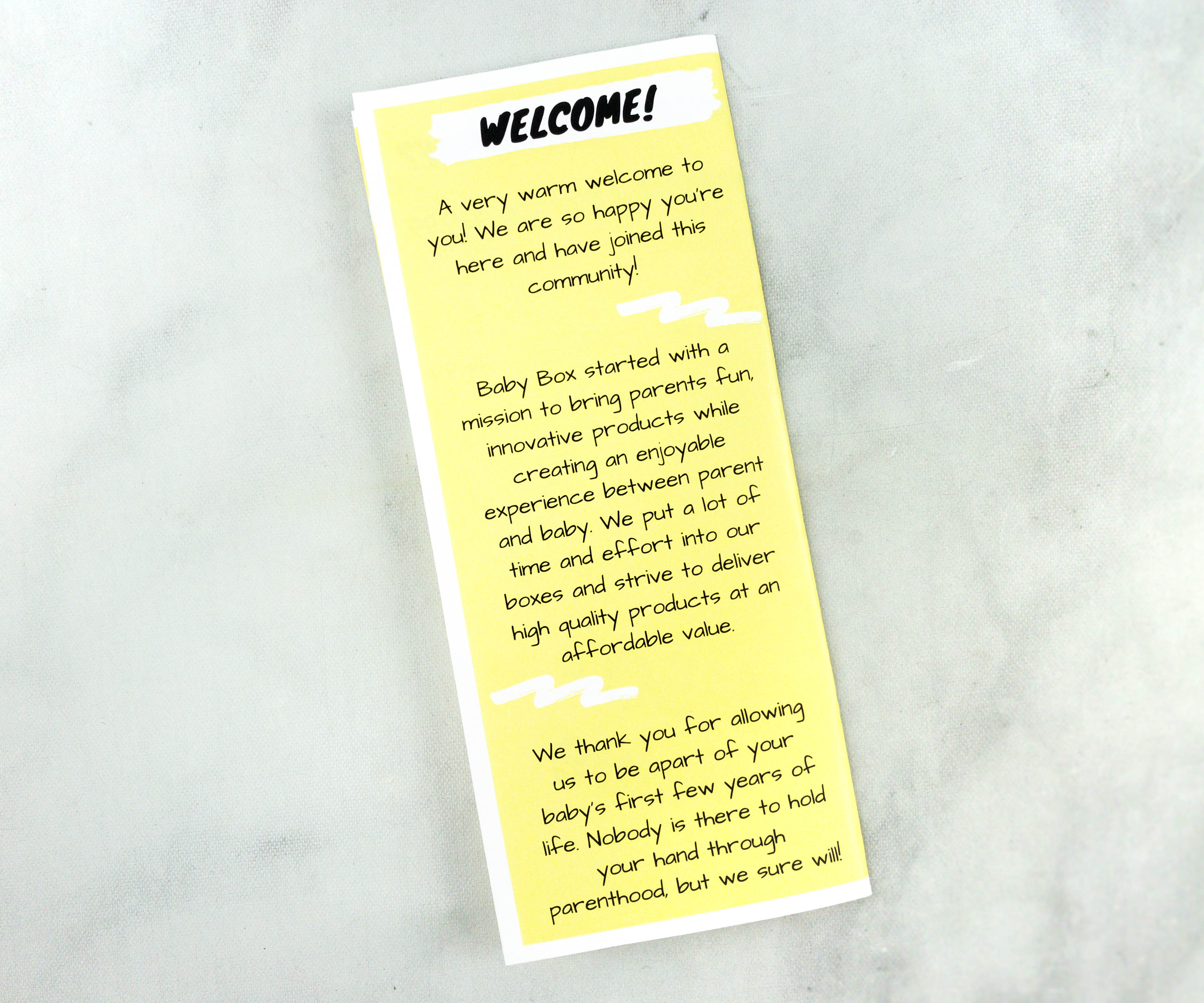 At the back is a welcome message to the 123 Baby Box community.
Upon opening, the items are listed and separated into two: What's for baby? and What's for mommy?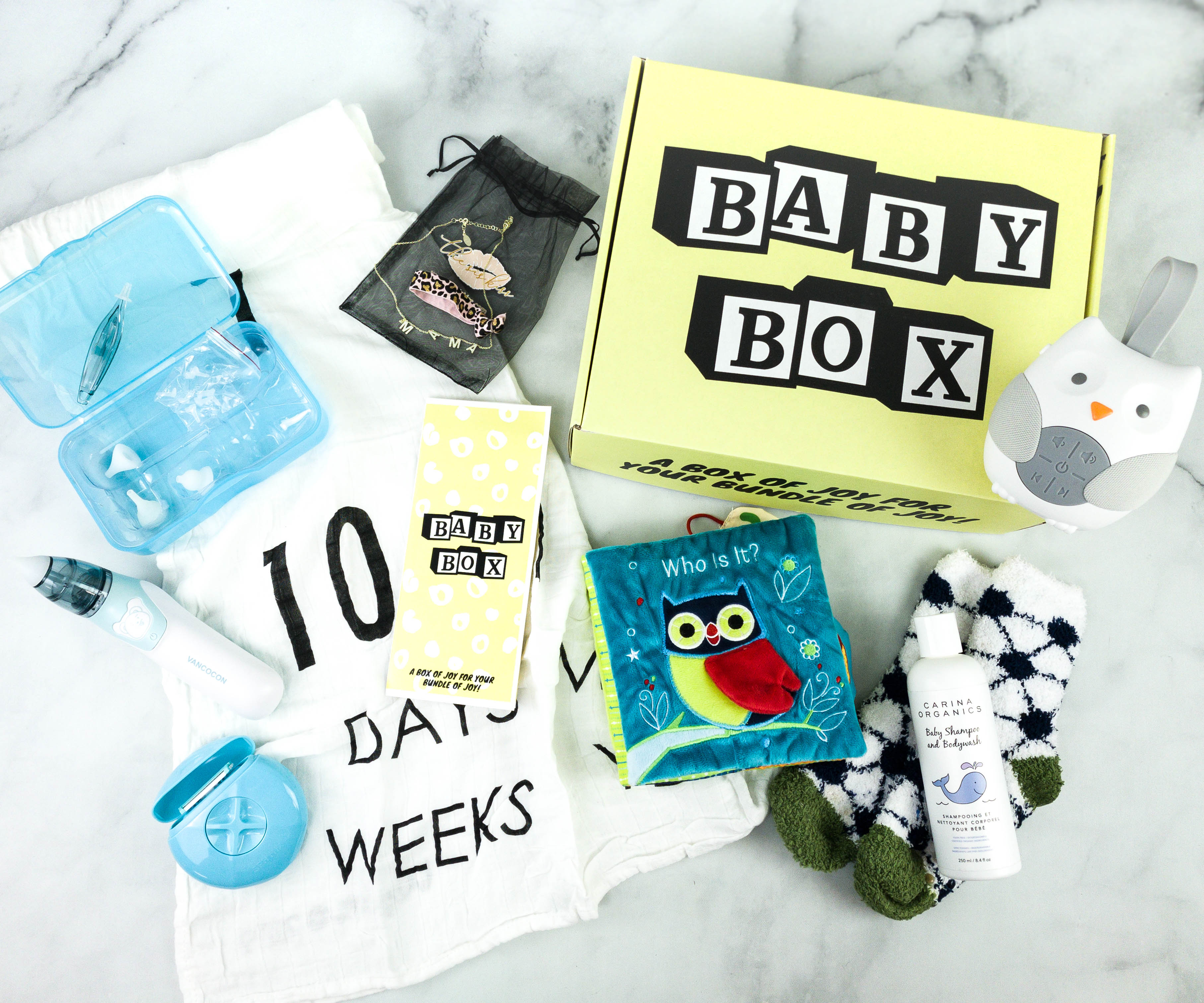 Everything in my box!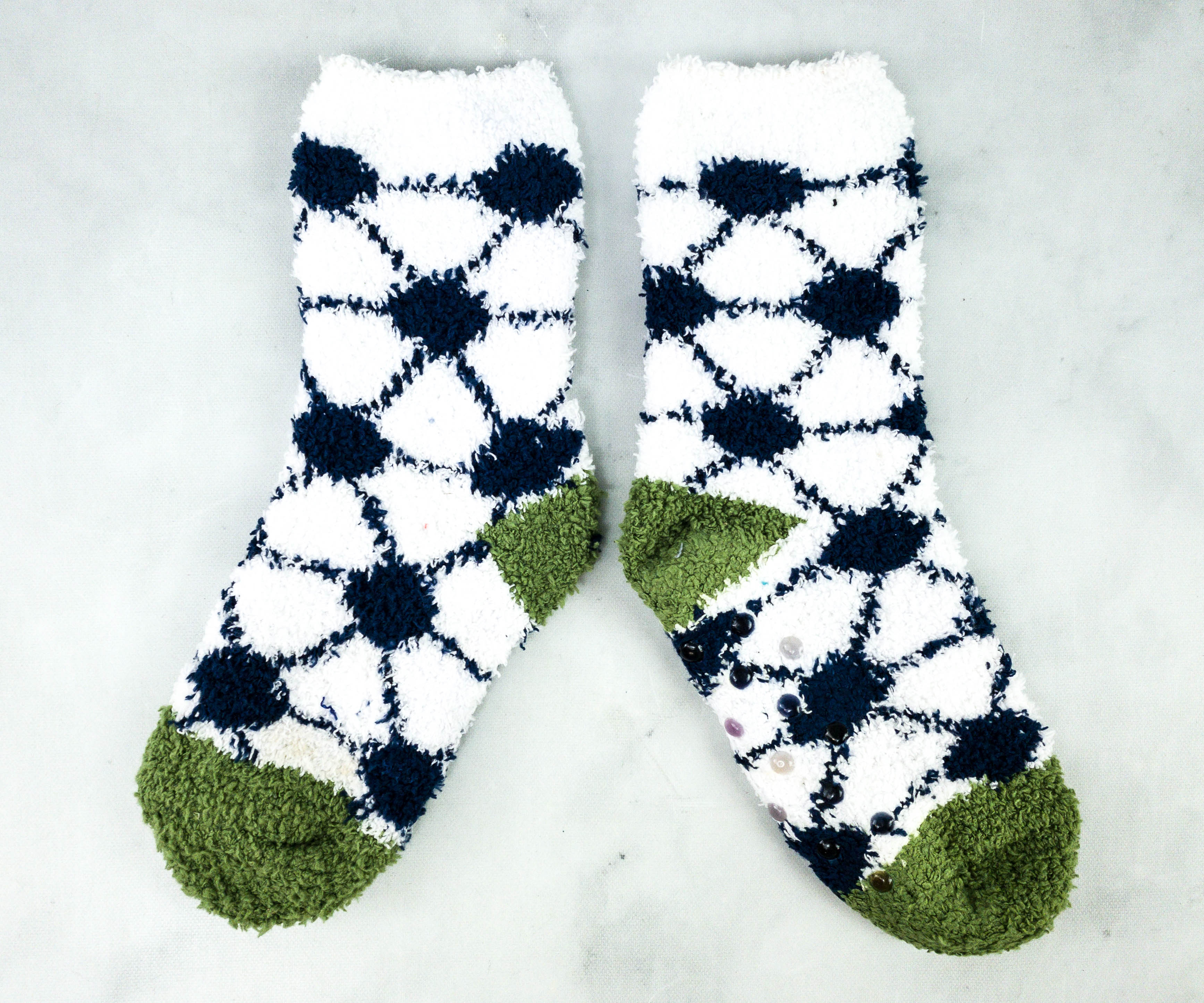 Too Cozy Fuzzy Socks ($3.99) This pair of socks is super adorable! The fuzziness provides additional warmth and comfort to my feet.
It has a soccer theme going with the pattern of the soccer ball and the green fields incorporated with the design. There are also non-slip grips at the bottom.
Cottage Door Press Cuddly Soft Book ($16.99; $9.99 on the card)
Cuddle up with our cute little owl friend! This soft, durable cloth book is an ideal first "reading" experience for curious little babies that offer an array of sensory experiences perfect for early tactile learning and fine motor skill development. From mirrors and flaps to crinkle pages, this adorable book has plenty for little ones to explore. A wonderful addition to baby's first library collection!
Soft, interactive mirrored pages perfect for keeping baby engaged and entertained

Strengthens hand-eye coordination and fine motor skill development

Made from durable, non-toxic soft fabric

Perfect gift for baby showers, birthdays, and holidays!

Cute and playful illustrations babies will love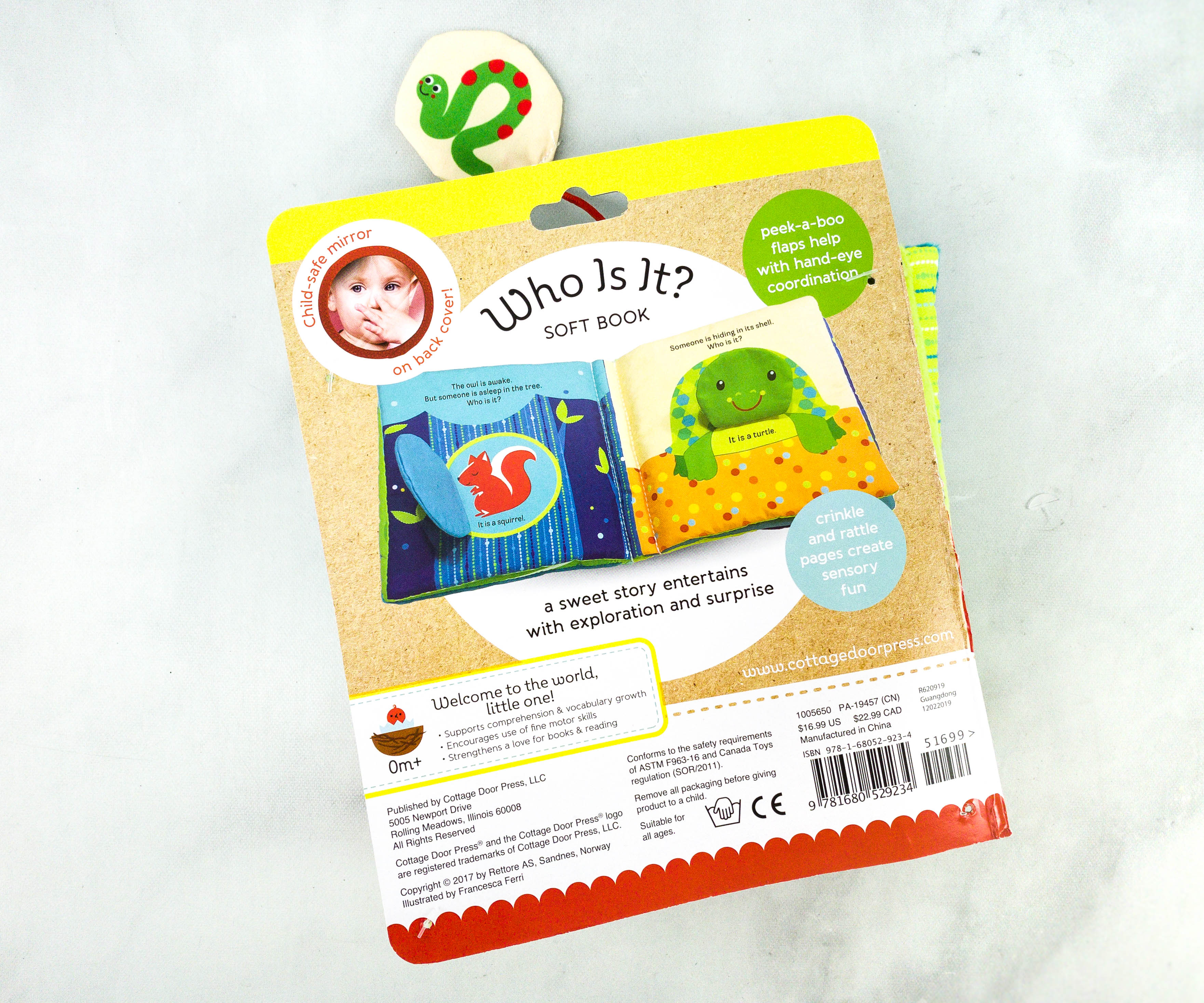 They also included a soft book that is perfect for babies! This way, they can learn through play by touching and feeling the pages of the book.
The book is all about animals!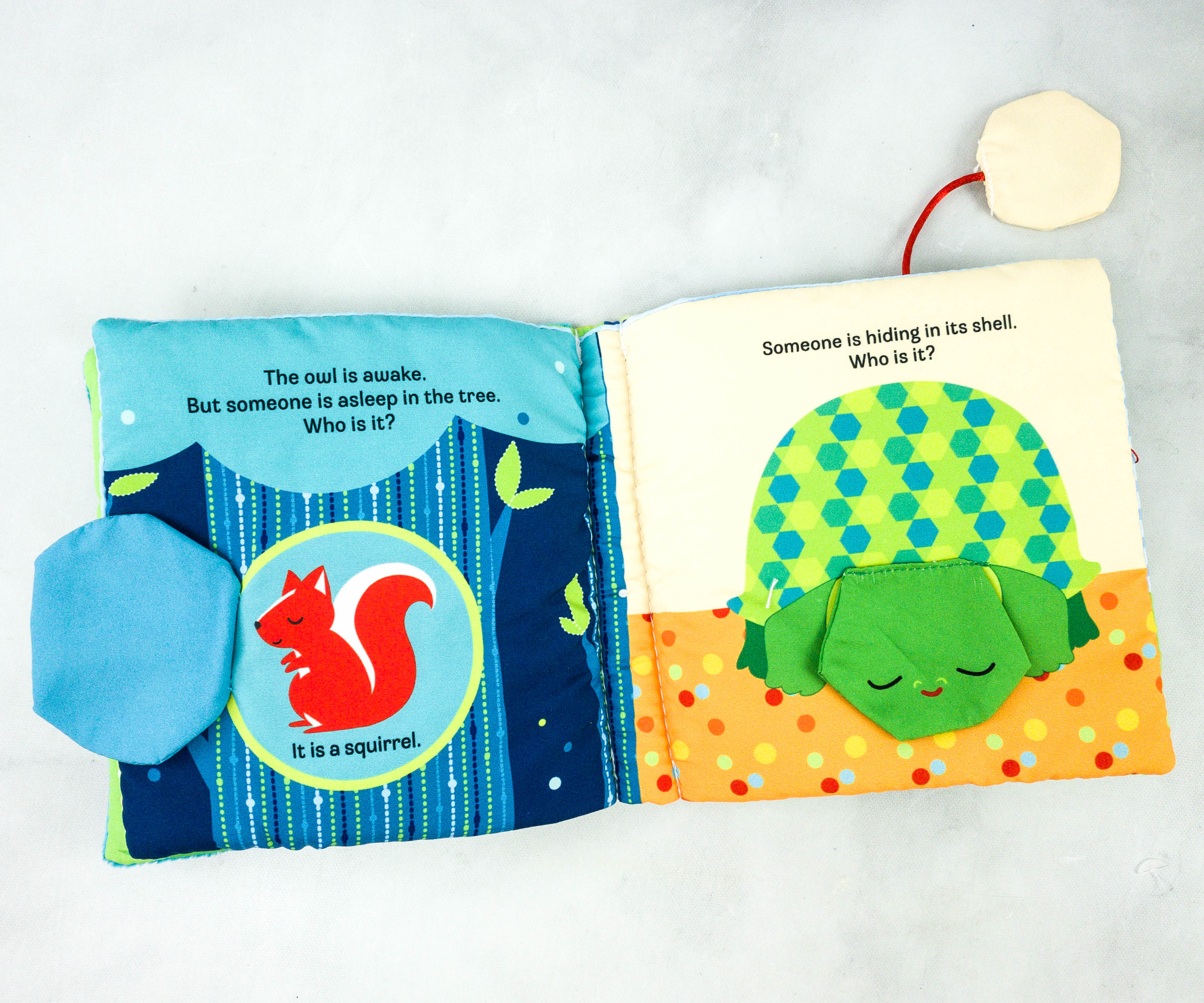 The pages are very interactive and they used colors, patterns, and different textures to enhance the baby's sensory development.
Playing and interacting with this book also helps babies develop their fine motor skills.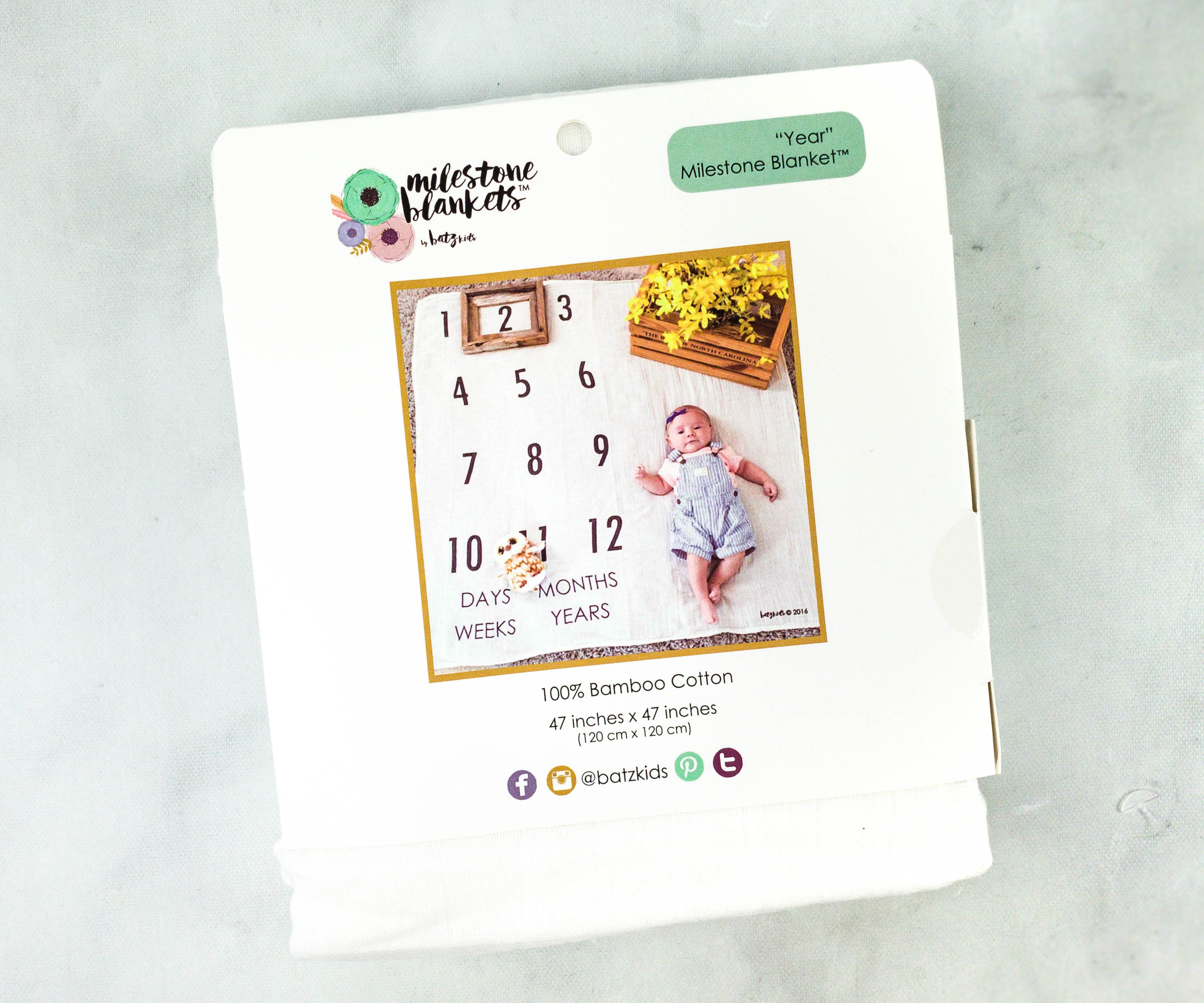 Batzkids Milestone Blanket ($33; $19.99 on the card) This blanket is perfect if you love taking photos of your child!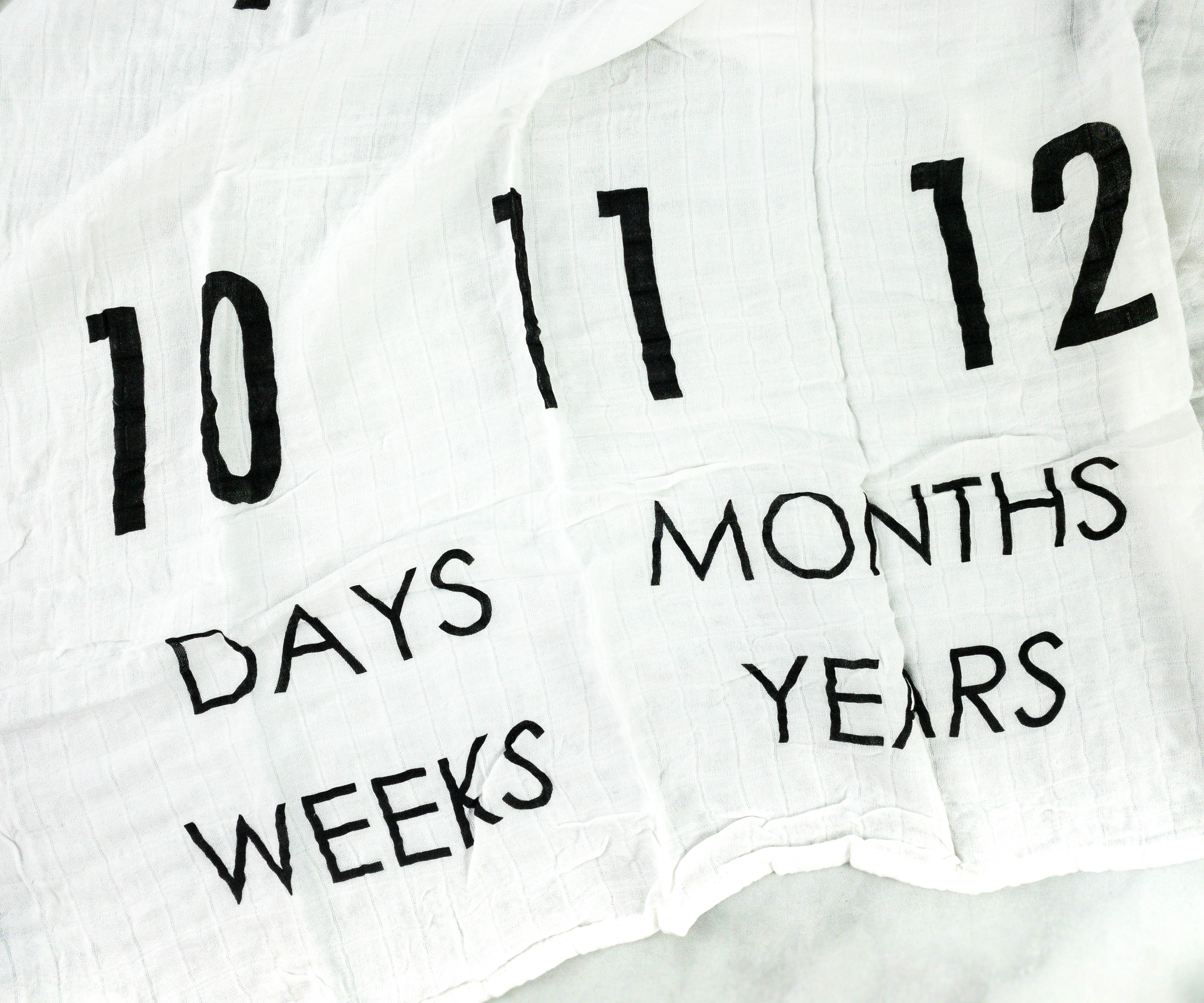 This milestone blanket is very easy to use! It has 12 numbers for each month of your baby's first year. Just put a mark on the number that will correspond to baby's current age then indicate whether you're referring to a day, a week, a month or a year. You can use it for your monthly pictorial or when your baby has achieved a milestone!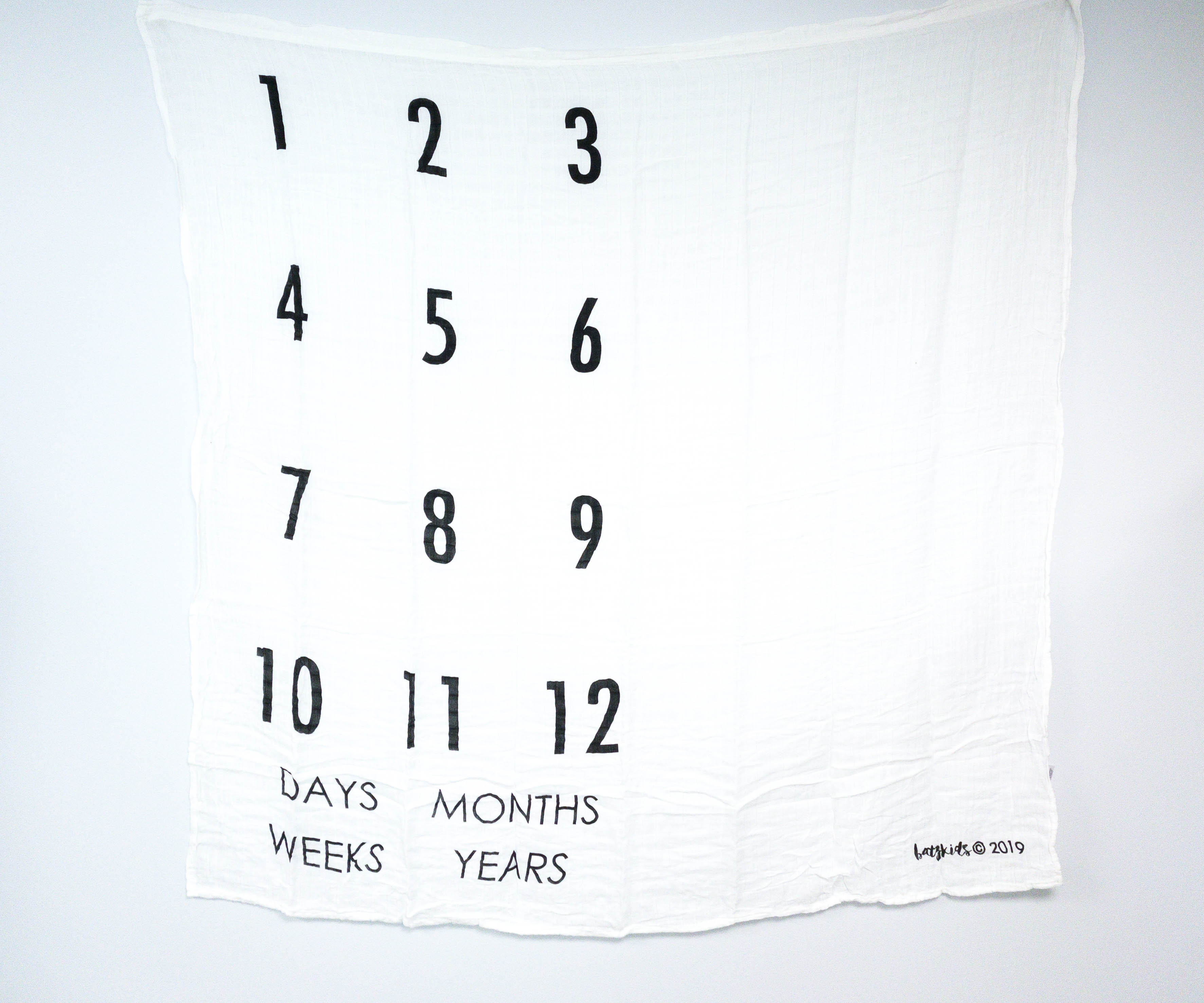 The item is made with bamboo cotton so it's soft and breathable. It's also safe on baby's skin!
The Sis Kiss Mama Letter Necklace ($74; $29.99 on the card) The accessories for moms arrived in a black see-through drawstring pouch.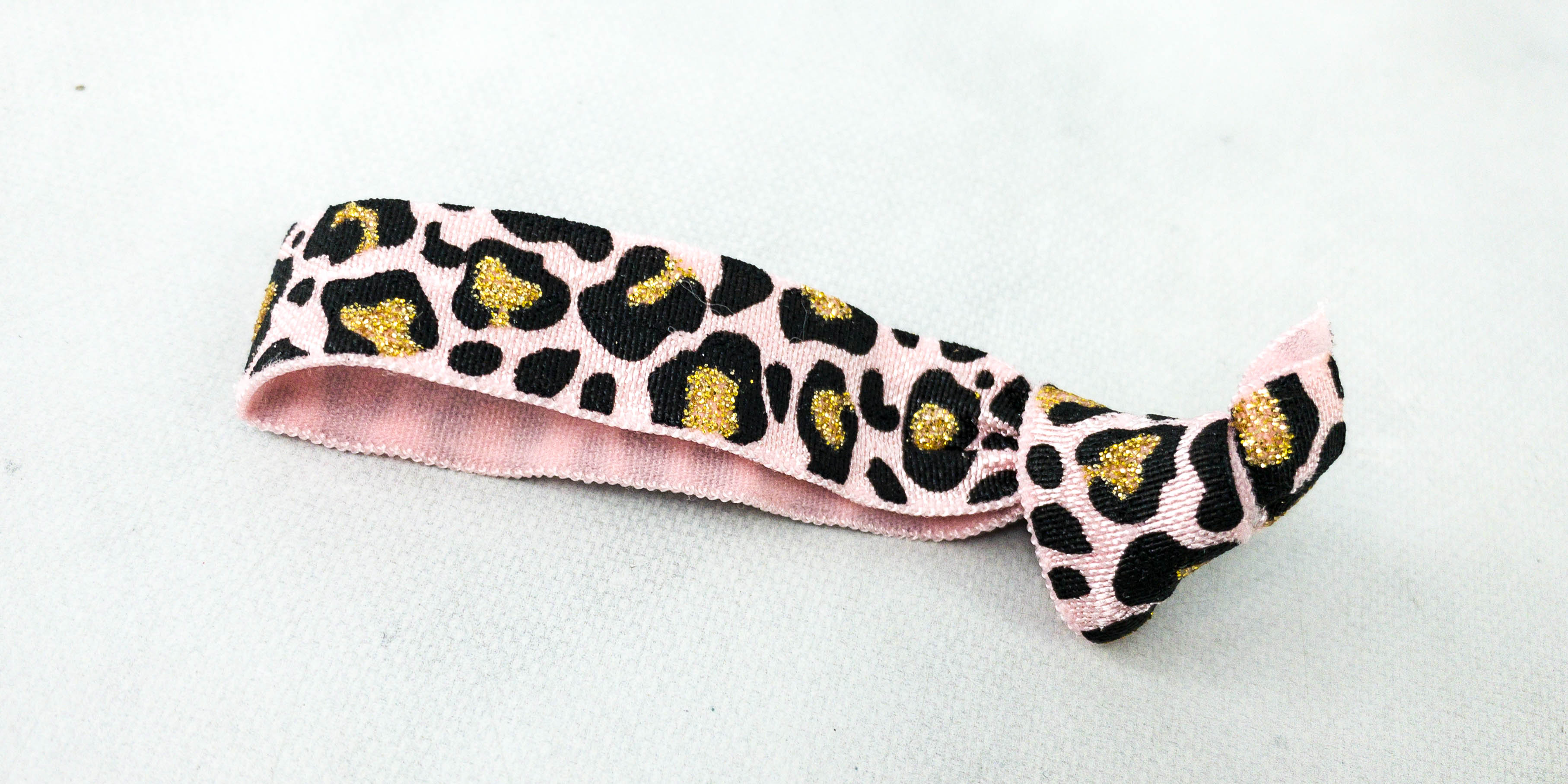 First up is this pink hair elastic with a leopard print.
It came with a card stock that has a coupon code for your next order on their website.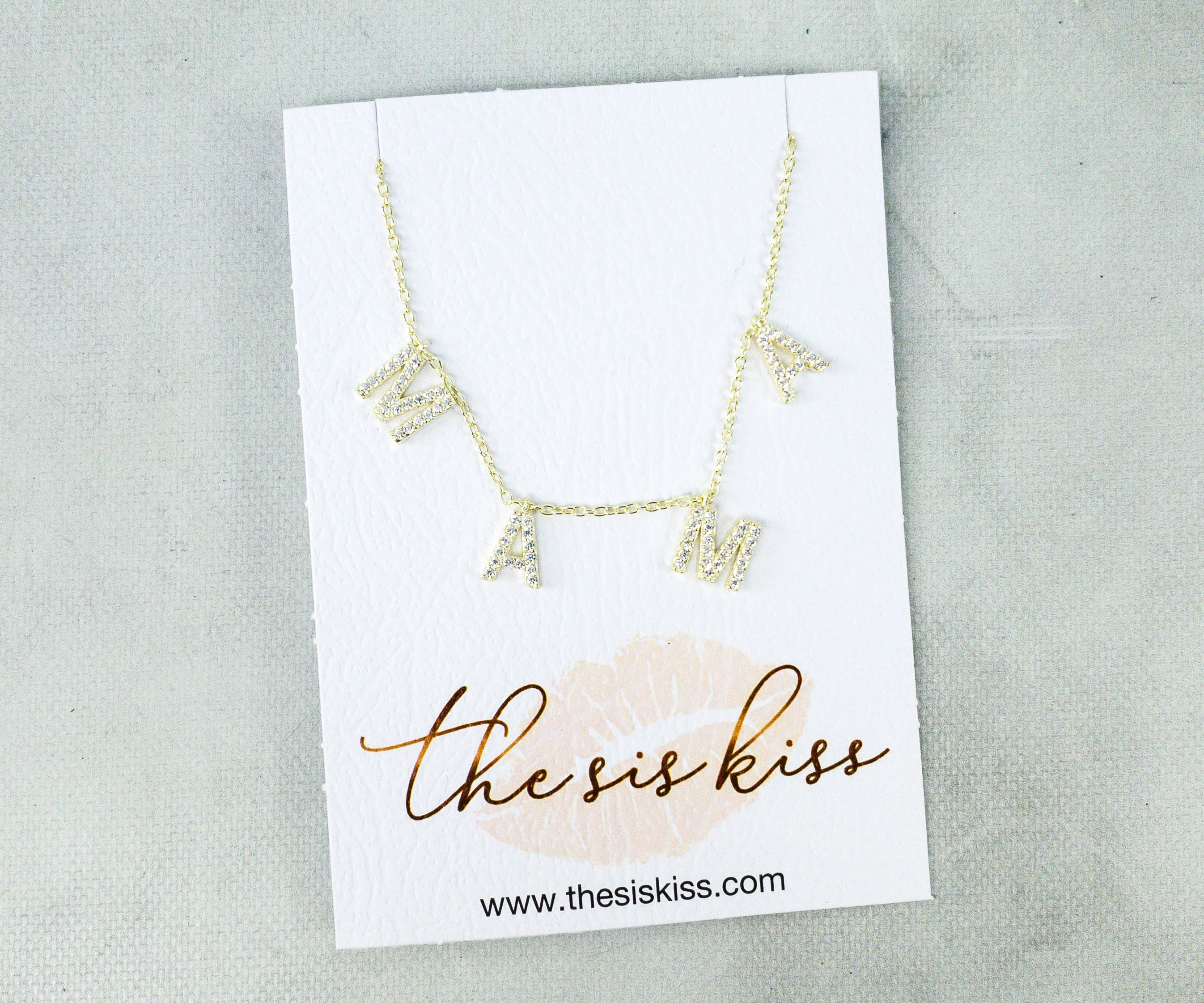 The main item inside is this beautiful necklace.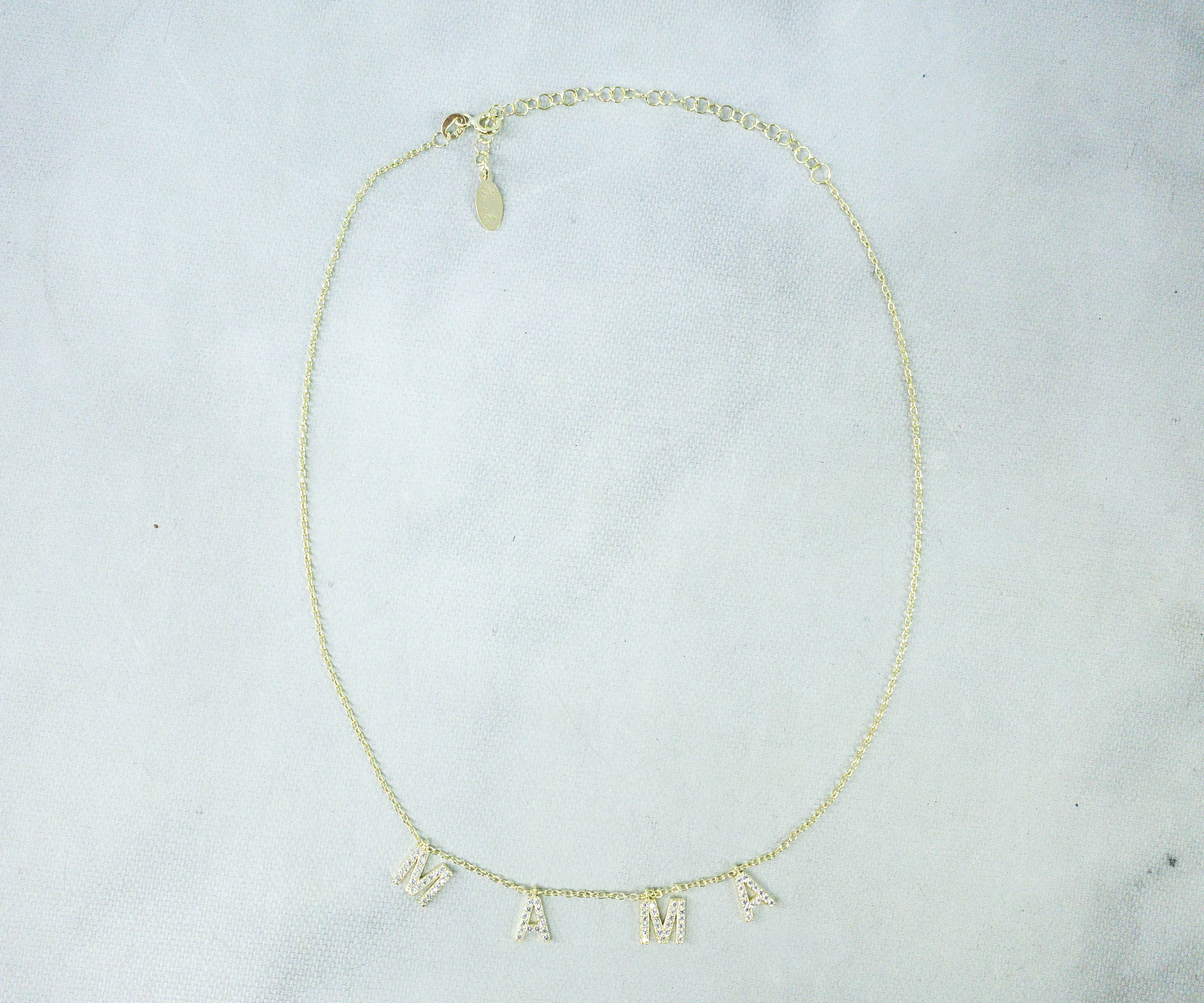 It's a gold-plated necklace, with a built-in extender in case you want extra length.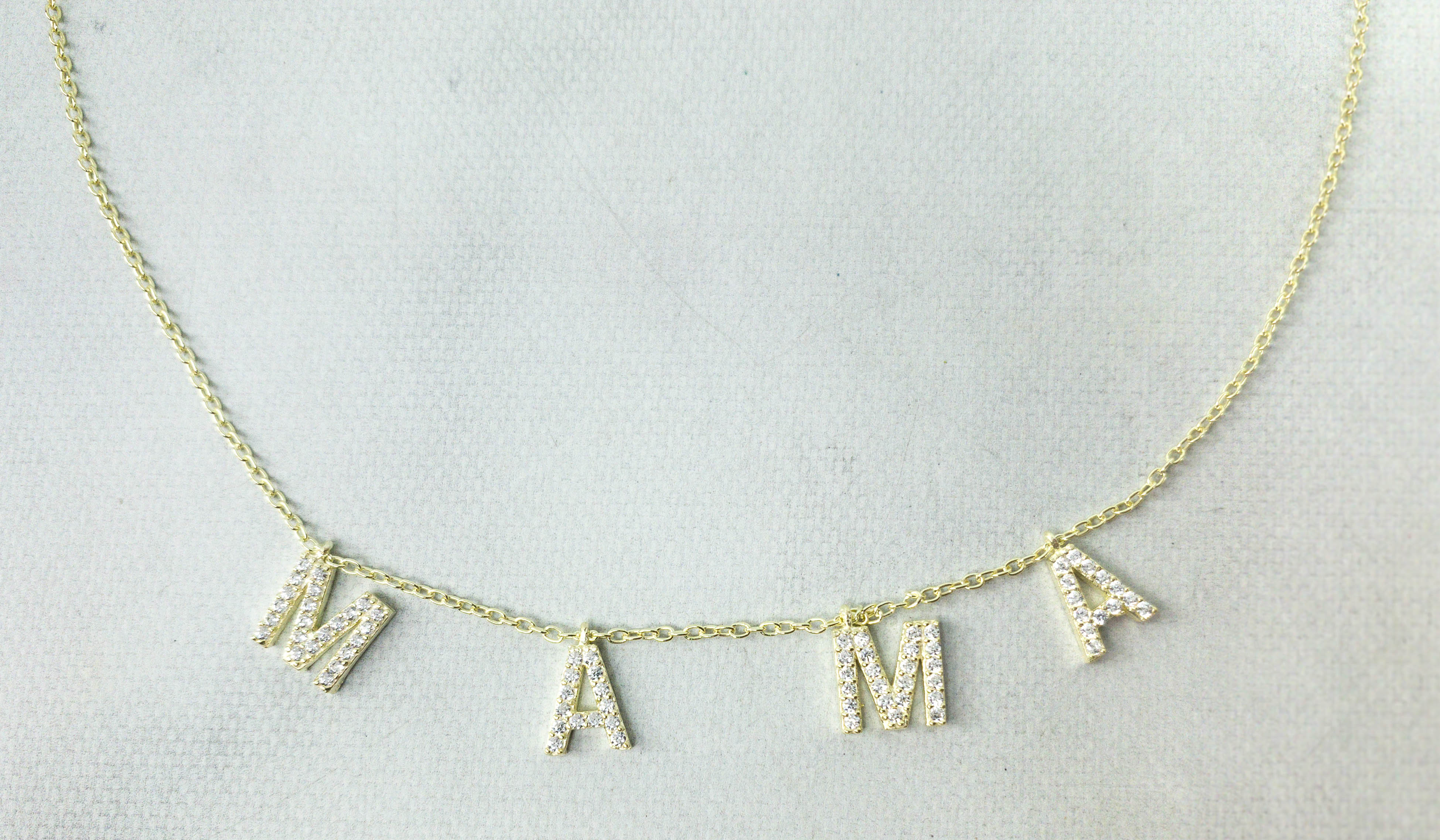 The necklace spells out "MAMA" with the letters adorned in shiny gems. It's so pretty and heartwarming, something any mother would love to receive!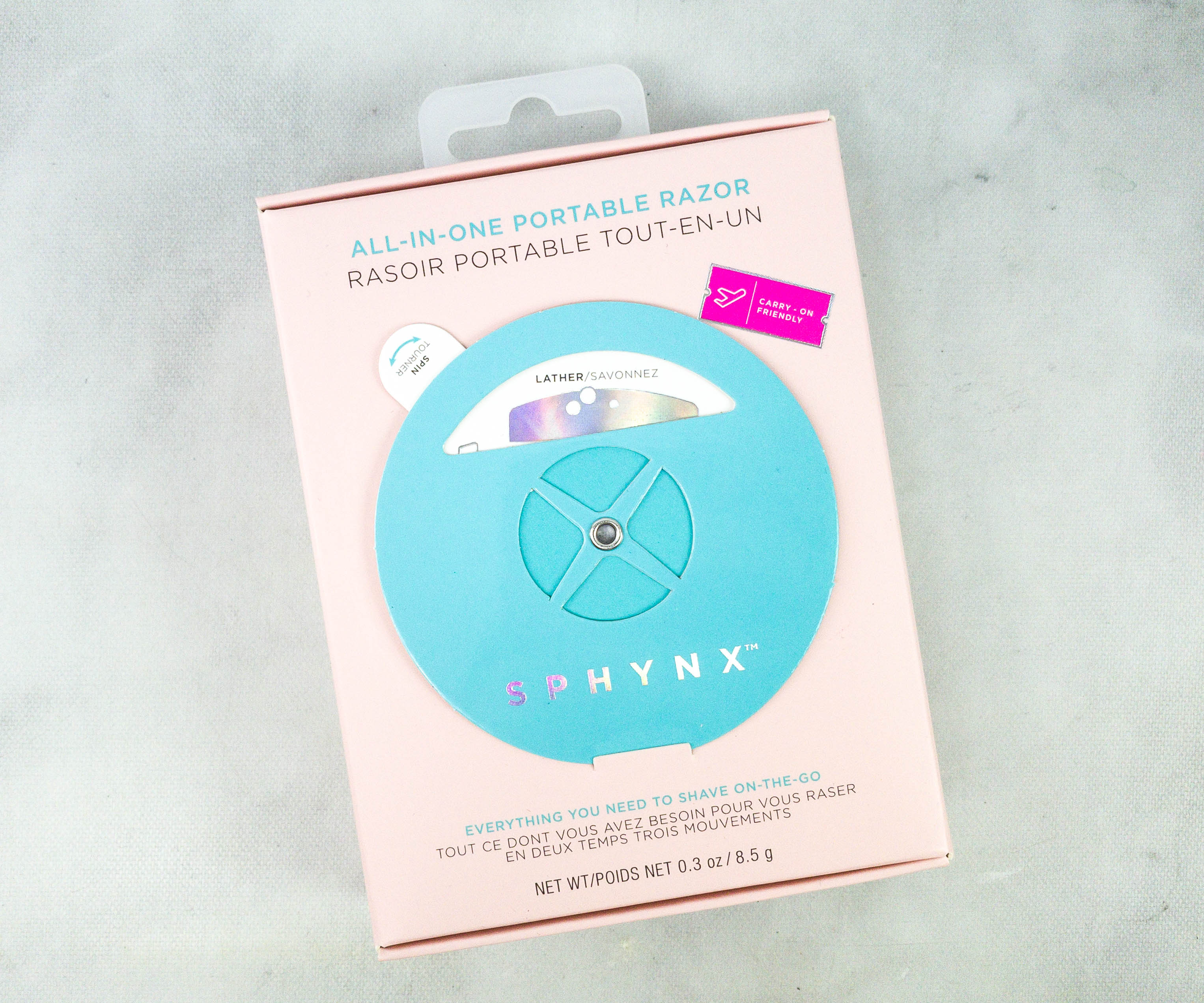 Sphynx Portable Razor ($18.61; $14.99 on the card) Here's another item for moms, a TSA-approved portable razor! It has pretty much everything you need for shaving on-the-go.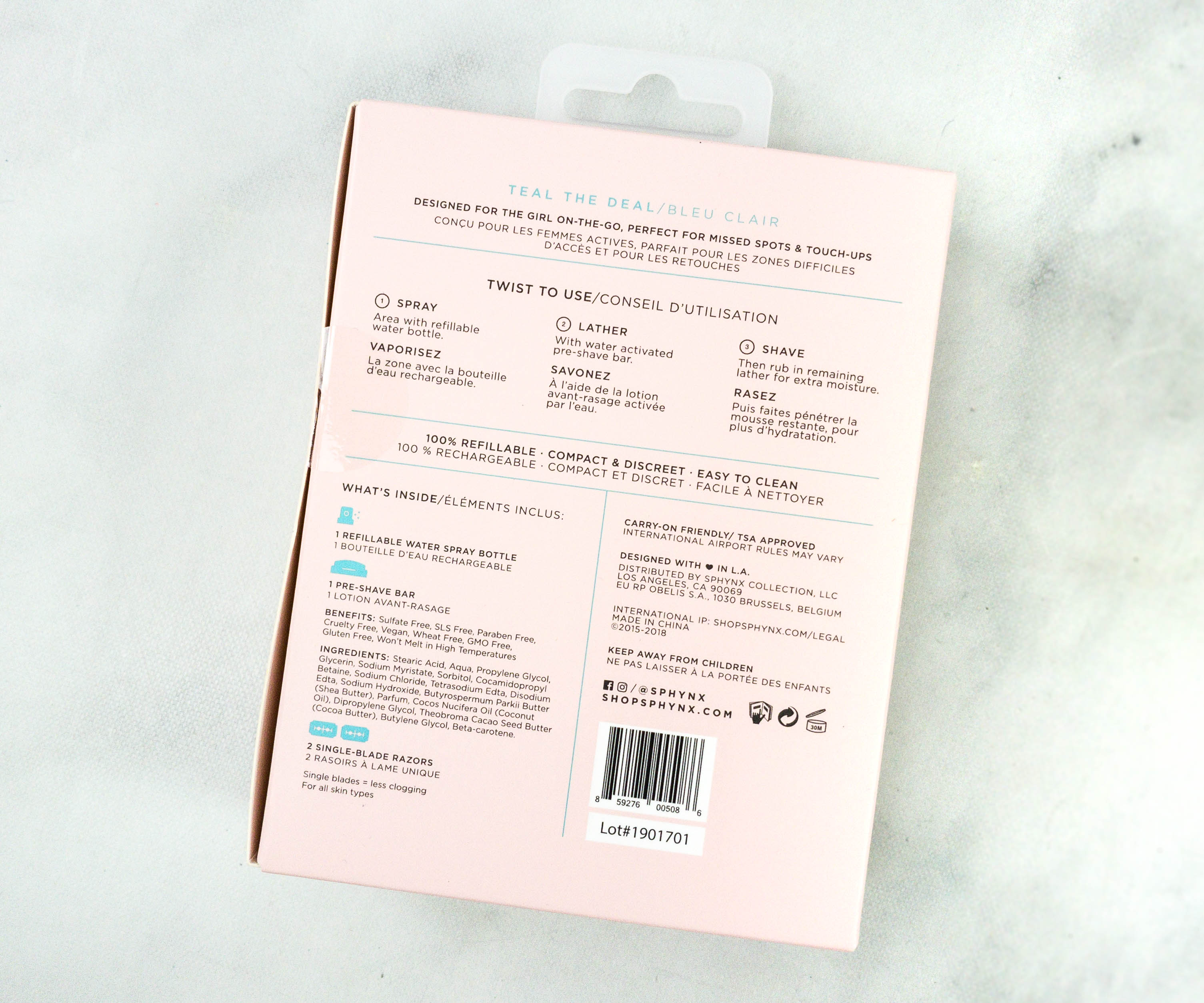 It's cruelty-free, paraben-free, and vegan!
It's lightweight and it doesn't leak so you can put it in your bag without worrying it might make a mess.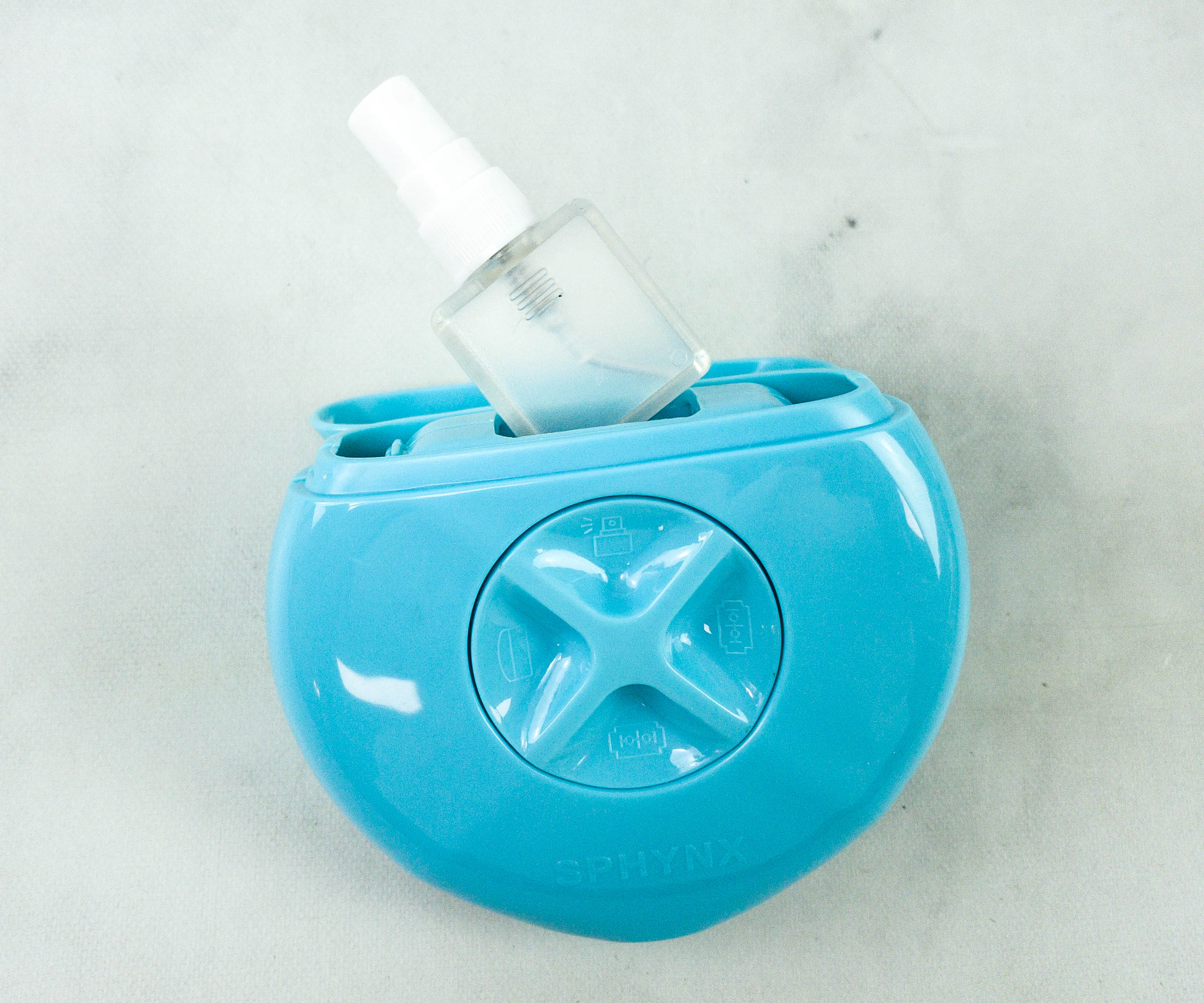 There's a refillable spray bottle where you can store some water that you might need when shaving.
There's also a pre-shave bar that is water-activated. It lathers nicely to help get you that smooth shave!
Of course, there's also a single blade razor.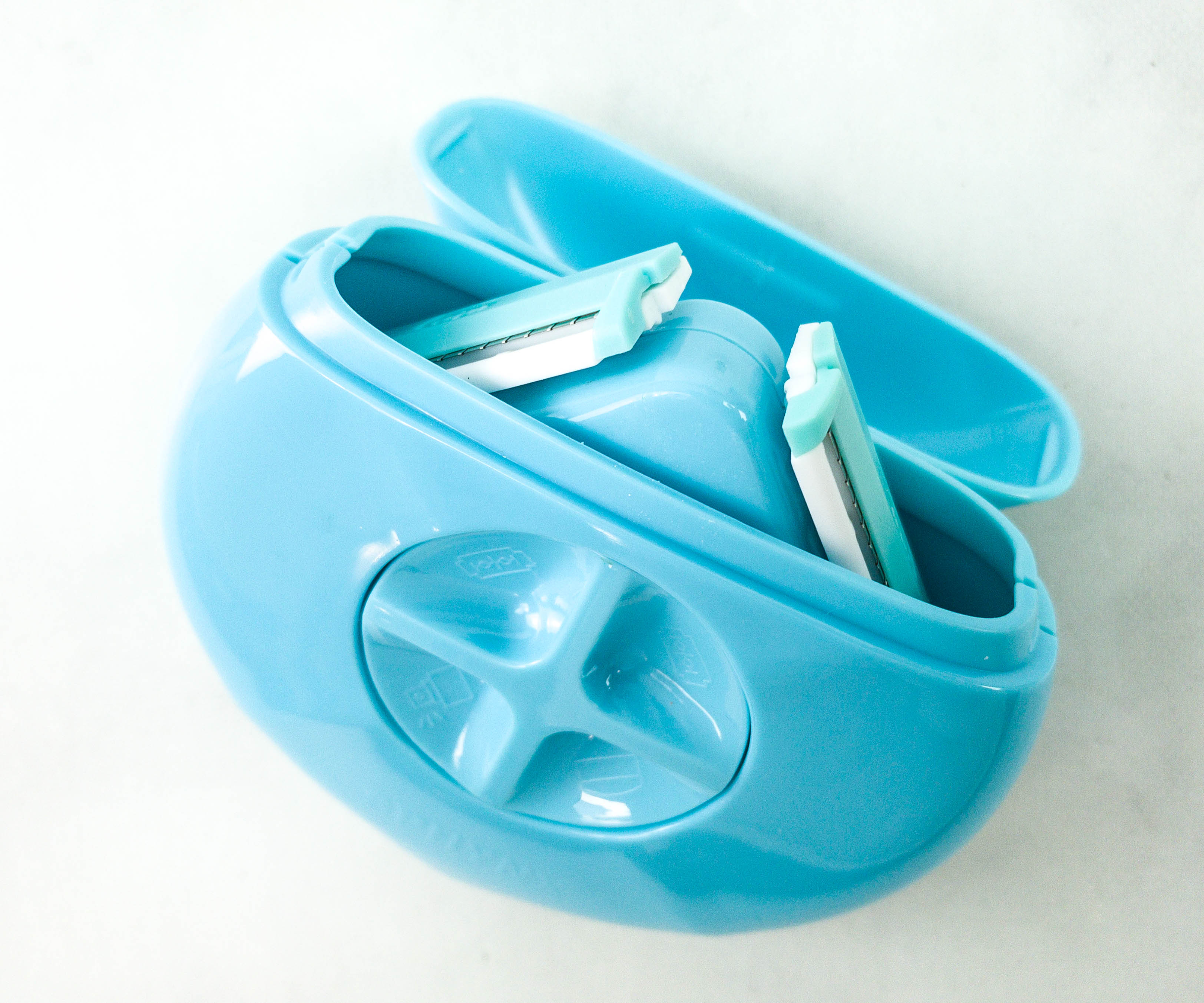 There are two pieces of single blade razor inside so you can use the other one as a back up when the first one gets dull. This is the perfect travel hack if you're always in need of a shave!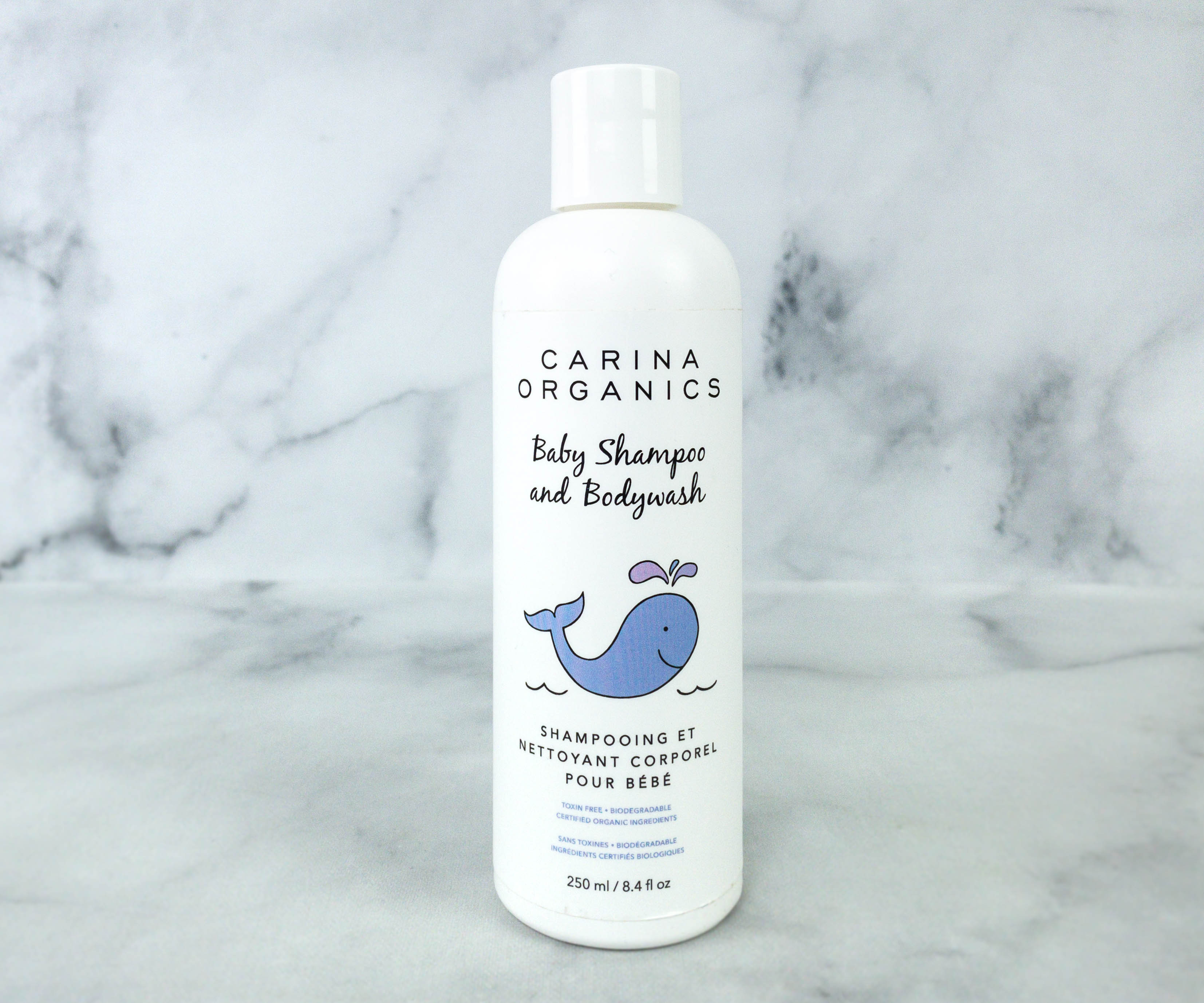 Carina Organics Baby Shampoo and Body Wash ($10.99) Formulated with sweet pea essence, this shampoo and body wash is gentle on baby's skin and smells absolutely amazing. It has less lather and it also washes away easily, leaving the baby's skin clean and fresh after use. The formula is also hypoallergenic, cruelty-free, vegan, paraben-free, soy-free, gluten-free, and dye-free.
Skip Hop Stroll & Go Portable Baby Soother ($15) This portable baby soother can be attached to strollers or diaper bags using its handy silicone strap.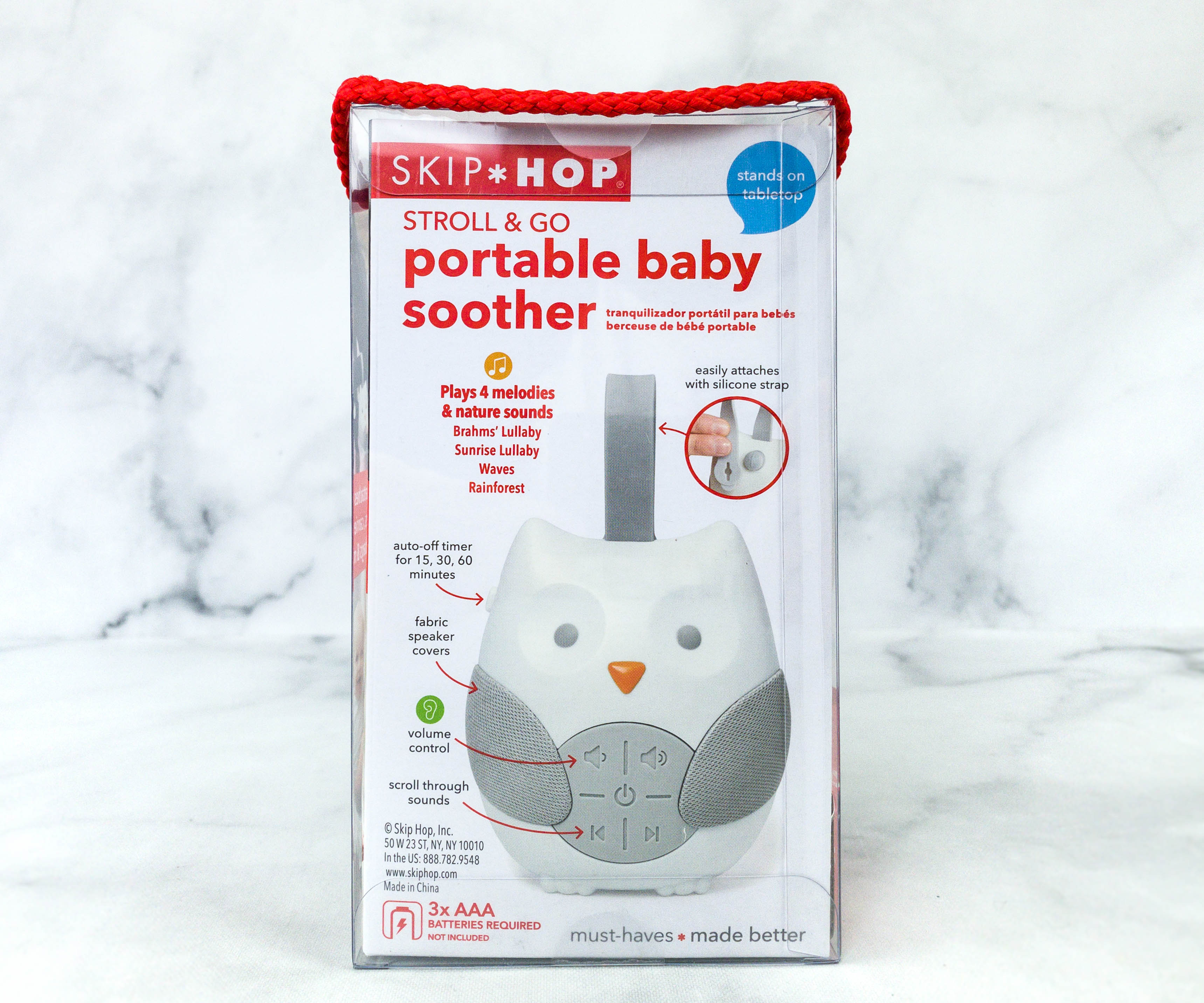 Features includes 2 songs (Brahms' Lullaby and Sunrise Lullaby), 2 nature sounds (waves and forest), volume control and an auto-off timer.
The baby soother is shaped like an owl! It comes with a rubber pad on its body, where you can easily control its volume.

It easily stands on any tabletop, thanks to its flat bottom, and it also easily attaches to any handle when you're on the go! There's even a timer adjuster on the side so you can set it up depending on how long your baby needs it.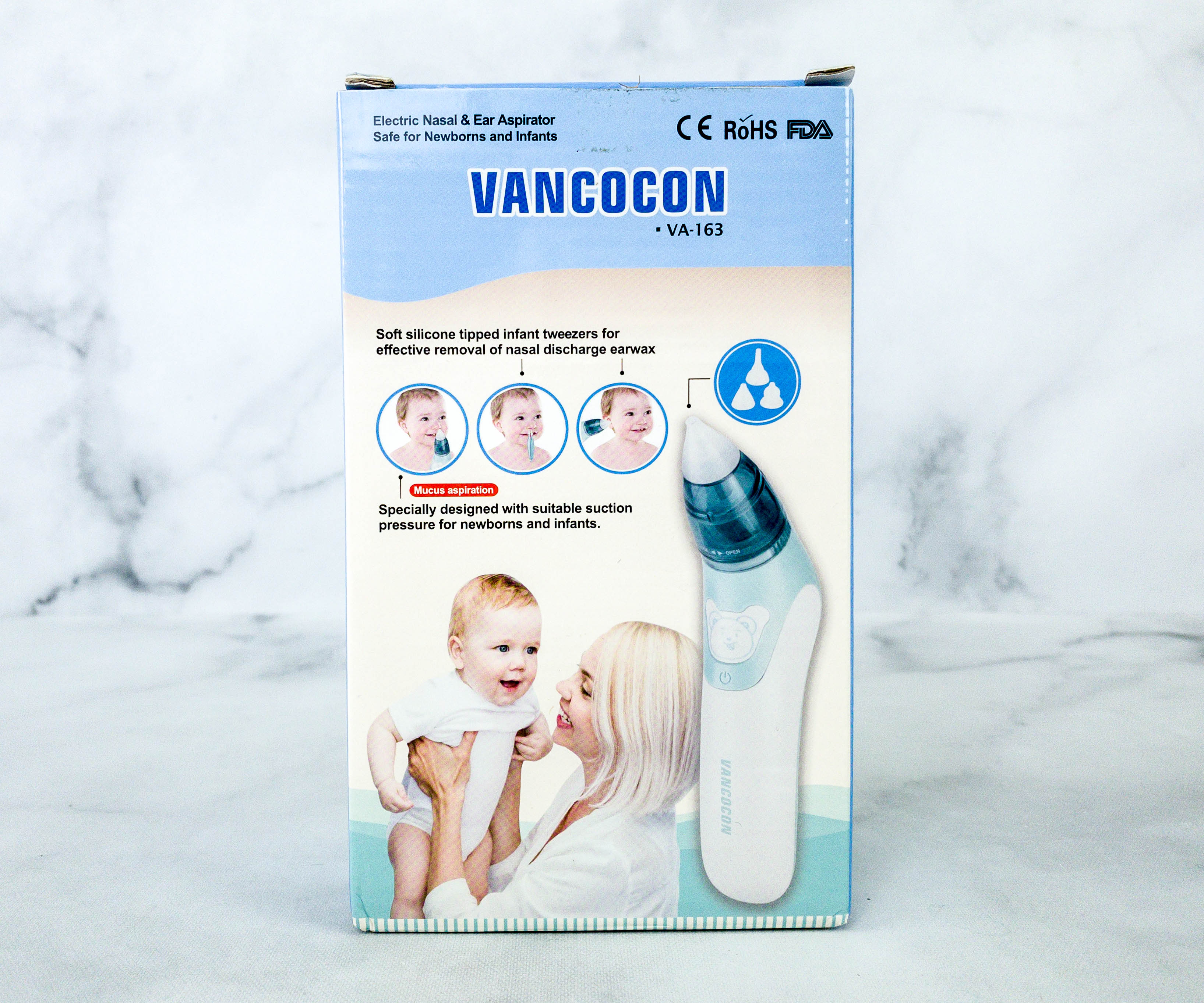 Vancocon Electric Nasal & Ear Aspirator ($49.99)  It's an electric aspirator for the nose and for the ears. Unlike others, the suction of this product is gentle and specially designed for babies and toddlers from 0-6 years old.
The item came with its own case.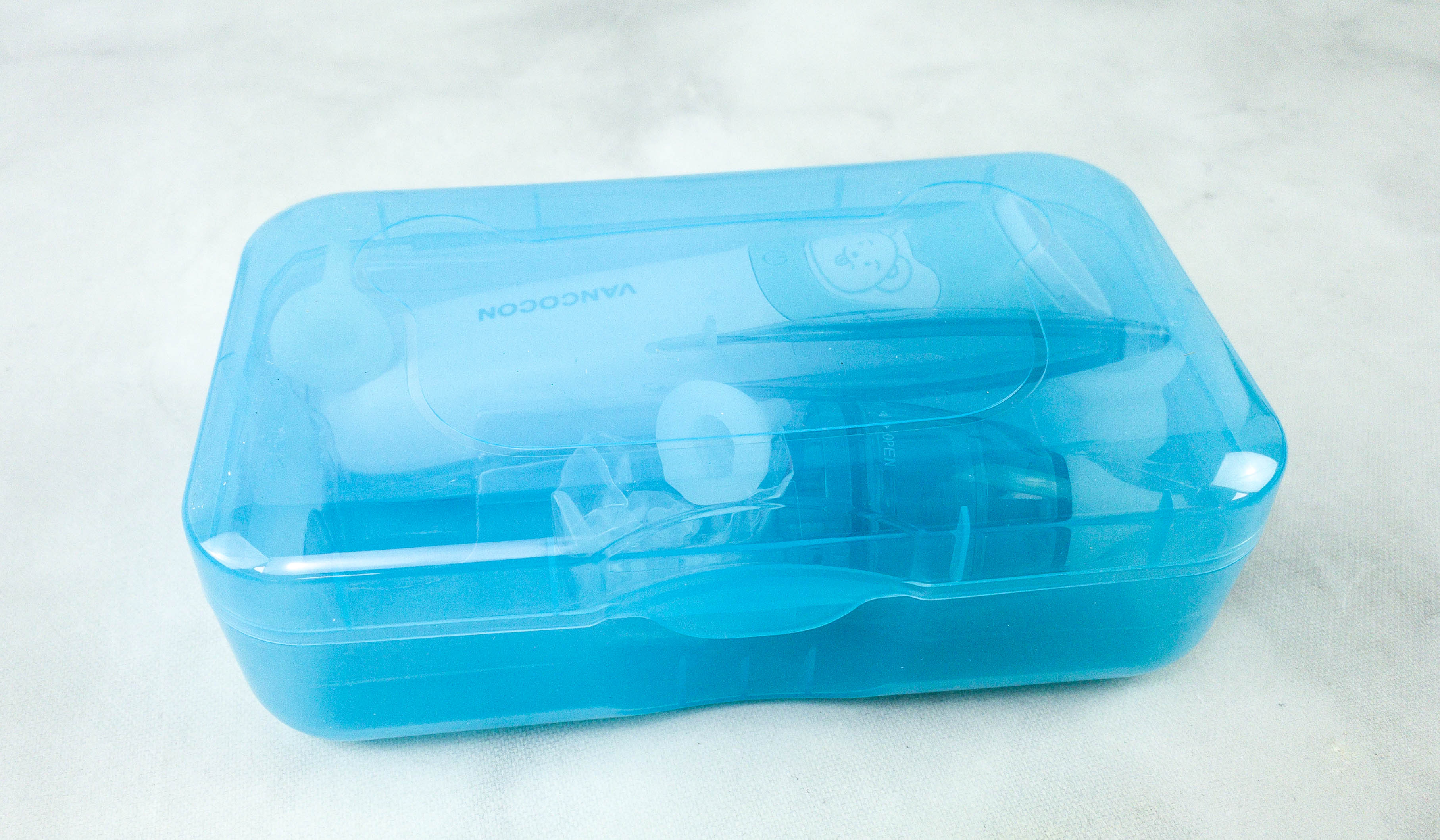 This case makes the aspirator easy to bring everywhere, even when you're traveling with your baby.
Here's everything inside the kit! It includes 3 different nozzles (2 nasal nozzles and 1 ear nozzle), 1 tweezer, and 10 tweezer tips.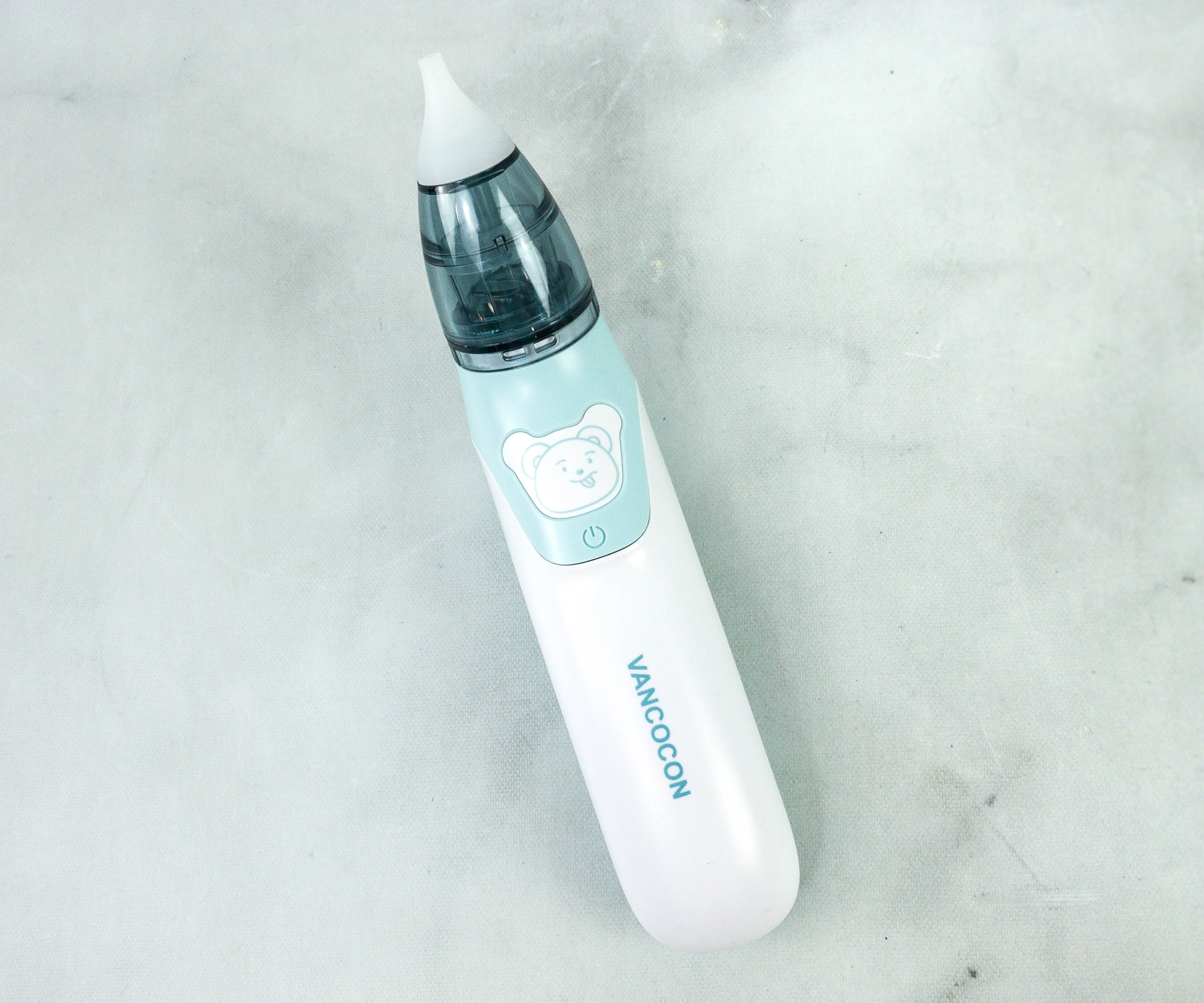 The electric ear and nasal aspirator are compact and very easy to use. They came with washable, reusable parts to make sure that they stays hygienic, as you can clean it every after use!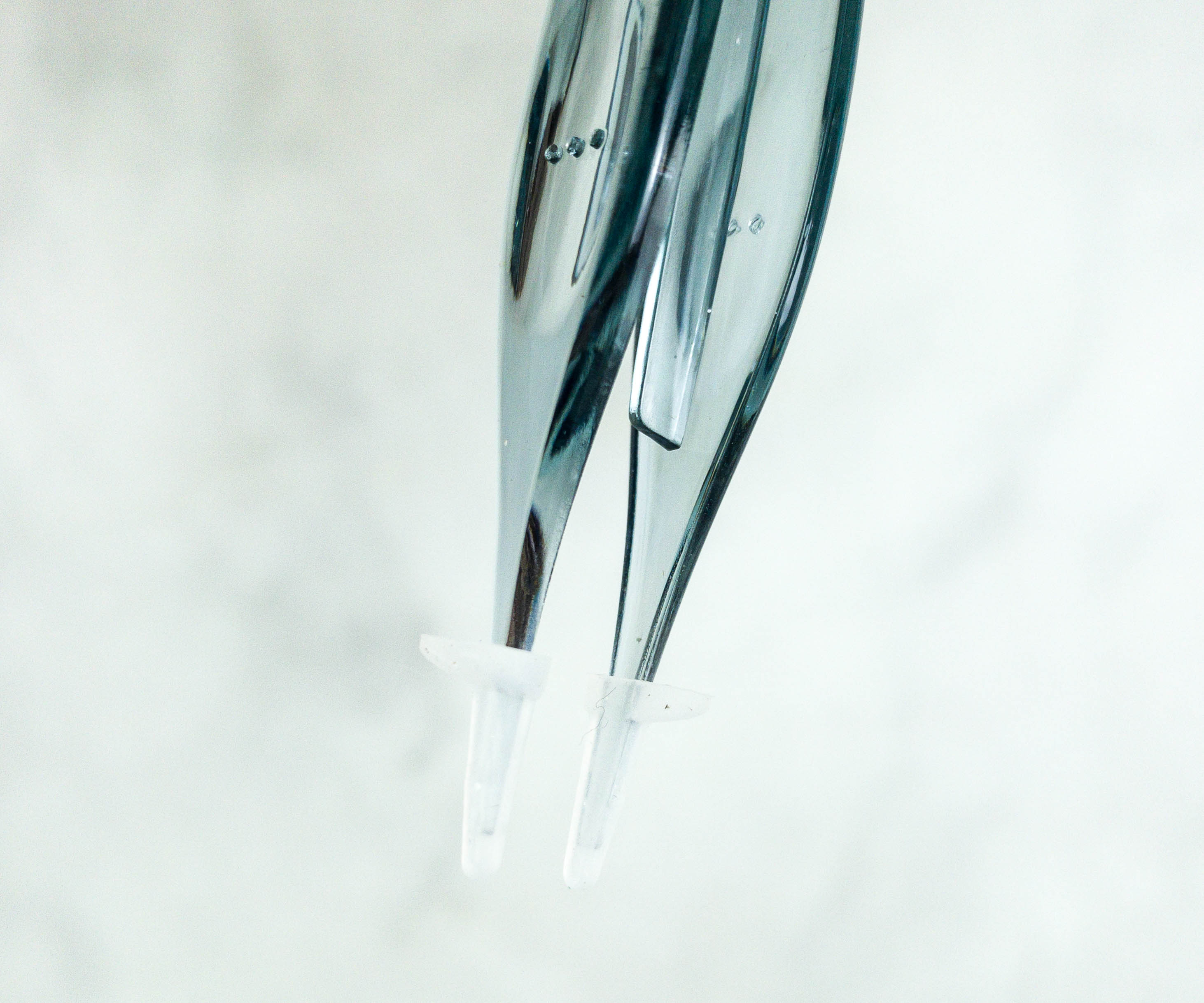 It came with a tweezer for additional help in removing discharge.
There's a nice curation of baby items in this month's box! From develomental toys to bath items, everything is just fun and useful. My favorite baby item is the milestone blanket. It will surely make those monthly photoshoots at home easier! Since it has neutral colors, the theme can be easily changed every month, you just have to find the proper props to go with it. I love that it's so versatile and after we're done using it, we can still keep it for future use. Another thing I like about this box is that they have a little something for mommies, like the socks and the accessories. They may be simple things but they make nice gifts for busy moms! Overall, this is an awesome box. They tailor the box to your baby's age so nothing will go to waste!
What do you think of this month's 123 Baby Box?