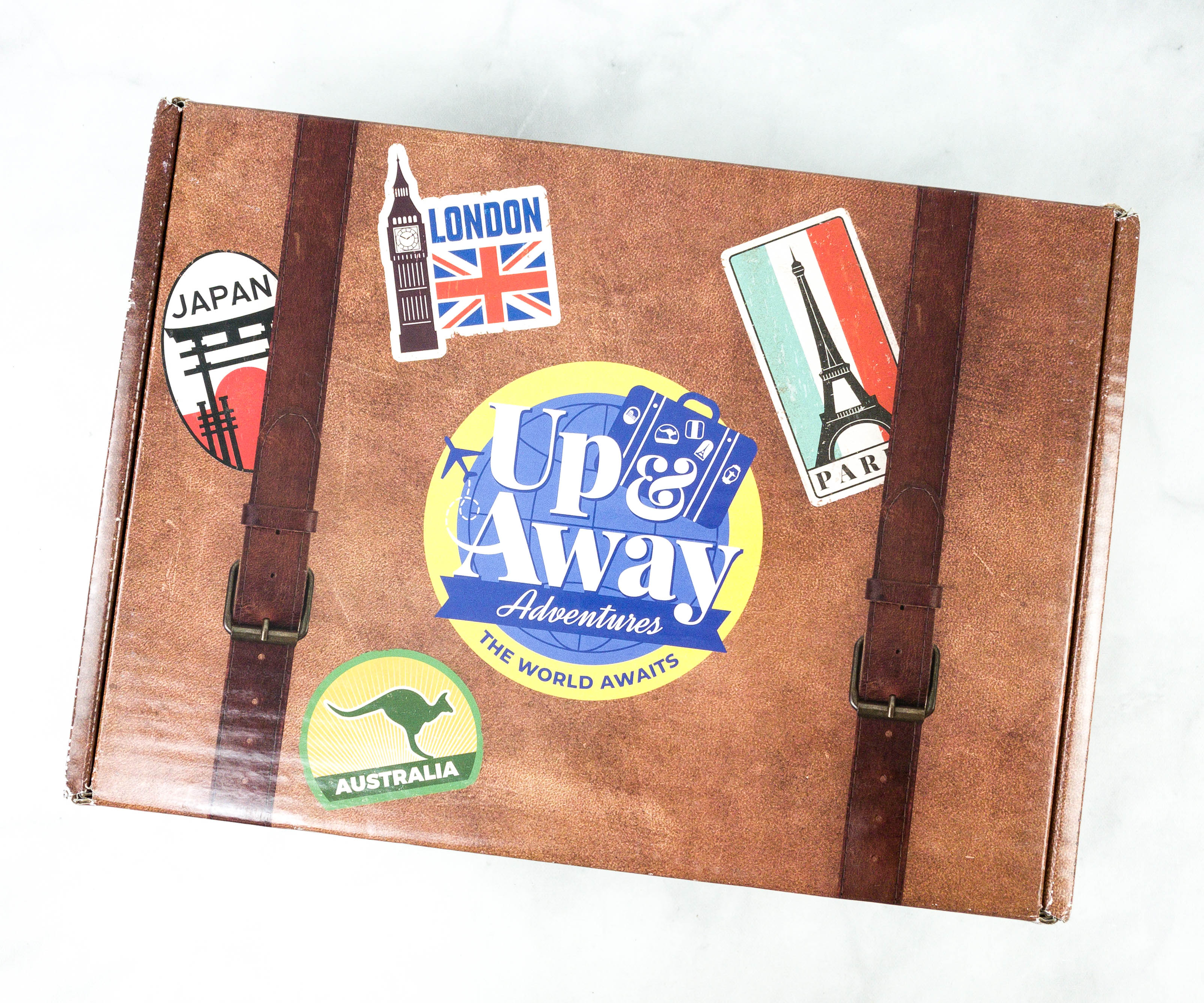 Up & Away Adventures is a travel-themed educational subscription box. Boxes are designed like suitcases, and the items inside incorporates the culture, cuisine, and people from countries around the world. They also focus on stimulating the five senses, so each suitcase comes packed full of sights, sounds, smells, tastes, and things to touch. The subscription ships bi-monthly for $49.95, with $5 shipping in the US ($12.50 for Alaska and Hawaii).
DEAL: Get 10% off on your first month! Use coupon code HELLO10.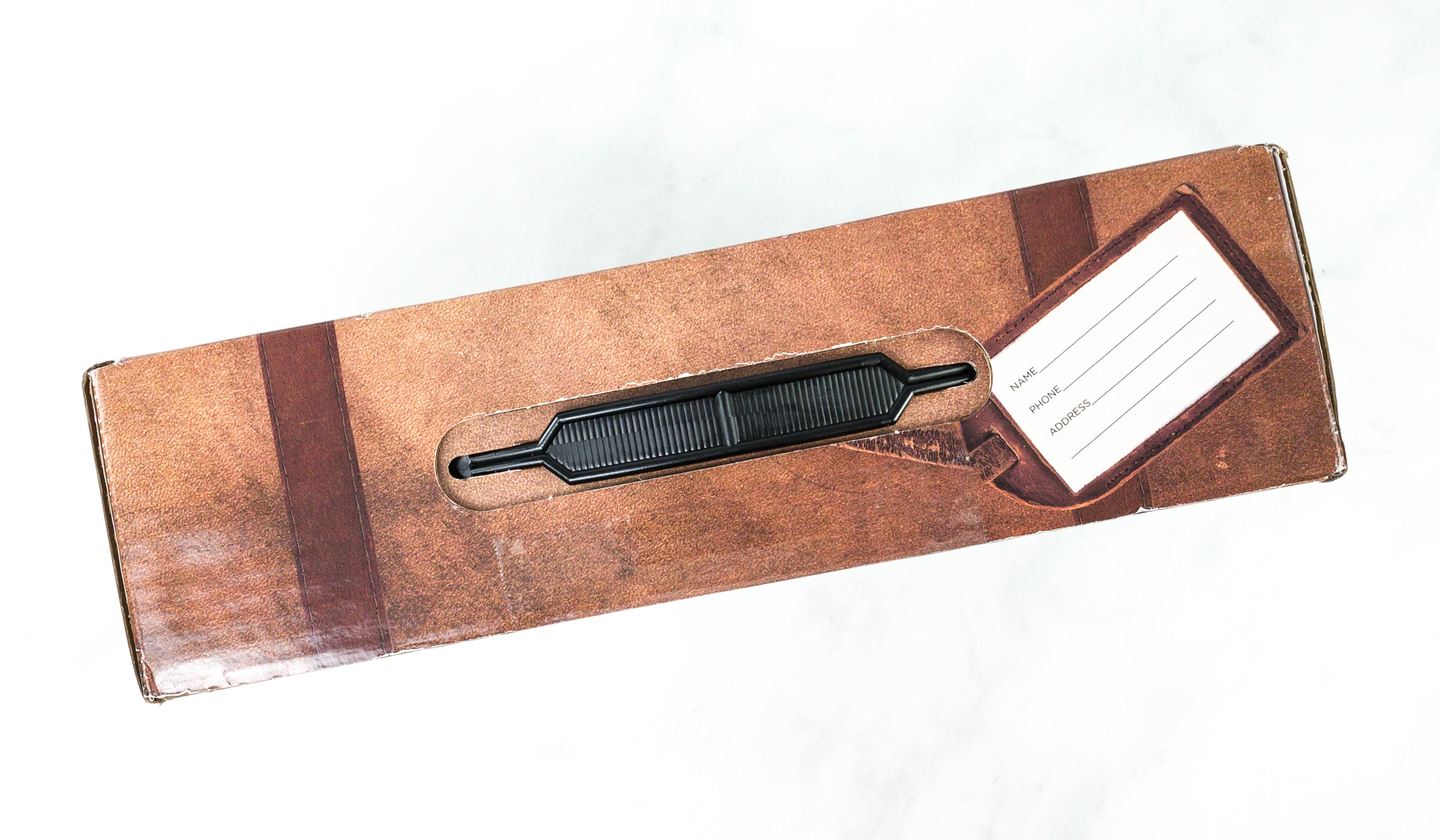 This box is unique because it is suitcase-style. It even has a handle on top, plus a tag where you can write your name, phone number, and address.
The inner lid of the box features a map!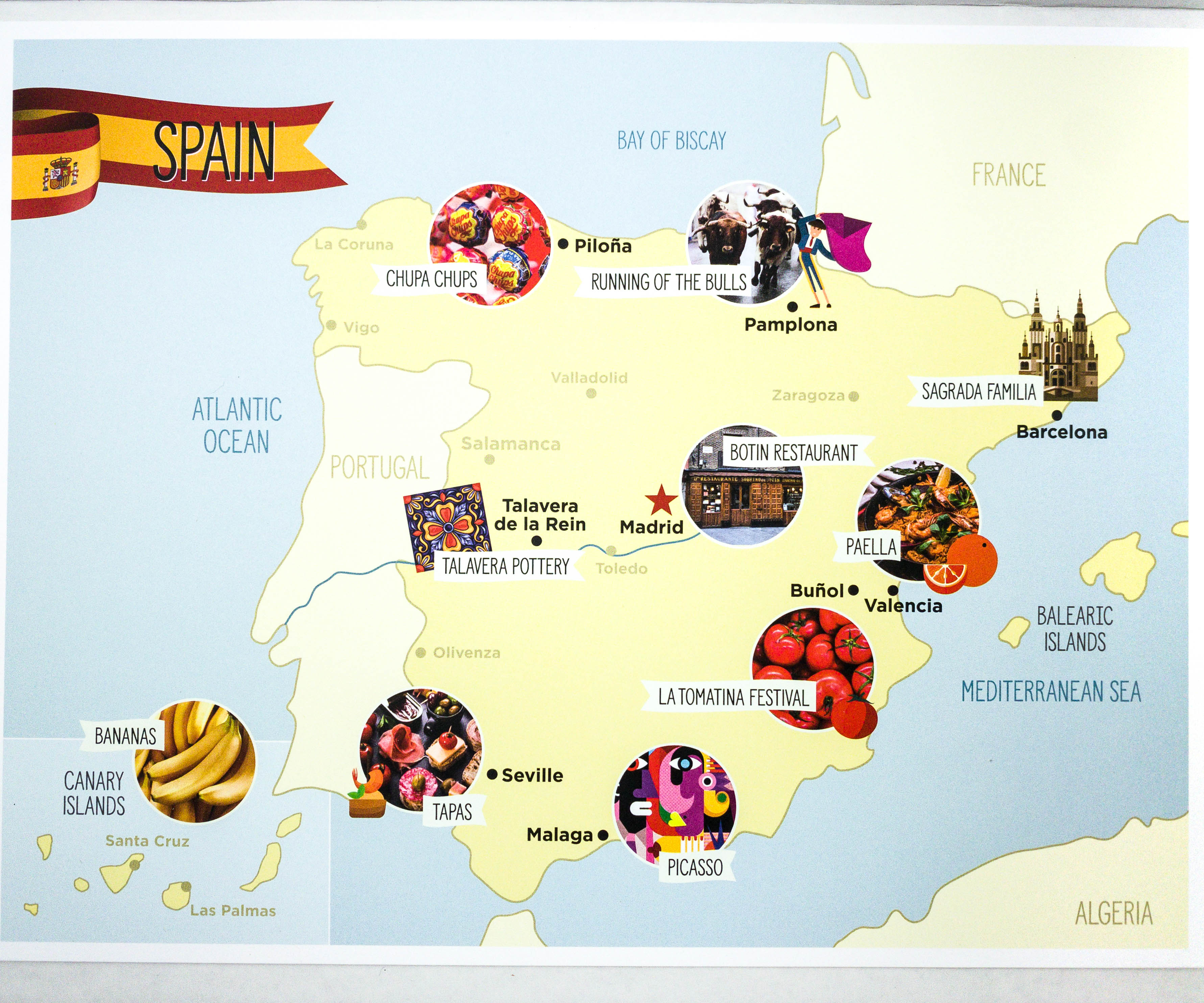 In this box, we're exploring SPAIN!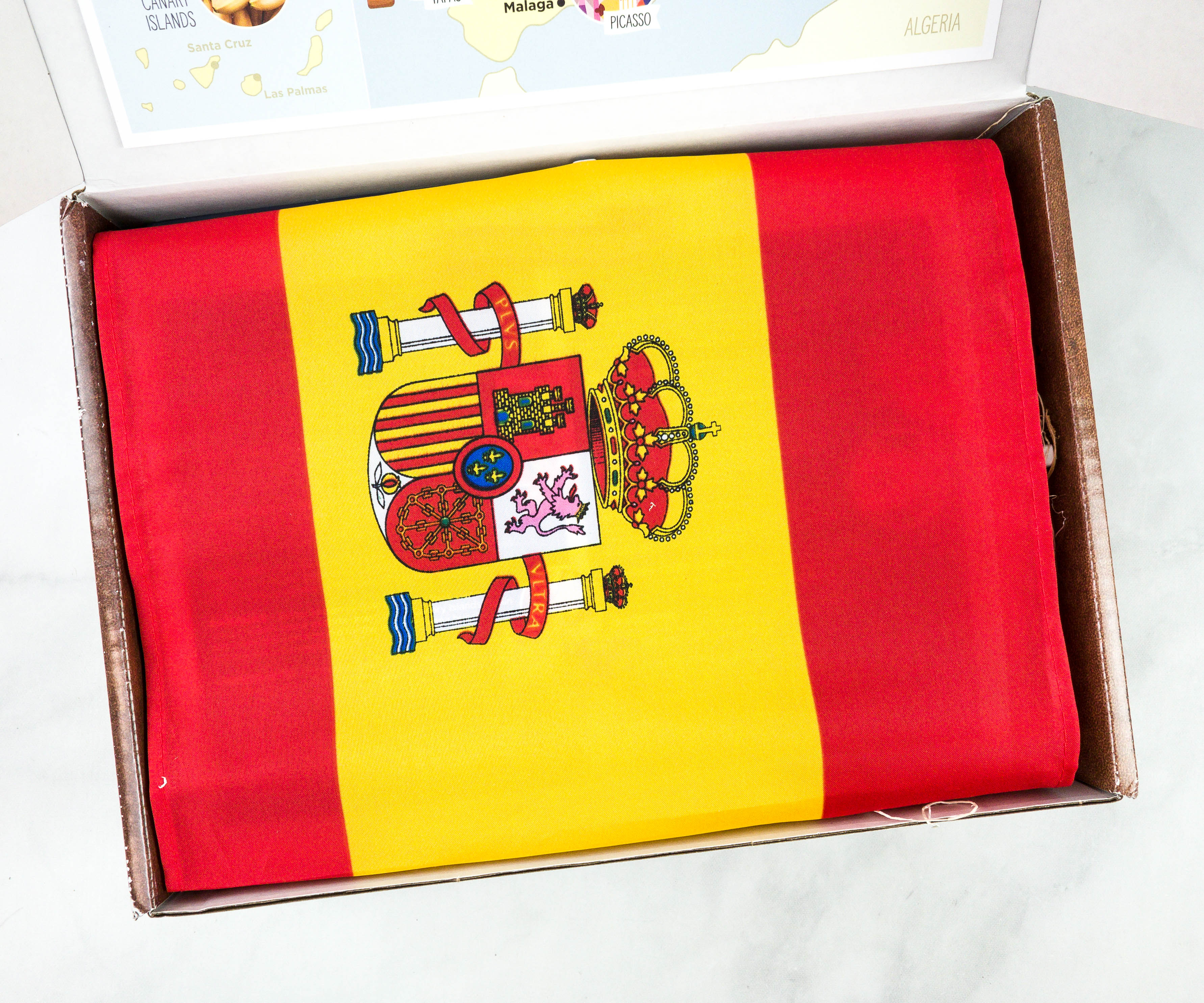 Spain's flag covers all the items in the box.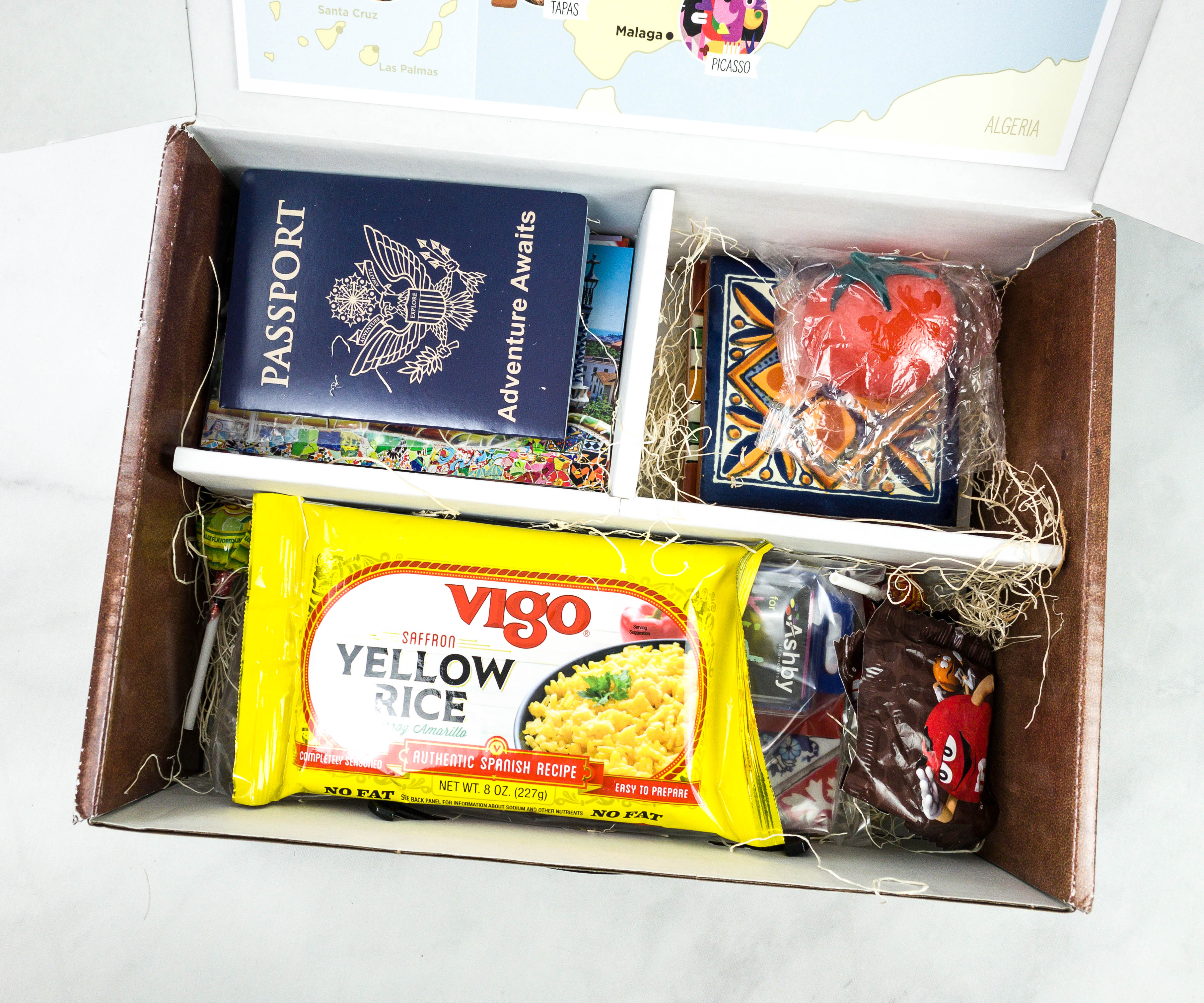 The presentation of this box is really nice. There are cardboard dividers to keep the items from moving around during shipping.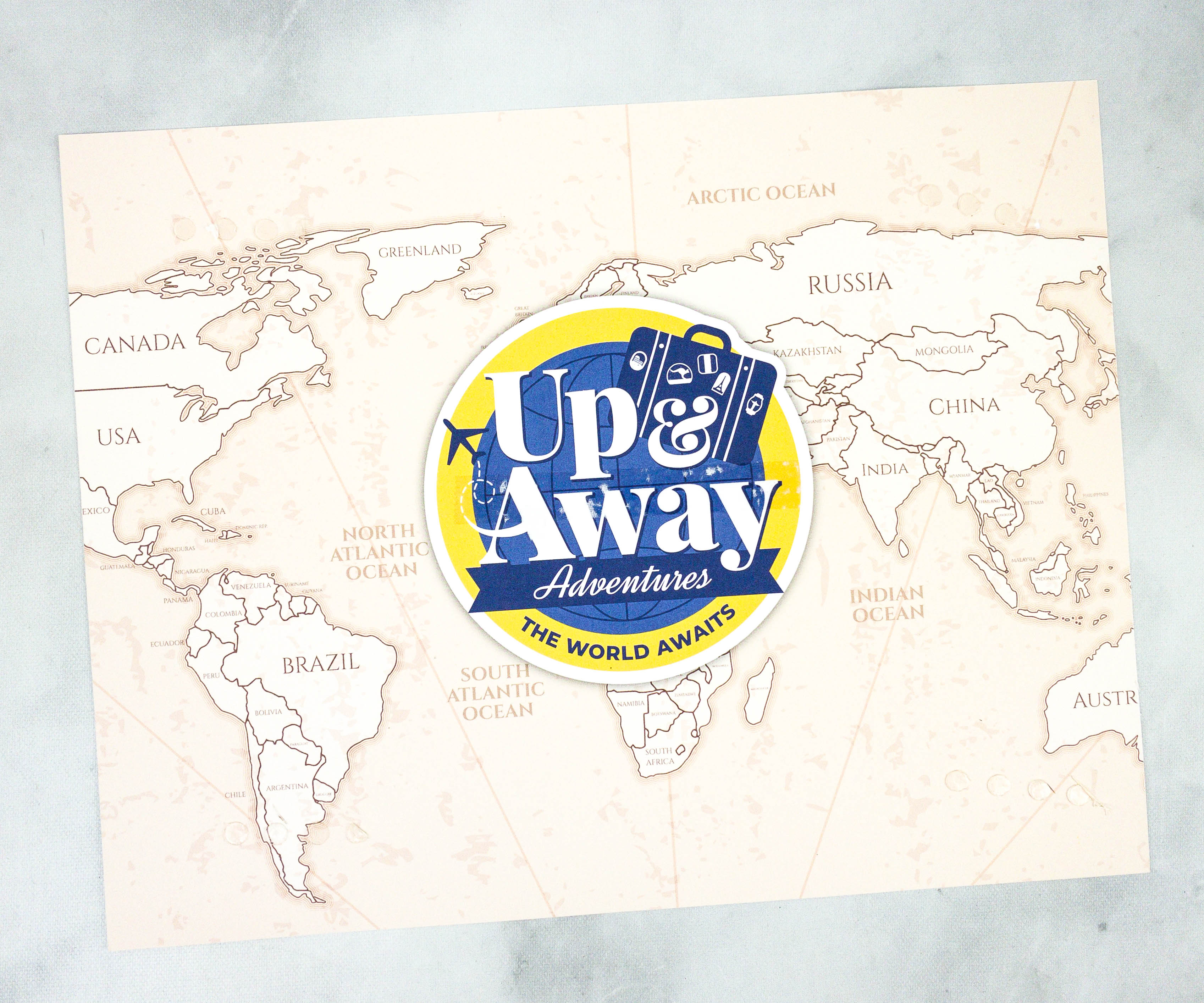 The box also includes an information card.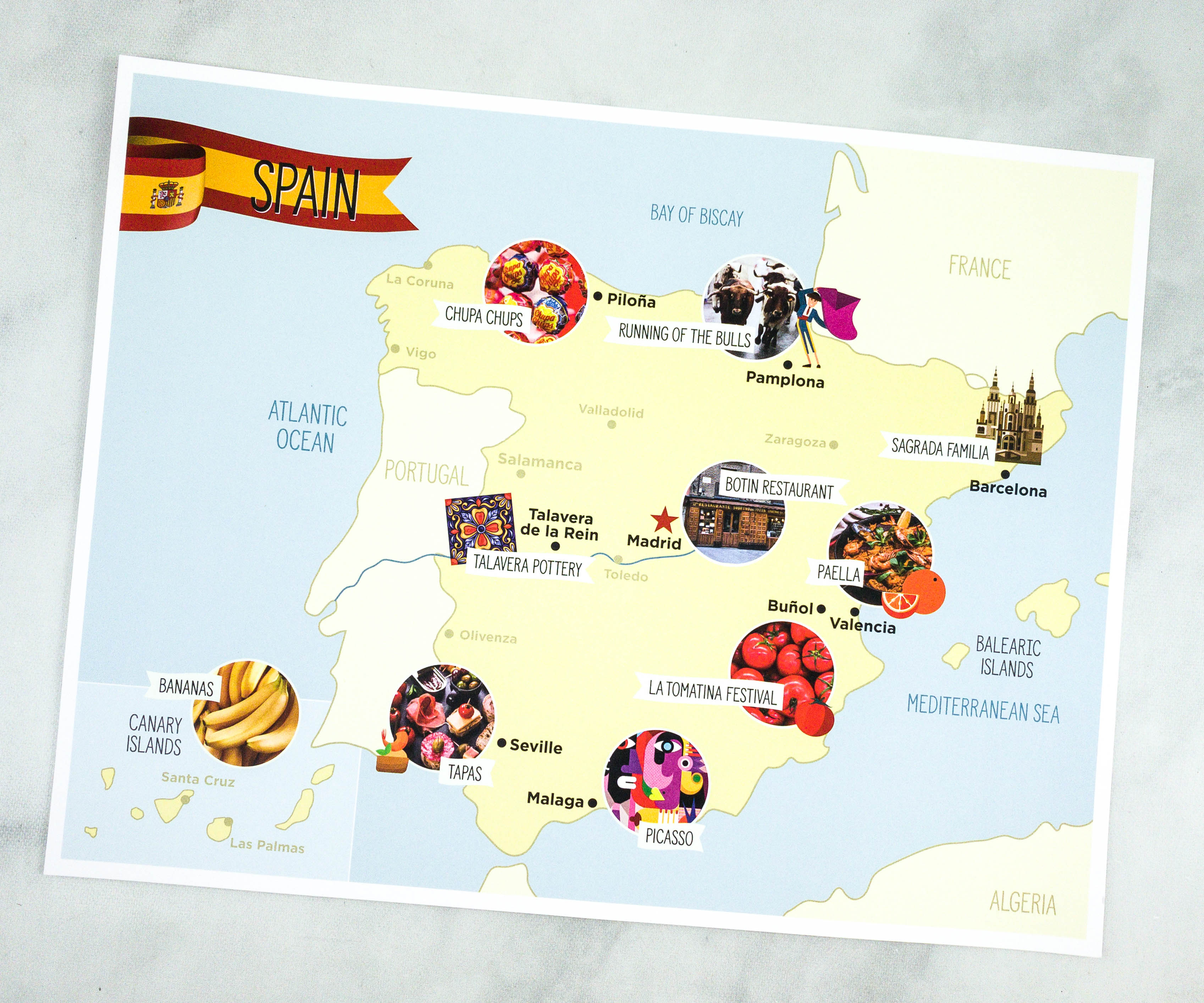 This card contains the same map as the one on the box's inner lid.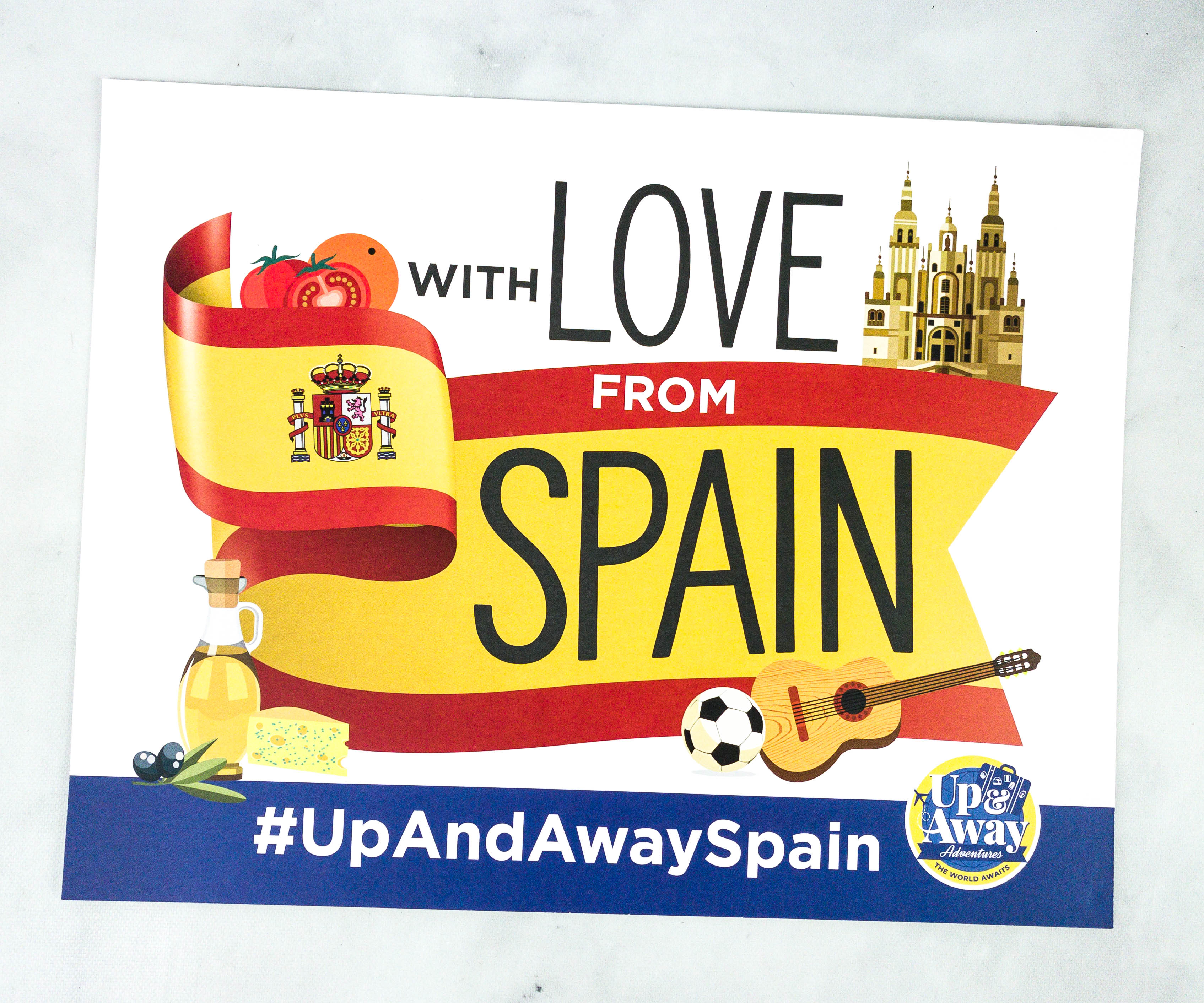 Another card lists everything included in the box.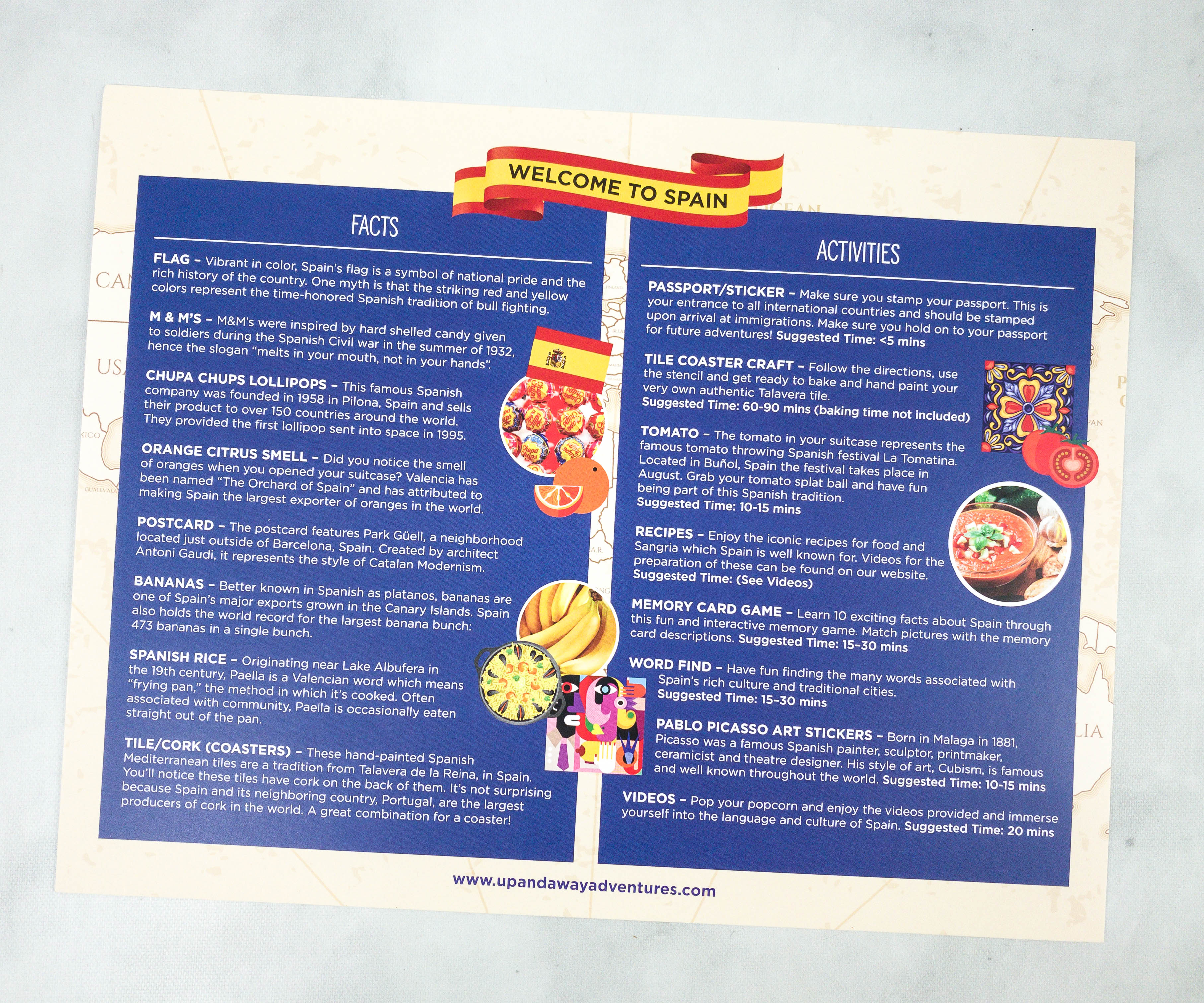 From this list alone, we could tell that this is going to be a fun adventure! There are lots of activities and they even shared fun facts about Spain.
It's an Up & Away sticker!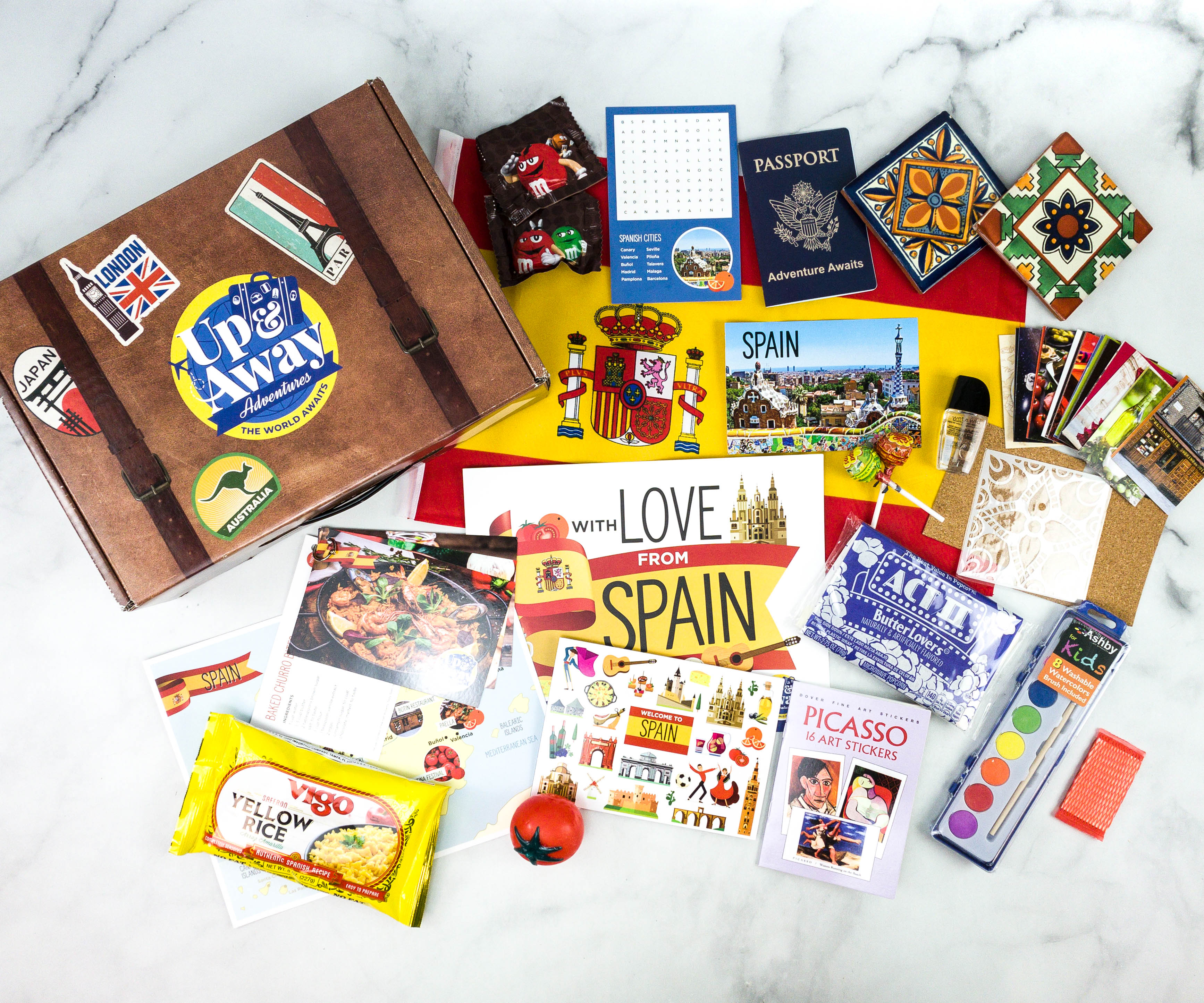 Everything in my box!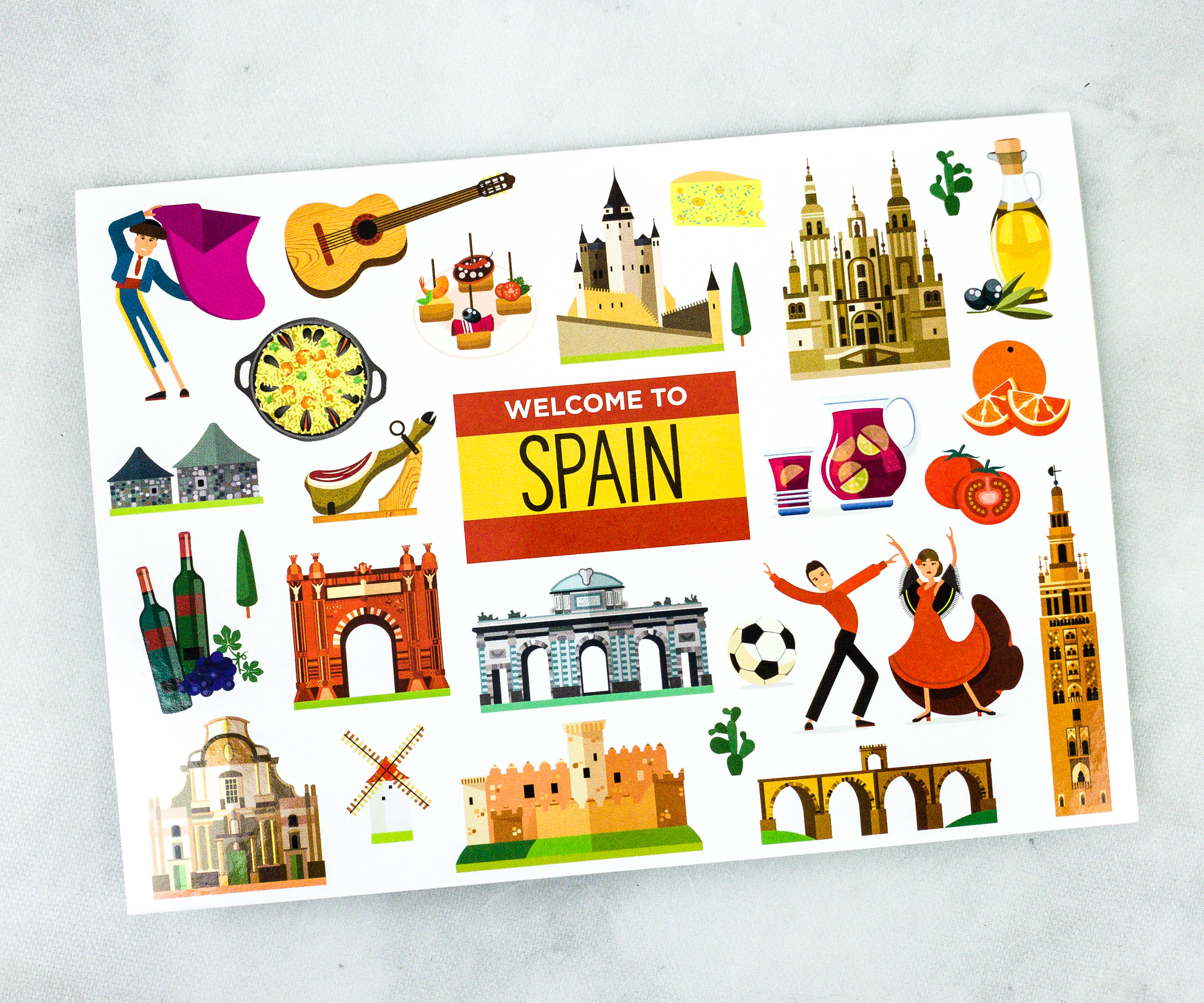 Here's another welcome card and this time, it features illustrations of different things we can see in Spain!
Inside, there are instructions on how to get started with the box.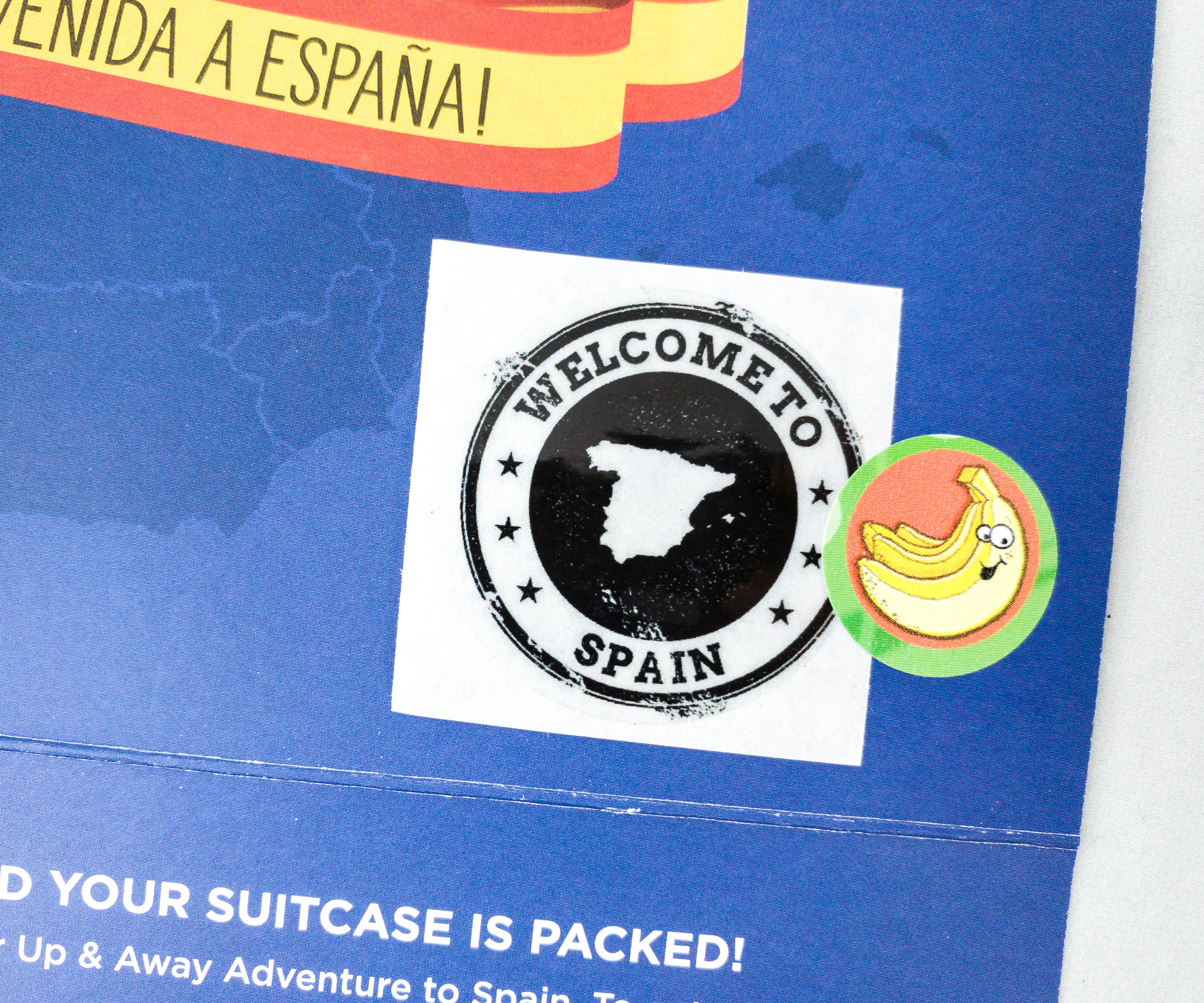 Every box will include a country stamp that you can put on your Up & Away passport!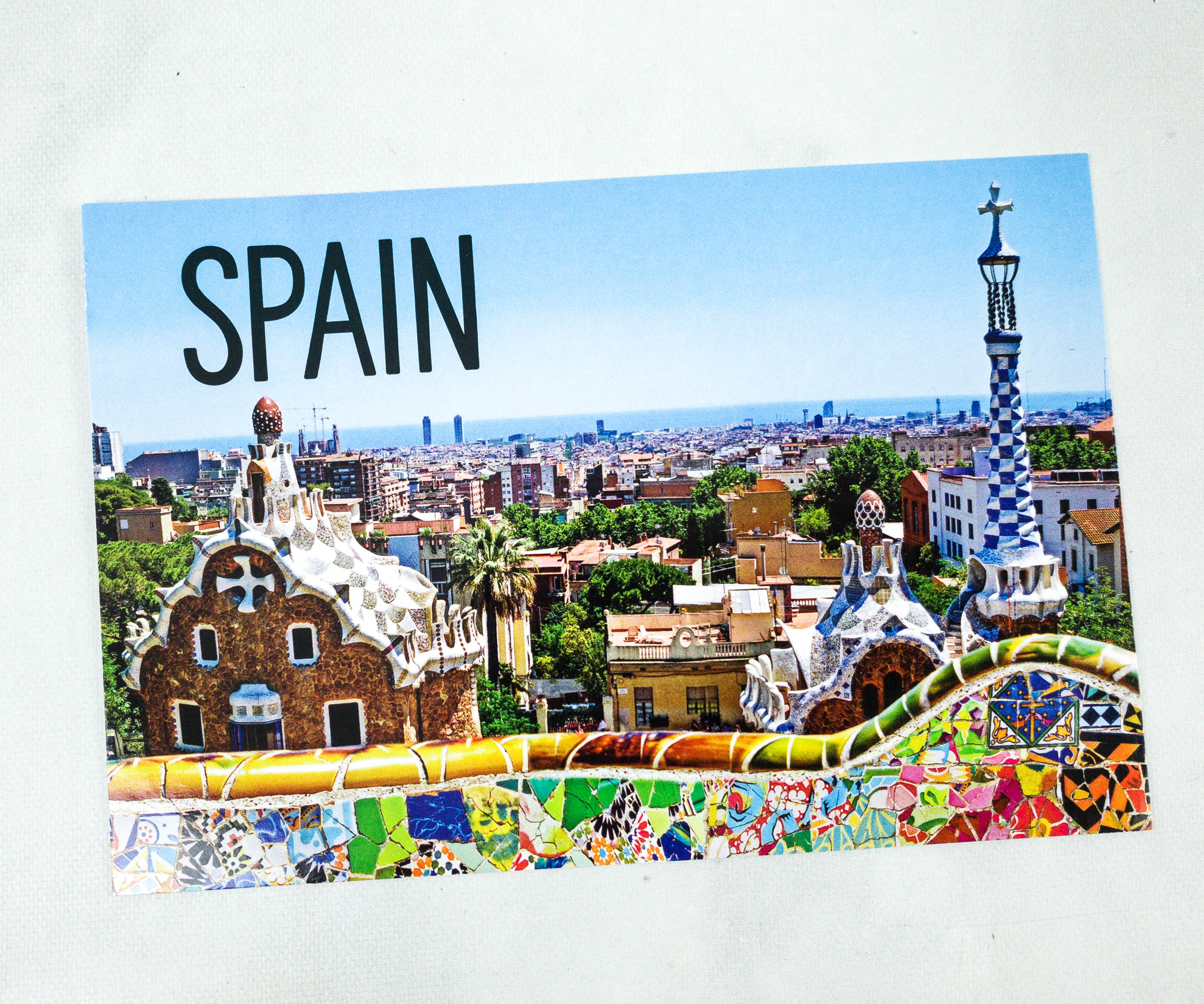 Here's a postcard with a beautiful scenery of a neighborhood in Spain. It's so colorful!
According to the back of the postcard, the photo is taken at Park Guell.
Park Guell is a neighborhood located outside of Barcelona. The design of the park was the creation of Antoni Gaudi, a renowned architect and the face of Catalan Modernism.
Your first box will include a passport!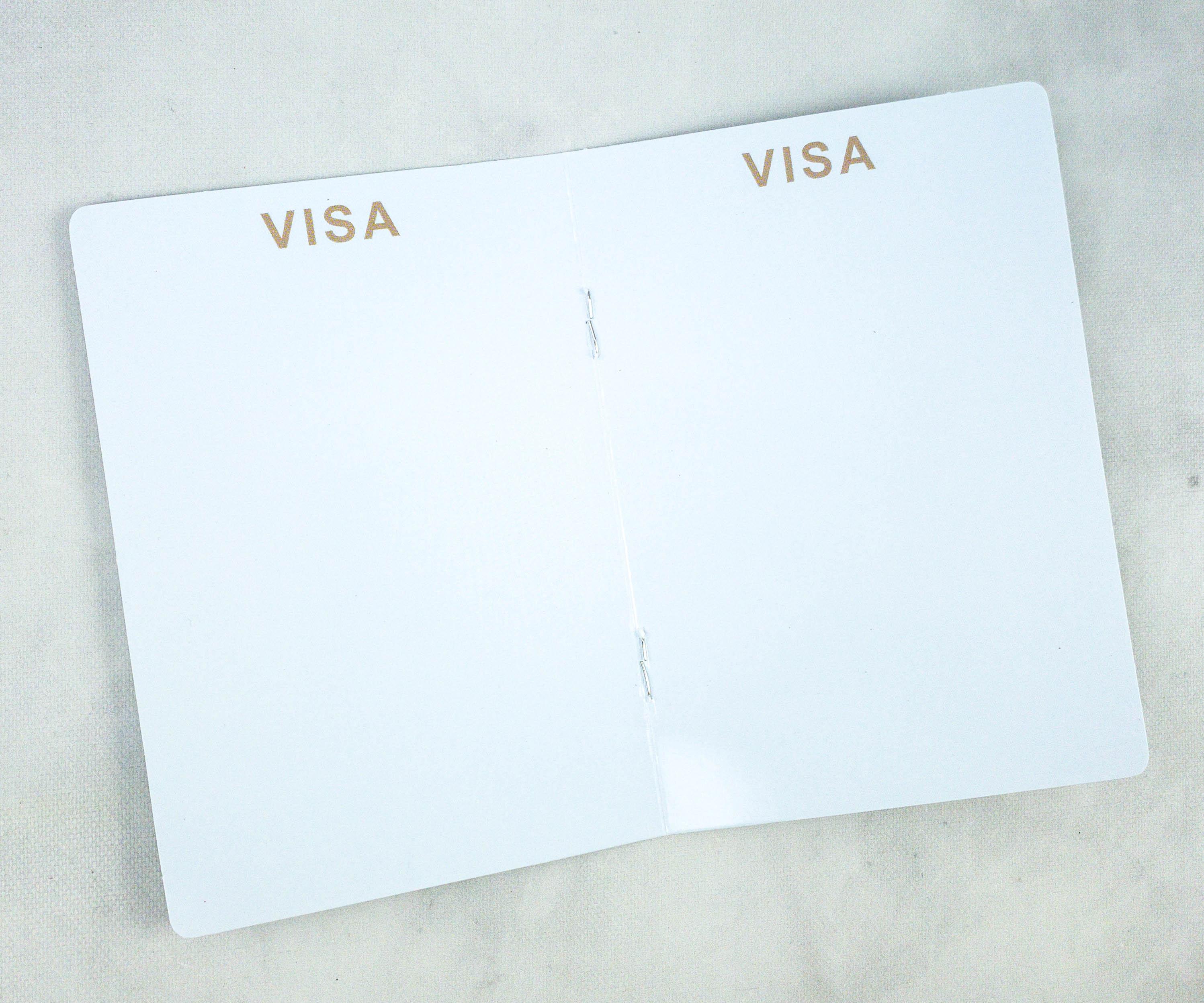 Just like actual passports, this is blank and you will get stamps as you "travel" from one place to another through this subscription.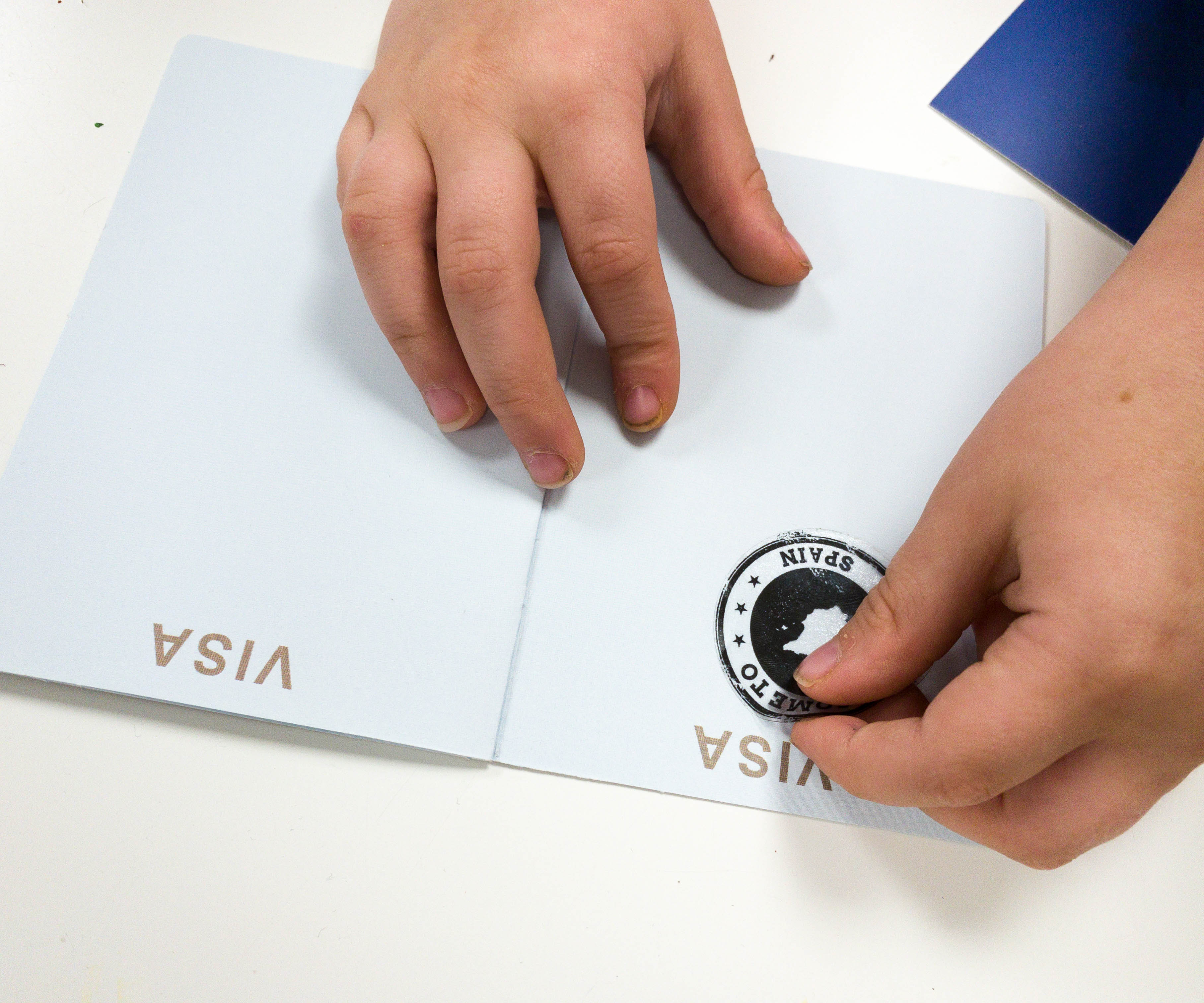 My son put the first stamp on our passport, which means that this is the start of our Spanish adventure!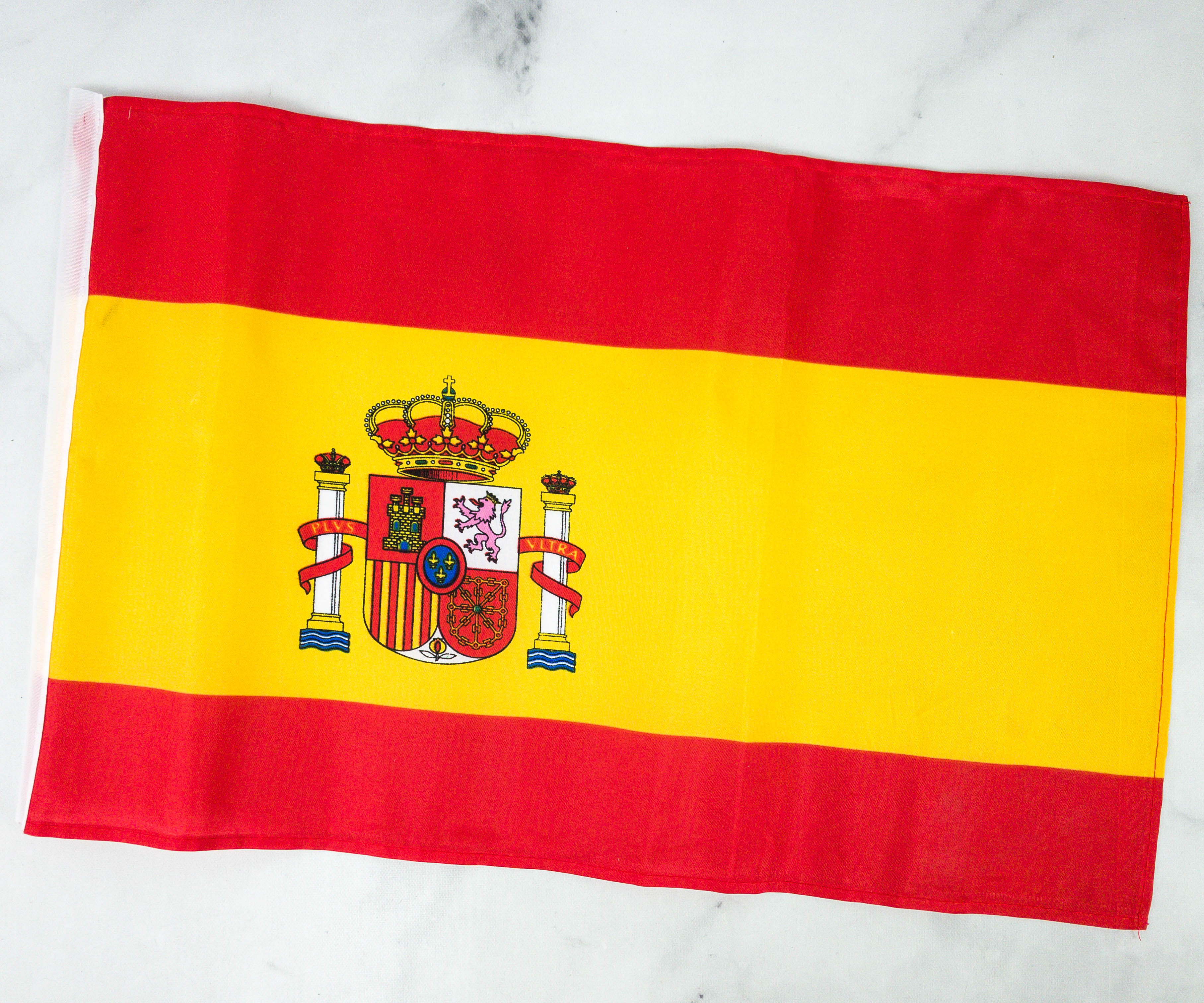 Each box will also include the flag of the featured country. Here's the flag of Spain, which features 3 horizontal stripes in red, yellow, and red.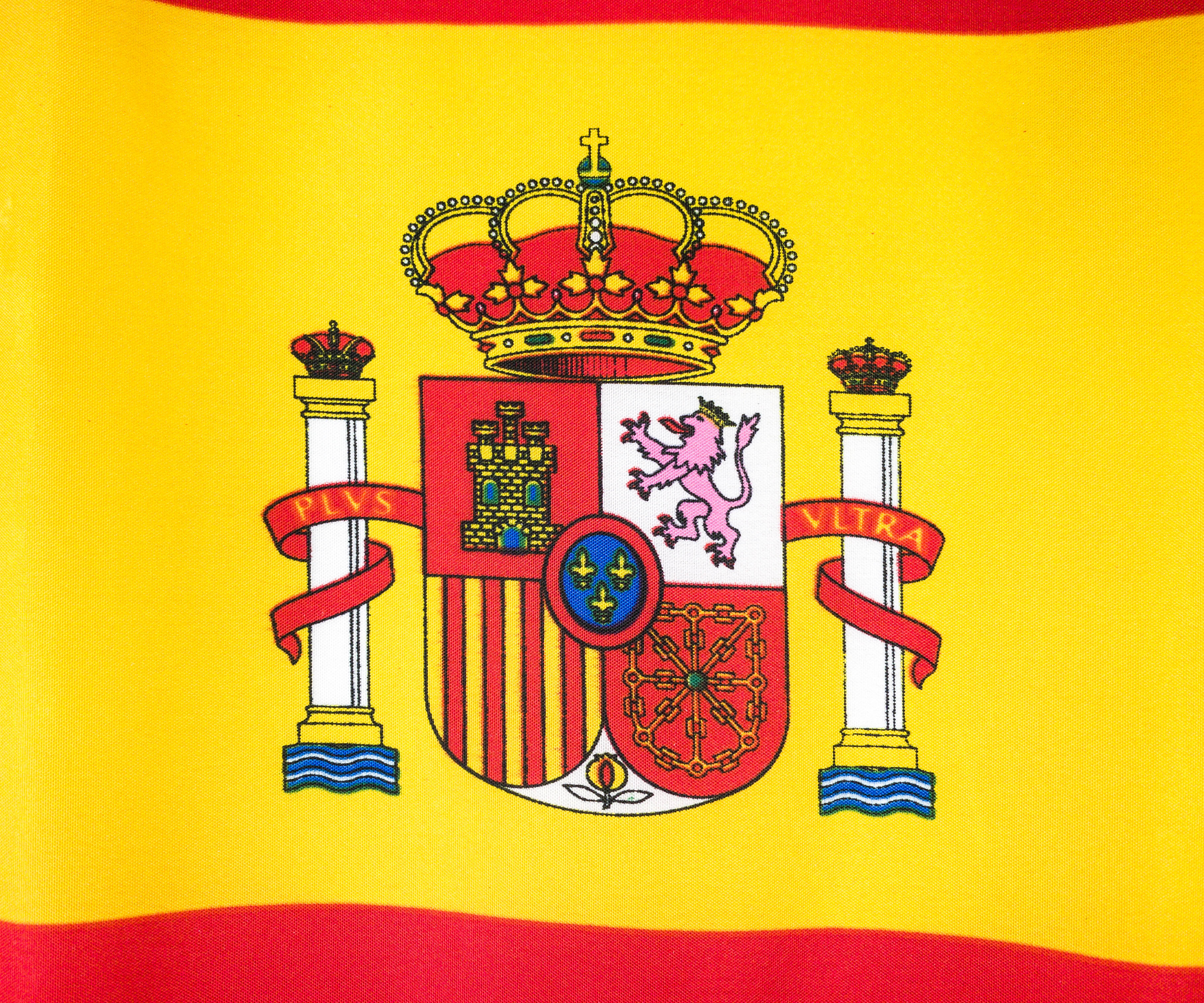 It also features the country's coat of arms.
After marveling at Spain's flag, it's now time to answer this word finder! The words we need to find are all related to the Spanish culture, like Picasso, bulls, guitar, oranges, and more.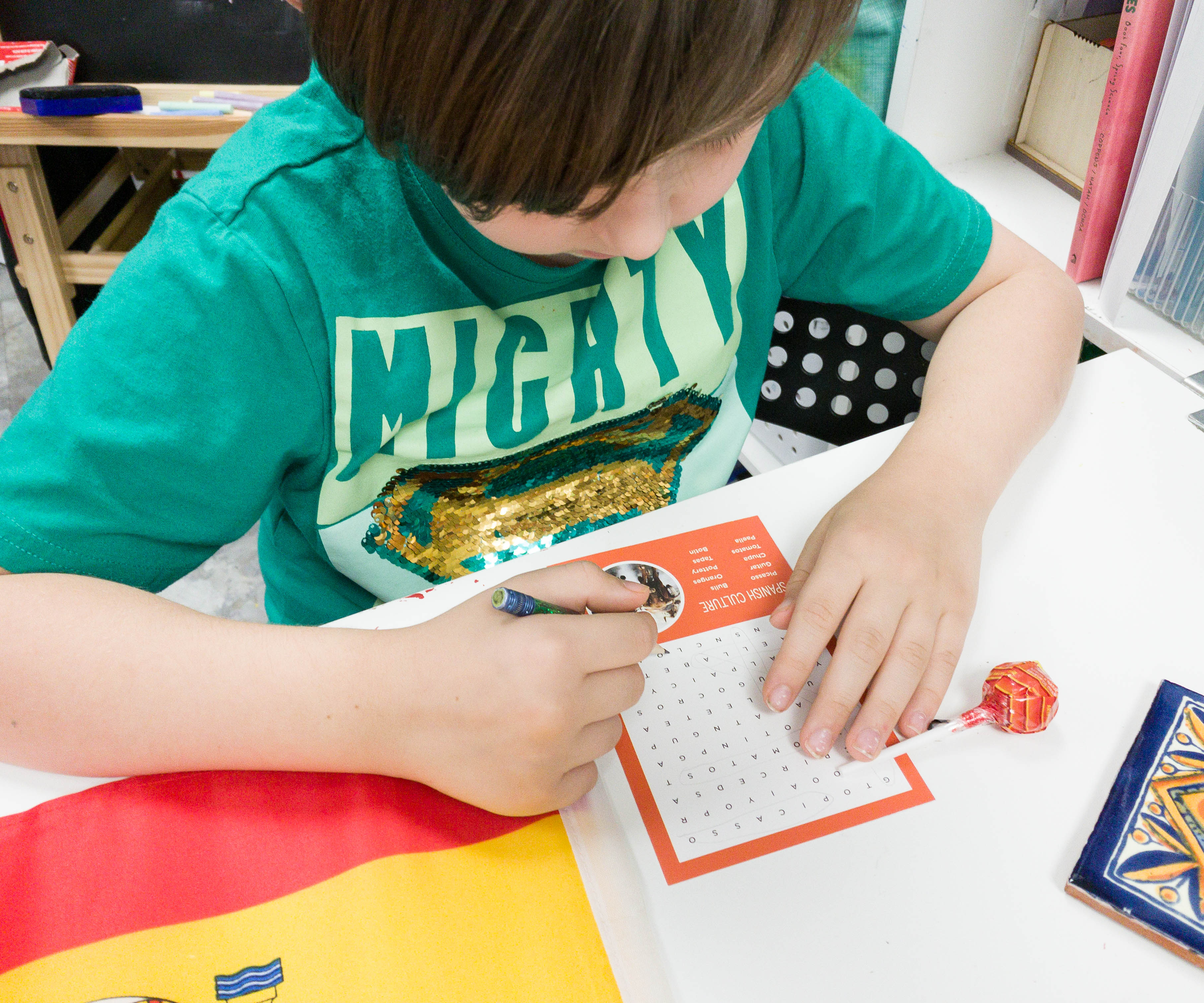 My son was able to find the words without difficulty!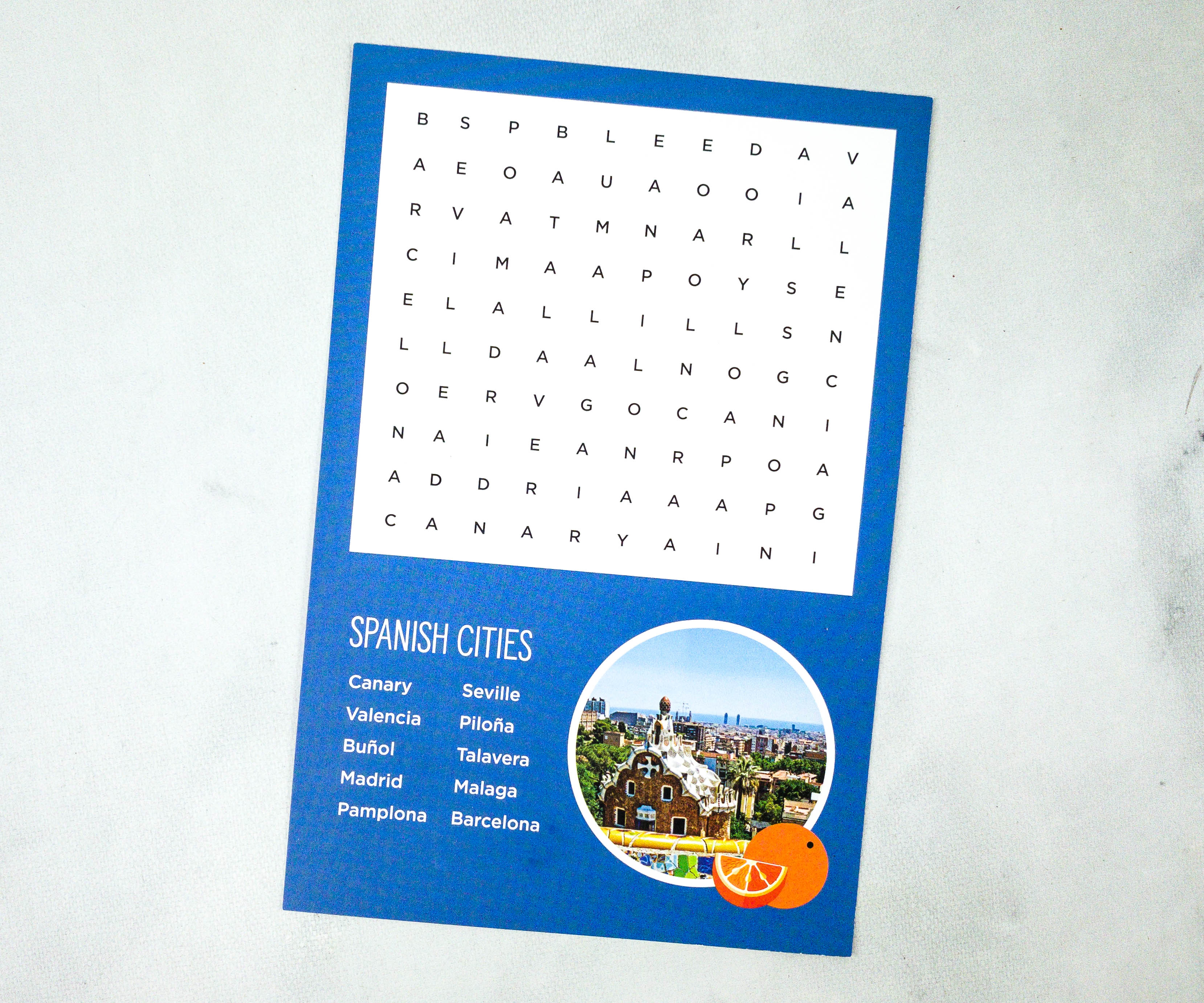 Another word finder for Spanish cities. It includes Canary, Seville, Valencia, and more!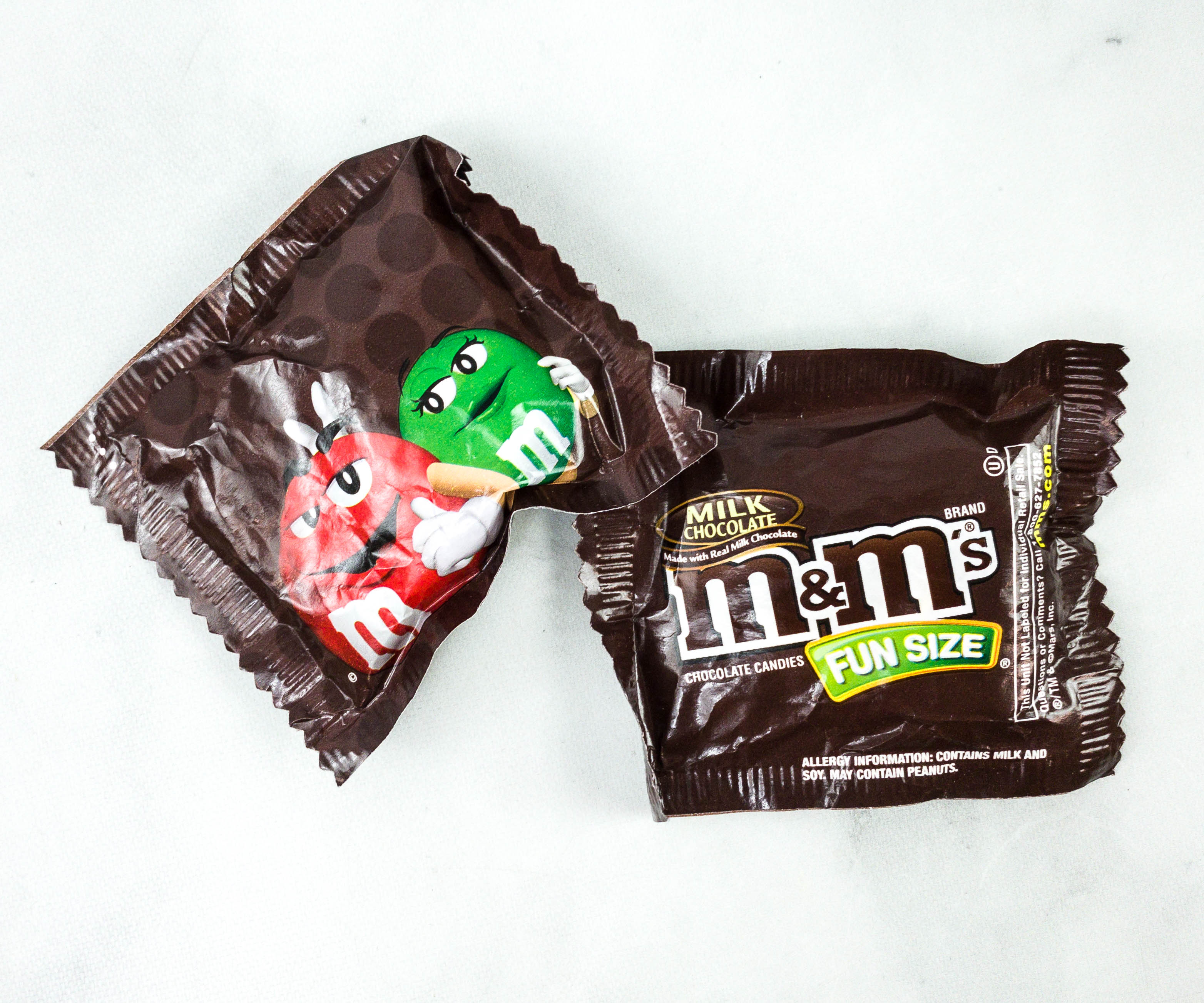 The box includes 2 small packets of M&M's candies! You may be wondering why they are in a Spanish themed box, and the answer is that although M&M's originated in the US, the idea of putting chocolate inside a hard shell was also used by Spanish people to keep chocolate from melting in their pockets.
We also received 2 Chupa Chups lollipop in the box! Chupa means to suck in Spanish. Also, Chupa Chups' headquarters is in Barcelona, Spain!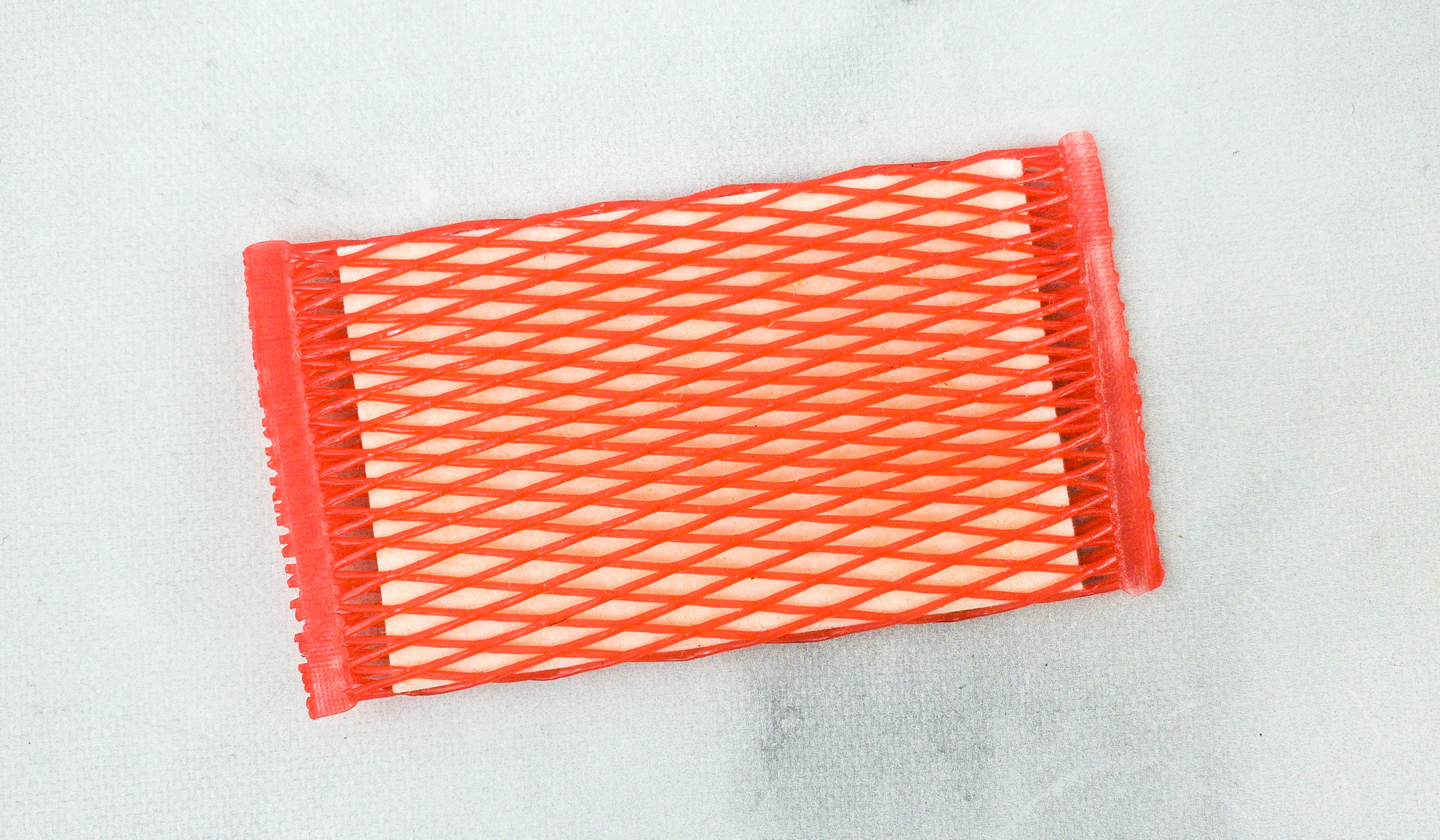 This packet smells like oranges. They included this because Spain is the world's largest exporter of oranges!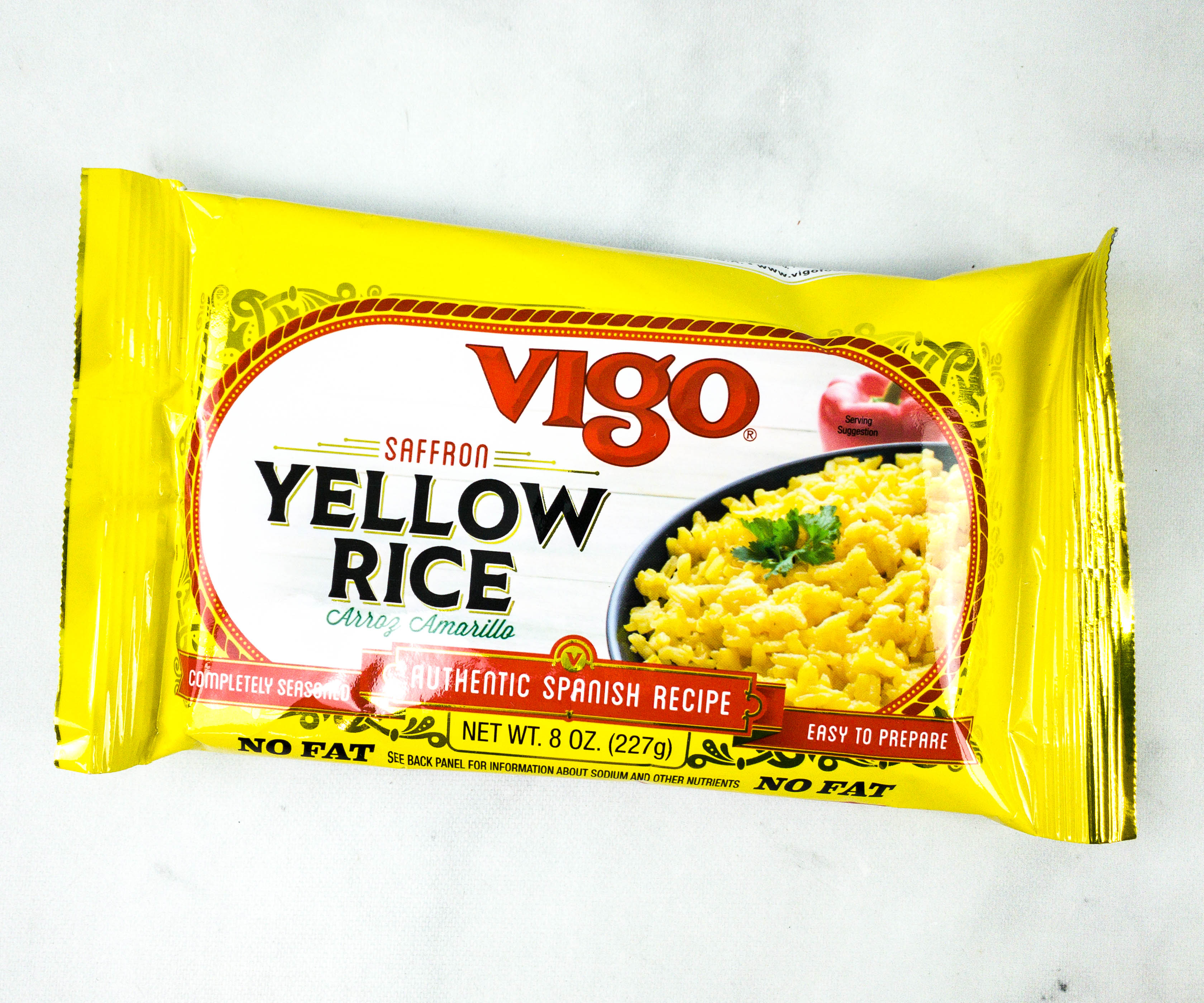 We love paella! This packet made it easy for us to recreate the yellow rice used in paella. It's seasoned with saffron for the authentic taste!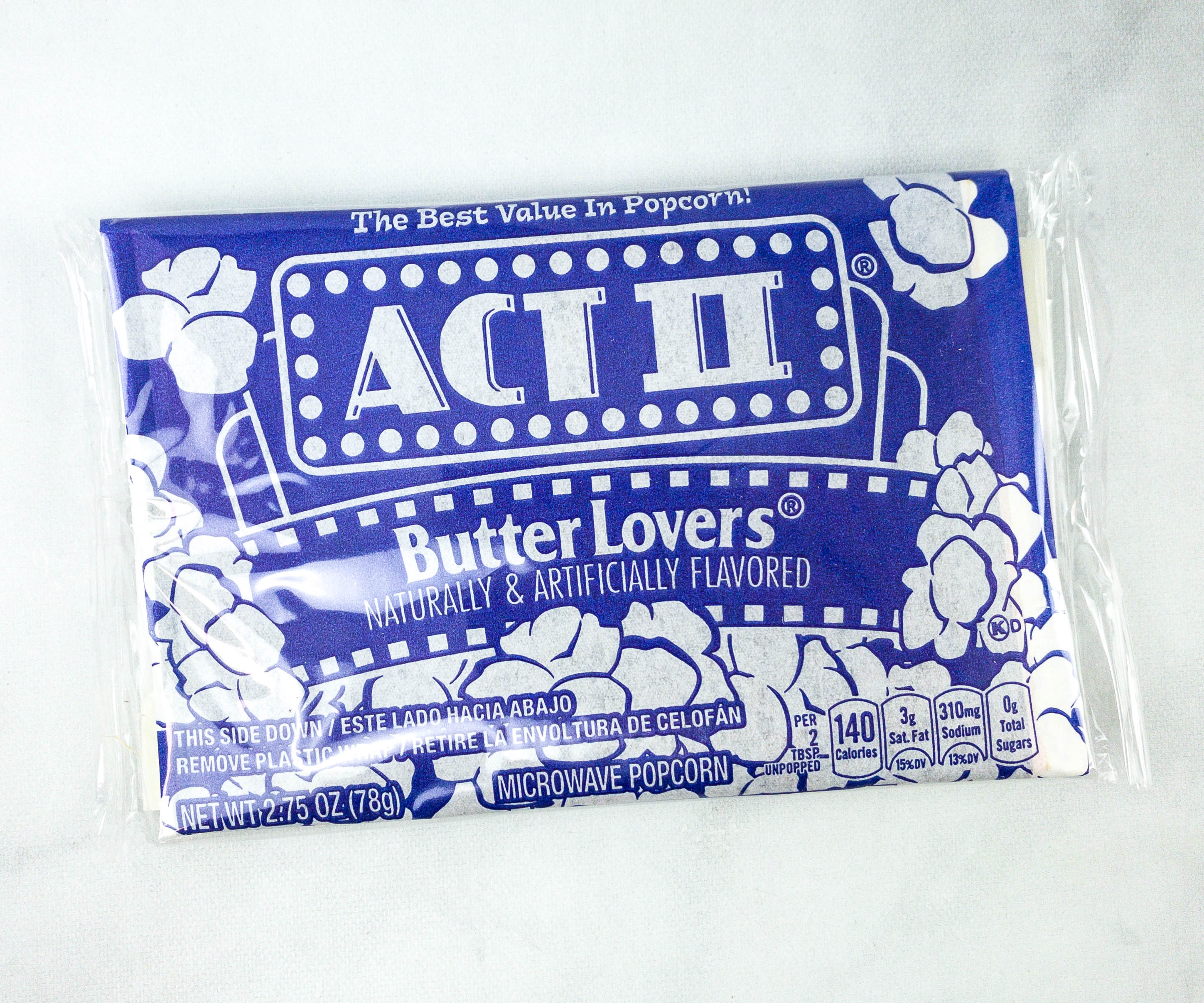 Another yummy surprise in our box is this bag of microwaveable popcorn. They included this so we can munch on fresh and delicious popcorn while we watch the recommended videos on the Up & Way Adventures website.
One of the most famous festivals in Spain is the Spanish Tomato Throwing Festival, also known as La Tomatina. It usually takes place in August!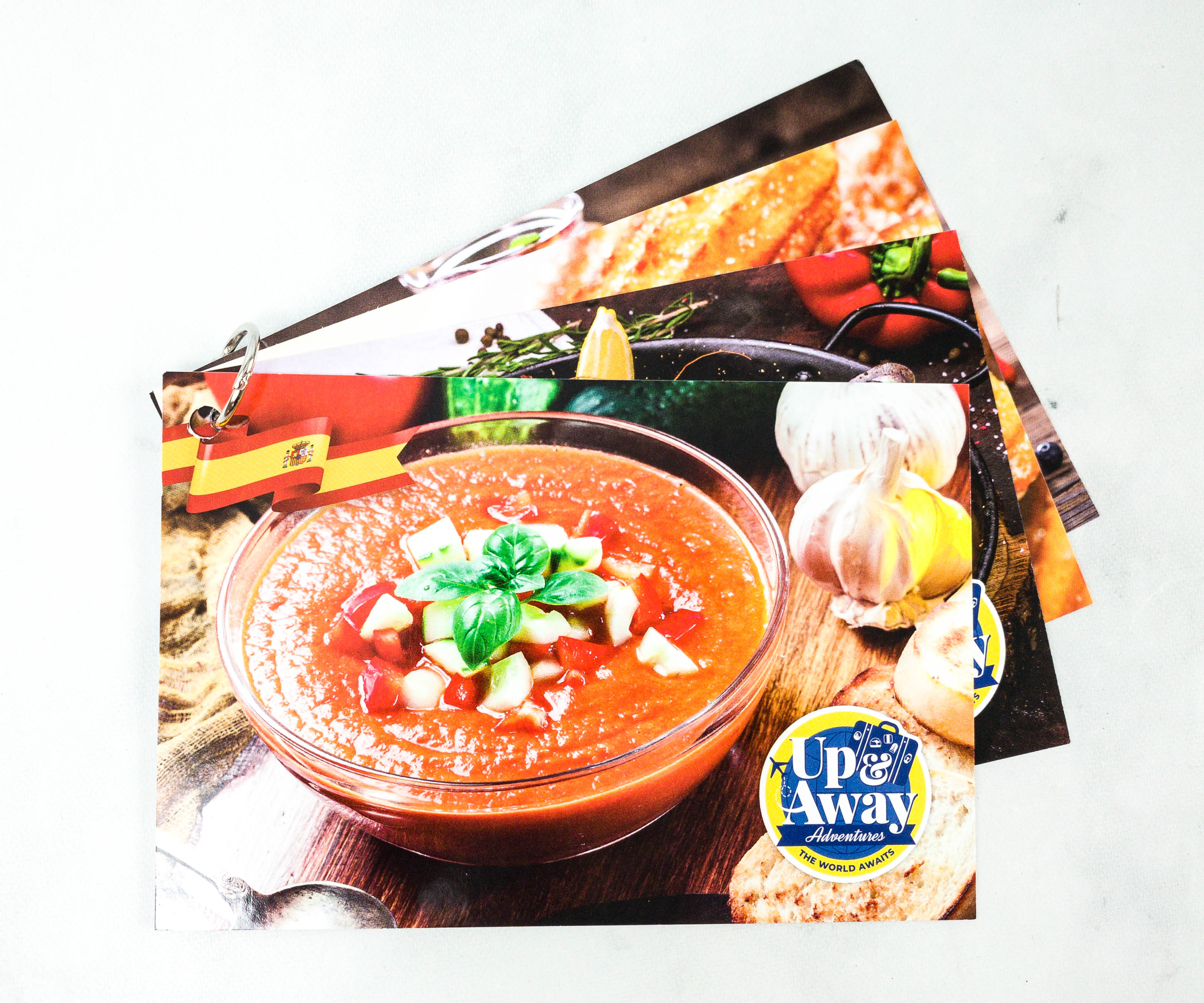 Here are the recipe cards for Spanish dishes and they're bound by a ring so you don't lose them.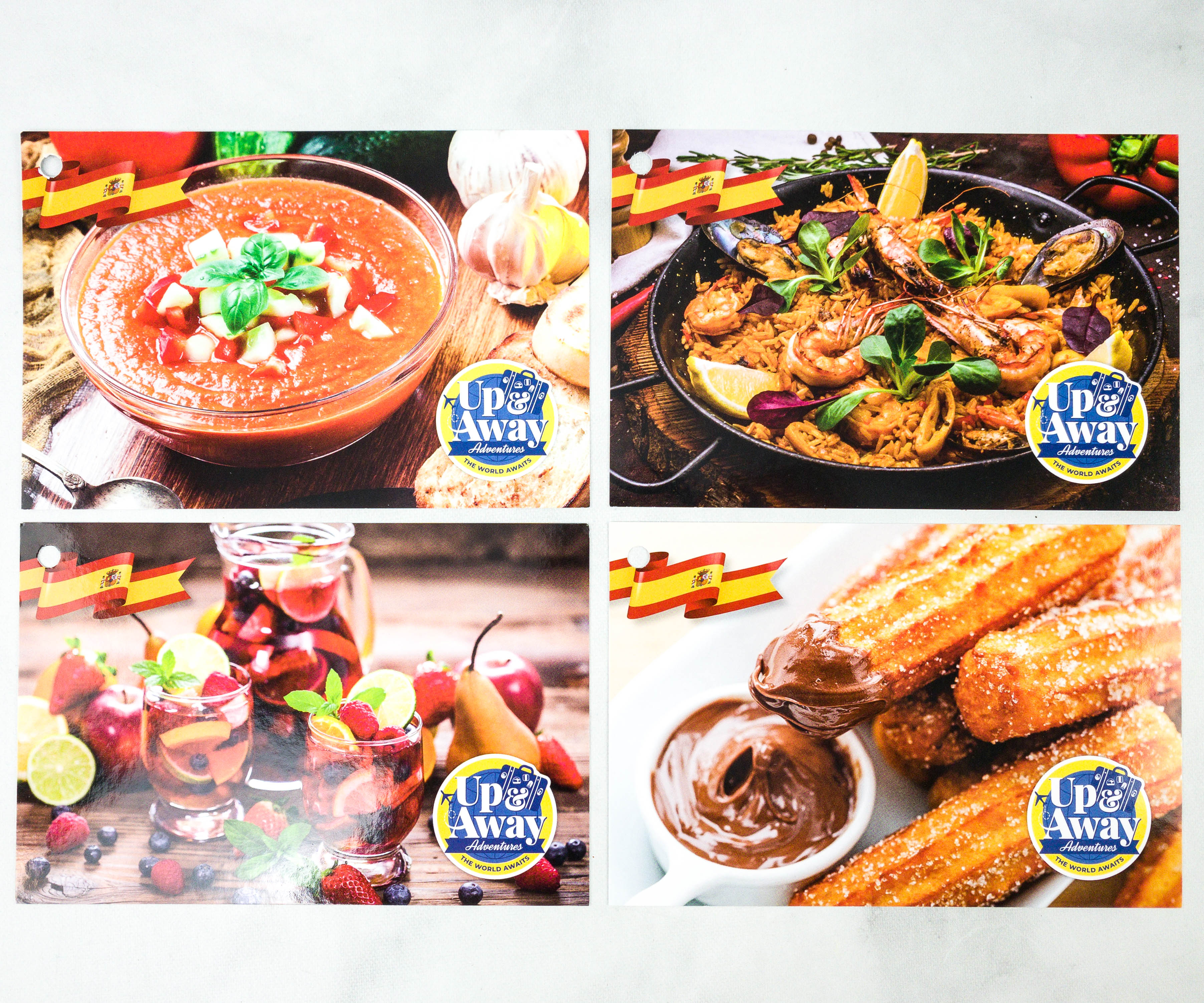 These photos are all mouthwatering!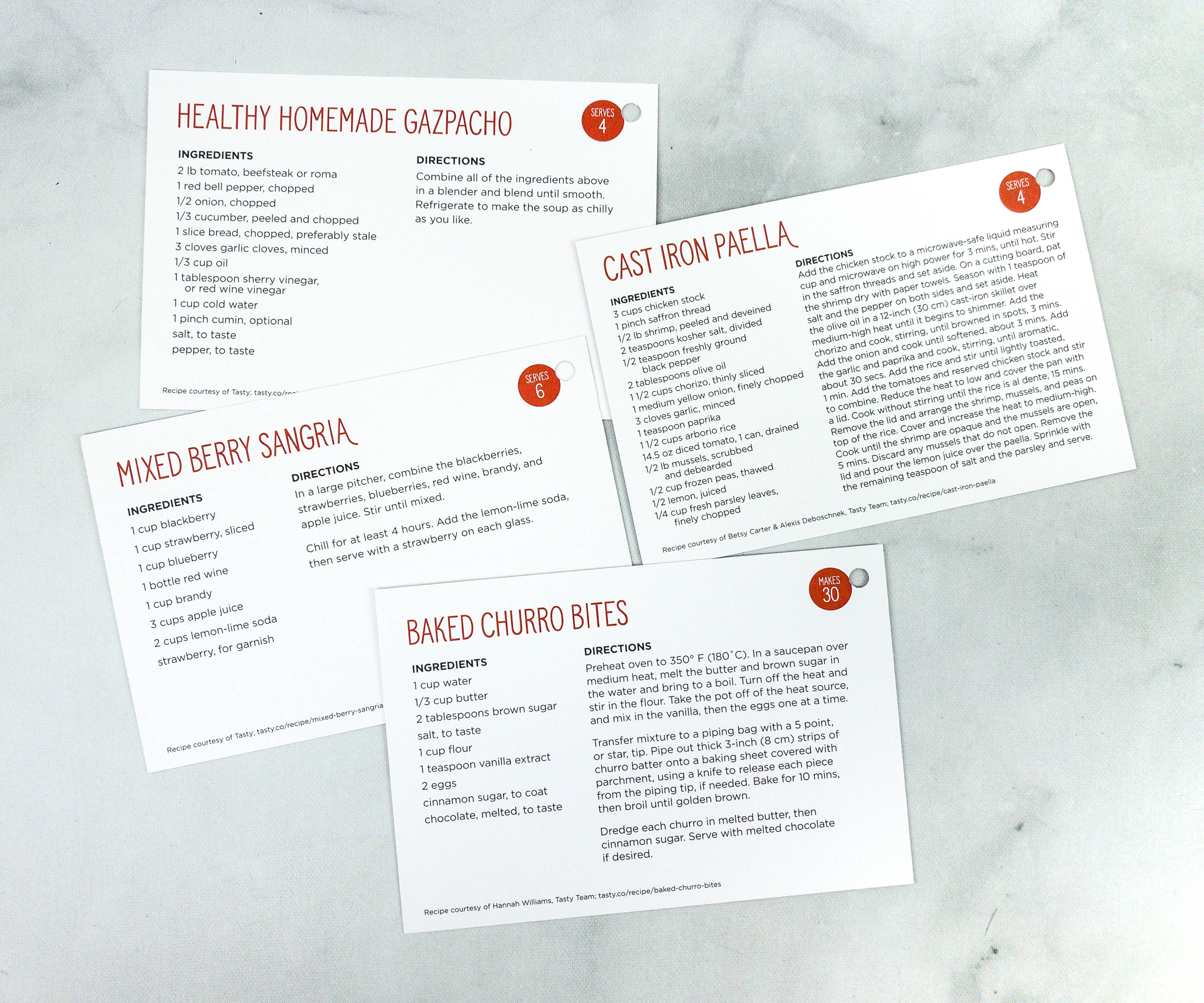 We have recipes for Healthy Homemade Gazpacho, Mixed Berry Sangria, Baked Churro Bites, and Cast Iron Paella. There's an ingredient list for each recipe, plus easy to follow instructions.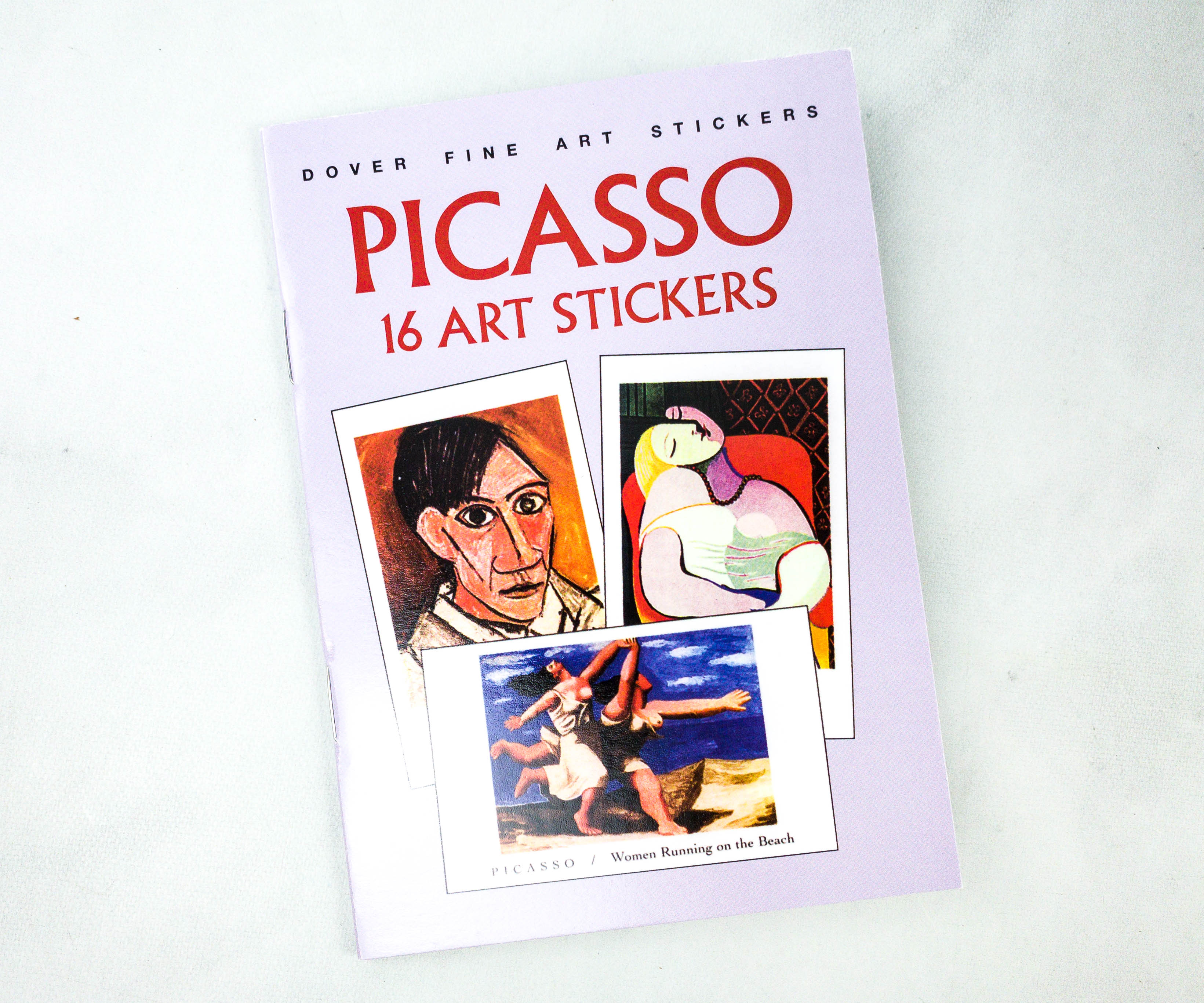 Pablo Picasso is a Spanish painter and his world-renowned pieces are featured on these stickers.
Indisputably the most renowned and influential artist of the 20th century, Pablo Picasso encompassed most of modern art's progressive movements–notably Cubism–in the course of his long career. The tremendous variety and vitality of his work is reflected in this excellent collection of art stickers featuring 16 of the master's finest painting: The Dream, Self-Portrait, Seated Woman, Woman with a Flower, Mother and Child, and 11 others.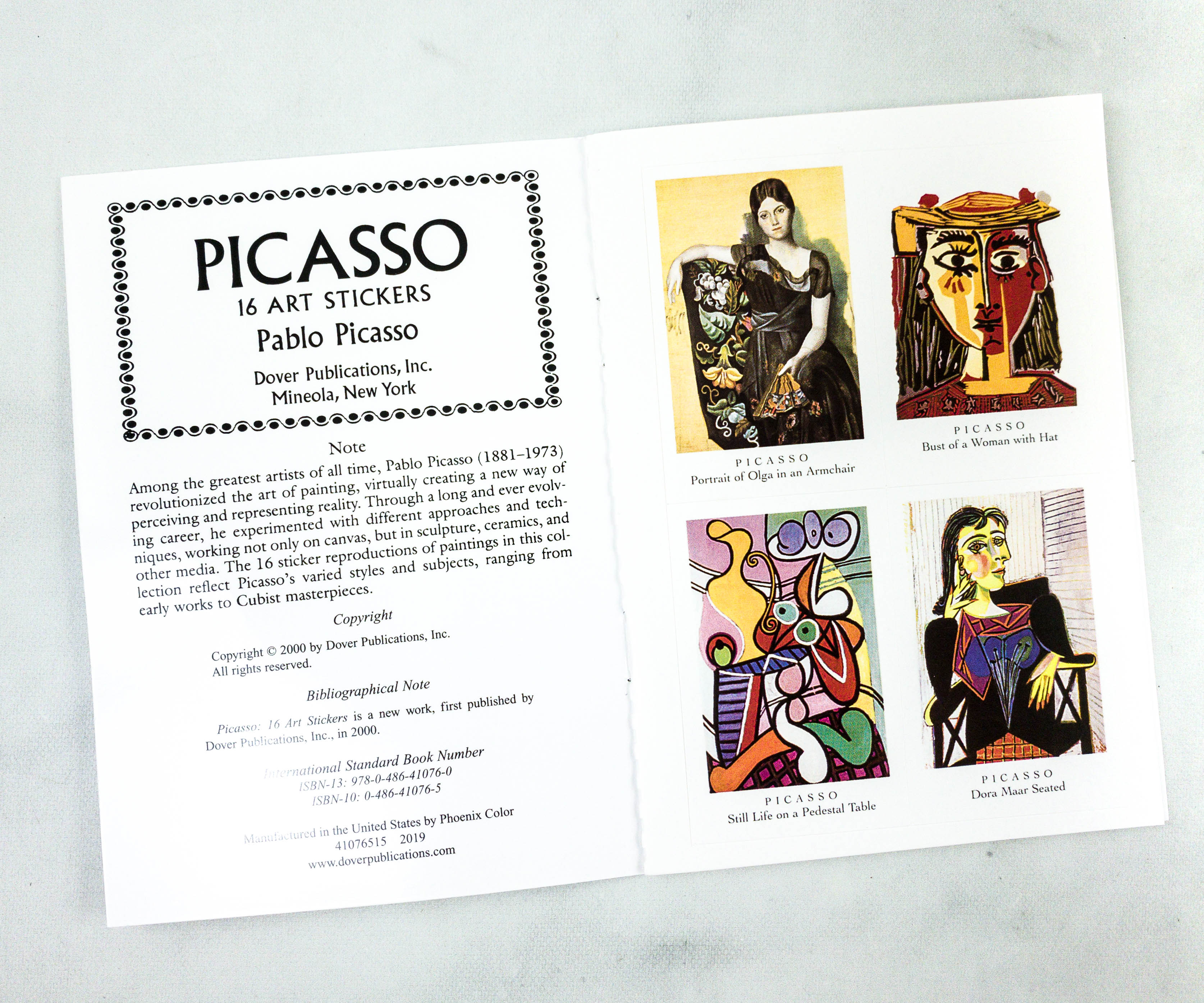 Inside are more information about Picasso. The stickers are made with acid-free inks, papers, and adhesives.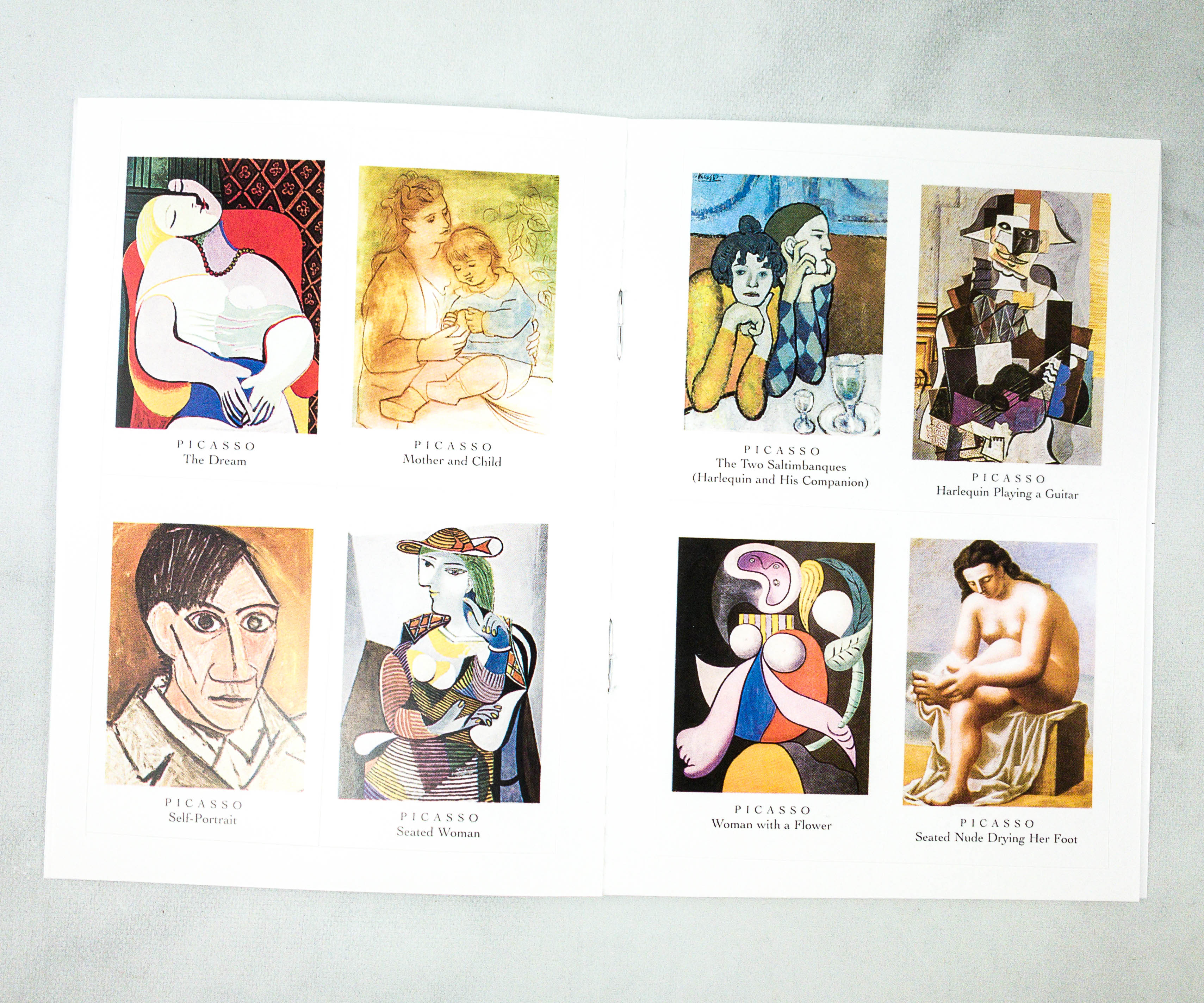 They are all stunning. My kids loved taking a look at each piece!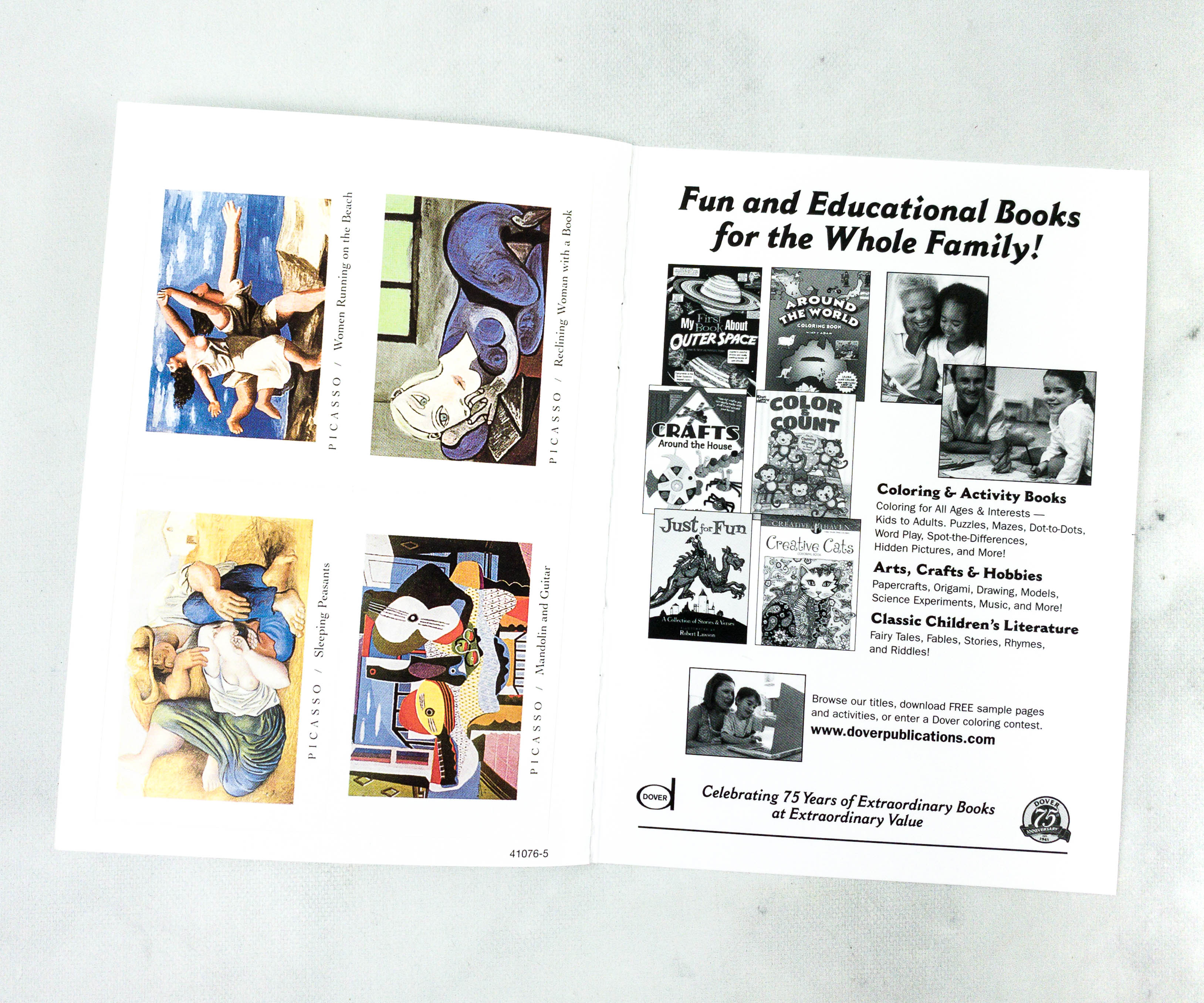 The sticker paper itself is also good, as well as the print colors. These are perfect for decorating any journal, scrapbook, or just about any flat surface!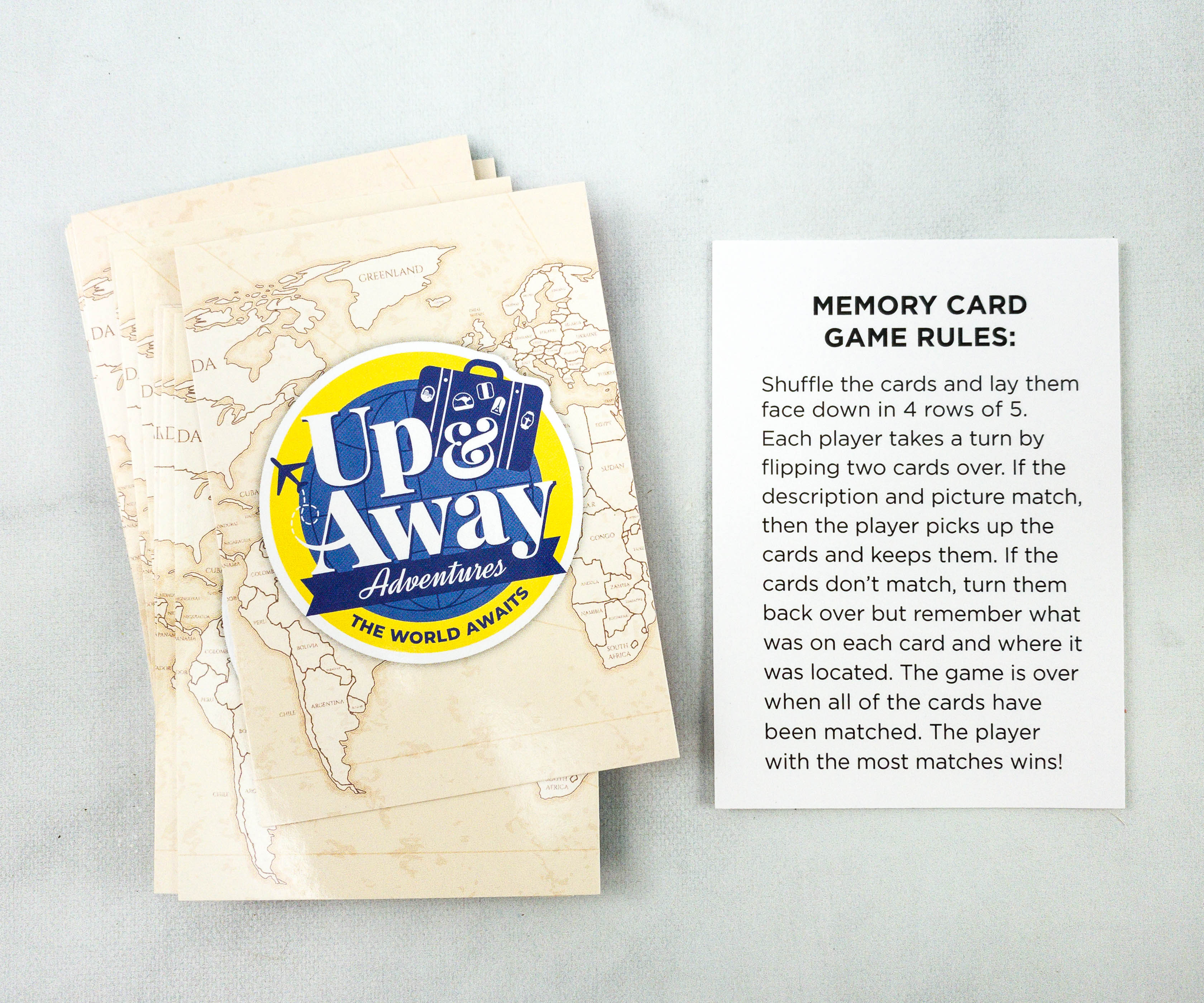 Next up is a memory card game! They provided all the cards needed, as well as the instructions.
Here are all the cards featuring photos and the corresponding cards with descriptions.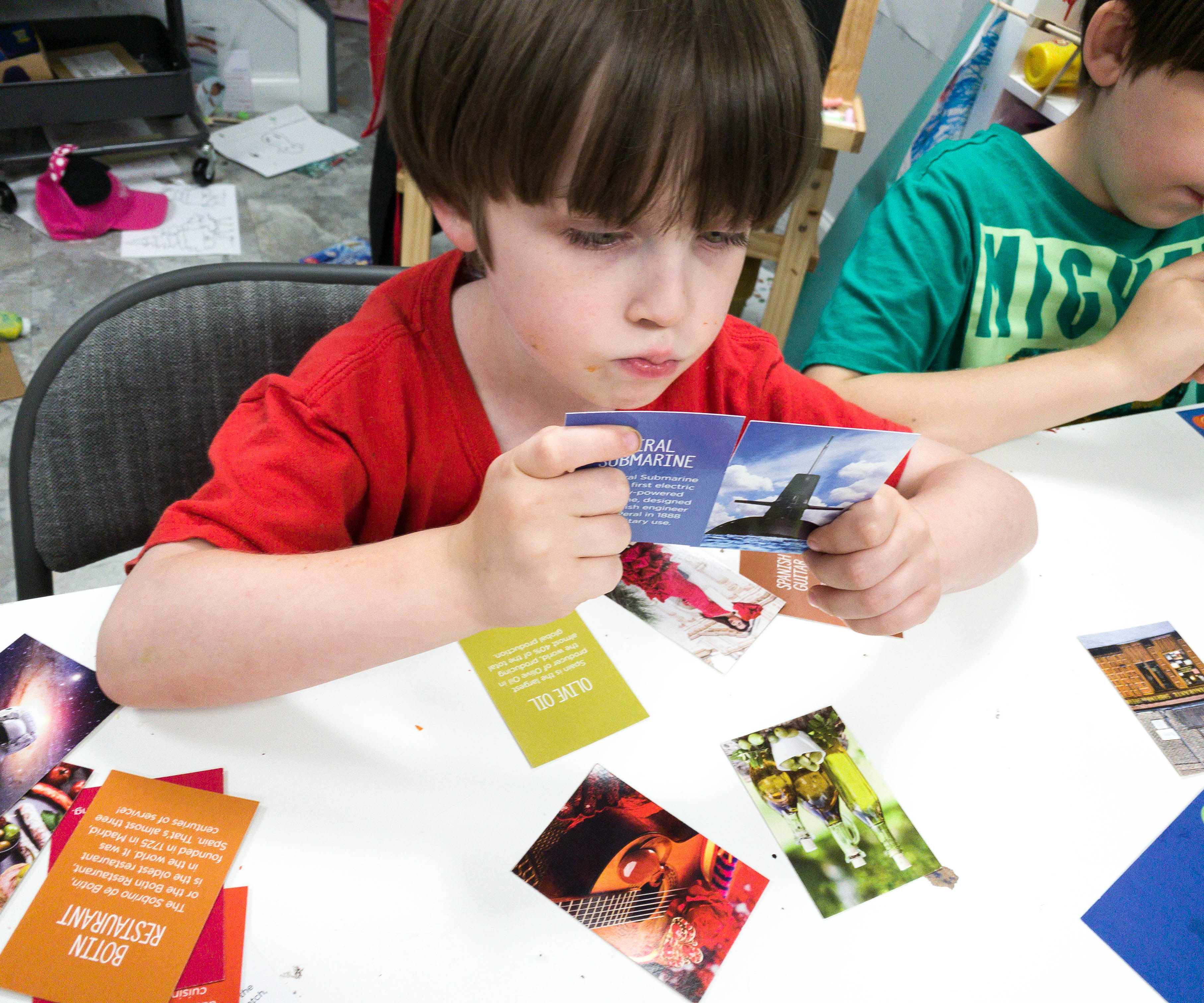 In this game, we just need to take turns in getting two cards from the rows of cards. If the picture and descriptions match, then the player gets to keep them. If the cards don't match, the player needs to turn them back over and remember what was on each card and where it was located. The player with the most matches is the winner!
These coasters are the prettiest! We received two in our box and they came in different designs.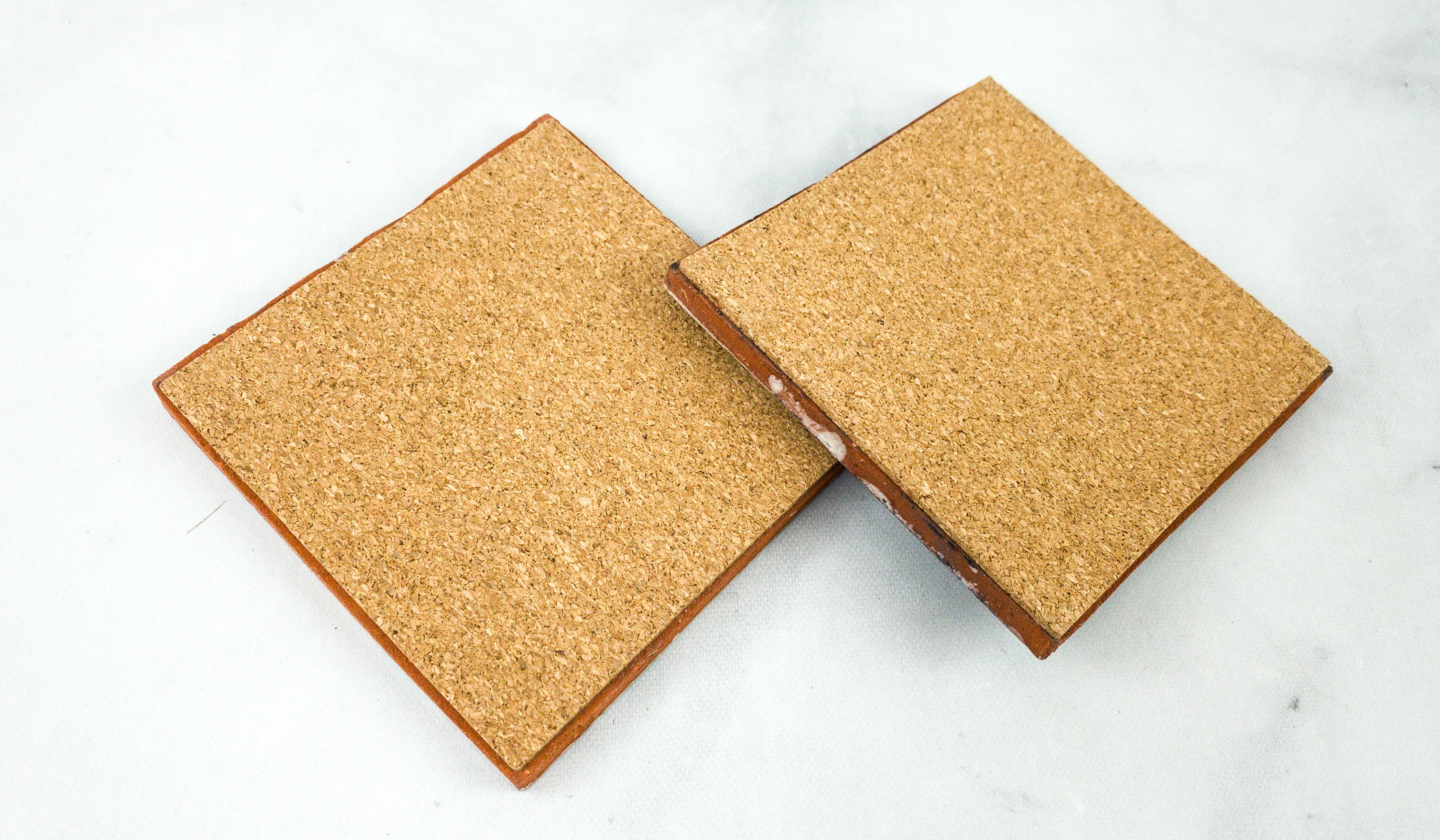 The back of the coasters are made with cork, so they don't easily slip down! Spain is one of the world's biggest producers of cork, along with Portugal.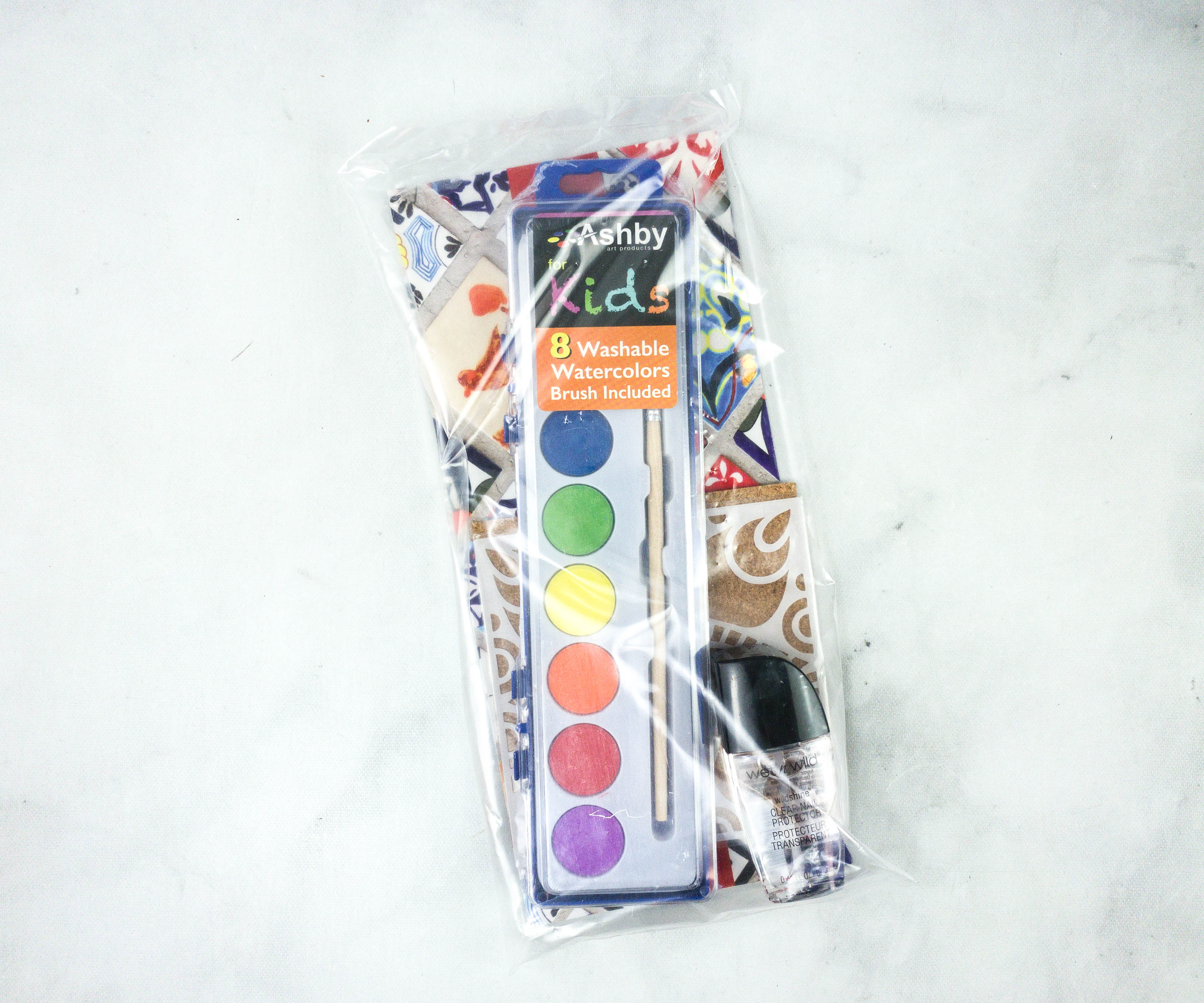 For the final activity, they sent a DIY coaster making kit!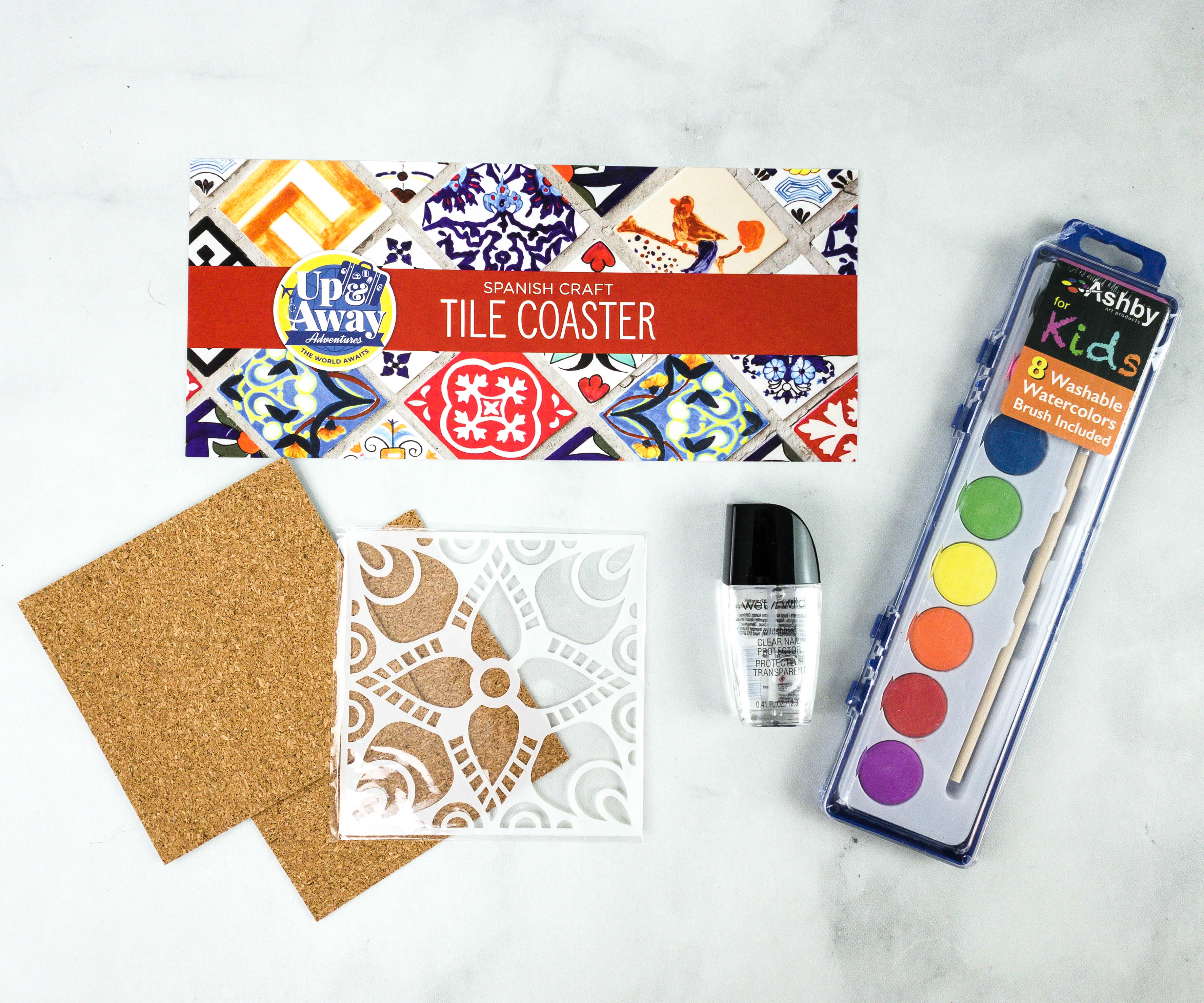 It includes two pieces of peel-and-stick cork squares, a stencil, watercolor paint, and clear nail polish.
There's also an instruction card! From home, we only needed 2 cups of all-purpose flour, 1 cup salt, and 1 cup water.
We mixed the flour and salt together in a bowl then added a few tablespoons of water. Then, we repeated the process until we have used the entire cup of water. The dough turned out smooth and easy to handle afterward, and that's when my son started kneading it.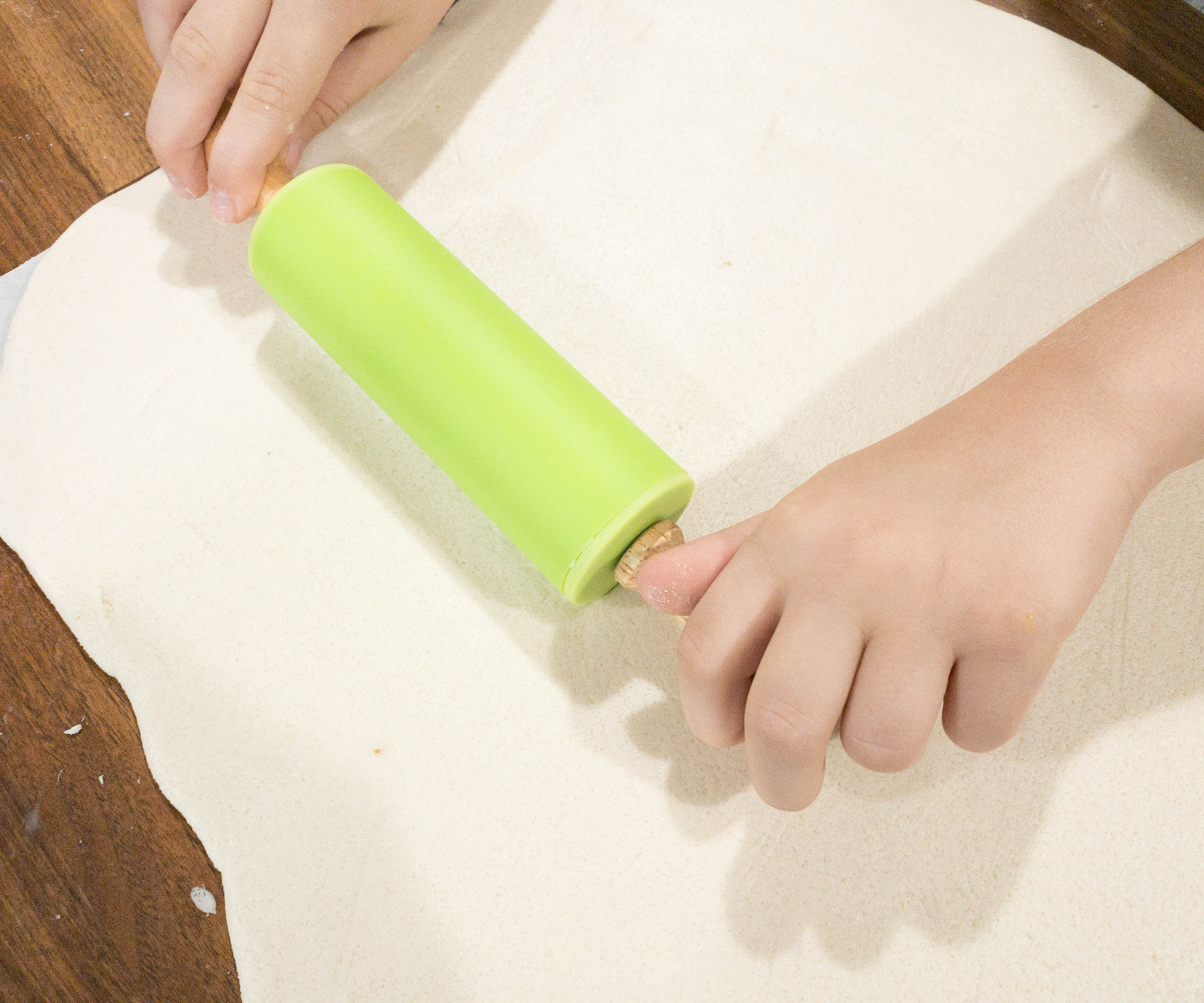 He flattened the dough using a rolling pin. Then, we let the dough stand for 20 minutes.
My son cut the dough into square tiles while I preheated the oven. He used the provided cork squares as the pattern.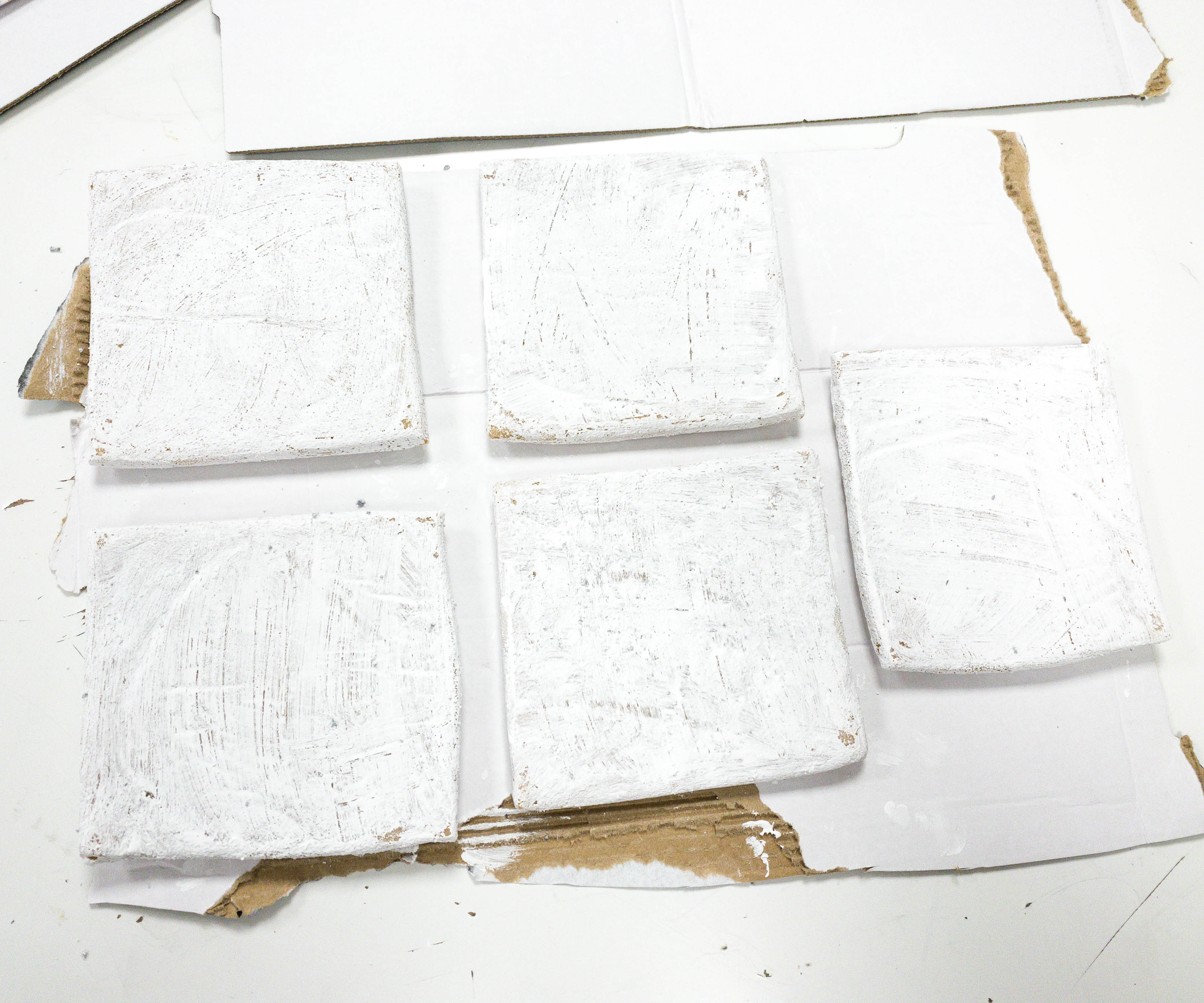 We put the tiles in a foil and baked them for 2.5 hours. Here's the result!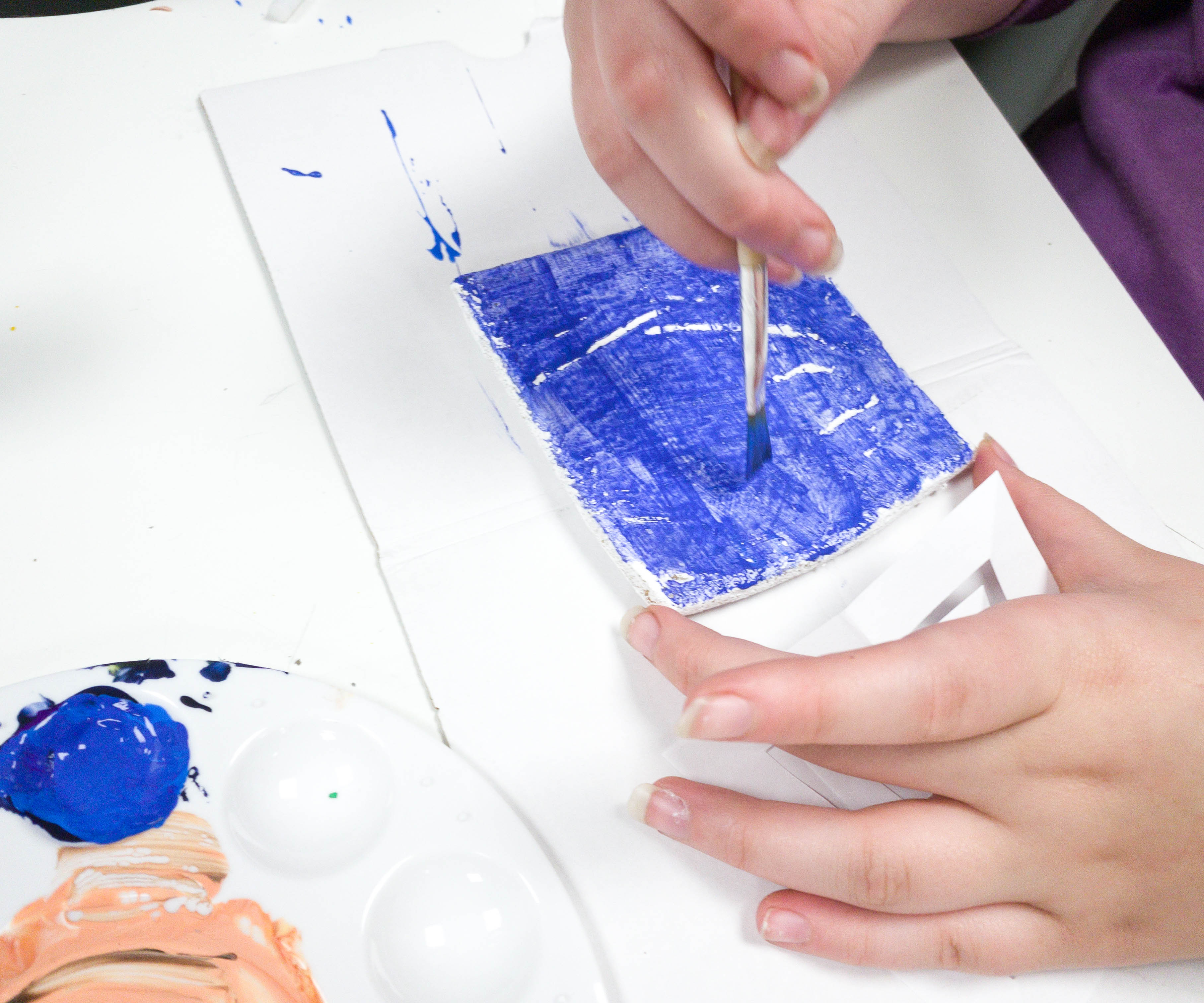 After the tiles have cooled, my kids painted them using the provided watercolor paint.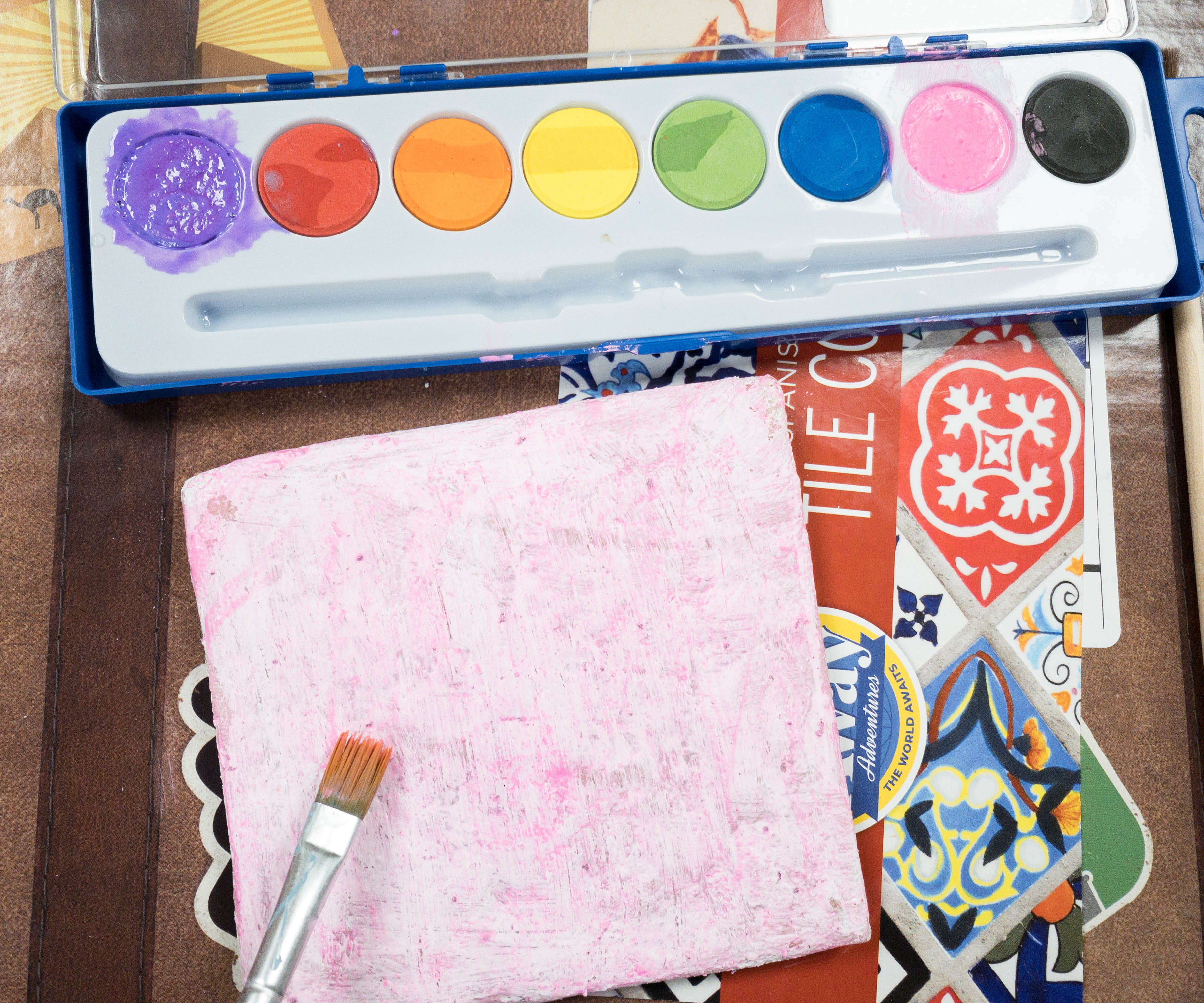 It's recommended to paint multiple coats and allow to dry between each coat of paint.
Here's my younger son, using the provided stencil for his coaster design.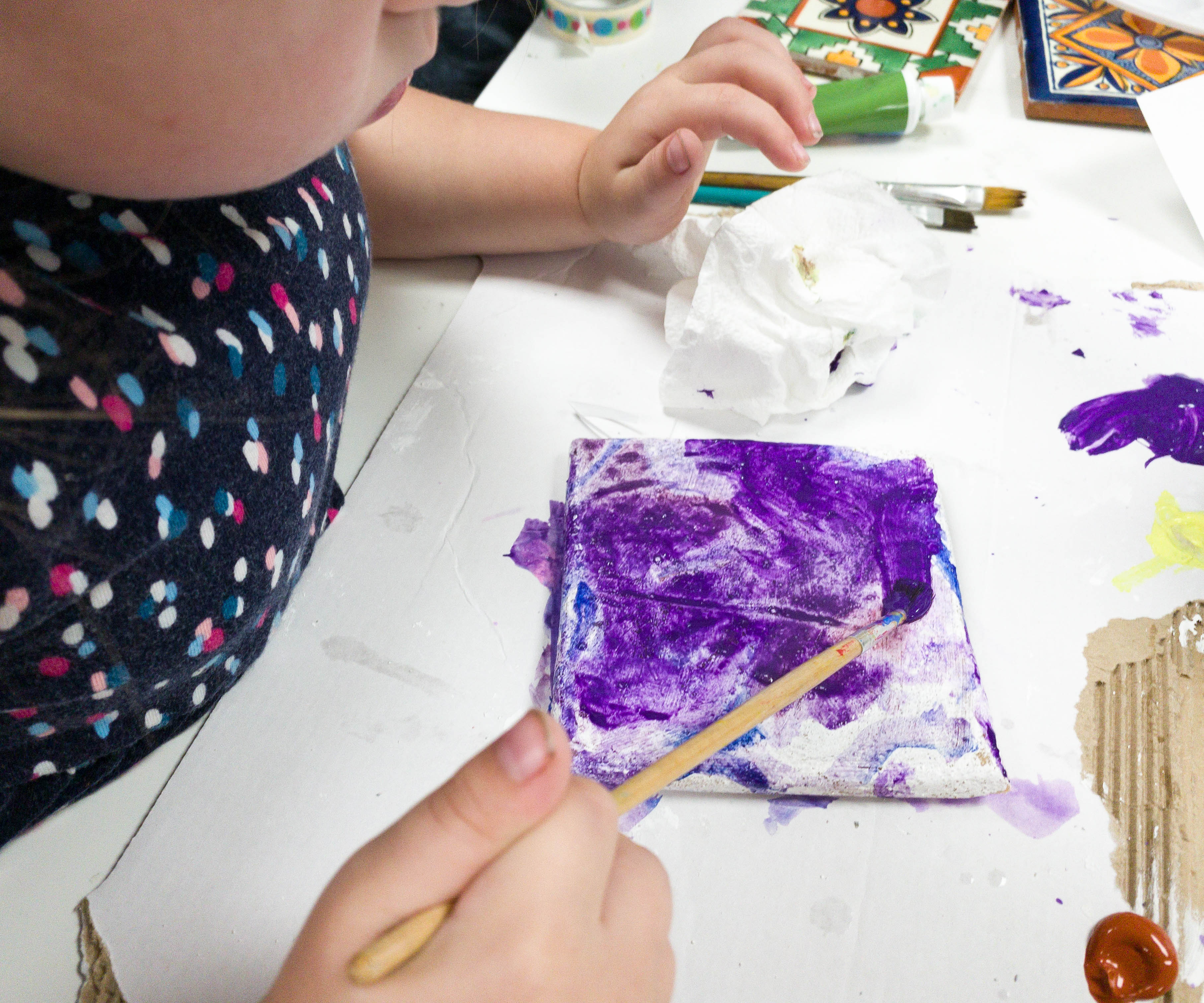 My youngest also joined! She used the purple paint for her tile.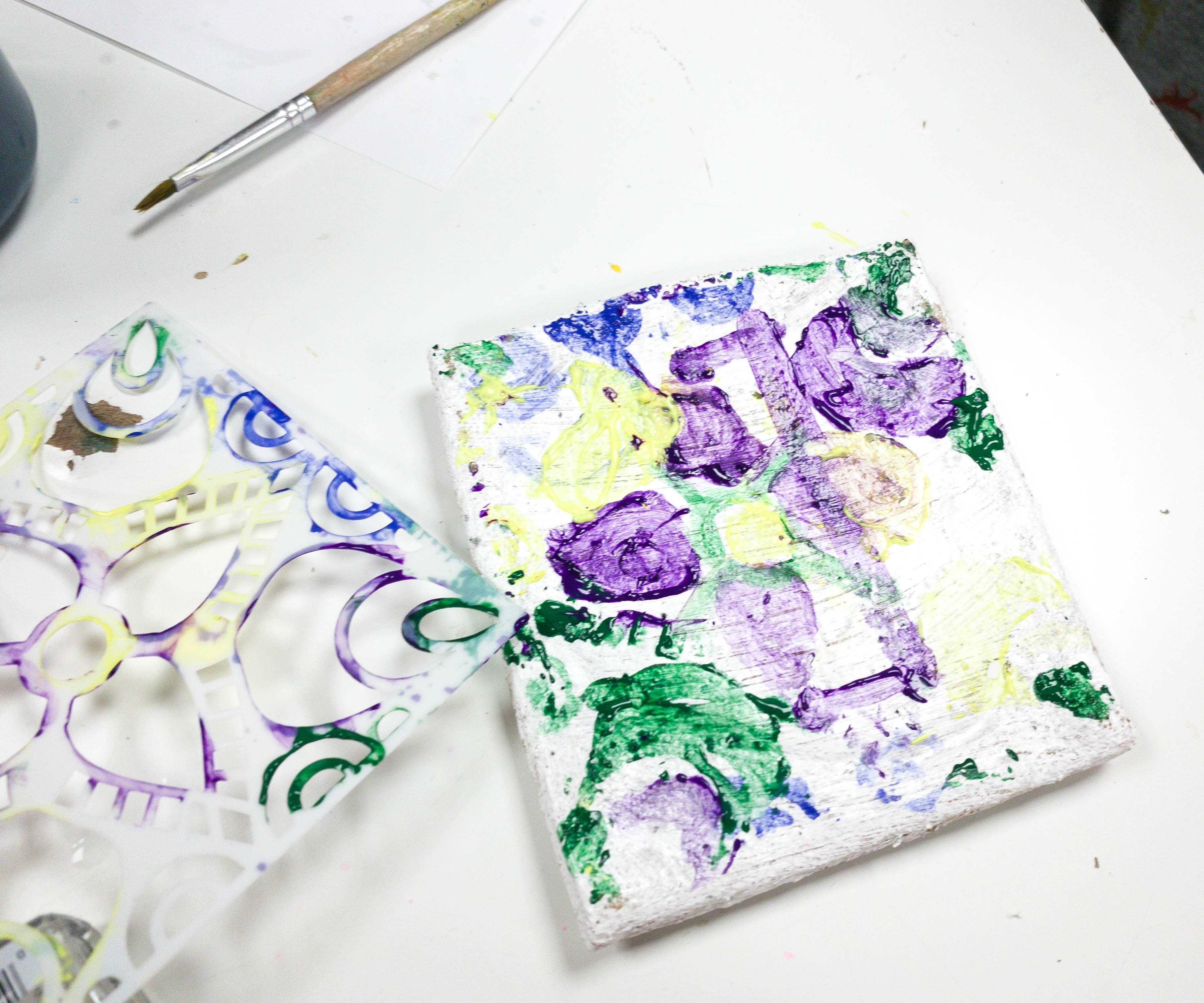 This is such a fun and enjoyable way of keeping ourselves creative!
Another way to create designs for the coasters is to use paper stencils. You can create your own stencil design, tape it on the tile, color it, and you're done!
Here's one of the customized stencil designs we made!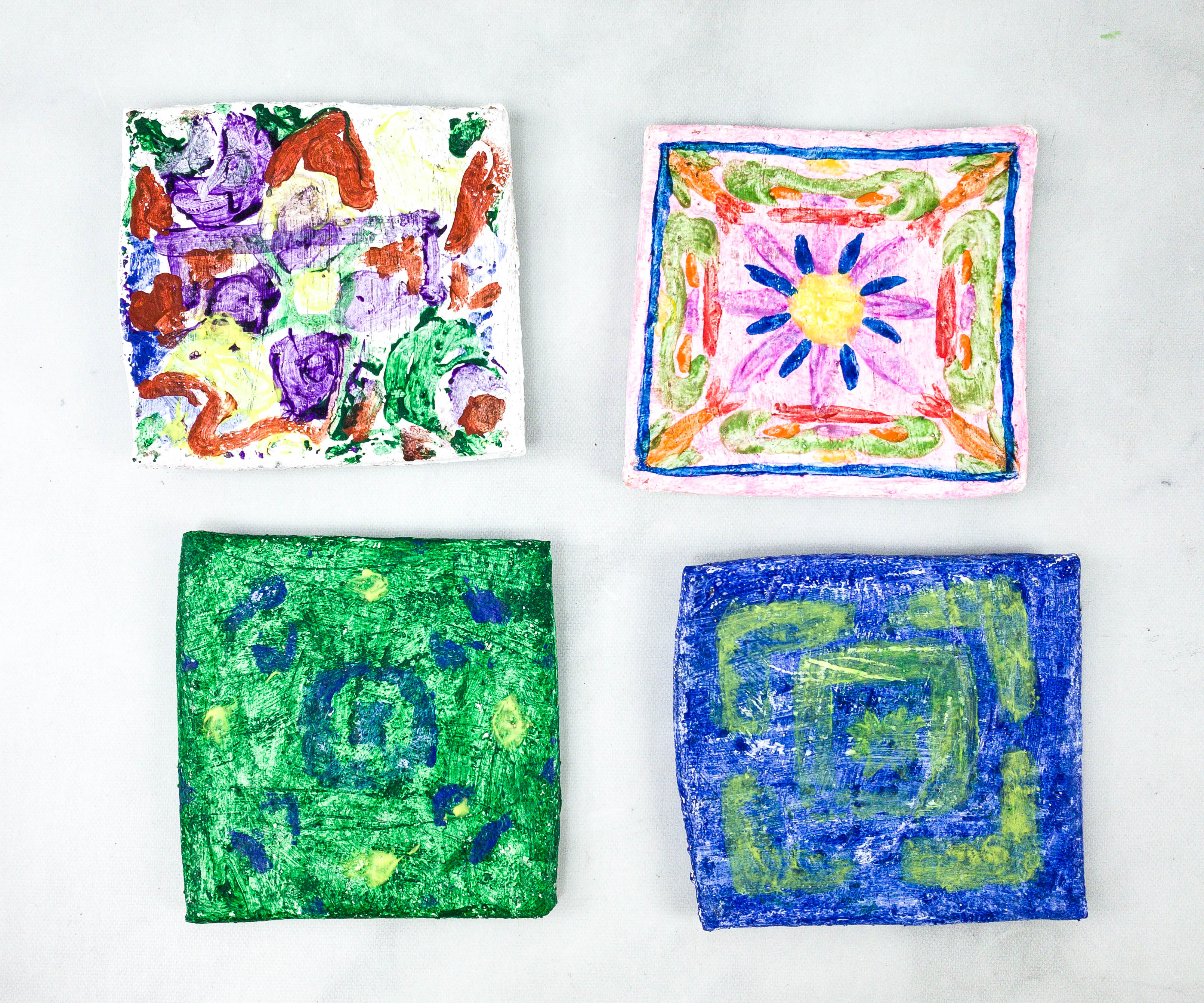 After painting them and letting them dry, we coated them with the provided nail polish! The last step is to peel-off the self-adhesive sticker from the cork and place them on the back of the tile. Our coasters turned out great and we love them!
Up & Away Adventures box took our family to a fun adventure to Spain, even without leaving the comforts of home. The inclusions are cohesive. It's a great idea to incorporate items that stimulate all five senses, and they were able to execute it very well. My kids loved the small snacks included in the box, which are also connected to Spain's culture and history. The art stickers were also lovely and there was even a patch that smells like oranges from Spain! Another thing we enjoyed in the box is the DIY coaster making activity. It was a long process but the coasters turned out great. It was a fulfilling activity and it also helped in enhancing our creativity. It's indeed a jampacked box and every single item added value to the whole experience! It's an ideal box, not just for families like us but also for groups of friends, couples, or any individual looking for a fun activity to do while staying at home!
What do you think of the Up & Away Adventures box?